How to unlock and join Clubs in Forza Horizon 3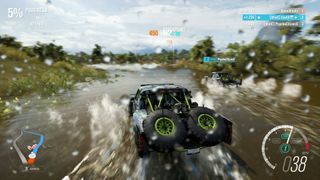 One of Forza Horizon 3's many claims to fame is its all-new online co-op campaign. The game has lots of great multiplayer features too, including massive car clubs that players can join for more rewards. Unlocking car clubs and finding a good one can be confusing, but we're here to help.
How to unlock car clubs
All of Forza Horizon 3's multiplayer features start out locked at the beginning of the game. You'll gain access to them by completing Festival expansions. Those expansions require you to hit certain fan milestones. You gain fans by completing races of any kind.
If you're in a hurry to unlock multiplayer and clubs, try to focus on single-player races. Save side activities like Rivals races, Drivatar challenges, and hunting for signs for later.
Once you've earned a festival expansion, you'll still need to drive to one of your festival locations to activate the expansion and unlock any features associated with it.
Your second Festival expansion unlocks Online Adventure, Online Free Roam, and Co-Op Campaign
Your fifth festival expansion unlocks Car Clubs
What to do once you're in a car club
Once you've joined a car club, press the Start/Menu button to bring up the pause menu. Navigate to the Clubs tab, from which you can track club progress.
The main point of interest is the "Club Ladder." Every car club has five tiers to progress through each week. At the end of the week, progress resets and everyone moves down to Tier 5. You reach new tiers by hitting XP milestones. The reward for reaching a new tier is a hefty credit bonus, so playing a lot definitely pays off.
From the main Club tab, you can also select Club Leaderboard to see how your club stacks up against others, or hit the Club Overview to see a list of your fellow club-mates. From the Club overview, hit the Y button to invite friends to the club.
You can further boost your club earnings via the Skill Shop! From the Skill Shop , head to the Festival Boss tab and unlock the Syndicate Skill to receive a 10% bonus on Credits earned from the club. This upgrade costs three Skill Points.
Join the Windows Central car club
Another benefit of club membership is that the club tag will be displayed in front of your Gamertag during gameplay and when your Drivatar shows up in other players' games. What better way to show your love for your favorite site than joining our official club and wearing its tag for all the world to see?
Yes, we'd love for you to join the Windows Central club in Forza Horizon 3! Our club was one of the top clubs in Forza Horizon 2, and with your help, we'll get there again. Just head to the Clubs tab and search for Windows Central by name or our WinC club tag. All readers are welcome, so let's team up and hits the roads together!
Forza Horizon 3 is the ultimate open world racing game for Xbox One and Windows 10. Buy the digital version and you'll be able to play on both platforms with full cross-save and cross-platform multiplayer. Take it from Richard Devine and myself, racing games just don't get better than Forza Horizon 3.
See on the Xbox Store (opens in new tab)
Paul Acevedo is the Games Editor at Windows Central. A lifelong gamer, he has written about videogames for over 15 years and reviewed over 350 games for our site. Follow him on Twitter @PaulRAcevedo. Don't hate. Appreciate!
Anyone know if car club from hori 2 is carried over to 3

Lame. Were better off creating car club thru Xbox.

You can do that, and everyone should join the Windows Central Xbox club. But being in the in-game club gets you rewards and stuff, so it's still worth joining.

How can I not reply b4 I sleep? Lol. Anyway just want to point out if anyone that has sent an invite to someone that's lower than lvl5 might not get the invite msg, for me I only got the msg after lvl5 might be just me or the msg came slow~

can't unlock multiplayer until after lvl 5

I'll be joining as soon as I get the game

I'll have to join once the game finishes downloading.

Has any winner being picked for the FH3:UE giveaway yet? I'll join the WC club for sure!

When you say "Festival Exanpsion 5," does that mean getting a specific location to level 5, or having upgraded any of your locations a total of 5 times?

You just have to accomplish a total of five upgrades, not upgrade a single location five times.

Oh, good. I did Byron twice and Paradise once. Was worried I'd need 3 more expansions, glad it's only 2.

Looks like ill have a club once unlocked. Posted via the Windows Central App for Android

My copy is still crashing ;(

Horizon Online unlocks after applying the festival upgrade you get at 30,000 fans. The Clubs tab unlocks after applying the festival upgrade you get at 320,000 fans. It doesn't matter which festivals you apply the upgrades to. If you have an XBox friend who is already in a FH3 club and they invite you to it, you will see it in your in-game messages after you unlock Horizon Online. If you accept the invite, your clubs tab will unlock early! Also, the article's advice about avoiding PR Stunts (Danger signs, Bucket list challenges) is not so good. The PR stunts are explicitly there to earn you fans and will often do so faster than races.

It looks like the reference to avoiding PR stunts has been removed from the article, which is good. I'd also recommend noting that completing danger signs and bucket lists are good ways to earn fans in addition to races. In fact, you're welcome to also include the fan milestone numbers and the tip for unlocking clubs early. I don't need any kind of credit, so you're welcome to just delete my comments after that. ;)

So I guess I selected the home Horizon event location for all of my expansions. It says 3 or 4 on it, I'm working on getting 75k fans and still the online features are all locked. I'm about to do my 4th expansion. Anyone know what I should do??

Sounds like your game is messed up. Maybe try submitting the issue somewhere in the Forza forums.

I'll be joining as soon as I get the game.

Are clubs still open for Forza Horizon 2?

Yep, you can join us there too if you still play it.
Windows Central Newsletter
Thank you for signing up to Windows Central. You will receive a verification email shortly.
There was a problem. Please refresh the page and try again.