What's new in Forza Motorsport 7: Release date, price, FAQ, and everything else we know so far
This is everything you need to know (so far) about Microsoft's next flagship Xbox racer.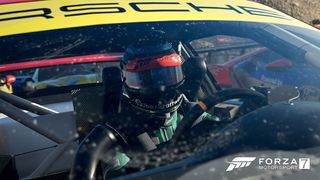 There hasn't been a year of the Xbox One's life that didn't include a new Forza game, and after 2016's Forza Horizon 3, it's back to the track for 2017 with Forza Motorsport 7.
There's still much to learn about this year's Forza, but there's also already a lot to sink your teeth into. If you always want to know that the latest Forza 7 information is, stick this post in your bookmarks because we're keeping it updated with anything and everything new.
What you need to know about Forza Motorsport 7
What is Forza Motorsport 7
This year's game is a return to circuit-based racing after the open-world approach from 2016's Forza Horizon 3. Expect real world circuits, road layouts and some of the best race and road cars in the world.
When is Forza Motorsport 7 going to be released?
If you preorder the Ultimate Edition you'll be playing on September 29. Everyone else will get the game on October 3.
See at Microsoft (opens in new tab)
How much will it cost?
The Ultimate Edition tops out at $99.99, the Deluxe Edition is $79.99, and the standard edition costs $59.99.
Can you play it on PC?
Yes! Like Forza Horizon 3, Forza Motorsport 7 will be available to play in full on Windows 10 and is an Xbox Play Anywhere title for seamless switching between console and PC. AS long as you buy it digitally, you get a copy to play on both platforms for the price of one.
Will it be 'Xbox One X Enhanced?'
Absolutely. Forza 7 comes out before the Xbox One X, but there will be a patch issued the following month to give it that extra support for better textures, and more importantly, to play at 4K and 60 frames per second (FPS).
The same update will benefit folks not using 4K TVs, because even at 1080p these games will look and play better than ever before. It'll also support HDR for Xbox One X and Xbox One S.
How many cars will be in Forza Motorsport 7?
More than 700, and while very few have been officially confirmed, plenty more can be seen from various E3 footage across the web.
The Porsche 911 GT2 RS, unveiled in the press briefing at E3, is the cover car, accompanied by the LMP1 Porsche 919 that is the reigning WEC and Le Mans 24 hours champion. Nissan's GTR is also confirmed, as is the Lamborghini Centenario, the Forza Horizon 3 cover car.
Also spotted in early footage and images are the Jaguar XK GT3, Ford GT LeMans, Ferrari 458 Italia GT and a 1934 Alfa Romeo.
Throughout the remainder of the year leading up to the launch of the game, the developers will release weekly updates detailing a whole bunch of new confirmed cars.
Forza Motorsport 7 complete car list (so far)
How many circuits will be in Forza Motorsport 7
There will be 30 circuits in the game, with multiple different layouts of those circuits to race on. The developers have already confirmed that Suzuka and Maple Valley will be returning for Forza 7, and you'll also be racing around Mugello. Other known locations include a road circuit in Dubai as well as both the Nurburgring GP and Nordschleife tracks.
As with cars, circuits will be announced at regular intervals leading into the game's launch in October.
All the tracks you'll find in Forza Motorsport 7
Does the trailer show trucks?!
Yes! No one has said much about them, but Forza Motorsport 7 will include racing trucks.
What about weather?
Forza 7 introduces dynamic weather for the first time in the Motorsport series. Forza 6 had bad weather at certain tracks, but it was either on or off, never changing. In Forza 7 the weather effects have been improved upon, but will also be able to change throughout the course of a race.
It'll also follow a realistic pattern of events. For example, don't expect a downpour in Dubai. Equally, heat will play its own part in affecting the handling and performance of your cars, and you might even get some unwelcome sand on the road in Dubai!
Can I play with a racing wheel?
Yes, you can play with the most popular Xbox One wheels supported out of the box. On the PC things may get even more crazy, with the developers promising support for "basically all" PC wheels at the PC Gaming Show at E3.
What about additional content?
There will, as ever, be a car pass to give you more cars and a VIP pass to give you additional bonus items. Both of these are traditional Forza-fare and will be found in the Ultimate Edition of the game. You'll be able to get them on their own but the best value will come with the Ultimate Edition.
There's also a confirmed preorder bonus and a Day One car pack, again both of which are in the Ultimate Edition.
Nothing beyond this is confirmed at this time but it's a safe bet that during the lifetime of Forza 7 there will be some expansion packs to add yet more new cars and additional gameplay to the base game.
Is there anything new in career mode for Forza Motorsport 7?
This year's career sounds like it takes a very different path than that in Forza 6. In Forza 7 you'll take part in the Forza Drivers Cup, made up of championships rather than simply going through class-by-class and getting the faster cars as you get further on. Instead you'll follow a more traditional motorsport championship structure winning points for your positions in races. Points make prizes. It also doesn't necessarily mean you'll start out like usual in the very slowest cars in the game and work from there. There will still be XP and in-game rewards systems, and you'll be able to customize your racer for the first time. You'll also be rewarded not just for your on-track exploits, but also for your car collection.
Expect much more detail on this to emerge as we head into Gamescom in August, when traditionally the Forza games are basically finished and updates are revealed.
Can you listen to your own music?
You sure can! During our session at E3, the developers showed off how your own music through OneDrive can be integrated into the game.
Forza Motorsport 7 will feature OneDrive music support
Closing thoughts
That's the bulk of what we know so far, but expect much more to be revealed as we had towards Gamescom and the game launch in October. And keep this page bookmarked, because we'll be updating it every time new information comes to light.
Updated June 30 2017 with links to our in-progress car and track lists.
Windows Central Newsletter
Get the best of Windows Central in your inbox, every day!
Managing Editor - Tech, Reviews
Richard Devine is a Managing Editor at Windows Central with over a decade of experience. A former Project Manager and long-term tech addict, he joined Mobile Nations in 2011 and has been found on Android Central and iMore as well as Windows Central. Currently, you'll find him steering the site's coverage of all manner of PC hardware and reviews. Find him on Mastodon at mstdn.social/@richdevine
The main question - will there be Volkswagen's?

This is going to be the ultimate sim racer out there for consoles. Forza 6 already had the best wet racing with 3D puddles and true simulated aquaplaining. Now sand blowing across track, variable weather ( yes storms can roll in ) and did I see Maple Valley is returning!!!!!!!! Hell yes. If your a racing fan you simply have to an Xbox console if you don't like PC gaming. No other option comes close.

I would prefer Blue Montains Raceway to make a comeback from the original Forza Motorsport

Blue Mountain raceway was awesome but so was maple valley.

So pumped for this (as with all Forza games) but kind of want to wait until the X comes out to experience it in 4K from the start

Really can't wait to play it. I have being addicted since the first one. You made a small typo in the 5 fifth section "Will it be playable on PC" You said forza 6 instead of 7

VR is still the only thing I really care about for this game. It's make-or-break for me at the moment. If they do FM7 in VR, I'll go get an XB1X, FM7, and a VR headset. It just seems like it would be too cool to pass up. Without VR, I don't think I'll get the game or console. Still, I do love that they're bringing back Maple Valley; it was probably my favorite circuit, so I was pretty disappointed when it wasn't in FM6. Hopefully the new career mode is more in-depth than it sounds, that's why I never stick with the games for long. They're too redundant and just leave you running the same races ad nauseum.

Does anyone here, who plays Forza, have issues playing Forza Horizon? In every version of Horizon, the steering is so slow. In Forza proper, I don't have these issues. I see this with both the controller and my wheel. It's super odd.

Horizon is tuned differently as it's not really gunning for the realistic feel that Motorsport is. Could explain it. Personally I think Horizon is actually faster!

Me as well, I used it with my Xbox 360 controller, I thought that I was the only one with this issue. It voided me from actually buying the full game. The keyboard on my laptop on the other hand didn't show any latency issues. I know for one thing, I'm buying Forza 7.

A general question here, Can you play the games one the X without having to update them to the enhanced version? I wanna be able to see the before and after results.

No. You will have to play it on a One s.

Ok but did they say that if a game doesn't get the patch, it'll still get a type of system level enhancement?

I have the triple screen setup in Forza 3 and 4. I really missed it in Forza 5 and 6. Any chance triple screen makes a return?

Typo found Can you play it on pc?
Yes..... Forza motorsport "6"?

Better yet: pre-order buy!

Great to know it's Play Anywhere supported but more importantly, is cross play supported (ie pc players able to play with xbox peasants?)

I want to know details on the weather system. Will we finally have truely dynamic weather instead of scripted stuff for specific tracks? Why has noone asked about sand storms for the new Dubai track?