A fully-featured Minecraft: Pocket Edition for Windows 10 Mobile launches today!
Surprise! Microsoft is launching a full Minecraft: Pocket Edition for Windows 10 Mobile, complete with Xbox integration and Realm support.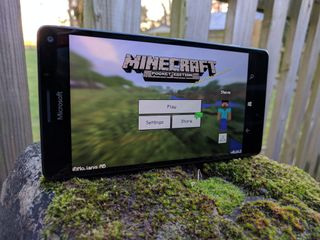 (Image credit: Windows Central)
We recently learned that Minecraft: Pocket Edition for Windows Phone 8.1 devices will no longer receive updates, initially dashing hopes of us being able to take our Windows 10 Realms beyond our PCs and tablets. Thankfully, we have learned that Microsoft was working on a Windows 10 Mobile version all along.
Say hi to Minecraft: Pocket Edition for Windows 10 Mobile!
Minecraft: Pocket Edition for Windows 10 Mobile will launch today, bringing with it the latest Pocket Edition features, including the coveted Ender Update for mobile devices. Additionally, Minecraft: Pocket Edition for Windows 10 Mobile will bring dedicated Realm support to Windows phones for the first time. If that wasn't enough, Minecraft: PE will also include a ton of Xbox Live achievements.
While Minecraft: Pocket Edition for Windows 10 Mobile is a different platform to the Windows 10 Edition and the Windows Phone version, those of you who already own the Windows Phone 8.1 version of Pocket Edition will be able to upgrade for free right here (opens in new tab).
Minecraft: Pocket Edition Q&A
To learn more about Minecraft: Pocket Edition for Windows 10 Mobile, we caught up with Minecraft: Pocket Edition's Executive Producer Jesse Merriam!
Jez Corden: Moving forward, can we expect Windows 10 Pocket Edition to receive the same updates as Windows 10 Edition on PC?
Jesse Merriam: Yes!
Jez: Will Minecraft PE on W10M support the Xbox One S Bluetooth controller?
Jesse: Absolutely. I love playing with my Xbox One S Bluetooth controller.
Jez: Can we expect that Minecraft PE on W10M support add-ons, as seen with the W10, iOS and Android versions of the game?
Jesse: Unequivocally yes. Windows 10 Mobile supports all core Windows 10 and Pocket Edition features, including add-ons. Bring on the chairs!
Jez: Will Minecraft PE and Windows 10 Realms eventually connect to Realms on Xbox One for true cross-play capabilities?
Jesse: We haven't yet been specific about how Realms are coming to console, but we value bringing the Minecraft community together and were too are excited about the future. For now, you can rest assured that Realms players on Windows 10, Windows 10 Mobile, Android, iOS, Kindle Fire, Gear VR and Oculus Rift can all play in Realms together and as you learned today, the list just keeps growing!**
Jez: So we presume that Minecraft PE players on W10M can connect to Realms and play with friends on iOS, Android, W10, etc. as of today?
Jesse: Yep. Party time. Everyone plays together on iOS, Android, and W10.
Jez: Will Minecraft PE on W10M support Xbox achievements? If so, how many points (and are they separate from W10 version?)
Jesse: Yes! We are so stoked for this. Check out Windows 10 Edition; Windows 10 mobile on Pocket Edition will have all the same achievements (currently 72 of them for a total of 1550 points). But because it's a new platform, you will be able to unlock them over again. Go Gamerscore!
Jez: Are there any hardware restrictions for the W10M version of Minecraft PE? Such as RAM, etc.
Jesse: Nope!
Jez: Any plans to support Continuum on the W10M version for those of us with monitor docks and phones like the HP Elite x3?
Jesse: We haven't announced anything yet, but we are super geeky, and we also have some pretty cool devices and docks we play with. Anything can happen. I wonder if we will do it or if someone's add-on will beat us to it?
Jez: This is more for Microsoft Studios, but are you guys working on any other first party W10M games that you can tease right now? Minecraft PE is very encouraging.
Jesse: Always stay tuned for exciting announcements on all our premier platforms.
Jez: Finally, will I ever be able to travel into space in Minecraft?
Jesse: You can travel to space today, just create an add-on for it! The vanilla survival experience is always growing and evolving based on exciting ideas from the team and things we notice have become broadly adopted by the community.
Huge thanks to Jesse Merriam and Microsoft for speaking with us!
While it's a shame that Windows Phone 8.1 users won't receive further updates for Minecraft Pocket Edition, it's encouraging to see Microsoft continue with their support of Windows 10 Mobile.
Minecraft continues to be a global phenomenon for Microsoft, inspiring an entire generation of gamers. The addition of Minecraft's Addons has the potential to introduce programming logic to millions of youngsters for the first time, as Microsoft looks to gaming to inspire the next generation of coders.
UWP should ensure Windows 10 Mobile users don't get left out in the cold in the future, and we can only hope that Minecraft: PE arriving on Windows 10 Mobile is a sign of things to come moving forward.
On Thursday, we'll give away TEN keys for the Windows 10 Mobile version of Minecraft live on our Thursday Beam stream. Head on over and follow our Beam channel and enable email notifications to be informed when we go live!
Windows Central Newsletter
Get the best of Windows Central in in your inbox, every day!
Jez Corden a Managing Editor at Windows Central, focusing primarily on all things Xbox and gaming. Jez is known for breaking exclusive news and analysis as relates to the Microsoft ecosystem while being powered by caffeine. Follow on Twitter @JezCorden and listen to his Xbox Two podcast, all about, you guessed it, Xbox!
I might actually start playing this now....hmmm

you might. no might only do or do not. If you havn't tried it yet you should. If the price scares you then i dont know what to say. :D

You might actually think WM is alive!

All 15 of us Windows Mobile users!!!

Suprise! Such good news ;)

Needless surprise though. Would it really have hurt to just announce this when they ended support for the WP8 version instead of making it look like they've given up on gaming for Windows Mobile entirely?

Perhaps they enjoy seeing all of the "Windows is dead!" comments from here.

Hallelujah! You hit the hammer with the right nail. Don't mind those Ponchos at super softies Mikroweich...

Seriously. Why disappoint the base and then pull out "good" news weeks later?

It seemed pretty obvious to me that this was coming.

Wow. This is a surprise and great to hear!

Nice! This is really cool that they actually did this!

And it's still a separate purchase, even if you've previously bought every other version of Minecraft on every other platform.

Did you read the article?

I can understand what he's saying, I already own the Java version, Windows 10 PC version and Xbox 360, xbox one version, and I've been putting off buying it on my phone expecting Windows 10 on my mobile to support Windows 10 as a UWP app, but alas, oh well. I guess Play anywhere isn't part of the plan. ​I may purchase on mobile it at some point if there is decent VR experience with it.

I bought brand named apple juice from Walmart. I just don't understand why I have to pay for it at Sam's club when I bought it at Walmart already. Have they ever said Mc:pe will be Xbox play anywhere?!

More like I bought brand named apple juice from Wal-Mart, but then the parking lot attendant forced me to pay for it again so I could drink it in my car.

Have they ever said Mc:pe will be Xbox play anywhere?!

No they didn't, and nor did I. ​I run Windows 10 on my mobile. I run windows 10 on my PC. The Minecraft on Windows 10 for the PC is called "Minecraft: Windows 10 Edition". One would assume, it'd run on Windows 10. No Windows 10 only on PC or Windows 10 only on laptop, or Windows 10 only on a Microsoft Surface. ​Now, I'm fully aware that Windows 10 Mobile is a different animal, but as I already pointed out that my assumption prior to this new Minecraft Pocket Edition for Windows 10 Mobile announcement was that the Minecraft: Windows 10 edition would be running on Windows 10 mobile at some point due to my phone running Windows 10 and all the fuss that Microsoft has been making about Xbox Play Anywhere titles... after all Minecraft IS an Xbox title too.

It's true. I have to re-buy games on iOS that I bought on WP too. That's life, not new.

But Dan, the point is that I already bought it like three times on other *Microsoft* platforms, which I was glad to do. If they're really trying to promote the value of "One Windows" and the UWP experience, shouldn't this just be a gimme?

Given the amount of w10m users still here, it wouldn't have made much of a dent financially either. Would've been a nice gesture though.
And I'm still buying it

poor boy they want to make money on a product. like its so expensive. i have every version except 360 ps3 ps4 and wii and edu and story mode.

You've paid for every version...except for like six versions. LOL.

Do owners of the Windows 10 version get this one for free or is it a separate purchase? It mention the 8.1 WinPho version, but not the Win10 Store one.

Free upgrade, no re-purchase.

He asked if owners of the Windows 10 Store version (not the WP 8 Pocket edition) will get it. Thus far, it doesn't look like it. But the release may not have happened yet.

Not seeing it just yet on my 950, still shows the old 8.1 version at 6,89€.

yes, same here. have Win 10 PC version

That has not been my experience. I own the Windows 10 app (previously called Minecraft for Windows 10 Beta), and the pocket version on W10M is still asking me for a separate purchase.

It's a good thing. If they don't show support for their own platform how can they expect others to do it.

wow i see a little torch buring in the darkness of windows phone.

Needs Continuum. Absolutely needs Continuum x.x Delightful news aside from that though!

That said though, they've more than made up for it with how good the mouse and keyboard support is now! Absolutely nailed it.

Which in turn led me to check for myself... and how about that. Minecraft for W10M actually DOES support Continuum! I get the feeling Jesse didn't actually know what Continuum is lol

I 2nd this. Continuum with mouse and keyboard support works.

Also works with a USB 360 controller, which I've now taken a liking to.

That's all I needed to know! Purchasing!

Lol I came here just to say this, glad it is supported but I don't think he did know when he mentioned somebody doing it with an add-in. No big deal. One good thing with apps is a dev has to go out of their way to edit the manifest directly as XML to disable Continuum, in most cases it works well enough without specific tweaks (see things like the MS Teams and other Sharepoint and Delve apps that work fine in Continuum even if they don't have a tailored UI)

Great news for windows mobile

About god damn time, took them long enough 😒

Bummer! I went to update and the store updated itself. Now it won't open up at all (tried a soft reset) :(

I got the update, on my Lumia 950, and there are quite a bit of bugs. Ones I found so far: Crash as I enter the Nether, gravel, furnace, clay and some other blocks' textures are messed up. Again, these r only some that I found. I'm not being a critic, I love MCPE! Just want to share my experience with the new update. :)

Im all over this. I am downloading it to my phone as I read :D

Did not see it in the store till now but when it is up, this will be bought right away and it will be featured on continuum gaming (youtube) for sure! Thanks a lot! :D

It is up right now as an update to the existing Minecraft PE.

Thought this would be the case. Glad to see minecraft back!

Finally the company sees sense to double down on UWP and not give any wrong messages regarding the prolongivity of the UWP.

What an emotional rollercoaster.. My son will be happy to hear this great news!

Wow...exciting news Jez. I'm really glad for their support.

I eat my humble pie and take back past comments on the topic. This is exciting. Thanks Microsoft.

So if you buy the Pocket Edition that's in the store now, will that be the right one??? It days you need Win8.1 or higher.

I bought the old app and was updated to this version today - I think they're giving everyone with Win10 Mobile the UWP (under the Pocket name), and everyone on 8.1 gets the old version.

The story says no Continuum on the W10M version yet. But it worked for me. A little choppy but very playable.

Yeah, either Jesse didn't know what Continuum is (how would add-ons enable Continuum lol) or although the feature is there it's not, strictly speaking, supported by the development team at this stage.

Damn.. I wish i could pay for this 😭

Is there any (unofficial) way to get worlds off my son's old Lumia 1020 (WP8.1) and on to a newer phone (e.g., Lumia 950)?

is no mobile free upgrade for Windows 10 version? or???

Xbox NEEDS to join the cross platform realms as it seems only Xbox players use the Xbox app to look for other players.

Now this is the news that made me finally buy it :D Spent more than 300 hours with the Windows 10 PC edition, but didn't want to buy it on mobile :D

He is "stocked" on having to redo my XBL achievs. What logic is this? Pocket edition should have been left to the 8.1 era. And it should have finally merged with the desktop W10 version.

Some achievement hunters like games that "stack", especially for games they enjoy, as it lets them earn twice as much Gamerscore.

Yes! New hope for Windows 10 phone survivors!

Just downloaded it as a Pocket update - it IS the UWP, but Mojang deployed it under the Pocket Edition name. Comes with Xbox Live integration, Realms support, AND works with Continuum for phones!

Continuum? Cool, I will have to try that.

Addins from the store don't work for me. Said can't connect to the store. If it works for anyone else, does it show addons you already bought on win 10 ?

Hey wow they finally got music added into the game. Impressive. Haven't tried anything else yet though.

I've purchased every version. The update turned my game into a trial. Weird.

Glad to see this isn't dead in the water after all.

Sweet and yes it does work in Continuum.
Windows Central Newsletter
Thank you for signing up to Windows Central. You will receive a verification email shortly.
There was a problem. Please refresh the page and try again.