Despite Tango's shadow dropping anxieties, Hi-Fi RUSH succeeds with over 3 million players
Discussing Hi-Fi RUSH and its success with game director John Johanas.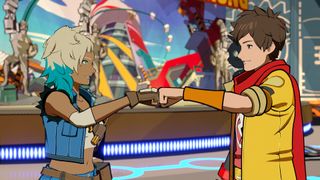 (Image credit: Windows Central)
January seems like a distant memory, given all of the amazing video games that have been released or announced in 2023 since then. Still, I haven't once forgotten about Hi-Fi RUSH, a surprise release from Tango Gameworks, Bethesda Softworks, and Xbox. Six months later, and it's still among my favorite games of the year, as it flies in the face of everything we've come to expect of high-profile game launches to deliver something truly creative, wholesome, and just plain fun.
Recently, it was revealed that Hi-Fi RUSH has now been played by 3 million players. It's an impressive and important milestone for a game that no one expected, even if I'd get 10 million people to play it if I could. Before the news dropped, I was given a chance to chat with Hi-Fi RUSH's game director, John Johanas from Tango Gameworks, about Hi-Fi RUSH's development, the lead-up to release, the game's success, and beyond.
A shadow drop for the ages
Tango Gameworks' John Johanas has been a busy man recently. He's already got an impressive history after joining the blooming developer on The Evil Within (later directing all of The Evil Within DLC), moved on to direct the incredible (and spooky) The Evil Within 2, and then began masterminding a secret project that defied what people had come to expect from the studio. Since Hi-Fi RUSH's release, Johanas has done a number of in-depth interviews, so I instead took this opportunity to nerd out about one of my favorite games of the year with a more casual chat (driven by a laundry list of questions).
Of course, I couldn't talk about Hi-Fi RUSH without discussing how it announced itself to the world: a surprise release during Xbox's Developer_Direct show. An announcement coinciding with a release, commonly referred to as "shadow dropping," is a rare occurrence in today's marketing-driven world. Even for the Hi-Fi RUSH team, it came as a bit of a surprise.
"[Planning the shadow drop] was kind of late, in a sense," Johanas told me. "It evolved within the last six months... PR and marketing came up with this idea, 'OK, so let's organize it all around this one event, and let's put all the eggs in one basket.'" The plan wasn't without risk, and there was understandably some internal concern that it wasn't the right approach for Hi-Fi RUSH.
"We wanted to tease [Hi-Fi RUSH] a little bit, we were anxious about suddenly dropping it and then people saying, 'Oh it's not The Evil Within 3, it's not horror, I don't like this,'" Johanas said. "We wanted just a short campaign being like, 'Hey, what's this? This is weird, could this be good?" but it's available very soon and you can play it and be excited about it." Instead, Hi-Fi RUSH was announced and then released to the world in the same breath, a move that spurred a surge in social media buzz and player interest.
For Xbox and Bethesda to shadow drop a major first-party release — the first of the year — was already enough to ensure Hi-Fi RUSH would capture plenty of headlines. For Tango, it was also the studio's introduction to the world as a member of the Xbox family. "We had so little contact with Microsoft in terms of the game because we were trying to keep it a little bit of a secret... The game was never in that sort of rough shape that needed to be jumped on to be pulled together," Johanas said when I asked him if Microsoft's acquisition of ZeniMax Media and Bethesda Softworks had any effect on Hi-Fi RUSH's development.
According to the game director, Hi-Fi RUSH barely received any comments from Microsoft because it had a clear direction and made steady, consistent progress during development. There was always concern that the project would be shut down because it wasn't what players had come to expect of Tango Gameworks, but Microsoft only became involved in the final stretch. "The whole Developer_Direct was kind of how we teamed up [with Microsoft], essentially doing this double whammy and coming out all at once," Johanas said. Apart from that, the Hi-Fi RUSH team had yet to decide on release platforms when Tango was acquired by Microsoft... That made the decision easy for them.
Tango's debut as an Xbox studio during the Xbox Developer_Direct event and Hi-Fi RUSH's sudden release wasn't all the game had going for it. Players flocked to Hi-Fi RUSH to discover that Tango Gameworks had made an incredible action-rhythm brawler unlike any other, helping it rocket up Steam's top 10 charts almost immediately. Hi-Fi RUSH was clearly something special, thanks to a solid vision of what Johanas wanted to make, and a talented team to make it happen.
The unseen challenges of making Hi-Fi RUSH
"After The Evil Within 2, I started working on the idea. I pitched it around the end of 2017. We spent a good nine months just prototyping, no graphical stuff, just focused on gameplay," Johanas said. "Late 2018... is when we got our first iteration of what this game plays and looks like. 2019 is when we had that full package... after that, we just kind of kept iterating on it." Johanas had a long history with music, so it made perfect since that the game he masterminded would revolve around that.
"We wanted something that made you feel like you're a part of the music without that being the central focus, like you need to focus all the time on this," Johanas told me. "We spent a lot of time thinking about what's the simplest way that someone can interact with the game. Even if you're not playing to the rhythm, you can feel like you are, and we don't punish you."
"That was a big contention internally with people who were familiar with action games that said 'Oh, if you don't press the button on time you shouldn't attack, like nothing should happen' but that would feel terrible from a game perspective," he continued. "We want you to feel like, even if you're not 100% perfect, you're still playing well. That was very important from the beginning... Even if you're not really good with music, you can still play this game."
In my Hi-Fi RUSH review, I spent a fair bit of time discussing how accessible and approachable the game felt, in stark contrast to the rest of the rhythm genre like Metal: Hellsinger. Hi-Fi RUSH welcomes and rewards players of all skill levels, even those who may struggle to keep to a musical beat or typically avoid action-packed games. From the very beginning, accessibility was a huge focus for Johanas and Tango Gameworks. "Anytime we felt like we were drifting a little bit too far off, we'd always pull it back and make it accessible to a wider audience," Johanas told me.
This early focus for Hi-Fi RUSH spread to core game features and design elements that are easy to take for granted but were incredibly challenging to successfully pull off. A great example is how the entire world and all the people within it move to the rhythm of Hi-Fi RUSH's music. Cues don't just come from the audio or UI, they come from the environments themselves, the way characters move, and everything else that you can see. In practice, it feels so seamless, but it was anything but in development.
"It was a gigantic pain in the ass," Johanas laughed. "A good pain in the ass, because it was interesting. I'd like to say we thought of some comprehensive program that would do it for us, but, realistically, we went in by hand... It was like fine combing every single scene and making sure that everything was perfect." Matching different parts of the environments to different elements of the Hi-Fi RUSH music, and ensuring every level perfectly matched the song for it, required endless, careful planning and evaluation to ensure that everything was just right, rather than a cacophony of movement.
This was just one example that Johanas gave me, highlighting that Hi-Fi RUSH presented a lot of fascinating and unique challenges for Tango Gameworks to overcome. "I think a lot of people's preconception about the game is that, unfortunately because of the art style or the game aspect, it's kind of simple, like all this could run on a PlayStation 2, but we're actually doing a lot of really technical, hard stuff in [Hi-Fi RUSH] that was really tricky."
Game development is shockingly misunderstood by many gamers and has led to a number of widespread community debates surrounding "lazy developers," delays, and the rollout of post-launch updates for games-as-a-service. In reality, most game developers are talented professionals navigating an endlessly complex field to create the games we love... Sometimes the final product doesn't match the initial vision, but that's never easy to accomplish. Fortunately, Hi-Fi RUSH carved a deliberate path to release in spite of the technical hurdles the team had to overcome.
When I asked Johanas if there's anything he wished he could talk more about regarding Hi-Fi RUSH, it's the intricate details of the game's development that came to mind. "I'd love for people to see those things and see the amount of effort that the team put in... give people more insight into how much work actually went into making [Hi-Fi RUSH]," Johanas said, hinting that he and Tango Gameworks want to host conferences or videos to discuss the development of Hi-Fi RUSH in the future.
Hi-Fi RUSH undoubtedly enjoyed a winding path to completion, marked by an acquisition by Microsoft and a plan to surprise release the game amid one of the busiest years for gaming we've seen in ages. The quality of Hi-Fi RUSH can't be denied, however, and it's translated to success.
Still game of the year material
It has been surprisingly difficult to keep track of all the wonderful, beautiful, endlessly awe-inspiring games that have been released this year, all the way from big-budget AAA showstoppers to the endlessly endearing indies from passionate creators. Resident Evil 4 (2023), Star Wars Jedi: Survivor, Diablo IV, Baldur's Gate 3, Planet of Lana, Harmony: The Fall of Reverie, Remnant 2... Need I go on? This isn't even counting highly anticipated upcoming releases like Starfield. All of this after Hi-Fi RUSH launched in January of this year, like recalling the first word of an epic novel as you approach the end of the book.
I still believe Hi-Fi RUSH is game of the year material, although I know it won't win (or even be considered, sadly). "Everyone is very proud of what we made, and we're still always excited by the positive reception that we get from people who finally picked [Hi-Fi RUSH] up and played it," Johanas said. "It's one of those things where you're expecting that maybe there's this sort of... Honeymoon period? Where it comes out and people like it and then they look back and they're like 'Oh, it was actually eh.'"
Fortunately, that doesn't seem to be the case. Hi-Fi RUSH's fanbase is still expanding as the game enjoys healthy post-launch support, like with the recent Arcade! Challenge! Update! Even now, I still hear Hi-Fi RUSH mentioned by players, showing the value of releasing a unique, polished game with a focused vision and tons of charm. "Seeing fan responses, fan art... Some people just recently sent plushes of the characters to our studio, which is something we don't normally get when we make a horror game, so we're very happy with what we were able to do," Johanas told me.
There's more on the horizon for Hi-Fi RUSH fans, too, although Johanas flat out refused to divulge any future plans for him or Tango Gameworks (as I expected, but I had to ask, didn't I?) What I was able to learn about was merch for Hi-Fi RUSH, which has been surprisingly slow to appear. Fortunately, there's a reason for that. "One unfortunate thing about the shadow drop is it takes a while to get the merch train going," Johanas informed me. "Normally, that happens way in advance before the game comes out. Basically, we're running on a delayed timeline, so just anticipate stuff that's coming."
Johanas wouldn't spoil anything for me, though, preferring to keep it a surprise. "I think it's always fun to see what's going to be announced... As you can see, we're slowly, finally ramping up how we're supporting [Hi-Fi RUSH], like with the vinyl [soundtrack]... it's just an awesome package that we worked really hard on." (If you're interested in owning Hi-Fi RUSH's absolutely incredible original soundtrack on vinyl, you can preorder it at Laced Records right now).
I expressed my desire for an officially plushie of 808, but I may have to wait a while yet for that. Many fans have also been asking for a physical Hi-Fi RUSH release, so I also hope to see that at some point in the future. Whatever's coming, though, it's clear that Tango Gameworks succeeded in crafting an original new IP with a distinct identity, and a lot of people are falling in love with it. It's my hope that a lot more people are destined to fall in love with Hi-Fi RUSH in the future.
So, what is the talented creator of Hi-Fi RUSH up to now? "I finally got my hands on Final Fantasy 16, so I'm finally giving that a try. It's interesting to see, OK, this is another action game with a combat system, so how is it different," Johanas said. "I'm looking forward to finally catching up on all these games that I missed, and all the great games that are releasing this year, which makes it harder to catch up on the old ones."
Oh, we're talking about backlogs now? Yeah, I don't have room in this article to talk about how large my backlog has grown.
Hi-Fi RUSH is now available on Xbox Series X|S and Windows PC through the Microsoft Store and Steam. It's also available through Xbox Game Pass and Xbox Cloud Gaming. An action rhythm-brawler with an original soundtrack, Hi-Fi RUSH is one of the best Xbox games you can play right now.
Get the Windows Central Newsletter
All the latest news, reviews, and guides for Windows and Xbox diehards.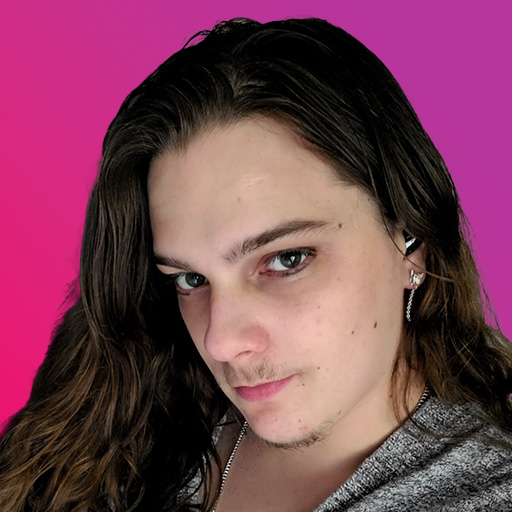 Zachary Boddy (They / Them) is a Staff Writer for Windows Central, primarily focused on covering the latest news in tech and gaming, the best Xbox and PC games, and the most interesting Windows and Xbox hardware. They have been gaming and writing for most of their life starting with the original Xbox, and started out as a freelancer for Windows Central and its sister sites in 2019. Now a full-fledged Staff Writer, Zachary has expanded from only writing about all things Minecraft to covering practically everything on which Windows Central is an expert, especially when it comes to Microsoft. You can find Zachary on Twitter @BoddyZachary.