Play Diablo 4 in style with this limited edition SteelSeries gaming gear
Do a deal with the devil.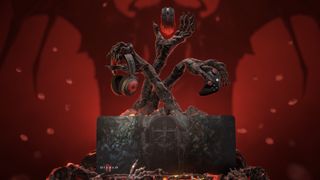 (Image credit: SteelSeries)
What you need to know
SteelSeries have just announced a range of Limited Edition gaming accessories to celebrate the launch of Diablo 4.
The range is priced from $19.99-$199.99 and includes an Arctis Nova 7 wireless headset for PC and PlayStation, an Areox 5 wireless gaming mouse and more.
Players who purchase select items from the collection will also receive an exclusive in-game item for Diablo 4.
---
Get ready to immerse yourself in the world of Sanctuary with this new Diablo 4 limited-edition collection from SteelSeries, KontrolFreek and Blizzard Entertainment.

This collection celebrates the upcoming launch of Diablo 4 which hits platforms on June 6, and includes a range of gaming gear that will help you get even more immersed in the game. The collection includes five items: the Arctis Nova 7 Wireless Headset, Aerox 5 Wireless Gaming Mouse, QcK Heavy X XL Mousepad, SteelSeries Artisan Keycap, and KontrolFreek Performance Thumbsticks. Each item is designed with inspiration drawn from the Diablo franchise and is sure to make hours of grinding levels and loot in Diablo 4 even more enjoyable.
Let's take a closer look at each item in the collection:
Arctis Nova 7 Wireless Headset | $199.99 – This headset has the Nova Acoustic System, which delivers HiFi audio with Sonar Audio Software Suite and 360° Spatial Audio. You can hear everything from the whispers of the undead to the roars of the Butcher as he chases you down. The ComfortMax System ensures that you stay comfortable and cool with 4 points of adjustability and AirWeave Memory Foam cushions. Update: Sadly, this is only compatible wirelessly with PC and PlayStation, with no Xbox Wireless version planned.

Aerox 5 Wireless Gaming Mouse | $149.99 – This mouse is designed for precision and speed. It features a TrueMove Air Sensor and has a lightweight design at only 74g that makes it easy to use for extended periods of time.

QcK XXL Mousepad | $39.99 – This mousepad is made of exclusive micro-woven cloth that works perfectly with low and high CPI tracking movements. It also has a huge playing surface of 900 mm x 400 mm x 4 mm, giving you plenty of room to manoeuvre around onslaughts of demons. And with an extra thick, non-slip rubber base, you won't have to worry about any unwanted movement.
SteelSeries Artisan Keycap | $69.99 – Customize your keyboard with a touch of evil, inspired by the hell gate from Diablo 4, this features a zinc metal alloy construction and an embossed emblem of Diablo's fearsome face. This keycap is a rare and limited edition item, with only 2,000 pieces in the world and exclusive to steelseries.com.
KontrolFreek Performance Thumbsticks | $19.99 – These have a blood-red colorway and a laser-etched design that will immerse you in the battle for Sanctuary. They also have a low-rise profile that adds 5.5mm of height to your original sticks, increasing your arc distance and precision. This means you can hack, slash, and cast with more grip, control, and accuracy. They are compatible with both Xbox and Playstation controllers.
Collector's Edition KontrolFreek Performance Thumbsticks | $29.99 - A special collector's edition set of Thumbsticks with a Heroes Cube case will be available on the launch day of Diablo IV and includes an in-game item, specifically designed for the Diablo 4 x SteelSeries x KontrolFreek collaboration.)
Rare legendary loot
Much like players flocked to the Server Slam to earn the Cry of Ashava Mount Trophy, we're sure fans will want to get a hold of the exclusive item available with this collaboration. The Arctic Nova 7 Wireless, Aerox 5 Wireless and Collector's Edition Thumbsticks all come with the Bound Faith in-game mount trophy.
Each item in the collection is available for purchase at the SteelSeries, KontrolFreek, and Blizzard gear websites (see links below). Pricing for each item varies by region, so be sure to check the website for pricing information in your area. As a bonus, players who purchase select items from the limited-edition collection will receive an exclusive in-game item for Diablo 4 that's specifically designed for the Diablo IV x SteelSeries x KontrolFreek collaboration. This is a great way to show off your love of the game and get even more immersed in the world of Sanctuary. We're not sure what the items are at the time of writing but we will update you when we know more information.

We're big fans of SteelSeries here at Windows Central and while we haven't reviewed the Arctis Nova 7 specifically, the Arctis Nova Pro tops our absolute Best Xbox headsets and our PC gaming headset list too.

So, if you're a die-hard fan of the Diablo franchise and want to fully immerse yourself in a game that you'll probably be playing for years to come, the Diablo 4 limited-edition collection is definitely worth checking out. We're sure there are even more wild collaborations coming as more companies jump on the Diablo 4 bandwagon, so we're bracing ourselves and just praying our wallets can cope with the onslaught of cool loot on its way.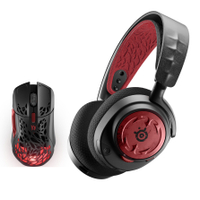 Diablo 4 x SteelSeries x KontrolFreek collection
A hellscape-inspired collection of gaming gear, including special edition Arctis Nova headset, Aerox 5 wireless gaming mouse and KontrolFreek thumbsticks. The full collection is limited edition so go fast!

Buy from: SteelSeries | KontrolFreek
Get the Windows Central Newsletter
All the latest news, reviews, and guides for Windows and Xbox diehards.
Jen is a News Writer for Windows Central, focused on all things gaming and Microsoft. Anything slaying monsters with magical weapons will get a thumbs up such as Dark Souls, Dragon Age, Diablo, and Monster Hunter. When not playing games, she'll be watching a horror or trash reality TV show, she hasn't decided which of those categories the Kardashians fit into. You can follow Jen on Twitter @Jenbox360 for more Diablo fangirling and general moaning about British weather.