How Samsung is positioning itself as the go-to for premium gaming monitors
The game-streaming future is near.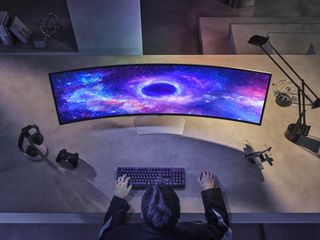 (Image credit: Samsung)
I went hands-on with Samsung's latest slate of hardware and software at Summer Game Fest, including its latest monitor: the Odyssey OLED G9 and its Gaming Hub. I was very impressed by the company's high-quality screens and low-latency game streaming.
Overall, Samsung's TVs are great. They're on par with — or better than — any other company regarding picture quality and latency, with dazzling displays of color and bassy sound. But for me, Samsung's commitment to its own gaming ecosystem is what makes the company's suite of screens worth paying attention to.
Samsung Odyssey OLED G9 hands-on impressions
The ultrawide, curved G9 might be the best display I've ever played a video game on. It's responsive, the colors pop, and the blacks are deep. But compared to my now-five-year-old Acer Essential monitors, the same could be said for any high-end curved monitor. What sets the G9 apart from other curved monitors is its utter decadence.
I know that's a term usually reserved for moist, spongey cakes smothered in saccharine buttercream frosting, but there's no other way to describe this utterly maximalist monitor. It's huge, expensive, and feels like the best parts of a monitor and a TV are rolled into one. While I can't say I'd ever pick one up at its current $2,199.99 price point, I can confidently say that you get what you pay for here — and it's too much. Clocking in at a whopping 49 inches, sitting at a desk in front of this behemoth feels like sitting in front of an IMAX screen.
Samsung knows what it has with the Odyssey OLED G9. Charging over $2,000 for a monitor the size of a medium-sized TV makes total sense when it feels so great to play games on. But the real head-scratcher here is that this is a smart monitor. That means that this device has access to every streaming app you could find on a Samsung television — or, you know, any device that you could plug into this thing aside from a Nintendo Switch. That includes the full suite found in the Samsung Gaming Hub, which incorporates services like Xbox Cloud Gaming, Nvidia GeForce Now, and others.
That means you can natively play anything available in those streaming libraries on this monitor. It sounds impractical, especially since most PCs can stream games, but Samsung's Gaming Hub makes it worthwhile. The Gaming Hub provides a curated, centralized menu that rolls all the potential game-streaming services into one and has the same curation features that you'd expect from services like Netflix or Hulu.
At the end of the day, the Odyssey OLED G9 is a stunning piece of tech that I'm sure will make anyone who buys it very happy. But it's practically bursting at the seams with comical excess.
The Odyssey G9 isn't out yet, but it's available for pre-order at Samsung's store and major tech retailers. When it does release, it's sure to be among the best gaming monitors out there.
Samsung Gaming Hub Hands-On
Samsung's Gaming Hub is its answer to the game-streaming curation issue.
Over the last few years, Samsung has been snapping up game streaming services like they're going out of style. From heavy hitters like Xbox Cloud Gaming, Amazon Luna, and Nvidia GeForce Now to smaller services like Antstream or Blacknut, Samsung's created a menu similar to what you might expect from a smart TV that curates and prioritizes games and services in one centralized place.
Only this time, instead of the next episode of The Bear, this week's episode of Marvel's Secret Invasion, or a recommended YouTube video, thumbnails for games will pop up with a logo representing its affiliated service or platform to avoid the confusion that could come from playing Fortnite through GeForce Now rather than Xbox Cloud Gaming. Of course, you can also select individual services as you would choose a specific streaming service to browse its catalog.
As expected from an official demo station, the streaming works like a charm. I played Fortnite on a few different platforms to see if I could spot a difference in the quality of the stream from service to service, but I couldn't track anything significant or noticeable.
While web infrastructure is a big issue for game streaming, it's not the only barrier to entry for streaming games. The fact of the matter is, streaming can get pretty confusing. Some services, like Game Pass Ultimate and Xbox Cloud Gaming, are subscription-based, whereas others require you to buy games individually.
Samsung's Gaming Hub curates and condenses things into a navigable menu with options for each service and individual titles. It's also exciting to see the Gaming Hub aim for every level of streamed experience. It's not just home to the heavy hitters but smaller streaming services as well. That points to clear excitement and belief in streaming to access games.
In addition to the Odyssey OLED G9, Samsung provided screens for every demo station at the event. One TV ran into issues when a journalist plugged in a capture card for the Henry Halfhead demo, seemingly bricking the TV. Capture card-related problems aside, the TVs at the event let the games on display shine at high frame rates with vibrant, well-balanced colors.
Wrapping up, Samsung's combination of great hardware and software creates an ideal ecosystem for gaming. That cocktail of dedication and efficiency is a refreshingly potent one. When tech increasingly feels mired in barriers to entry, Samsung's suite delivers a simple, bespoke solution that — while very pricey — works exceedingly well, or at least better than the vast majority of other options on the market.
Get the Windows Central Newsletter
All the latest news, reviews, and guides for Windows and Xbox diehards.