Valve has dropped the price of the OG Steam Deck, shaving $200 off the best model — a moment of silence for anyone who bought a refurbed unit
Since the announcement of the new OLED Steam Deck, the price on the original unit has significantly been cut making it even more of a bargain for your own handheld gaming PC.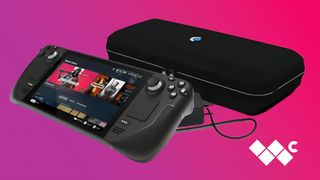 (Image credit: Future)
What you need to know
Today Valve announced a new OLED version of its popular Steam Deck, which launches November 16.
The OLED Steam Deck will launch with a similar pricing structure to the old LCD range, meaning the price of the OG Steam Deck has now been cut significantly. You can now get the top model LCD Steam Deck for a $200 discount.
The 64GB, 256GB and 512GB models are priced at $349/$399/$449 respectively.
If you purchased your Steam Deck in the last 14 days, you may be eligible for a partial refund.
---
The Steam Deck burst onto the scene in February 2022 and has been a roaring success for Valve, with over one million units sold by its first birthday earlier this year. Today in a surprise announcement, Valve has dropped details on the Steam Deck OLED, which will be available for preorder from November 16. Following the announcement of the new and improved Steam Deck coming soon with it's better screen, lighter body, and better battery life, Valve has also announced they are discontinuing the 64GB and 512GB models of the original LCD unit.

As part of this revelation, all three LCD models are being offered at discounted prices, with the most noteworthy being the $200 reduction on the top-tier 512GB model, now priced at an enticing $449.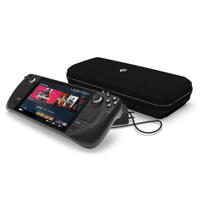 Steam Deck 512GB | was $649 now $449 at Steam

A portable PC gaming powerhouse that lets you play your Steam library on a 7-inch touchscreen. with 16GB RAM and three storage options, don't leave your games at home. While the cheapest model is now only $349, the biggest saving to be had is on the top 512GB model for only $449. At a whopping $200 discount we recommend this as the best value for all that extra storage and anti-glare screen.
All three models are discounted, and there are no differences in frame rates or graphics quality between the three, its mainly a question of storage. You can get:
64GB for $399 $349
256GB for $529 $399 (with SSD for speedy storage)
512GB for $649 $449 (with SSD, premium anti-glare glass and exclusive carrying case)
If you purchased your Steam Deck in the last 14 days, and thus are still within the return period, it's worth reaching out to Valve and asking for a partial refund given the sudden price drop on the 2022 model. Many on this Reddit thread have been successful, so you can still benefit from this sale even if you've already got your hands on your Steam Deck.
Price Matching is available if you bought your Steam Deck recently from r/SteamDeck
The initial launch of the Steam Deck in 2022 marked a pivotal moment in PC gaming, capturing the attention of gamers worldwide due to its versatility and seamless execution of AAA games. The Steam Deck's popularity persisted even at its original price point, resulting in scarcity and waitlists for stock throughout 2022. Anticipating a similar demand for the upcoming Steam Deck OLED, it's clear that Valve's handheld gaming device continues to be highly sought after.

Despite the allure of the upgraded models, the original Steam Deck remains a formidable gaming kit. Many owners, including myself, cherish their devices and may not be in a hurry to upgrade.

Personally, my Steam Deck has been through quite a journey; it's been taken apart and rehoused in an Atomic Purple coffin (because I broke it) and then lovingly fixed and brought back to life just in time for me to enjoy Baldur's Gate 3. I wouldn't be without it. Given the current discounted prices, I find myself tempted to buy another unit, perhaps to experiment with fitting RGB lights from JSAUX that have been gathering dust in my cupboard. Of course, there's also a wealth of fantastic Steam Deck accessories available for those who prefer not to tinker with their units.
The OG Steam Deck is still worth it's weight in gold
New models being announced is always the best time to jump on deals on older stock, and just because the OLED version is on the horizon, it doesn't make the OG Steam Deck any less special, any less a moment in handheld history. Hopefully, we'll now see the price drop on the refurbished units, but I can't help but feel a bit of pain for anyone who jumped on a refurb in the last couple of months now that the brand-new models are enjoying up to $200 discount.

Either way we look forward to this next chapter in Valve's handheld history. And while the allure of new cutting-edge screens and sleek improvements is undeniable, let's not forget the enduring charm of the original Steam Deck. Its legacy will live on etched in the chronicles of gaming history. The original Steam Deck pushed the needle, and it's worth every cent. Not to mention miles cheaper than the ROG Ally and Lenovo Legion Go, more so now with these crazy discounts.
Get the Windows Central Newsletter
All the latest news, reviews, and guides for Windows and Xbox diehards.
Jen is a News Writer for Windows Central, focused on all things gaming and Microsoft. Anything slaying monsters with magical weapons will get a thumbs up such as Dark Souls, Dragon Age, Diablo, and Monster Hunter. When not playing games, she'll be watching a horror or trash reality TV show, she hasn't decided which of those categories the Kardashians fit into. You can follow Jen on Twitter @Jenbox360 for more Diablo fangirling and general moaning about British weather.
What a negative way to present something that should be celebrated. Let's not contribute to the toxic, entitled and smart-ass ambient gaming discourse.

Reply