At last, now even your Steam Deck can have RGB
Customization just got even more colorful on your handheld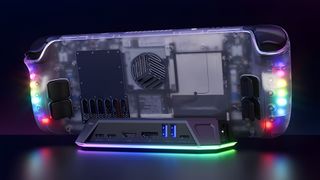 (Image credit: JSAUX)
What you need to know
JSAUX, a creator of Steam Deck accessories, has launched an RGB range for the popular handheld, including an RGB lighting backplate and an RGB dock.
The RGB dock costs $59.99 and the backplate $39.99.
Both accessories are available to purchase now.
RGB lovers, this is the moment you've been waiting for! Your Steam Deck deserves to shine with glorious colors, just like your other gaming gear. You already have RGB laptops, controllers, mice, and keyboards, but what about your Steam Deck? Well, thanks to JSAUX, you can now add some RGB flair to your handheld device.
JSAUX is the leading brand for Steam Deck accessories, offering everything from docks to transparent backplates. They understand that Steam Deck owners like to customize their devices and make them unique. That's why they've created a new backplate with RGB lighting for $39.99. It's available to order today directly from the JSAUX website and will no doubt appear on Amazon in the coming days.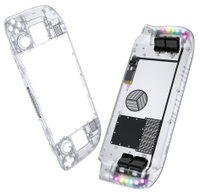 Transparent RGB Back Plate for Steam Deck

Lets take it back to the turn of the century with this retro style transparent casing for $39.99 from JSAUX, now with the added bonus of RGB lighting. Try not to get too distracted from your games when you take in the sights and have fun syncing with your other RGB accessories.

Buy now: JSAUX
The RGB backplate is a stunning visual upgrade and a functional one. It comes with three sets of rear buttons that you can swap to suit your needs and all the tools you need to install it on your Steam Deck and take it into Rainbow Mode.
Image 1 of 4
You get screwdrivers, screws, thermal grease, and anti-static finger gloves. JSAUX recommends you take caution when taking apart the Steam Deck, but many owners have done it successfully with breathtaking results already with the transparent plates launched this year. We do have both the purple plates and the RGB set on the way here at Windows Central, and I, the person least confident with tinkering, will be taking one for the team and dismantling my Steam Deck in the name of science and millennium vibes.
If that wasn't enough RGB-powered action for you, there's more. JSAUX has also released an RGB docking station. JSAUX already has a great no-frills 6-in-1 dock for Steam Deck, which we have given a glowing review, but this dock is all-frills, all-glowing with its RGB lighting — but still only $59.99 for the 8-in-1 version, and $89.99 for the 12-in-1.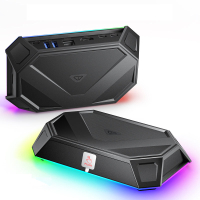 12-in-1 RGB Docking Station for Steam Deck

A multifunctional device that can charge, connect, and display your handheld gaming device or tablet with amazing RGB lighting effects. You can customize the colors and sync them with your screen and other RGB devices, including the Steam Deck RGB Backplate. And it's still a reasonable mid-range price of $59.99.

Buy now: JSAUX
JSAUX's RGB docking station has everything you need to turn your Steam Deck into a gaming hub. It has a USB-C port, an HDMI port, an Ethernet port, two USB-A ports, and a 3.5mm audio jack. You can use these ports to connect your Steam Deck to a monitor, speakers, keyboard, mouse, headset, and other devices. You can also use the USB-C port to charge your Steam Deck while you play.
Image 1 of 3
The RGB docking station comes with RGB lights, 6 lighting modes, including Direct, Breathing, Rainbow Wave, Spectrum Cycle, Race Cycle, and Stacking.
The RGB dock and RGB backplate go together like cookies and milk
HDMI port and DisplayPort outputs up to 4K@120Hz resolution
The RGB Docking Station is not only designed for the Steam Deck but also works with other handheld gaming devices and tablets.
READ MORE
- Best Steam Deck Accessories
- Steam Deck vs ROG Ally
- How to play Diablo 4 on Steam Deck
You can use it with the ROG Ally, Razer Edge and Logitech G Cloud, iPad, iPad Pro, and Android mobile. No matter your device, you can enjoy the RGB lighting effects and the connectivity options unless you have Nintendo Switch, as that's the only device listed as incompatible. You can also control the lights with OpenRGB in both Windows and Linux.

These colorful items are available to purchase now directly from JSAUX, and we'll update you when they go live on Amazon.
Get the Windows Central Newsletter
All the latest news, reviews, and guides for Windows and Xbox diehards.
Jen is a News Writer for Windows Central, focused on all things gaming and Microsoft. Anything slaying monsters with magical weapons will get a thumbs up such as Dark Souls, Dragon Age, Diablo, and Monster Hunter. When not playing games, she'll be watching a horror or trash reality TV show, she hasn't decided which of those categories the Kardashians fit into. You can follow Jen on Twitter @Jenbox360 for more Diablo fangirling and general moaning about British weather.