Microsoft Spring Sale: 10 best Xbox games on offer right now
Don't miss out on these exclusive deals for the spring season!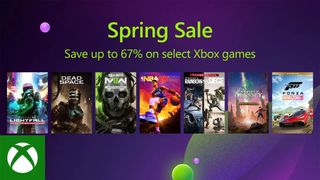 (Image credit: Microsoft)
At the beginning of Spring each year, Microsoft hosts a massive Spring Sale event where customers can purchase a variety of games, movies, PC accessories, tablets, and more at a vastly reduced.
One of the biggest offerings for 2023's Spring Sale is a discount deal for over 700 Xbox games where players can potentially save up to 67% off. As there are so many games being discounted currently, we will be highlighting ten of the best Xbox Series X and Xbox Series S games deals so you can full advantage of the Microsoft Spring Sale.
1. Dead Space — 20% off for $55.99
EA returns to its iconic sci-fi horror franchise, Dead Space, with a remake of the original title that started it all. Embark on a journey of terror as you try to escape the doomed space station Ishimura and fend off the horrific Necromorphs while trying to keep your sanity intact.
2. Cyberpunk 2077 — 50% off for $29.99
Cyberpunk 2077 is an open-world RPG created by the developers of the Witcher series, CD Projekt Red. As the cyborg mercenary, V, your goal is to explore and survive the dangers of Night City to become a living legend.
To reach your dreams, you will need to outfit yourself with the deadliest of firearms, customize your appearance to show your enemies that you mean business, and make complex moral choices that will determine the outcome of your story.
3. Soul Hackers 2 - Digital Deluxe Edition — 50% off for $34.99
Soul Hackers 2 is a JRPG spin-off of ATLUS' long-running Shin Megami Tensei franchise. Set in a dark cyberpunk world mixed with occultism, you play as a group of Devil Summoners trying to save the planet from being destroyed by the apocalypse.
Gather a group of intriguing Devil Summoners with complex backstories, summon primordial demons to dispatch enemies in challenging turn-based battles, and fight mysterious villains looking to bring about the end of the world.
4. Call of Duty: Modern Warfare II - Vault Edition — 25% off at $75.99
Call of Duty: Modern Warfare II is a reimaging of the first-person shooter of the same name that took the collective gaming world by storm back during the Xbox 360-era of gaming.
This title builds upon its predecessor's beloved gameplay with an epic single-player campaign, a new Special Ops co-op mode, improved gunplay, new gameplay additions, polished graphics, and so much more.
5. Devil May Cry 5 Deluxe + Vergil — 50% off at $19.99
Capcom's adrenaline-pumping, high-flying, stylish Devil May Cry series is back with Devil May Cry 5. Play as fan favorite Devil Hunters Dante and Nero and the mysterious newcomer "V" as they struggle to save the world from an army of demons led by the maniacal devil Urizen.
Ride motorcycles into a demon's face, chokeslam giant bosses with robot arms, and summon your own demons to lay waste to your enemies in the craziest and most action-packed Devil May Cry game to date.
6. Destiny 2: Lightfall + Annual Pass — 25% off at $74.99
Destiny 2: Lightfall is the latest expansion for Bungie's popular online looter-shooter title, Destiny 2. Band together with your fellow Guardians and travel to the city of Neomuna to safeguard it from the evil Shadow Legion.
Unlock new powers for your builds, traverse the city using all-new mobility mechanics, and harness the dark powers of the new Strand sub-class.
7. Wild Hearts Standard Edition — 20% off at $55.99
Wild Hearts is an action-hunting game where you are tasked with defending humanity from gigantic, magically-empowered monsters known as Kemono.
Armed with mysterious, shape-shifting technology called Karakuri and mighty weapons that command the power of the beasts you hunt, you set out on a dangerous quest to slay the Kemono and bring peace back to the land.
8. Hi-Fi Rush — 10% off at $26.99
Hi-Fi Rush is a rhythm game/beat em' up created by Tango Gameworks of Evil Within and Ghostwire: Tokyo fame. You play as Chai, a wannabe rockstar who gets tangled up in a crazy adventure where he along with a band of misfits fight to bring down the evil Vandelay Technologies corporation and their sinister plans.
Harness your music-based powers and time your attacks to the background music beat to dismantle hordes of giant robots and rack up those S-Rank scores.
9. Destroy All Humans! - Jumbo Pack — 60% off at $31.99
Relive Crypto-137's destructive adventures in the Destroy All Humans! series — remastered and all packaged together for the definitive, explosive experience. Arm yourself with a variety of alien weapons, blast your way through the US military, and conquer the Earth by reducing mankind's cities to ruins with your Flying Saucer.
10. The Outer Worlds: Spacer's Choice Edition — 20% off at $47.99
The Outer Worlds is an RPG brought to you by Obsidian Entertainment and Private Division. Waking up from cryo-sleep on a colonist ship, you find yourself in a new galaxy ruled by shady corporations.
To survive, you will need to form a rag-tag crew of tough mercenaries, explore a multitude of planets, and interact with the various factions vying for control of the galaxy.
All these deals and more are waiting for you!
These are just the highlights of the Xbox Spring Sale, as there are over 700 discounted available right now thanks to this Microsoft Store sale, which you can see in full here. However, this sale will only last from Apr. 7, 2023, to Apr. 20, 2023, so get on those deals while you still can and grab some of the best Xbox Games out there.
Get the Windows Central Newsletter
All the latest news, reviews, and guides for Windows and Xbox diehards.
Alexander Cope is a gaming veteran of 30-plus years, primarily covering PC and Xbox games here on Windows Central. Gaming since the 8-bit era, Alexander's expertise revolves around gaming guides and news, with a particular focus on Japanese titles from the likes of Elden Ring to Final Fantasy. Alexander is always on deck to help our readers conquer the industry's most difficult games — when he can pry himself away from Monster Hunter that is!