Starfield: How to change the field of view (FOV) on PC
Modders have already created a mod for Starfield that lets players change the field of view (FOV)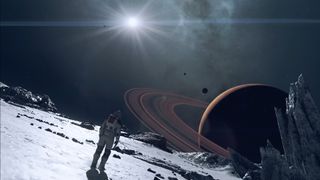 (Image credit: Bethesda Softworks)
What you need to know
Modders at Nexusmods have a created mod for Starfield that can adjust the game's field of view (FOV).
This mod will allow players to set the field of view to their personal preference and make it more comfortable for those who suffer motion sickness.
Starfield is Bethesda's latest RPG epic, where players take on the role of space explorers who travel the galaxy to solve ancient mysteries and make a name for themselves.
---
On Sept. 1, 2023, the modding community at Nexusmods created a PC mod to enhance the presentation of Bethesda's much-awaited sci-fi RPG, Starfield. The mod in questions allows the player to change the game's field of view (FOV) to their personal liking (see at Nexusmods).
For those unaware, a field of view is the range in which a camera that can perceive an area. Some people like to adjust the field of view in video games, so they can see more of the environment or for health reasons, as a narrower field of view can sometimes induce motion sickness.
Image 1 of 4
Starfield guides
- 7 things I wish I knew before playing
- Inventory management: What to sell
- Pickpocketing: Unlocking and how-to
- Persuasion: Passing speech checks
- How to fast travel and grav jump
- Status effects and medicines
- How to use the boost pack
- How to solve digipick puzzles
The PC version of Starfield doesn't have an in-game option to adjust the FOV, so modders have created this mod to compensate for the lack of it. Unfortunately, the same cannot be said for the Xbox Series X and Xbox Series S versions of the game, as mods are not supported for them yet.
However, the head of Bethesda's publishing department, Pete Hines has confirmed in an interview with Spanish website Vandal (translated via GameSpot) that mods will be coming to the Xbox version of Starfield after the game officially launches to the public on Sept. 6, 2023. The game is currently only available through early access for players who bought the premium edition.
In the past, we have seen similar mods implement for the Xbox versions of Elder Scrolls titles and Fallout games. So the likelihood of the FOV mod coming to the Xbox version of Starfield is looking to be very promising.
The modding scene has begun for Starfield
Bethesda games are famous for having the most dedicated and vast modding communities out there, and it looks like that legacy is going to continue in Starfield.
Who knows what kind of mods we'll see in the future? We will see a flood of quality-of-improvements? New fan-made creatures and NPCs to interact with? Or perhaps we will even see gigantic story expansion mods where players will get to explore new areas and complete quests made by the fans from scratch?
In our review of Starfield, our very own Jez Corden described it as an absolute triumph of a game. With the modding community already in full swing making quality-of-life mods, this already amazing Xbox game and PC game is going to get even better and have a bright future ahead of it.
Get the Windows Central Newsletter
All the latest news, reviews, and guides for Windows and Xbox diehards.
Alexander Cope is a gaming veteran of 30-plus years, primarily covering PC and Xbox games here on Windows Central. Gaming since the 8-bit era, Alexander's expertise revolves around gaming guides and news, with a particular focus on Japanese titles from the likes of Elden Ring to Final Fantasy. Alexander is always on deck to help our readers conquer the industry's most difficult games — when he can pry himself away from Monster Hunter that is!
No FOV slider? Another reason not to play it. Seriously this is an absolute lack of accessibility options the likes of which I don't expect from Microsoft in 2023.
I won't play a game that makes me sick, indie or triple A.
Get your shit together, Bethesda.

Reply