Xbox has released a Stellar Shift controller and it's giving serious Starfield vibes [Update]
The perfect partner for some Starfield sessions.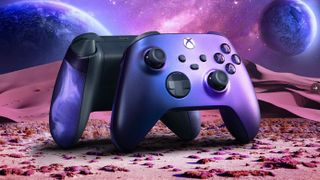 (Image credit: Xbox)
What you need to know
A new design of the Xbox Series X|S controller was leaked earlier via an Amazon listing, the controller is named the Stellar Shift.
The controller has been now confirmed and is available for sale directly from Xbox and will retail at $69.99.
The controller "changes color with light and motion", has a swirl design similar to the Lunar Shift controller and comes with a unique dynamic background for your Xbox Series X|S.
UPDATE (16:45 FEB. 7, 2023)
As of now, Xbox have confirmed the Stellar Shift Special Edition controller is available for order. It will retail at $69.99 in the US, £59.99 in the UK and €64.99.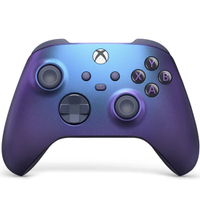 We know Xbox loves its special edition controllers, and it's been quiet on that front since the release of the Lunar Shift in October. Well fear not, because a leak on some European Amazon sites shows we may have a new controller coming our way, the Stellar Shift, penned for release on February 14.

The leak was initially posted by Twitter user billbil-kun in this informative post, where they confirmed the listed price as €64.99, which means a like price of $70.
RELEASE DATE PREMIERE#Xbox Wireless Controller Special Edition Stellar Shift🗓️Announcement date: TBD⌛️Release date: From Feb 14th, 2023💲Price: 64,99€Already spotted on some Amazon EU sitesES: https://t.co/Ft41hDX7AfIT: https://t.co/DTpibXrqroFebruary 3, 2023
The Stellar Shift name and design appear to fit in with the other two controllers in this range, the Lunar Shift and Aqua Shift variations. In fact, packaging photos show identical descriptions of the controller design in that it features a 'surreal shimmer' so will change color subtly in the light similar to the Lunar Shift controller. The textured grips also have the same eye-catching swirl design, albeit in a purple and black colorway.

There have been some entertaining theories being shared on Reddit and Twitter, and some Xbox fans have pointed to the emergence of this space-themed controller as supporting evidence of an upcoming Starfield release date or new trailer. (The now confirmed controller is described on the Xbox blogpost as "deep space vibes"). Whether there is any truth in this, or a case of extreme Xbox community hopium, remains to be seen. What we can say though, is that this is a beautiful controller that will certainly make a great companion for playing Starfield when it does release.

To add to the intergalactic theme, the Stellar Shift will come with a unique dynamic background that will unlock when you connect the controller to your Xbox Series X|S.
This is the second time to our knowledge that Xbox has packaged a dynamic background with their controllers, as the 20th Anniversary Special Edition also came bundled with a unique background. It's a nice perk and will be interesting to see if they take the idea forward for future releases.
Xbox controller deals: Amazon | Razer | Dell | Best Buy | Walmart
Get the Windows Central Newsletter
All the latest news, reviews, and guides for Windows and Xbox diehards.
Jen is a News Writer for Windows Central, focused on all things gaming and Microsoft. Anything slaying monsters with magical weapons will get a thumbs up such as Dark Souls, Dragon Age, Diablo, and Monster Hunter. When not playing games, she'll be watching a horror or trash reality TV show, she hasn't decided which of those categories the Kardashians fit into. You can follow Jen on Twitter @Jenbox360 for more Diablo fangirling and general moaning about British weather.