Get your Windows 7 or 8.1 PC ready for the next Windows 10 preview with new tools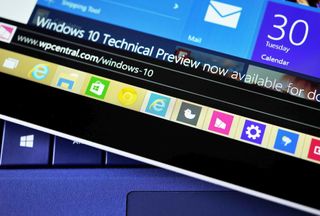 Microsoft won't launch the next major update for its Windows 10 Technical Preview until sometime in early 2015, but the company is now tempting PC users who have either Windows 7 or Windows 8.1 with a special tool that will get their computer prepared for the next Windows 10 launch via an automatic update.
Basically, downloading and running this tool will check to see if your PC is ready to get the next version of Windows 10. If the tool senses the PC is prepared, it will show a message that states, "Your PC is now ready for the Windows Technical Preview. Windows Update will let you know when the latest preview build is ready to install on this PC in early 2015."
Microsoft could wait until January 21 to launch the next Windows 10 preview build. That's when the company is scheduled to hold a press event in Redmond, Washington where it will reveal more about their consumer and mobile plans for the OS.
Source: Microsoft (opens in new tab); Via: WinBeta
Windows Central Newsletter
Get the best of Windows Central in your inbox, every day!
Sounds like a pre update tool.... Might have to see what MDL says it does.

If I download preview will I get original version in free???

I think it should be free.. They cant leave those who update to beta in dark...

most likely there is a time limit just like in win 7 beta builds, you'll be forced to install a final OS after some time

Windows 10 is a free upgrade for people with Windows 8.1, if I am not wrong.

There are terms and conditions applied to that.

Nothing official has been announced regarding that, so you may be.

but i think yes because belfiore told we will update beta testers to original one i guess

No, the update is not free - even to beta testers. It has been commented on in the forums before. MS say no.

So where exactly do I get this tool and how?

Usually, the part at the end of the article that says "Source" is a good place to get more information.

BOOM. Daniel punishing the noob.

LOL @ this dragging. Dan you're funny. :3

Anyone know release date of windows 10 preview for phone???

They will declare date on 21st Jan

I see what you did there :3

WP 8.1 came I April so I would guess April again

Nice idea, but I've had it with preview builds screwing up my hardware. I'll be waiting for the full release.

Run the tool. It will probably say your device is not ready

So, Windows 7 users will upgrade for free? When stable version come out.

That's two steps down from Windows 10. I seriously doubt that will be a free upgrade for anyone below 8.x. But again, it's all conjecture at this point, as Microsoft has not made a formal announcement, nor will they until January 21st.

If it's free for 8.1, it'll be free for 8.0... Obviously.

would like to know how long will that be . because i need to update badly.

Sooo...I'm not seeing the link to the tool in the article, unless I'm blind (which is possible, too :)).

Aaaaand, I found it. It's under the Microsoft blog itself. Sorry everyone for my blindness (blondness?) ;)

The only reason they do this is because windows 7 will get free upgrade. There is not a single other reason to do this. And while I'm tempted I need my laptop for work so I'll have to wait and see how this works out.

Why does this mean it will be free? It's much more likely that 7 and 8 are the most prevalent OSes and the most likely to upgrade to 10.

Read the article... It says win 7 and 8.1 ... Windows update will announce you that is a update for you ... So its free for everyone

I fail to see how that means it's going to be free.

Why allow it on win 7 otherwise? To try it and then what? Reinstall win 7 again after trial/beta/test period is over? Makes no sense, does it?

That's how it worked for other previews. Win 8 let you preview and had tools verify compatibility. It certainly wasn't free.

No, nobody will be getting the release version of Windows 10 on their computers for free. It has already been debated and discussed on this site and MS themselves have said "no".

Proof? AFAIK it will be a free upgrade for Windows 8.1 users only.

I have an original 8 license updated to windows 10.
What happens if I update to TP? Will it update again to consumer release version when release and all? Cause if it means i'll have to reinstall windows 8, instal a TON of updates, then 8.1, another ton of updates, then windows 10 when released, I'm skipping it.

That's the big question...

No, you won't have to do any of that. All you will have to do is buy the license and then apply the new code to your consumer preview and that is it. No need to uninstall anything. But, I do believe I read somewhere that Microsoft had decided to make Windows 10 free to current Windows 7, 8 and 8.1 users. Only those on Windows XP would have to buy the new OS.

You've read rumors somewhere and now seem to believe it as fact. MSFT has not annouced anything.
They are extremely unlikely to have it for free as it would cause massive amounts of issues with their enterprise agreements.

You are correct in that there has not been any official announcement by Microsoft regarding this, but I'm not the only person who believe Windows 10 will be a free upgrade for Windows 8 users. Check out the below article which makes some pretty good arguements. It may also be that it will be free for consumers, but not for enterprise editions: http://www.idigitaltimes.com/windows-10-free-upgrade-will-windows-81-users-get-newest-version-os-without-having-pay-it-386841

aah, only if phones were that easy.. i mean my computer is almost 6yo and im sure i can keep it for the next 2 releases of windows, cant say the same for any phone i've ever had, they always find a reason not to let you update

Yeah, they should have updated phones like high-end wm 6.1 to wp7 and maybe even to win 8. They should have limited os by ram, lets say wm6.1 to 128mb, wp 7 to 256, and wp8 to 512, maybe limit w10 to 1gb... This might have saved the crysis microsoft had with wp.

So Lumia 2520 will get this update? Our will it exclude RT?

I doubt it will exclude RT devices. Perhaps they'll give RT tablets the same OS that'll run on phones.

Windows 8 consumer preview was fairly solid and stable, I would give Win 10 CP a chance on my main rig. I stayed away from the tech preview since many of good MS watchers were going to put it through its paces.

Does this apply if I already have the TP installed?

How can install this on my Win7 64bit PC??

They should let people who are not Insiders get a look at the most commonly reported problems and requested features before letting them install it. Make sure they're aware of what they're getting into. I'm still not happy about the OneDrive change but am back to using it since I like just about everything else so far.

If they didn't change OneDrive back, I will not be playing with Windows 10.

If you think that sticking with 8 is going to stop them from changing OneDrive, and eventually forcing you to update to the newer version, then you're fooling yourself.

Hello some help here, I have a Surface Pro 2 so, if I install this tool on my SP2, will it tell when the appropriate technical preview for my SP2 is released? as of now present preview is not suitable for my SP2, Is this the way the tool works?

What about my Vista SP2 machine?

Hope they improve all icons in desktop. Like control panel, settings, system icons and many more.
to make it more modern 3D design icons.

If you install windows 10 tech without keeping any files I mean clean install. The PC is faster than keeping files.

Cool!!!!! But will the preview/s be stable? I don't want to install the tools if everything crashes or lots of bugs or whatsoever...

Wow. That was quick, and I didn't even feel a thing.

I run Windows 10 Preview both in Hyper V and via Boot to VHD, all on my Surface Pro. My virtual hardware is definitely clean and ready.