GroupMe looking for Windows Phone users in NY on 2/16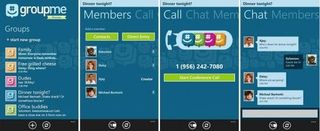 Queue "Eye Of The Tiger," as it looks like group-texting app GroupMe is looking to make a comeback to Windows Phone. The developers have put out a call across the Twittersphere for Windows Phone users in New York to do some testing on the evening of February 16. GroupMe first cropped up in the Marketplace in July, and a month later, it was announced that it had been bought out by Skype (pronounced: Microsoft). There was very little action post-announcement, until a major update was announced in December. However, since then, GroupMe has been MIA from the Marketplace.
There are no details on what is on the horizon for February 16, but if you want to be a guinea pig for GroupMe, you can sign up directly here, or via the source link.
Source: GroupMe (via Twitter); Thanks for the tip, Travis!
Windows Central Newsletter
Get the best of Windows Central in your inbox, every day!
Anyone have the web link for this app? The Zune link is:

zune://navigate/?phoneAppID=8b97e82f-e7a8-e011-a53c-78e7d1fa76f8

..but I need the web version to install since I dont have zune software at the moment to sync. Searching for it in the market does not bring it up.

Never mind.. figured it out :)

http://www.windowsphone.com/en-US/apps/8b97e82f-e7a8-e011-a53c-78e7d1fa76f8

Hey there,
I work at GroupMe. #)
That version of the app is old (really old) and unsupported — it doesn't work too well anymore. You probably won't be able to get it for much longer.
Stay tuned, though... a brand-new WP7 app is coming soon. That's why we're looking for some user testers. Any users who are in the NYC area and available next Thursday (2/16)... we'd love your help! Sign up here.
https://docs.google.com/spreadsheet/viewform?formkey=dGZYRFJ5VXgtRTlON00...
Thanks!

Great news Steve. I'm currenly using an Evo but am looking to buy a WP7 model as soon at the 900 becomes available. I use GroupMe on Android right now so this is very important for me to have this app.

Gross...that's on geGool cods! =[~) Skydrive Office please...

if you are looking for beta testers, i would be more than happy to participate.

Hi Stevespillman,
I just signed up via your google docs spreadsheet. I live and work in NYC and would really like to participate. I use group me alot but the current app is so weak on WP7 that I have reverted to just using texts insteat of the app.
Please keep me in mind :)
jvward!

I'll be glad to help!
I've been using GM on a regular basis on an Android device so will be glad to try it out on my Titan finally.
Is being right across the river in NJ ok? I live 6-7 miles from Manhattan.

You can download it from www.groupme.com. Its a great app to have group conversations with people on other platforms. I hope they get it fixed and updated, crashes on me from time to time.

Please excuse my ignorance. I think this app is a great idea but I feel like what it does is already covered by the WP7.5 OS with groups.
Can someone tell me what I'm missing out on? Thanks.

I might be wrong, but I think this app is different from the native group messaging in that every response is sent to all users. Whereas the native group text goes out to all users, but the responses are sent back to the original author only.
My question is how is GroupMe any more useful than something like WhatsApp?
I'm using Kik messenger with my girlfriend to save on my SMS limit.

i Have the same questions as you guys, but probably this app is like a chat room, everything one person writes, all the others can see and viceversa, that's what I think, I'm not sure

I was hoping for like a NYC meet-up event or something.

groupme, whatsapp, & kik messenger basically do the same thing. its an open conversation for everyone in a group. you can have multiple groups, you can even have a "conference call" where it calls everyone in the group, etc.
all my friends on IOS and Android use this app over the others, therefore I use it too. If you dont have unlimited text, this is a great way to not go over your limit.