GTA V Xbox 360 owners to get bonus content for Xbox One game upgrade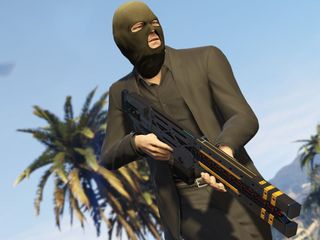 If you own an Xbox 360 copy of Grand Theft Auto V and you also own an Xbox One, you may be wondering why you should get the upcoming HD port of the hit open world action game for Microsoft's latest game console (besides the obvious graphical improvements). Today, Rockstar answered that question by revealing loads of exclusive content that can only be accessed by players of the Xbox 360 and Playstation 3 versions of the game who trade up for the Xbox One and Playstation 4 versions.
Much of the extra content will be available to players when they finish specific missions and challenges, including vehicles like the Dodo seaplane, the Kraken Sub, and the Xero Gas Blimp. There will also be exclusive weapons like the Rail Gun to play with. And anyone who preorders the Xbox One or Playstation 4 versions will get $1 million in GTA in-game cash to spend. That'll buy a lot of guns!
Rockstar added:
Grand Theft Auto V for the Xbox One and Playstation 4 will be released on November 18 while the long awaited PC version will follow on January 27. If you own the Xbox 360 version, will you be trading up to get the Xbox One upgrade?
Grand Theft Auto V - Xbox One - $59.99 - Amazon Link

(opens in new tab)
Source: Rockstar Games
Windows Central Newsletter
Get the best of Windows Central in your inbox, every day!
Not yet. No Xbox one yet :(

Im the opposite, one of the main reasons for me preordering the xbox one last year was because I wanted to play gta v but didn't have a 360. I knew it would come to xbone eventually... Didn't think it would be quite this long... But yeye, nearly here!

Loved GTA V last year. I don't know where I'll find the time.. But I wanna play it again on Xbox One.

Sam, do a photo contest within GTA V

Well I sold my XBOX One to someone who wanted to play forza more than I wanted to watch it collect dust. Would have dusted it off for this. Ah well... I guess when a holiday bundle comes along with a 1TB drive & Kinect, I'll buy another one.

Why buying when you can... steal B)

Would love to pre order it to get the in game cash but I want it digital and it looks like digital pre order is only available on the PS. Does anyone know if the disc pre order gives access to a digital download?

You can preorder digitally through Xbox one, it just doesn't show yet, wait till November, they usually do it 2 weeks before release.

That's what I'm hoping for, I keep checking! Thanks!

Too bad I bought it digitally last year. I've got plenty to play though seeing as my Xbox one has only been with me for two weeks. Ill pass on the rehash until I can buy discounted. With sunset overdrive, halo MCC, cod and ac, im set for winter. Plus when Destiny expansion drops ill be right back playing that for another 100 hrs.

I'm tired of GTA. Not going to buy it in the Xbox one unless its under $30.

$1mil? I've been playing this game since launch and I still dont have more than $100k. How the hell do people have so much money?

It's easy to make money, just farm the missions.. I've gotten a couple millions but yeah, I'd prefer heists.. Which are not available yet so don't pay attention to the other guy.

Is it bad I had that anxious gut twisting feeling when I thought this was an article saying the Xbox One edition was up for preload?...

That's what I was thinking and hoping! Bummed out its not the case...

So do you have to buy the XBO/PS4 version at full price to take advantage of this?

No. It's tied to your social club account. You load up GTA on your One or PS4, it sees you have played the last Gen version, then it unlocks your shit

in the article of course... "current GTA Online players on PS3 and Xbox 360 will be able to pick up where they left off, transferring their characters and progression seamlessly to their choice of PlayStation 4, Xbox One or PC."

That's wasn't my question. It was if I'd have to repurchase the game again, as opposed to trading up for like $15.

Yes, you do have to repurchase, mentioned in the article. Unfortunate, but I guess that's why they're offering so many incentives.

Well they can screw themselves. I loved the game, but not enough to pay double.

You are enjoying the game from square one with an improved experience all around. But I do agree that it should be a discount if you have the last Gen version.

It still doesn't make it worth paying for again.

So what about those heists?

Why so much talk about the Xbox One in particular? I'm getting the PC version and still getting all this cool stuff. :D

Maybe because console version will be released sooner?
PC version won't be released until 27 January....

So if i borrow or rent the 360 version and play it on my 360 for 10 mins. I will then get the upgraded items if i buy the XboxOne version?

You'd need to get far enough in the game for it to register on your Rockstar Social Club account, at least. Possibly further.

You can register on the Social Club any moment.

Need to have played on last Gen with that account for it to matter though.

I think he was replying to Zeem Frostmaw above. The comments just go astray from time-to-time.

I think I'll be to busy with Halo MCC and Dragon Age Inquisition but I'd love to play this game too

Lets just wait for the currency conversion patch that will allow GTA money to be converted into Microsoft credit, then ill be able to get all the games I want lol

Kurwa... Nie dość że odgrzewany kotlet to jeszcze ryczą za niego jak na premierze roku.

How about the XBOX One, PS4, and PC users get exclusive content instead for having to wait an extra year?

This would be good but developers won't try that hard...

Never liked GTA at all. So I've never bought it and never will.

Yeah, I'd prefer a discounted price for returning players. Got the Special Edition on 360, chances are I won't pay the full $60 for it.

I'm pretty sure they give you 500k for campaign and 500k for multiplayer. Which sucks because you dont need extra money in the campaign. Not as great as it sounds. "We'll give you $1m!' No you're giving us 500k for multiplayer, the only thing that people really play.

If I have the time to play on Xbox one. So many games coming out in the next couple of months.

Wondering when the pre-load is up on Xbox One. But damn. I have purchased Forza Horizon 2 not too long ago, I bought Halo MCC and AC Unity (which are pre-loaded now), and GTA V is around the corner. But I also want to buy Sunset Overdrive... My wallet hasn't been gang-banged like this for a long while... poor thing.

I want this content now on xbox 360 kurwa ich zapchlona mać...