How control your Windows 10 PC or phone with another computer with the Connect app
Project to this PC let you use the new Connect app on Windows 10 to project your phone or another PC to your computer screen.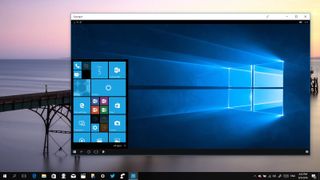 The Windows 10 Anniversary Update doesn't add a few new features and change a few things — it continues Microsoft's quest to bring devices closer together. One new feature is part of this quest: "Project to this PC".
Project to this PC is very similar to remote desktop, but with the difference that the remote device is the one establishing the connection to the new Connect app. You can project a Windows 10 Mobile phone or remote PC to your computer screen using Miracast wireless technology or through a local network without the need for an username and password.
In this guide, we'll walk you through the steps to project devices to your computer screen on the Windows 10 Anniversary Update and later version.
How to use the 'Project to this PC' feature on Windows 10
Project to this PC has two parts: you first need to customize the settings, and then use the Connect app to establish a connection.
Customizing 'Project to this PC' on Windows 10
To customize the experience do the following:
Open Settings.
Click on System.
Click on Project to this PC.
In order to make your device discoverable by the other device you're trying to project, you have to customize the "Windows PCs and phones can project to this PC when you say it's OK" option.
From the drop-down menu, you need to choose one of the following:
Available anywhere on secure networks
Available anywhere
Always Off
You can also select to "ask to project to this PC":
First time only
Every time a connection is requested
In addition, Project to this PC offers the option to pair devices using a pin with the Require PIN for pairing option. If you don't enable this option, you'll connect directly without any extra steps.
Because users are likely to use this feature on a laptop, there is also an option to make your computer discoverable only when it's plugged in. (So, if you're trying to use this feature and you're unable to connect, you probably have this option turned on, and your laptop is running on battery mode.)
You even get a link to rename your PC to make easier to discover the device on the remote host.
Projecting a device to your computer
Once you have configured all your settings, open the Connect app on the device you're trying to project a remote screen. Then on the remote device, such as your phone or another Windows 10 PC, do the following:
Open Action Center.
Click the Connect button.
Click the name of the device you're trying to project.
Check the Allow input from a keyboard or mouse connected to this display option as necessary.
Once connected, you'll also be able to control the remote screen with your keyboard and mouse. However, keep in mind that the experience performance will vary depending on the device you're using and network speeds.
This is also a great alternative to use Continuum for Windows 10 Mobile, when you don't have a display adapter to use your phone as a PC.
The secret feature
The best part about this new feature is that you're not only limited to project your main computer screen, you can also use "Project to this PC" to transform your computer into a secondary monitor for another PC.
When you connect another PC to your main computer screen there is a "Change projection mode" option (see above image). When you click this option, you'll also get the Windows Project options, including: Disconnect, Duplicate, Extend, and Second screen only. If you click the Extend option you will be able to expand your workspace real estate as you were connecting a secondary monitor.
Wrapping things up
Microsoft is touting the "Project to this PC" as a business feature to help you quickly show PowerPoint, Word, or another type of documents to a colleague, but anyone can use it.
It's important to note that devices projecting to the Connect app on your main PC are not required to be running the Anniversary Update (version 1607). This feature will work perfectly OK with devices running the November 2015 Update (version 1511) or later.
These instructions also apply to Windows 10 Mobile devices — the only difference is that you'll have access to the Continuum experience, not just the phone screen.
Do you like the new Project to this PC feature on Windows 10? Have you tried it? Tell us in the comments below.
More Windows 10 resources
For more help articles, coverage, and answers on Windows 10, you can visit the following resources:
Windows 10 help, tips, and tricks
Mauro Huculak is technical writer for WindowsCentral.com. His primary focus is to write comprehensive how-tos to help users get the most out of Windows 10 and its many related technologies. He has an IT background with professional certifications from Microsoft, Cisco, and CompTIA, and he's a recognized member of the Microsoft MVP community.
Did you read the article?

My computer doesn't have Miracast but I can't seem to connect my phone to it via local network. Only Miracast works with phones?

You can plug your phone into the USB port of your PC and project that way. I do that from my Lumia 950 to my work laptop (HP EliteBook 8470p) lacking Miracast or WiDi and it works flawlessly...

Using the new connect app?

1. Plug in phone with USB to PC
2. Fire up Connect app on PC
3. Press Connect in Action Center on phone and select PC's name
4. Go to the Winchester and wait for all this to blow over.

LOVE STEP 4. Best reference that could have been put in here!

Yay! Someone got the reference! :-)

PC not appearing... Says searching for wireless devices

Thanks for this. I will uninstall the project my screen app on my PC now..
Edit: Nop I won't. This process lags alot

It wasn't working, until I realized I was projecting Continuum with the Wireless option in the Continuum app. For anyone not being able to project to your laptop with USB, make sure you have the Wired Dock option selected.

I chose wired dock but then what should I do? It still doesn't detect the computer

Hmmm... That's odd. Do you have USB 3.0 on your computer? That could be a requirement as USB 2.0 may not be fast enough to receive Audio/Video fast enough. That's my take on it.

I indeed have usb 2... A shame if that's the issue
So no Miracast, no usb 3 :(

Shame. Is there anyone else who can confirm this?

Well at least I have the old project my screen app:D

It turns out USB type on the computer does not matter. I tested it on another laptop. What phone do you have?

I have Lumia 950 with latest non-insider updates

Now that's really odd. I have no idea what the problem could be now. USB type is not the issue, your device is not the issue, only thing left that could be the issue is your computer then.

I don't have USB 3 on my laptop either... works fine for me.

Yup, I checked on an old laptop, USB type on the computer doesn't matter.

Still having no luck... Could you please give me a step by step guide just in case I'm doing something wrong? Thanks

The article you're commenting on is a step by step guide. To use USB instead of wireless, though, simply use the steps I wrote above after you've allowed projecting to your PC, as described in the article (which you only have to do once). Oh, one other thing I almost forgot, not all USB ports are the same. Make sure you're using one with the SS symbol on it (as opposed to the one with the lightning symbol, which does *not* work for this purpose on my laptop. The same goes for using the Windows Device Recovery Tool.

I can't allow the pc. It says " We are still trying to determine the feature capabilities". It has been saying that since installation of the anniversary update.

Could you explain that a bit more? I can't connect through USB.
Using Lumia 730.

You can project your exact phone screen on your pc using the 'Project my screen app' which you have to install on the pc. Research the app on bing for download link

730 does not support projecting through USB. It can only use Miracast to project.

Try ensuring that you use a USB port with the SS symbol and not the lightning (charging) symbol.

That's a slice of fried gold!

do I have to have a phone that supports continuum? I have a lumia 640 and after entering the code and waiting to connect it fails

Huge thumbs up on Step 4! :)

Works with usb 3.0 and 2.0 ports on my pc confirmed :) Thanks a lot :) I can also confirm, It works with WiFi as well if PC and phone are in the same network. Open the connect app, and the pc will show up in the phone just like for USB. No need for any Miracast and stuff. Wish it would work the other way around, so that I can use my WP as a secondary display for monitoring my system.

I believe there's quite a bit of confusion here. The method you're describing is still using a wireless display, not USB. Check the throughput on your WiFi adapter. There doesn't appear to be a way to use USB directly for the Connect app which is a huge disappointment.

I just realized. The wifi was on when i tested it. It doesnt work with just USB Project my screen app works but not connect app :(

Don't forget the pint in step 4. That's a critical component to that step. :-)

I'm able to make this work on wifi, but not through USB. I chose "Wired dock" in the Continuum app. Nothing comes up (SP4+L950). The Connect app on the PC specifically states "[HOST] is ready for you to connect wirelessly". If you turn off wifi on phone and PC does this still work via USB?

Again, after you start up the Connect app on the PC, go into the action center on the phone, tap Connect, and choose your PC. Don't start up the continuum app first. Also no need to turn off Wi-Fi or anything else. Seriously folks, I'm bout messing with you. I use this every day at work.

I fully understand the steps to make this work, but it doesn't work for me. As long as wifi is turned on on my L950 (USB cable is connected the whole time), I can find the pc and connect to it (using wifi). I then go to Continuum and choose "Wired dock". If I now turn off wifi on the phone, the Connect app fails when searching for devices, saying: "Make sure that the device is turned on and is discoverable". So it's always trying to use wifi, the USB cable connected or not makes no difference. So what I'm arguing is that as long as wifi is turned on, it's using wifi (at least on my setup...). I'd love to be proved wrong, because I'd like to use this! I'll add also that Microsoft's documentation doesn't include direct USB connection as a way to make Continuum work: "https://msdn.microsoft.com/en-us/library/windows/hardware/mt608594(v=vs.85).aspx#how_it_works_​" As a sidenote I have a message in my Connect app on my SP4 though, this same message is also highlighted in yellow in Settings under Projecting to this PC. It has always been there as long as I've had this SP4, it states: "This device might have trouble displaying your content because its hardware wasn't​ specifically designed for wireless projection". Is that message standard for all, or just me..?

thanks but it does not work, I try to connect my lumia 950xl Insider last build with pc windows 10 insider last build also. Same result, My pc does not have miracast message. Thanks anyway for the tip.

Make sure you have the Wired Dock option selected in the Continuum app.

But...the issue is on the PC side...And if I don't have a wired dock (Lumia 830)? Does it mean it will only work with native W10M devices?

Well if the phone does not support continuum (830 does not) then you will not be able to mirror the screen unless you have Miracast support on the computer. Only USB Type-C can display A/V, AFAIK.

At this point, this article is very misleading...You need a wifi enabled PC AND a W10M native device..

Not necessarily native, as 650 does not support continuum. You need a 950/XL or a PC with Miracast. I think it's the USB Type-C found on the 950/XL that is the key.

Yes, you'll get that message... as I stated elsewhere, you just need to go into the Action Center on your phone and click Connect... it'll then show your laptop's name in the list... tap on that and it'll start working

No feature that Microsoft introduces works correctly.

It's likely still connecting wirelessly. Try disconnecting the USB cable while projecting and see what happens. :)

You don't need Miracast, it works via Wi-Fi too, just follow the instructions in guide and it will work. I tested this with a 8 years old laptop and a Lumia 950, and it works pretty good. Thanks, Mauro

So is this like a wireless continuum?

No, this is Continuum... and as always, it works both wirelessly and wired. Wireless is limited to 30 frames per second, though. This also works for wired connections if you plug your phone into your PC through USB.

I think this is a misunderstanding. From what I can find, and what also others have pointed out in the comments, this doesn't work with USB. You need a dock to make this work, OR do it via wifi.

And how do you get the connect app on your phone ? Searching in the store does not yield any relevant results

You don't. You can only project from your phone. Not to your phone. From your phone, you can click on the Connect button in the Action Center to initiate a connection.

Too bad mine always crashes, I wanted to try this. Lumia 640DS :( Is this specific to the Continnum-enabled devices?

Replying to myself: seems like my Connect app is installed to my SD card, and for some reason, I can't move it back to the internal storage.

No, you can use any device that can mirror its screen too... including even Android phones!

How do you get that using Android?

Anything that allows you to mirror/cast your screen via Miracast will work with the Connect app.

Use the Continuum App on your Phone and use the Wireless Option to connect

I can smell that scammers on the phone has a new way to scam people.....and its easier as well

I think you may be referring to Quick Assist, which is the remote tech support thing built into Windows, which is not what we're talking about here.

I tried this out a few days ago. It was ok. The latency is a big issue, but that just might be because of my limited hardware- Surface 3 and a lumia 640. It's a neat feature, but I don't see the practicality of it, I think I'd rarely use it.

You're out and about with your laptop. No WiFi available or want only secure network. You use Continuum to: Shoot out a couple emails quickly by typing on the laptop keyboard. Show people some photos that you have on your phone on a big screen, instead of passing around the phone with a small screen. Work on Excel/Word/PowerPoint document on your phone or cloud more efficiently with a keyboard and mouse. Surf the web via phone's browser. Project your friend's Android phone to your Surface Pro 4 just because Win10 can. You'll find your own use case. It can be useful. This could allow me to remove tethering on my phone plan and save money.

Since this seems to be simply allowing the PC to act as a Miracast receiver, it should work with Android too. Anyone tried that yet?

I saw another article elsewhere showing that this works just fine... Android phones, Chromebooks, Windows phones, and just about any Windows device.

It should work. That's all this app really is. Allows you to turn your screen into a dummy screen.

Is this feature work only in continuum enabled phones or will work with other low and mid range phones?

Not sure, just give it a shot. It could probably work, but the only available option would be mirroring the screen.

It works on my Lumia 640, too. Too bad it doesn't support mouse and keyboard input, hope this gets changed. Nice feature, anyway.