Hauppauge Digital TV Tuner for the Xbox One is now on sale in North America for $60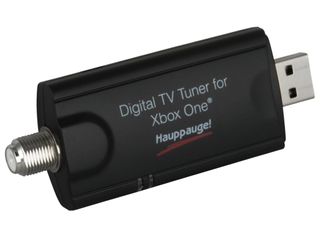 As promised a few weeks ago, Microsoft has teamed up with Hauppauge to launch a new dedicated over-the-air TV tuner for the Xbox One console. The Hauppauge Digital TV Tuner for Xbox One is now on sale in the US and Canada for $59.99.
In addition, the Microsoft Store website, along with the company's physical retail stores in North America, are selling the Xbox One TV tuner with the Mohu Leaf 50 digital TV antenna for $99.99, which is a $30 savings compared to the cost of the two products separately. Microsoft says:
Source: Xbox Wire (opens in new tab)
Windows Central Newsletter
Get the best of Windows Central in in your inbox, every day!
Looks cool, but most of my channels are encrypted now, so until there's a CableCard version, I'm out of luck.

This first sentence of the story says this is for Over the air, which is never encrypted. This isn't for cable.

Did you even read the comment? Pretty obvious he's not alluding to ota tv

I don't know where you live but at least here in Finland there are loads of encrypted over the air channels.

And I get 40 channels of uncompressed hd with ota

I have cable TV, unencrypted with a few clear qam, no cable box. Wish it would work.

Just connect your cable box to your Xbox one, that's the reason they have a in/out HDMI outlet.

That's a start, now to get rid of the fact that you MUST have the internet to use/save the Xbox one!!!
Living in true northern california,(not SF) the internet is not even available here at my house.
I have to use internet sharing on Lumia 1520 to sign in then turn off quickly to avoid updates.

You can get satellite internet for about $20 a month. Quit your bitching.

Wilbur schitzel, satellite internet that streams video in Humboldt county isn't happening guy.
$20 is a flat out lie

Humbolt county seems to have broadband, and even wireless broadband though? http://www.pgecurrents.com/2012/01/04/humboldt-county-broadband-upgrade-gets-boost-from-pge/ http://wireless--broadband.com/ca/humboldt-county.html Nice paper here on available suppliers: http://www.neratech.net/docs/2014-county-bandwidth-study-FINAL-web.pdf

satalite, cable, or dsl internet not available? where do you live so i know not to move there?

I have lived in at least 6 rural northern California towns over the past 20 years. Not one of them isn't currently being served by at least one broadband internet service provider. I can't imagine anyone willingly living in a place without that type of area willingly unless there was another compelling reason that outweighs internet service needs. Then again, you get mobile data so why not a stand-in hotspot?

Humboldt County born and raised Jon, I'm not going anywhere.

Get a t-mobile hotspot. Unlimited bandwidth for like $60/month. Decent speeds too

How about you NOPE the fuck out of where you are living now? Any area that has no Internet should qualify as a wasteland.

Do you like to eat, asshole? You think your meat and veggies just magically appear at your grocery store? People who live in the country grow that stuff so you can go on living in candyland where shit just magically appears on shelves and deli cabinets.

LOL, there's always: https://www.soylent.com/

1. Who the fuck you think you are? You're the asshole here. Were you a goat in your previous life and I somehow insulted your natural inhabitant? 2. Fuck you. 3. I don't even live in Europe, so I don't really care about what happens on American soil since I am not gaining anything from it anyway. I didn't insult or offend anyone, so go lock yourself in the closet and think before you use your fancy logic. You have single handedly claimed both main roles in Dumb and Dumber 2.

You sound like you are from Doucheland.

Not really, but based on your assumption, I guess you've been there a lot, eh?

Good showing of yourself there, little one. Grow up and try again.

Used to live in a part of Placerville that had no internet, I feel you dude. Have you talked to Cal.net?

Can you get permission to set it up at your local library? I would imagine they have internet. Posted via my HTC One (M7)

Until a few months ago I didn't had a problem with the internet connection requirement. Around mid april I moved to a rural location and my only internet access is with my cellphone. Even so, I don't feel it is a great pain to not have a "regular" Internet connection but my wife used Netflix a lot... a lot. How much data the Xbox uses when connected?

Is it a dual tuner, and can we record yet? If not, then no thanks. I would like to buy an XB1, and with it replace bluray player, freeview recorder, and original xbox. Until a dual tuner is available, i.e. watch one channel while recording another, it's no good as a living room device (for me).

Great question considering for $100 you get the antenna too, which seems a little pricey. Funny so many cable cutters want this for local channels... Only way forward is a step back.

How is $100 pricey? You're getting a good OTA antenna plus a tuner. For anyone looking to cut the cord, this is good incentive.

Antennas are inherently a very very simple piece of tech. 60 for a digital decoder in this day and age seems pricy considering I can get an obd2 scanner now under 20. ... Guess its just the lack of competition.

I can vouch for the leaf. Really good antenna, been using it for a few years now

Only good for uhf stations vhf it doesn't excel well from reviews I read

It has wintv8 download code

Its a hybrid like most of their tuners

Cable subscriptions are just out of whack and horrendously expensive and a waste of money. I don't watch TV often, but I do like having local news, some sports, Olympics when they air, and local channels' comedies. And free is much better than dealing with too much TV I'll never watch. :)

There have been rumors lately that the Xbox One will be getting DVR capabilities sometime this year.

Can we at least plug in two of them? Will the Xbox One recognize two USB tuners?

Just can't give up Win Media Center in our house, so until that app becomes available on XBox One, I'm sticking with the 360. Any chance they'll ever let WMC on XBox One?

They're killing it for Windows 10. Xbox One gets Windows 10, so I'd not get too many hopes up.

There's no reason they couldn't make the XB1 compatible with Silicondusts existing equipment and solve most, if not all the WMC bitching. http://www.silicondust.com/products/hdhomerun/prime/

I'm with you. I've got a WMC server plus three 360s. Rumor is something is in the works, however, Silicondust also has something in the works that will be out in Q4.

To bad though it requires a prime which isn't exported by newegg anymore

Similar setup here, WMC to record plus view on two other PCs. It makes me sad that Microsoft apparently has decided to completely kill WMC. One of their best products - virtually unchanged for 10 years and still I'm happy with it!

Very sad about wmc. Makes windows 10 a deal breaker.

Re: Wilbur,
The silicondust solution is subscription based. Worth mentioning.
I also have a similar whole house Windows Media Center (WMC) setup. WMC records (DVR) and streams live multiple channels simultaneously of DRM protected cable TV and movies throughout the house to Xbox 360 connected TVs. I'm going to add a over the air (OTA) tuner card (2 tuners) and an antenna too.

Already have something its called www.simple.tv basically a computerless solution

At the same time they announced they are working on a DVR capability but didn't offer any details. Until that happens, no thanks to this. The day XB1 adds a DVR is the day I become a little more poor.

Soo my set top tuner box that is hooked up via HDMI in wont be able to stream to my windows 10 device. Yet again early adopter, looking for an early solution gets the shaft.

Was place shifting ever advertised by Microsoft? It would definitely be a nice feature to have since my Slingbox is not playing well with my new cable service.

Now that there is a Hauppage tuner for the Xbox One, I wonder if there are any significant differences between this device and the Hauppage tuner that I have been using with my PC running Windows Media Center. With the demise of Media Center in Windows 10, I'd love to be able to just repurpose the tuner from my PC to my Xbox One...

Aside from them most like requiring a signed driver probably nothing but it will not work

You could always just try plugging it in and see what happens. I have a Hauppauge HVR 1950 sitting around doing nothing at the moment. Maybe I'll give that a go this weekend, though arnold is probably right RE: needing a signed driver...

Hauppauge has now a page setup for xbox on their site
http://hauppauge.com/site/products/data_xboxtv.html

I just purchased the regular Tuner from Amazon. It arrives tomorrow. Really bad timing on my end. Damn.

Return it they send UPS to pick it up

I Amazon Primed it as soon as I got into the Preview (yesterday) in an effort to rid myself of cable and try the OTA features. I'd save about $10 sending mine back, but if I hook up the one I get tomorrow and it works, I'll prob keep it outta not wanting to wait again.

How did you get into the preview program? Can u invite me?

Send peachy001 a msg on Xbox Live asking for an invite. :) I found him on an Xbox One forum.

I will invite anyone kennync

It's worth noting that the generic version comes with wintv6(upgradeable to version 7 or 8)

It comes with wintv 8 download code.

Can't add the bundle to the cart without an error message. Unable to buy. :/

This is what I get on Microsoft store site "Error. Page cannot be displayed. Please contact your service provider for more details. (18)"

Yep. I've tried multiple times with different devices on different networks.

What is the range job digital TV? I live 130km from edmonton.

If its like the one they shipped with their other tuners its pretty weak better off using a powered indoor antenna with it.
As for the optional leaf 50 it mainly excels at uhf & vhf is its weakness

Really just to watch digital TV on the Xbox one

No uncompressed hd ota tv
Like football baseball basketball etc in uncompressed hd

Wake me when there's a quad tuner with CableCard and DVR. Until then, I'm sticking with Xbox360 + WMC.

"[U]sers can stream over-the-air TV to other devices within the home". Why is this limited to just the Hauppauge Digital TV Tuner? Why can't we do this with other devices that enable free OTA TV viewing on Xbox One, such as the Homeworx box, which has worked since Day One? It makes no sense to limit TV streaming to one, specific device (that isn't even their own device) but not others. What am I missing here?

Good question. I have the Homeworx box. Its working pretty well with my XB1.

I have that brand tuner as well. I tried the Smartglass app on my Android phone but couldn't seem to get the live TV to stream. I'm wondering maybe either the app hasn't been updated yet to do this in the USA or only digital tuners plugged into the Xbox One's USB port can do it whereas the Homeworx plugs into the HDMI port.

Still won't help CW in my area being terrible. Every other local broadcast channel is perfect. CW WWHO-DT, according to myself and my coworkers, is hands down the worst. These stations need to get with the times and broadcast live streams on their websites.

Wow! We are a hard bunch to please!

Not really, we just want the features that Windows Media Center had and Xbox One dumped.

Fuck wmc I used it for years that was a finicky bitch

I'm fairly certain Xbox Video killed WMC and Mediaroom (well, sold to Ericsson).

Everyone talking about cord cutting to save money, how are you doing that? The way that internet/cable services are bundled, you end up paying the same price for comparable internet speeds alone as you do when you have the two services combined. I've worked out the math in multiple scenarios, and it always ends up a wash. Am I missing something? Side note: I also have a Leaf antennae for a second TV and it's great even for living in an apartment building in a mid-major sized city.

I have Verizon Fios internet and a large 320 channel+ cable package. It's pretty expensive. I can get my "cable" bill down to around $20 with Sling TV, this OTA tuner/antenna setup. I went with a diff antenna as tested better in a couple of reviews. Add another $10 as I'm gonna bump up my internet speed to account for all the streaming and I still come out more than $80 cheaper a month.

Thanks for the info! Based on your response (and another from a different post), it seems like the cost savings occurs because of people getting rid of premium packages. I have Comcast digital preferred with 105Mbps and the fairly basic teir of cable. I guess the cost effectiveness is onlyrealized when you start off with a high teir package and/or premium channels. So, essentially, cutting the cord and dropping to a lower teir cable package should have the same effects...

Almost. Verizon is notoriously expensive in all their businesses, but I can't give up my fiber connection so I will keep them for internet. They have somewhat a la carte tiers now (they are bring sued cause of them so they may disappear later) that can be cheaper, but paying a leasing fee per box + taxes and being locked into a 2-year contract negates any large savings I would have. I could get a savings difference of around $30 by dropping HBO and taking the lowest tier package, and @ that point it's not worth it to me which is why I haven't switched it off......but if I can save $80....FU VZ ;)

And the box fees
Remote fees
Every advertised price will be at least 20 more

That's what did it for me. I had Internet and lowest tier cable with cablecard and no box. Having to rent the cablecard for a few bucks and then the taxes, rebroadcast fees, and other nonsense, it came out to over $80. Now I have just Internet and it's about $60. It's not a huge savings, but I feel better not paying rebroadcast fees for free OTA channels.

Depends on the cable company and if they are willing to cut their charges just to keep you. I had internet only and adding local TV would be at least $25 extra so I just did OTA. But then I got an offer to add an extended package and other channels for 6 months which happened to be during college basketball season so I did that, for only $40. When college basketball was over, I called to cancel, and they offered to give me 2 years of local channels AND same speed internet for less than what I paid for internet only previously... So for me it was a nobrainer to keep at least the local cable channels.
We'll see if they have any offers for next college basketball season I guess. I hope so :)

What company was this Mike? I don't think VZ will care enough to keep my bill around. Lol

Does the Xbox One support it yet? Last I checked only the preview program users had support.

John Callaham, it should be updated to reflect the OTA features are currently only available to preview members.

What's the difference between an HDTV and rabbit ears? The newer flat ones get better reception but it's still the same signal, right?

Yes, same signal. If you have cable run through out the house already, get an attic antenna. Spend about $100 for a good one that'll go 60 miles. I pick up over 100 channels in Dallas/Ft. Worth. Alot of crap. But the networks come in so clear. Better than cable.

Or the diy way 20 gauge wire

Why did they go with crappy design compared to European version? Nandela?

I have the same card for PC. I wish it worked

Anyone know the difference between the tuner in this article and this one on Amazon? http://www.amazon.com/Official-Xbox-One-Digital-TV-Tuner/dp/B00E97HVJI/ref=sr_1_1?ie=UTF8&qid=1432189878&sr=8-1&keywords=xbox+one+tv+tuner

That one is European one. Supposedly won't work in US.

That makes sense, thanks!

I still don't understand why this peripheral exists.

I don't like the idea of how the tuner points out as its plugged directly into your XBOX just thinking about something bumping into it or falling on it bending or damaging your USB port... I would like to see something like a 2-3 foot USB extender cable included for it. I have a few laying around the house just thinking it should be included with the device.

Not sure if this URL will work, but according to the one review on amazon.com, it comes with a USB extender. If the URL doesn't work, find the Xbox One version on Amazon, and read the comments of the review that's there. http://www.amazon.com/review/R247SOO8R25N02/ref=cm_cr_dp_cmt?ie=UTF8&ASIN=B00XF7Z5DM&channel=detail-glance&nodeID=541966&store=pc#wasThisHelpful

The product description on amazon (currently out of stock) says it comes with a USB extender cable included.

Anyone tried using a paperclip
Windows Central Newsletter
Thank you for signing up to Windows Central. You will receive a verification email shortly.
There was a problem. Please refresh the page and try again.