Here's all you need to know about Forza Horizon 3 for Xbox One and Windows 10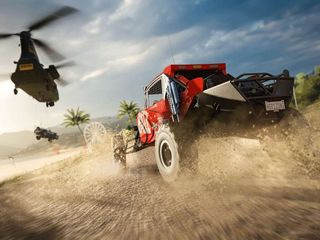 Developer Playground Games and publisher Microsoft have released the open-world racing game Forza Horizon 3 for the Xbox One and Windows 10. We have been covering it for weeks and here's what you need to know if you want to get the game today.
Our full Forza Horizon 3 review
We have already posted our extensive review of Forza Horizon 3. You can check out our detailed verdict at the link below. Spoiler alert: We think it's excellent.
Check out our full Forza Horizon 3 review
Can Forza Horizon 3 run on my Windows 10 PC?
Forza Horizon 3 is the first full game in the Forza franchise to be released on the PC, as a Windows 10 exclusive. Check the link below to see if your PC can run the racing game. We also have some quick hands-on impressions after playing the Windows 10 version of the game
How many cars are in Forza Horizon 3?
The quick answer is: A lot! The more detailed answer can be found in our complete car list (so far) for the game:
Forza Horizon 3 complete car list for Xbox One and Windows 10
Which Forza Horizon 3 version should I buy?
There are lots of ways to purchase the game, and we have them all covered in our buyer's list
Forza Horizon 3: The Ultimate Buyer's Guide
Are there any issues with Forza Horizon 3?
At the moment, there are only a few known issues with the game, mostly on the PC side. Microsoft has already posted a list of those known problems.
Forza Horizon 3 Xbox One and Windows 10 PC known launch issues
Is there a free demo of Forza Horizon 3?
If you own an Xbox One, you can download a free demo of the game that offers a quick playable slice of the full version. The Windows 10 demo is in the works and will be available in the near future.
Download the Xbox One Forza Horizon 3 demo (opens in new tab)
I want to get Forza Horizon 3 right now!
No problem; here is the quick link to get the downloadable versions for Xbox One and Windows 10. Keep in mind that since the game is an Xbox Play Anywhere title, you can buy the digital version of Forza Horizon 3 for the Xbox One and get the Windows 10 version for free, and vice-versa.
See Forza Horizon 3 at Microsoft Store (opens in new tab)
Stay tuned as we will be posting even more news and tips about Forza Horizon 3.
Can Windows 10 PC players play online with XBox One players? If so, if I buy FH3 with my account and install on both PC and XBox One, can I play head to head on both devices at the same time?

I'd like to know for sure. I want to buy it on PC and load it onto my sons XB1. I assume that using family sharing we'd be able to play together, but I'm not sure. Any provide a 100% for sure answer?

You can't play it at the same time if you are on the same accounts. However if it is set to your home Xbox someone else should be able to log in to their gamer tag and play it. Also if you are digitally sharing your library it will work. You can play it on Xbox while he's on his Xbox or play it on your PC while he's on his Xbox Posted via the Windows Central App for Android

Are you 100% sure? I know you definitely can't play it signed into two places at once and I didn't think the family sharing feature on the home xbox affected this. I can test it using ReCore by signing in as my wife on the Xbox and trying to play it on PC at the same time under my own ID. I know I can't sign in on my ID to both PC and Xbox and run both at once

100% sure. People game share everywhere. It will 100% work. And even DLC works to.

Interesting, so there is a loophole around the not being able to play the same game in two places rule. Well not so much a loophole, but you know what I mean

Everything to know it's in a one good bottle of whisky. Goodnight

Can't wait to get my Xbox One copy later today. It looks great and is getting rave reviews.

Saw the commercial for this on TV last night. The Lamborghini racing on the sandy beach and into the surf is so realistic I'm picking up the game today!

Check my shelby gt350 tune .my gamer tag is dimitrisdim14 ,if anyone wants to download this tunning
Some specs for this tunning
All wheel drive
0-97km/h 1.9 sec
0-160km/h 4.5 sec
Top speed 433 km/h
Launce- acceleration 10
Speed 8.8
Handling 8.6 http://youtu.be/xNzoo_8KI_I
Windows Central Newsletter
Get the best of Windows Central in in your inbox, every day!
Thank you for signing up to Windows Central. You will receive a verification email shortly.
There was a problem. Please refresh the page and try again.