Forza Horizon 3 Xbox One and Windows 10 PC known launch issues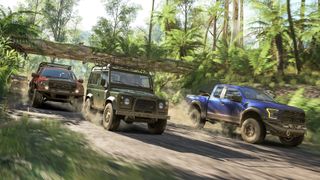 Microsoft has posted a current list of the current known issues in Forza Horizon 3 for the Xbox One and Windows 10 PC versions, as owners of the Ultimate Edition can now play the open-world racing game a few days early.
The current known issues were posted on the Forza Motorsport support forums:
General Issues
Xbox Live Silver account players are unable to access Social & Rivals tabs.
In multiplayer players may see players jump under poor network conditions.
Some performance stalls when free-roaming.
Certain eligible players have still not received their Warthog code
PC Specific Issues
Some antivirus software packages cause the game to exit unexpectedly shortly after launch
Microphones sometimes aren't being detected for ANNA on PC
Can't start a convoy on wheel unless you create a custom wheel profile.
Moving the mouse during races on PC causes the game to swap briefly to mouse control.
Logitech G27 not recognised on PC.
Thrustmaster TX Leather Edition not recognised in UI, can't save settings (PC).
Support for all Thrustmaster TX variants to be added on PC.
Accelerator/Decelerator deadzones don't work on PC.
Improved Advanced Controller Options for Wheels coming to PC in our next update.
Unable to rewind when returning to Solo from co-op and online free-roam.
Club member status doesn't update unless you reboot.
Visual vehicle upgrades occasionally don't apply without a reboot.
Racing line can disappear when saving settings on PC.
Visible pop-in of objects when switching to/from cockpit camera for the first time on AMD cards.
FPS can fluctuate when running unlocked on PC.
Players may see the "Failed to open a connection. Check if your network allows IPSEC connections, and try again." error. This issue can happen after suspending or when trying to quickly reconnect to a server previously connected to.
If seeing QoS failures, verify port 3075 unblocked for UDP traffic in their router firewall.
PC players must have the Windows firewall enabled in order to play online.
Logitech G29 PlayStation wheel UI button prompts are incorrect.
Logitech MOMO can't access events without using a keyboard.
Controller hot-swapping will come in a future update, which will improve the experience on Wheel since you will be able to swap to the pad for photo mode etc.
Keep in mind this list will likely be updated as more people begin to play the game and encounter bugs and issues that have not been discovered yet.
Windows Central Newsletter
Get the best of Windows Central in your inbox, every day!
This is list is why the consoles are safe. Sure, PCs are more powerful, but there's something about being able to just pick up a controller and play without dealing with all these issues.

Is it ALL about "consoles are safe," or is it about the fact that this is the first Forza Horizon to get PC support, thereby having unfamiliar territory for the developers on getting everything running? They could build on FH2 and FM5/6 on the XB1, as far as a knowledge base on XB1 development. They couldn't do that for PC, beyond the information from Apex. I don't disagree with the premise, but I quesiton how much of this is really "PCs are a pain to work with," as opposed to simply not allocating the resources/having the experience for the PC development.

Xbox One = Two total hardware configurations to program for. PCs = Nearly infinate hardware configurations to program for of which, by Steam's own numbers, over half are less powerful than Xbox One. Microsoft could put 90% of their hardware optimization team on PC optimization and the Xbox One would still have fewer issues. Even with analytics coming in from Windows 10, it is hard to fix every possible issue with every possible hardware combination.

Xbox One is virtualized - 3 OS, HSA, etc. Software optimization is on hsail level. So One config for Original, Slim and Scorpio. Ps4 and Pro is not virtualized, so each has to be programmed seperately

Again, I didn't argue the difference in setups, I argued the point that it's all just "PC is too hard." A lot of those referenced hardware configurations aren't even supported by these newer games, so citing them is irrelevant--just spitting out error messages if it fails those performance checks.

I work with PCs and consoles and believe me you have no idea how wrong you are. Releasing a patch on PC is much quicker and cheap than on any current gen console. This will all be updated in a few days.

I have to agree with you on this. I'm tired of trouble shooting the PC version. My choices are keep trouble shooting or just play on the XBOX ONE where it works perfectly. Not a hard choice.

Can't wait to get home from work and give my wheel a spin! Glad there aren't too many issues with the Xbox version. I noticed in a lot of the demo gameplay footage that people were experiencing extremely long loading times when setting up multiplayer races. Understand it takes time to do this, but the wait seemed inordinately long considering those people were in free roam together before the race setup was started. Has this been fixed or is it a consequence of the lag as with the jumpiness noted in the issues?

Picking up my ultimate edition tonight after work!!! Too bad I won't be playing tonight...Wrath of the Machine tonight!

"FPS can fluctuate with framerate unlocked" You don't say, lol.

In multiplayer players may see players jump under poor network conditions. like in the movie Wreck it Ralph