Here's a quick look at OneDrive's visual refresh on the web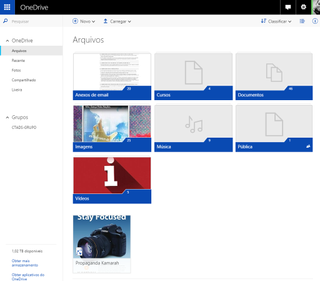 Microsoft announced a visual refresh coming to OneDrive on the web earlier today, but oddly left out a screenshot of the new interface itself. Now, thanks to a Twitter user, we've got a quick look at what the refresh has in store.
Here's the screenshot that was posted by Twitter user @O_Guinomo earlier today:
Of note are some slight color changes and design tweaks for the various folders in your account, as well as some shuffling of different colors and elements of the page. Overall, things look a bit tidier, but it isn't a massive overhaul by any means. What do you guys think?
Source: @O_Guinomo (Twitter) Thanks for the tip, Veeo!
Windows Central Newsletter
Get the best of Windows Central in in your inbox, every day!
Dan Thorp-Lancaster is the former Editor-in-Chief of Windows Central. He began working with Windows Central, Android Central, and iMore as a news writer in 2014 and is obsessed with tech of all sorts. You can follow Dan on Twitter @DthorpL and Instagram @heyitsdtl.
Wouldn't mind that as the new folder design in Windows 10, especially when dealing with folders containing rich media types.

I'm with you, its neat orderly, and subtle

I like it,and feel it may spread. It matches the design of the new apps in 365, which are beautiful.

Me too! If they gonna make new File Explorer for Windows 10 (Universal or not), they should consider this folder design and other improvements too like clicking Group Headers will have a list similar to All Apps list in Start menu and Semantic Zoom. Tabs would be nice addition also.

Agree. Very nice. Not sure about tabs, though. Never understood their appeal. We have tabs on the taskbar.

Did OneDrive need a visual refresh? Seemed fine to me.

Agreed. Too much white space now, like when Google updated the Gmail UI a few years ago.

There's just white space in the picture because there aren't enough folders.

I think it was needed. There's still some usability issues that I have to keep telling people everytime I send files via OneDrive. Hopefully this resolves it. Looks great in the screenshot!

I love it. I noticed the visual details change on the iOS app about a week ago? Now the web's look is in sync with its iOS counterpart.

Pretty much Microsoft's M.O. these days.

I think it looks great. Makes for some intrigue with Windows 10's eventual appearance.

Looks more like Windows 10, which is fine. The OneDrive team has some work to do after Google Photos announcement a couple of weeks ago. That image search function is mind-blowing and can't wait until that comes to OneDrive.

Completely agree. OneDrive is miles behind on photo management now compared to google photos.

Second that. Google Photos is unfortunately far superior to Onedrive in terms of photo storage, sharing and management. MS is so disappointing sometimes.

Looks great, really nice design

Refreshing indeed, though it feels more white everywhere and it looks like there is less content though. Anyways I like to have this folder appearance on Windows 10 File Explorer in the future.

I like certain aspects, dislike others. Overall: Solid. Although, I'm not sure how desperately OneDrive needed a refresh, and maybe priority should've gone to a UI that is a little longer in the tooth... I thought it looked just dandy before. But what's done is done, and I mostly like what has been done.

Skeuomorphism is dead, long live skeuomorphism!

That's what the propaganda camera is hinting at

Love that new folder design... it actually looks like a folder peaking out from the bottom... lol. Still not a fan of that black bar at the top... they need to make it a darker grey or all blue. There's too much contrast between the blue/black and white.

And the user photo needs to be a circle to keep with the new MIcrosoft UI guidelines where all people are circles.

I don't understand why the top bar is partially black. Why can't they make it fully blue?

Didn't like it. The black top bar is now useless and is just wasting space as we got a new bar with commands below it. I prefer the old/current way with commands in the black bar

I'm hope that feature where I can add passwords to folders in the desktop app

Any improvement is welcome.

Great, now add color code file folders

I did get it. Big red "Microsoft Confidential" letters at the bottom of the page. Anybody else?

I really really like it, now that make sense more that the blank squares. Hope this visual appeal comes to Windows 10. Have not seen the preview yet.

Does anyone have an idea how can we get the update faster?
Windows Central Newsletter
Thank you for signing up to Windows Central. You will receive a verification email shortly.
There was a problem. Please refresh the page and try again.