Here's what's fixed and what known issues are in Windows 10 Mobile preview build 14361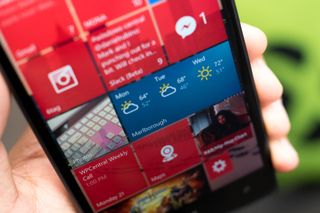 Microsoft has posted a list of what issues have been fixed, and what known issues are still in, the just released Windows 10 Mobile preview build 14361.
Here's what's been fixed, according to Windows Insider head Dona Sarkar:
We fixed the issue that was causing your phone to freeze after touching the screen immediately after enabling Narrator.
We fixed an issue resulting in a strange grey bar frequently being seen on the left side of the Microsoft Edge browser window (for example, after invoking a context menu).
Going forward from Build 14361, your preferred DPI setting will be backed up and reapplied when restoring your phone.
We fixed an issue where "Find on Page" in Microsoft Edge wouldn't always scroll the word into view. We also fixed an issue resulting in videos played on Facebook flickering if you started playing them after rotating the phone with the video in full screen mode.
We fixed an issue where text was being truncated instead of wrapped in the Windows Insider Program page in the Settings app.
We polished the notification dismissal model. Now if you receive and dismiss multiple interactive notifications in a row, the black transparent background will not start fading away between them. We fixed an issue that was making it more difficult to dismiss a notification with a hero image, an issue where peeking at a notification while watching Netflix would result in the video pausing, an issue where the keyboard could end up covering the quick reply text box, and an issue where certain notifications might just say "new notification" after a reboot. We also fixed an issue where Action Center would close unexpectedly quickly if a notification had been expanded when you start moving the Action Center's border up. And we also fixed an issue where an incoming notification would stop Action Center from opening if you were in the process of swiping it down when a notification arrived.
We fixed an issue resulting in the "now charging" sound frequently playing twice when the charging cable has been plugged in.
We fixed an issue where the "Everytime" setting for how often to prompt for pin would be blank on the Sign-in Settings page after opening Settings from the Lock screen.
We fixed an issue resulting in not being able to infinitely cycle left or right through the Phone app's tabs.
We fixed an issue where the Lumia 535 and 540 were not displaying a flash toggle in the Camera app.
We have updated the text prediction engine for multilingual users, so now the candidates you see when selecting a word will be based on the active keyboard language, rather than the language that was active at the time the word was written.
You can now use the keyboard with one hand with additional 5-inch devices such as the Lumia 640 and 830. To use this feature, press the space bar and slide the keyboard to the left or the right – whatever feels most comfortable for you! To return the keyboard to the center, press the space bar again, and slide it back to the middle. You can also slide the keyboard up, using the same method, so it's closer to the top of the screen if you prefer a higher grip on your phone.
We fixed an issue resulting in not being able to infinitely cycle left or right through the Phone app's tabs.
Here are the known issues with the new Windows 10 Mobile preview build:
You won't be able to deploy an app via Visual Studio 2015 Update 2 to a phone running this build. As a workaround – you can deploy the app by using the Windows 10 Application Deployment (WinAppDeployCmd.exe) command-line tool.
In some cases, the new cross-device Cortana features first highlighted in Build 14356 may not work. Restarting your phone should fix the issue and get the features working.
After installing this build, you may notice your Quick Actions icons are not in the same order. This is a side effect of the fixes/changes we made to Action Center. To re-arrange your icons to your preferred order, just go to Settings > System > Notifications & actions > (Quick actions) and touch, hold, and then drag to re-arrange icons to whatever position you want. Remember: the four items in the top row are what will show as your immediately viewable Quick Actions.
We are continuing to investigate data issues with some Dual-SIM devices where cellular data doesn't work correctly with a second SIM. Several issues relating to cellular data with Dual-SIM devices have been reported by Insiders with the last two Mobile builds and we're investigating these reports.
Get the Windows Central Newsletter
All the latest news, reviews, and guides for Windows and Xbox diehards.
Yes it is! Especially when the thing actually... seems faster. Posted from Windows Central for Windows 10

Hi guys! Is there any way to download this update on L525.......becoz it is not available by fast ring insider program....

No. L525 is limited to W10M TH2.

And L520 too Makay Chapulets | MTN Nigeria CCR
Posted from my Lumia 640XL running Windows 10.

Hey Cryio, I'd like to ask: What's going to happen to TH2 limited phones? Especially after the Anniversary Update? Lumia 928 on build 10586.338

You highly likely won't get it. People with phones on compatible list to windows10M on TH will get the update when it's released, but non-compatible builds will likely stay on the build they are limited to now as Win10M after that didn't support them phones. The build you'll be in now would be the last build they had developed that supported them phones. +640 on Windows10Mobile

Oh, ok. Thanks. I noticed that they released to builds (.318 and .338) after the OS was officially released, which means they're still developing TH2. So it a case where they will release Redstone features on TH2,or will they stop developing TH2 soon? Lumia 928 on build 10586.338

My L520 is stuck on .164 build... cos .318 wont even install on it. Makay Chapulets | MTN Nigeria CCR
Posted from my Lumia 640XL running Windows 10.

Because Lumia 520 isn't on the windows10M support list. 520 can't run any other future builds sadly

They are only doing some occasional bug fixes to keep it stable til the next update, but new features on Redstone won't make it to your phones. It's not really that TH becomes Redstone, it's more that it gets replaced by it. Once the update is released to non-insiders, there likely won't be a TH branch anymore (except for the one build that some are limited to). :P unfortunately your gunna need a new phone if you want anymore new features, sad to say. +640 on Windows10Mobile

Lol that's ok bro. I just wanted to understand what will happen. I like my 928 cuz of the design, but I'm planning to get a new phone when u finally get a job. Thanks for clarifying though. Nuff respect from Jamaica Lumia 928 on build 10586.338

You're welcome :) hopefully your new phone is gunna be another Lumia/3rd party OEM phone ;) +640 on Windows10Mobile

Lol of course. I'm never leaving windows phone. I respect IOS, but it's not my style. And I hate android. I prefer the Nokia design though, so I might get a 1520 or 930 Lumia 928 on build 10586.338

Haha good idea :) +640 on Windows10Mobile

Get 1520. It's little big but you will find it useful after few days..930 has huge battery issue. If you are regular user you have to charge twice a day ! Annoying

I had this issue briefly after one of the Fast Ring builds, before Windows 10 Mobile was officially released for the 930. However after I factory reset the 930 I now easily get a day a half out of the phone again.

There has to be low end Lumia's from WP8 not receiving Redstone.. Sent from my Lumia 550 using Redstone fast ring.

There is.... They are the phones that aren't on the Win10M compatible list :)
Nearly all 512mb phones are low-end and none of them are compatible with Redstone :p +640 on Windows10Mobile

Their phones would probably be like a hot pocket straight out of the microwave. Posted via the Windows Central App for Android... I'm sorry

Their owners will buy an iphone or android. Sent from 5 Sim Lane, in Neighborhood 1.

IPhone? You really think, that current owners of cheap budget Lumias / Windows Phones will buy an overpriced iPhone? Neither will they buy an android flagship. If they leave the Windows platform, they'll buy cheap androids. And we all know what cheap droid phones are... Posted with the Windows Central app for Windows 10 on HP 250 G1 notebook. It is a scary old monster, I think :D

Faster but there are still a lot of bugs that haven't been addressed. No feedback hub app, corrupting user's precious sd card amongst many...

Don't have sd card issues after hard reset with no restore and a clean wipe and reformat of the sd card. Posted via the Windows Central App for Windows 10
Using the Alcatel OneTouch Fierce XL for Windows 10 (Redstone)

Until the next build :p +640 on Windows10Mobile

This is soo true... Whatever gets fixed in an update always gets broken in the next. Makay Chapulets | MTN Nigeria CCR
Posted from my Lumia 640XL running Windows 10.

So true. Makay Chapulets | MTN Nigeria CCR
Posted from my Lumia 640XL running Windows 10.

Welcome to Android then. 1 bug fixed, a multitude of others created, hence why google release fixes so often. This is a PREVIEW build, so if its too buggy, roll back to TH.

I had got a notification saying you replied to my comment, but I've also noticed it says that if someone replies to somebody else's comment who replied to me so I'm not sure if you had actually replied to me, but if you did, I know the precautions of an insider build. I've been running them and giving (constructive) feedback from day one. I wasn't complaining about the bug, just stating that is does require a SD format or hard reset after each update to completely fix the SD card problems :p There's a big difference with stating a obvious bug, and being angry at MS for having bugs on an insider build :p I am just kindly saying that a hard reset works but for now, usually the problem comes back after an update. Hopefully they fix this sometime but honestly I don't find it to be a deal breaker bug or I wouldn't be running insider builds :) +640 on Windows10Mobile

Same here, no problems after that

It actually does seem faster.

Less filing... Sent from Lumia 640 running DESQview/2.70

can someone tell me the latest version of wdrt and a link to download the same. thinking of doing a clean install. edit : running wdrt automatically asks to update the app first. thanks

Next year Sent with my Lumia 950 (AT&T)

Seems faster wen in India.

Does anyone have a problem with contacts. Some of my contacts through outlook have over 1000 copies

Not mine. Makay Chapulets | MTN Nigeria CCR
Posted from my Lumia 640XL running Windows 10.

I have that issue. I didn't hit 1k, but around 200+, which is still high and unexpected. AT&T L950, it's alright.

"interesting"! ha ha ha....

Good Work... ! For Action-Center.
I appreciate it

I m using windows 10 mobile official update but after update my phone has not support earphone mice properly but Sound other people very Low

Yes i have done this and back 8.1 also but 8.1 support my earphone mic and again window 10 update Same problem

Do this trick. During a call plug in your headphones with mic tap the speakerphone icon, wait 1 sec, tap the speakerphone icon again Headset now works.

Bit skeptic to install on my 950xl ...have to wait for the new release preview build

To be honest, if you are on a Redstone build already, you should be Ok in the fast ring. I have found that each iteration has had less bugs. Can always roll back.

I was oh so tempted to move off production to 14356 and now may just do this one this weekend!

peachy001 is spot on. Redstone seems to be shaping up nicely. It's working well on my 950XL.

Last and this Build are clearly the best so far for me ...950 Dual-SIM Posted from Windows Central for Windows 10

Are you not having Dual Sim data problems? I'm on a 950XL dual sim and If I have a second sim in then days just stops working on both sims and the phone hangs when I try to go into sim settings. They've acknowledged this in the last three updates now but still no fix...

I have the very same problem with my dual SIM LUMIA, I took out one sim card, and the problem almost disappeared, but during the last two builds, I had no problems at all.

No problems for me on the 950. Posted from Windows Central for Windows 10

Same with 640xl Lumia 640xl ftw

It seems like there are very few issues, wondering if it is time to join the redstone branch from release, any suggestion?

Join if you can resist ridiculous slowness Sent from Nokia Lumia 730 on build 14356.1000 fast ring

Join if you can resist ridiculous slowness Sent from Nokia Lumia 730 on build 14356.1000 fast ring

I think it's a no then, thanks for the hint

I had the same thought... jump in now or wait a couple months for the official releaese??

Not as good in terms of reliability. Turning on is a pain. Some app crashed. But, generally very us able.

I jumped in yesterday on my 950, and it's not nearly as buggy/slow as I thought it was going to be, I'd say it's very usable. From my very little time to test, battery life seems about the same. The only thing I've noticed that annoys me a bit is the store seems very slow and unreliable.

Store is horrendously slow now. Also, where did the screenshot section of apps go? I can't see them on any store listing. Weird.

This exactly! I cannot find the screenshots on apps anymore. I like the redesign, but they left out some nice features of the store. Hope they put them back.

I'm pretty sure they're going to have to come back.

Also there is no description text for the apps. Via Lumia 640

Yeah, I just noticed that too.

I've had this issue since the store was updated. Makay Chapulets | MTN Nigeria CCR
Posted from my Lumia 640XL running Windows 10.

Question for you. Are phone numbers links in mail and calendar app? Meaning the OS detects them and clicking on the link opens the dialer? Thanks.

@Realtortechguy it's working for me, it doesn't open the dialer directly but opens the people app with an option to call or text.

Thanks for the reply. So for you anywhere there is a phone number the OS is recognizing it and allowing you to click in it??? Like WP8.1??? Excellent finally.

I'm still on the previews build and my battery is awful. Worst than any other Redstone build Lumia 640xl ftw

It's pretty solid on my 950 now with this build.

After the anniversary update I'm going to end my contract as an insider.... I.e. If the anniversary update does not impress me, cos, I've not been impressed with the builds of W10M being released. Makay Chapulets | MTN Nigeria CCR
Posted from my Lumia 640XL running Windows 10.

That sucks, the dual sim thing must be a serious bug for it to still be round and keep coming back. Total deal breaker for me not trying these builds on my 950 XL :(

Never got work any of these previews on my 950xl... always freezes on lock screen and only way is to remove battery and put it back to restart...it works until phone's screen is on... once off...same problem... I will skip this build and wait for release preview!

Did that twice on mine, just left it overnight last time.and it worked a treat, i think it may be missing the 'Almost Done, but it will be worth it' bit, I have a lot of music so takes a loopoooooooong time ** 950xl and loving it !!

Lol oh, that's why migrating data takes so long on my 928 Lumia 928 on build 10586.338

Haaa yes that is my thoughts anyway

LOL! This is why I keep my 80GBs or so of music on my MicroSD card. Matter of fact, everything goes to my SD card accept apps.

Exactly... the 32GB phone storage is for OS and Apps. 128GB MicroSD for everything else. Really enjoying the performance on my 1520.

Never had Problems on 950DS - try it out. Posted from Windows Central for Windows 10

Suffering from dual sim bug.

I feel you bro. Its been 4 builds since the bug appeared and still no fixes From MS Lumia 435

Battery drains a lot.... Just lasting half day in a standby mode... Hope so this is fixed in this build

Hard reset with no restore point. I get 16+ hours in standby with quite a few background tasks. Also check to see yow many apps you have running in the background. Posted via the Windows Central App for Windows 10
Using the Alcatel OneTouch Fierce XL for Windows 10 (Redstone)

That's the thing, we're not really supposed to worry about apps in the back going nuts! I find it annoying to have to keep going back to my app list and closing everything just to make sure I don't come back to a burning hot phone :)

UK 950 xl single sim, no battery issues for me. Unless the camera app is open.

I had the same problem on my L730, phone haemorraging battery and actually losing battery while connected to charger. Then I tried a workaround mentioned in one of the several feedback hub posts: Let your phone battery run dry (2%) and let it shut down, then connect your charger and charge it to 100%. It stopped dying after that. In fact, it lasted for about 30 hours for me the next day.

Battery drops from 100% to 91% on stand by for my 950 last night. This was from 11 PM to 7 AM this morning.

One hand keyboard for my Lumia 640....whoaaa... That's a really great news for me... Love you dona ;-)

Exactly. I was waiting for this feature ever since it was announced back with w10m. Via Lumia 640

Doesn't make much difference in my L640. In fact it makes the keyboard layout narrower and smaller!

Its just about getting new features.. You cant be sad about new features actually.

I am not sad but wish the keyboard could also do the pie feature similar to iOS.

Ya actually that really looks cool... Hope it comes up in the fall update

One-handed keyboard finally! This point should have been in the What's new article imo. ~Sent from L830

Have you tried latest official build (318) on 830? If yes, how long the battery lasts? Mine only 6-7hrs on moderate use. Hard reset (without restore) didn't work .

Sorry. I have always been on the Fast ring. So no idea :) ~Sent from L830

I still hate how touching two fingers on Continum (two-finger scroll or zoom) results in the phone freezing and restarting - every time

I discovered the joy of this bug yesterday - made me look foolish in front of Apple people. Posted from Pornhub

I am so frustrated. Am I the only one having problems with Cortana reading SMS texts aloud? Throughout the entire Redstone builds it has been sporatic and unpredictable. Sometimes it works like a charm, then the next incoming message she goes into the silent treatment for days, then pops up for a time or three, then gone again. I have reported it time and again on the Insider feedback forms but nothing changes nor even any acknowledgment from Microsoft, which makes me wonder if anyone else is having the problem. I have reset my phone (Lumia 735) several times. I really depend on that feature when driving. The most aggravating part is the inconsistency.

Same issue here lol Traci - Alcatel OneTouch Fierce XL (Redstone)

Had the same issue. Hard reset with No restore point worked for me and fixed it permanently. Posted via the Windows Central App for Windows 10
Using the Alcatel OneTouch Fierce XL for Windows 10 (Redstone)

I had already planned to do the hard reset once Redstone goes into production but I guess I need to do it now.

Nope. Fourth time with a hard reset, first time without a restore point. No luck.

I figured she was just being temperamental. Then I would say Hey Cortana, why don't you like me? And she usually responded with "I lack the software for traditional love, but I think you're swell"

Do you use Bluetooth speakers or a Band (2)?

In the car I use a Bluetooth speaker. That's when i have the setting on Bluetooth and wired headset. But I also often have reading set to always on for those times at home when I can't pick up the phone (painting, working on the car, etc.).

Last build for me was ready for daily use. Posted via the Windows Central App for Windows 10
Using the Alcatel OneTouch Fierce XL for Windows 10 (Redstone)

Not even CLOSE. Cortana=fail. Bluetooth=fail. Word Flow=double fail.

What about those things are a fail? What issues are you having?

Bluetooth is a must for me.

Bluetooth works fine. Reads texts, takes dictation, music over Bluetooth etc.

Yep fine for me too, never get missed text on car display either...

Can you elaborate on your issues? May help others... oh wait... you are just spewing.. ok moving along... Coming to you from my Nokia Andryod Phone

It's been ready for daily use since February. I bought my 950 on 29/02 and it's been flawless since then. I've only noticed a few niggles with outlook, but otherwise it's been great. No issues with Bluetooth (not sure what ScubaDog is on about)

Always was. Sure there are bugs and "missing" features but none are deal-breakers. Yet. (Using 950XL as my daily since January. (930 kept as backup)

Am I the only one who's had issues with sending texts. I click send and it hangs there for up to a minute. Takes forever to send. Used my 1520 and didn't have problem. I'm on 950XL

Took the plunge. 950xl. Draining 15% battery per hour. 25% while using edge. Wtf. I was getting 3-7% per hour..

Are they ever going to fix the one-hand operation (holding windows logo)? Seems like we had this issue since day 1.

What's wrong with it ?? works fine for me

I think I know what he is talking about. He expects the start screen (and all other apps) to be scrollable from top to bottom in one handed mode, which is foolish. It's not what it was made for :D Posted with the Windows Central app for Windows 10 on HP 250 G1 notebook. It is a scary old monster, I think :D

Seems faster.finally. Previous builds were garbage foe Rumia640

They were preview builds. You should check what that means before making a fool out of yourself.

She is a woman after all. That was to be expected.can't help it

What is it with people? What does gender have to do with anything? She's doing a fantastic job putting up with people like you.

To use this feature, press the space bar and slide the keyboard to the left or the right – whatever feels most comfortable for you! To return the keyboard to the center, press the space bar again, and slide it back to the middle.

Am I the only one who didn't know this was already a feature on the 950XL? This is great!

this instruction is for the newer phones who have been given this functionality

Pointing out issue after issue alters the perception of Windows. U might not believe it but I can I not ? Posted via the Windows Central App for Android

Battery life? Sonos discoverability? Cortana in BT? Lock screen blank after charge?

Is the "Sonos discoverability" issue only for Zonos app? Chirp and Phonos are fine.

Interesting. Phonos as well as Chirp work for me.

What is the * really* interesting new feature that Sarkar tweeted?

She never actually said this interesting thing would be in the next (today's) build. WC kinda said it; she did not. WC also said they believed it would tie into E3 on the 13th, so we probably won't hear anything about it until then Posted via the Windows Central App for Android

If it's going to tie in with E3 it's probably Xbox-related. Which means I won't care.

That's your problem then.

and another worthless chime in... And we dont care that you don't care... so...
Nana nana boo-boo, stick your head in doo-doo... Gotta love Tosh! Coming to you from my Nokia Andryod Phone

Very annoying cellular data freeze on my 640XL. I am totally bored with this problem. :( Posted via the Windows Central App for Android

What happens with cellular data freeze?

I'm having some rare issues with w10 mobile such as screen turning black for a second and start screen looking washed-out when choosing light theme these I don't know if they're fixed but I hope Microsoft won't ignore them

One hand keyboard for 5 inch phones +1

That means even for the 535? :O I almost can't resist to jump into RS again. This and swipe navigation in Edge alone could worth it. But I'm so used to the stability of release preview builds now, currently .338 :D Posted with the Windows Central app for Windows 10 on HP 250 G1 notebook. It is a scary old monster, I think :D

I hope they fixed battery saver problem in my phone, and lumia motion data & Gestures and Touch always get an error.

So my 950XL will be fine if im only using 1 SIM right?

So. Nothing addressing how badly Cortana is broken when it comes to announcing, reading and responding to text messages? Nothing addressing how badly Bluetooth is broken when connecting to stereos (often not showing song title, either showing "unknown" for the artist or showing the album title instead of the artist)? Nothing addressing how input is disabled when you hit an app or site that requires two-step authentication and you jump back to it after pulling up the Authenticator app for a code? Nothing address how horribly SLOW performance is on the 950? These are just the first ones that come to mind.

With all your hardships and suffering, maybe beta software is not for you.

"Remember: the four items in the top row are what will show as your immediately viewable Quick Actions." This is something I've always found profoundly stupid (which explains the reminder).
The quick toggles arrangement screen should be reproducing the notification tray instead of mirroring it. It's counter-intuitive otherwise. Posted via the Windows Central App for Android

Says the ass hat! Coming to you from my Nokia Andryod Phone

Lol, I submitted the mirroring of tiles as an issue and it's a FEATURE! When I have heard this already? Hahahaha. I agree totally it's stupid.

Still investigating the Dual SIM issue.. So saddd.... :( I'm just waiting the Dual SIM Cellular Data Fix to get rid my second cell which I always forget in my car. Unfortunately should wait the next Build ( atleast weeks ). Lumia 730 DS

Same issue unable to decide to install or not to install From MS Lumia 435

did they fixed the headphones bug?

Still waiting for dual sim data fix . I have been reading "many insiders have reported this since the last two builds" They have been copy pasting the broken list since last four or so build :d

Still no DTtW support (950/950XL) Still has WiFi connectivity issues (Wireless N 5.GHz band) Still no support for USB Audio Class 2

Rolling back to windows 8.1.. Really tired of this ****. Will check for update after couple of years.. Just one request for Microsoft. Rather than introducing new features just fix all bugs. This would be my first and last windows phone.

Do you understand what Insider Programme means? If you don't want to test the newest builds, stop crying here and roll out the released version of Windows 10 Mobile.

Bro please download build from microsoft update advisor app dont blame insider build they are not meant for your daily driver

I need to get back the set as lock screen and start screen options of individual photos in photos app....pls bring back.

Was expected a fix for missed images for apps in the Store, but probably not today :(


Deezer music preview hasn't worked with at least the last two redstone updates. And with this one my Instagram crashes at startup.

Deezer works here, but I have the same problem with Instagram. Reported it in feedback hub.

It's the deezer music preview app, the official deezer app is fine. It starts fine, but when you play music there is a lag/buffering every 5 sec.

Yea I have the preview also. Not experiencing this. I have premium subscription without ads. I remember there was some problems earlier when I didn't have premium.

Strange, got the same issue on both a 930 and a 950

These fixes are great but we still need Bluetooth and WiFi fixed

I didn't know about the one handed keyboard on the 950xl either.

I still can't find any where on the phone in any settings no matter where I look to turn on "Hey Cortana". I go to SETTINGS>EXTRAS>HEY CORTANA then it tells me "You'll need to turn on Cortana First" and there is a prompt below Cortana settings. I select that and get to another screen that has all kinds of settings. I have Lock Screen, Sending notifications between devices, Reading incomeing text messages, History view, and some others. No where in the settings can I find any thing that even comes close to telling me "Turn Cortana ON" or turn her OFF for that matter. So, I am still at a loss as to how I lost the Hey Cortana feature. I think I see another reset in my future. UGH!!!!

Go to Settings in Cortana. Hey Cortana setup is the first item

You're not alone. It simply wasn't listed on my Nokia Icon as it was on my 950XL. I rolled clear back to 8.1 and upgrading to Redstone now to see if it fixed it. Now on my 950XL I don't even seen an option for Hey Cortana while the phone is off. It's completely gone from my extras menu.

Haven't had a chance to update yet. Anyone test SMS with handsfree vehicle system yet? Is it working again? It's been broke since last several updates.

Still broken with my bluetooth headset. I have to unlock to send txt or call and upon receiving a txt message it just beebs and I have to unlock manually and read it! I was hoping they fix it as I have 6digit unlock code and anyways don't want to unlock while driving. Very painful.

Nice update. I like new keyboard on L640.

On L830, it's only smaller, not positioned left of right, still in the midddle. I can move it up and down, though. when on landscape, it's even worse...

This was the quickest build to download and install ever. It was totally seamless and very quick, including reinstalling apps. I should have checked the time but it seems like barely over an hour.

WOW !!! now that was a FAST update, up and running again already, back to the old update experience :)

Has anyone here found the internet data connection malfunction on 10586.338?

It works fine for me on lumia 540

Seems yummy! Lumia 640xl win10 redstone build

I have 640 xl, can you confirm this build works well on this device. Still on TH and wanna try but only if it is a minimum stable. Thanks

Why on earth is Quiet hours -functionality still tied with Cortana? Since it is pretty obvious MSFT will not bring Cortana to certain markets (at least not in the foreseeable future), this missed feature will not be available (has been so for years now). It could be easily set up and managed with say Glance screen's Night time setting, no?

One of life's great mysteries...

How it runs on L730 dual sim ?

Overall performance is good. Dual sim bug is big issue sometimes freezing screen when trying to turn on cellular data. My sd card corrupted because of restarting too much because of this cellular bug Sent from Nokia Lumia 730 on build 14356.1000 fast ring

Wow... They again screwed it up... Worse build than the previous (which was fine). My 930 is getting hot again.. Buggy menus..etc..

Strange, my icon lumia 929 which is basically the same phone is faster on this build and it's not draining or getting hot.

good. are there no issues(serious ones) with this build on your 929?
i plan to update my 930 tomorrow.

Everyone one has different issue on same build ... Lets hope for anniversary update to fix everything

updated and it's a little battery drainer. word flow is not accurate now in my case at least.

My L930 is broke !! Infinit loop of restart ! I tries a soft reset. Didn't help. Any clue ?
Update: Its ok now after 2 hours !
Posted via the Windows Central App for Android

Only HR.Windows Device Recovery Tool.

No fixes for the WiFi dropping out and not reconnecting. No fixes for the random reboots and random crashes. A load of **** fixes nobody cares about. Fortunately I have just ordered an iPhone 6s Plus so I won't have to deal with this ***** on a daily basis anymore. Such a shame, such hope, such potential. Down vote away. I will be on a reliable, solid iOS operating system by tomorrow end...

Microsoft makes a problem then they fix it then they say update hahaha

does this fix photos app, last build doesnt let you set lockscreen or background image with tap and hold

And the dual SIM problem is still under investigation... since the first Redstone build... Such a basic feature and they can't make it work. Well, no new build for me. Stuck in threshold

I am holding on too
From MS Lumia 435

Maps fails to find location again!

Strange.... Does that on release preview on my 950xl

There was a comment either Friday or Monday... a headline on this site in fact.. that stated the next Windows10 Mobile Updates will be 'very interesting'. So, I'm just curious, what is the interesting thing about this update. I'm not being critical... I'm being curious... Are there new features?

Obviously not this one in particular. Late this week or early next week they said. Pay attention lol

Still no home page option for Edge. Weird.

It's odd to me that the alarm is still broken and apparently is a major issue to fix, because they haven't touched it in the last couple of updates.

This is the first update that hasn't needed a soft restart to complete in a while, and installed pretty quickly too.

I lov now I can move the keyboard anywhere on the screen

Outlook live tile update issue remains.

Battery draining quite quickly on my 950 while nothing is running and screen is off.

Let battery die completely and charge back up. Set edge to not run in background. Every update I have to reset my battery. You'll see that it helps.

Yey, one handed mode for 640 and 830! I remembered suggesting them before on feedback hub :)

its not showing up for the 920 :(

"We have updated the text prediction engine for multilingual users, so now the candidates you see when selecting a word will be based on the active keyboard language, rather than the language that was active at the time the word was written." If I'm understanding this correctly, I don't like it.

I'm still strugling to figure out why Favorites won't sync from PC to mobile with any Restone build. If I reset back to 8.1 then choose insider preview prodution release they sync fine but once going to Redstone sync setting in Edge on mobile is grayed out saying some windows featurs are only available using a MIcrosoft account which I am. I need to find a support forum instead of the opinion type site I guess.

Hi similarly I was faced this issue.but it was reading list. what is did just open the edge reading list on my mobile and wait for 1 min.until it's sync.dang got it.pls try this.

Is anyone se experience issues with Bluetooth? I can't turn it onn ok a lumia 830

Mine works fine Sent from Nokia Lumia 730 on build 14361 fast ring

What about acknowledging L830 RM-985 camera not working error?

I can't change the font size in edge. Its stuck on large even though I changed it to small under settings. I've had this issue for a while, hopefully this build will fix it.

Something happened to the skype app (app for 8.1) asking me to get skype but it is already installed.

I have only one problem on the redstone everytime i off my phone i cannot receive or even i cannot send a txt tsk pls fix this for my lumia 730 dual sim 14361 build...

What I have encountered : Privacy settings is keep crashing, in notification setting some unknown app is appeared, battery life seems better, key board can move at your choice by space bar.... Build is good so far...

Fixed this one twice: "We fixed an issue resulting in not being able to infinitely cycle left or right through the Phone app's tabs." But how did they test it?

Fix the Lumia 930 display issue

Do all these comments n feedbacks get to Microsoft? Jxt wondering though...Cos each build does not seem to solve all da problems of da previous build...

This build again destroys the rather decent battery life of the previous one. The previous one was released especially to fix the horrible battery drain... now we are back to the same problem.

Instagram not working anymore with this build. Also blacklist in message/phone app not working anymore. Phone runs very hot and battery drain is higher than in builds before.

Should i install it on my L822??

Can i Get a News for LUMIA 430 ?? In 14356 build, i got a problem about cellular data(SIM1) .When i turn on my cellular data , then my phone gotta hang.. Application can't access .When i use my phone with one sim, then phone work fine. If this problem have on this Build???

Now charging sound frequently playing if the charger is plugged...that was so useful feature, I didn't think it was a bug. I often plug the charger into my phone and forget to plug the other side into the wall, and this helped me a lot.

Anyway this tutorial is really great, best one for Windows 10 Mobile! Share,subscribe https://www.youtube.com/watch?v=bN6qUf3qI04&feature=youtu.be

When is windows 10 anniversary update coming . Eagerly waiting for it to upgrade my lumia640xl

Mostly in 1st week of august

Am I the only one who's had issues with sending texts. I click send and it hangs there for up to a minute. Takes forever to send. Used my 1520 and didn't have problem. I'm on 950XL...

I went back to preview update I'm not even messing with the redstone update anymore instagram and messenger beta not working anymore. I'll wait for the official anniversary update to come out.

how do I get this update, whether it's official or insider?

OK. Is anyone else having an issue with their SD card and Build 14361? I have a Lumia 640, that has a 128gb SD card. It is recognized under File Explorer, but not under Storage. What am I missing?

Quick question about all the 14xxx builds - anyone having problems with live tiles not updating? I have a Lumia 640 with the most current 14361.0 build. Everything else is great, but since this 14xxx series of builds came out, my Mail & Calendar Live Tiles aren't so "live" anymore. It used to be that whenever I checked an email that showed up on the tile, whatever I would do - read/delete/move - would clear the tile until a new message came in. Same with the events on the calendar tile. Now, an old email message will stay on the live tile for days, & the calendar doesn't "move" to the next event. Any ideas? Thanks.

Might as well update my Microsoft Lumia 435 to this build.

This build is really, really good compared to the last few. Still some Cortana buginess, but battery and music playback seems to be working well again!

Anyone updated this build on Lumia 435? How's battery and performance?

I have a lumia 532 but i guess its almost the same as 435 .so far so good this is the first redstone build that works on my device . The last few RS build is unusable. But this build is good.

Sadly, the action & lock screen are yet in English and not in Dutch. The annoying chargebeep is gone. But when can I expect Cortana in Dutch?

how's this build on 930? worth it?

How about this latest build on lumia 535, will it works fine .

I have a lumia 930.does anyone else have issues recording a voice note? Or hearing it being played?..im on the latest insider build

Store doesn't show updates here!
When I hit "Search for Updates" it takes a lot of time and doesn't find any updates. But, if I open some apps, like Weather, it asks me to update in order to run it. Anyone else having this issue?

anyone with lumia 930 the Hey Cortana on/off toggle is gone... i cannot train cortana again but i can still use her through pressing the icon or the long press on search navigation key

Hey, in this build sometimes the icons of the wifi the vibration and all that stuff just disappear. Am I the only one?

Maps doesn't run. Says its installed but it crashes. Can't uninstall it or update it. Hard reset doesn't work and don't feel like re installing the rom through the windows recovery program. Anybody have any suggestions? Also going to check the forums

This build is not so enough good as compared to previous build.....R*☹☹☹☹

try hard reset and hope things to go well

downloading stuck at 0% what am i gonna do?

Cortana is not able to close or complete notifications.

Hi! I am using a Nokia Lumia 830 in the Philippines. Do you know when will the .338 Release Preview Build be available here? Can you please help a brother out? Thanks

Use update advisor app bro it will give you .338 most stable build

Windows 10 with no endings issues way ,, f,,k you MS ,,, still foolish Posted via the Windows Central App for Android

14361 on Lumia 640 update: squirrely behavior. Apps sluggish to unload. This is pronounced at times. Messenger especially unruly. Experienced rapid simultaneous tile updating, followed by main screen refresh, over and over. Cycle taking about 2 seconds. This happened twice today. Had to reboot. Had full blown fatal hang trying to turn Bluetooth off. Photo pinch zoom sends image off screen - unretrievable, must go back to pick image in album and try again. Have to pinch carefully and slowly to prevent the problem.
None of the above were problems before.

Is anyone seeing the description and screenshots for apps in store??

Please help me! It's too much disgusting when I forced to power off! I put down my battery because nothing works sometimes in my Lumia 535. My os is 10.0.14361.0. Individually store, network settings, OneNote stop working. I cannot send message at the same time. Please help.

I suggest you to take out of battery your SIM card your SD card and wait for an hour. Then reboot your phone. if the problem persists try soft resetting it. If it is still there, you need to use recovery tool. Hope this works.

Only recovery tool will save your baby

Omg .. Everyone in the comment section has variety of serious problems it looks like anniversary update for mobile will delay

Yep more minor bug fixes. Nothing new here...

This build is amazing! I did have to reset, but it's cool. It doesn't get hot at all

After updating the build 14361, my Lumia 640 XL dual sim began to load pps for years. The phone was not responding to touch. I had to reset my phone to Windows 8.1, and then join Release Preview. I am currently out of Redstone until the data issue with dual sim mobile is solved

My 950xl was a mess after this build, all kind of audio issues, alarms weren't working. Back on regular build for me.

This build of windows is jxt crap...constantly restarting, apps crashing especially whatsapp..with all da professional in Microsoft one will think windows phone users shldn't go through this kind of frustration...I'm really disappointed n totally out of windows phone...use a fortune to buy lumia 830 within months n ma camera went dead with any warning...N funny it's taking me da same amount I used to buy da phone to repair it...can u imagine...Microsoft is a joke in Ghana..

So where has Hey Cortana gone?

does anyone get "Your device ha been locked for security reason..Plug it to a power source for atleast 2 hours and restart to try again" after updating to build 14361?

My tablet does that when it's low battery. Is it fully charged?