Here's what's fixed and what's broken in Windows 10 Mobile preview build 14327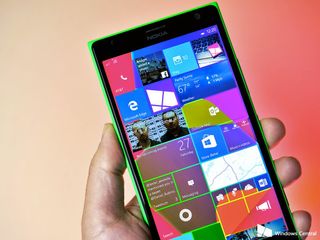 Microsoft has posted a list of what's fixed and what's broken in the just released Windows 10 Mobile preview build 14327 for Insiders on the Fast ring.
In a blog post, Microsoft's Windows Insider head Gabriel Aul wrote about the bug fixes in the build:
We fixed the issue causing Language and Speech packs to fail to download.
We fixed the issue where in some cases your phone's screen may not turn on and become unresponsive and Windows Hello stops working if you used the power button to lock/unlock your phone quickly.
We fixed the issue where in some cases, users might get in a state where neither space or enter are working on the keyboard.
We fixed the issue causing Facebook Messenger and other apps like WeChat, Transfer My Data, and UC Browser from failing to launch from Start or All apps.
We fixed an issue where diverse emoji couldn't be deleted from the text box in an interactive notification.
We have updated the autocorrection logic, so you can now abort an autocorrection by tapping on the bolded word.
We have updated the Glance screen so it will now reflect Ease of Access text scaling.
We fixed an issue where tethering over Bluetooth wouldn't work if Bluetooth had never been turned on before.
We fixed an issue where you couldn't set a sample image as a lock screen background.
He also posted the list of known issues with the build:
Feedback Hub is not localized and the UI will be in English (U.S.) only even with language packs installed.
We're investigating a crash with the Camera app when going into your camera roll.
There is an issue in which you may see duplicate apps under All apps showing as pending despite being installed and usable on your phone. You may also see some apps stuck in the Store. To get out of this state, just start and pause a download in the Store and then choose to "resume all" downloads.
You may see square boxes in certain apps when using some of the new emoji – we're still getting support for the new emoji added throughout the systems, this will be resolved in a future build.
There is a bug we're investigating that prevents some apps such as Tweetium from launching.
We're investigating issues which cause mobile data to stop working but show as connected.
Glance on/off setting is not respected after updating to a new build. After updating, you can reset this setting to what you had before.
ANOTHER NICE DAY, downloading!!!

So that equates to 270MB of fixes and 1GB of bugs.

Finally added notifications for when an app is updated

Praise be, praise be. Getting closer to what he had in 8.1. Have they readded the ability to tap on an app that has an update available so we can quickly jump to the release notes? Or better yet: Does what iOS does and displays the release notes directly on the update menu in the Store? I for one think it's absolutely absurd that I have to type, search and find an app's listing in the Store JUST to read the release notes. I want to know what I'm installing, gosh darn it!

Agreed, this is so confusing. Especially when an update fails, and it tells you to check the details. Where exactly am I supposed to check? You tap the listing on the update page and it does nothing... It should take me to the app's listing and give me all the info I need. Simple fix, and I'm going to have to check feedback and see if this is in there so I can upvote it...

One of my most requested feature. It's absurd it's still missing! Posted via the Windows Central App for Android

Has anyone noticed any rendering issues with OneNote, and Edge in the LAST build?... Pages showing distorted images when zoomed in?
.....
Also, has anyone had issues with using the keyboard in Cortana, and Cortana just working slow in general?

I have the same issues. 640

Nothing here on the 950xl

Dude, I'm using lumia 950xl dual sim, do you recommend update to this build ? Is the mobile data problem and irish scanner been fixed ? And what about battery life

The rendering issues seem to be fixed on my 1520.. And, Cortana is back!! Works a lot better. That last build was a little nightmare. Lol. Hope that's the last of that. ~~~~~~~~~~~~~~~~~~~~~~~~~~~~~
ROJO > ARLINGTON, TX > LUMIA 1520 ≥ 950... WAITING FOR 6.2" SURFACE PHONE

Cortana is better but still pretty unusable for me. +640/Win 10

What's she up to? ~~~~~~~~~~~~~~~~~~~~~~~~~~~~~
ROJO > ARLINGTON, TX > LUMIA 1520 ≥ 950... WAITING FOR 6.2" SURFACE PHONE

Like... Making typing a pain and nearly impossible when searching lol +640/Win 10

Cortana is effectively broken on my 950XL. No matter what search or instruction I give it just spins. Also the microphone does not work for cortana so I can't dictate things I have to type them in. Of course that is no big deal since Cortana won't actually do anything in any case :)

Really? Mine is fixed quite well after this build.. Must be a device specific issue.. 1520 here.

Do you think that cellular issue will be fixed with a reset

No. That's a system bug. MS has addressed it.. Actually, they said they fixed it, but it's still apparent. ~~~~~~~~~~~~~~~~~~~~~~~~~~~~~
ROJO > ARLINGTON, TX > LUMIA 1520 ≥ 950... WAITING FOR 6.2" SURFACE PHONE

I can't even update because the settings app crashes

Use the recovery tool to go back to 8.1, then up again. ~~~~~~~~~~~~~~~~~~~~~~~~~~~~~
ROJO > ARLINGTON, TX > LUMIA 1520 ≥ 950... WAITING FOR 6.2" SURFACE PHONE

Mine did too. Shut down. Restart. Try again. It eventually worked. :-/ - Posted via W10M

Wednesdays are slowly becoming one of my favorite days lately. The last build was on a Wednesday if I'm not mistaken.

It was on Thursday.
http://windowscentral.com/windows-10-mobile-preview-build-14322-released...

Yeah, your Wednesdays still suck☺ ~~~~~~~~~~~~~~~~~~~~~~~~~~~~~
ROJO > ARLINGTON, TX > LUMIA 1520 ≥ 950... WAITING FOR 6.2" SURFACE PHONE

That was quick, hopefully this will be better than the last one. My current issue is that the update won't install unless I have 40% or more of battery remaining, but I have 41% and can't get the install to start, though it has downloaded.

Never a good idea to install on battery power, or on charger with low battery. A nasty can of worms loiters around the corner. ;-)

I'm sure they'll add that to the list of known bugs :-)

@Eric Rankin, it's not a known bug when ever you update any device you need to ensure it has sufficient power to last the update process and on a phone that's roughly 80%. However it's always recommended to fully charge your phone before attempting an update or rom flash (along with using a factory cable - to supply power and data).

Downloading on my über haxed Icon :D thanks XDA developers Sent from my Toaster Oven (Lumia Icon)

How did you get it on the icon, I would love to get it on my spare icon

Here's the guide I used http://forum.xda-developers.com/windows-10/windows-10-mobile/windows-mobile-10-redstone-rs1-build-t3319375

Instead of editing a bunch of registry values, you could just edit the phone name. User has confirmed that simply changing the phone name to nokia lumia 930 allows the download to start

That mobile data bug... Bewareeee

this impacted me on the update last week - hoping this update fixes it or I will be going back to the production release F this

Luckily I haven't unlocked my 640 yet and haven't got the sim card its locked to so the build doesn't effect me :) although my secondary phone L535 I may keep from downloading this build... Just til they fix the data issue as I use data regularly +640 on Windows10Mobile

I'm hoping that this is just similar to a previous bug when 10 Preview was first issued and I can use the same fix for this on my T-Mobile service...just needs to set up the APN for it =s

Try it :D if it works, tell us on here ;) +640 on Windows10Mobile

i am using 950 and on ATT I went in and added new internet apn and i finally have cellular LTE back. Thank god

Ay that's good then :D I might update my 535 then :) (secondary phone but only phone with data)

I just let it sit for a couple days. The ims gets registered again. But is this the bug they're talking about? Or is it something more?

Bugger... It's got me, I'll bare with it for a week but hope a fix comes quicker !! ** 950xl and loving it !!

With last two builds on my 640xl, if I tap data toggle on action or open the cellular setting the phone would freeze until soft reset.
Went back to 1586. Any one had similar situation??

Yeah, ive been facing this problem from last two builds on my 640xl. Solution is to manually add the apn settings of the carrier.

Never mind, it's installing now.


Cool, it resolves some issues from previous build...

How'sthe battery life after this build?

100% to 2% in under ten minutes. It was crazy. I hope this fixed that.

What device did you put it on? 100 to 2 in 10 mins, is impressive, but not in a good way.

how about that 50% charge in less than 30 -oh wait, sorry...Lumia 950 =[

1520 also supports QC 2.0, just don't have a charger that supports that standard, lol.

The 1520 really was/is a Stella phone!

950 and 950xl don't, they support fast charge

It's a big issue. My phone would get hot and battery would drop from 100 to 50 in two hours. With flight mode on

Ok it's only dropped 1 percent in an hour. I think that issue is fixed.

I think a fix for the store, duplicate apps and camera (especially for Lumia 535, which gives an error on start up) should be included in the next build release.

We would be glad if they try to enable the double tap to wake, at least in the fast ring for the X50 models.
So they can polish it and later include it in the slow and production rings. We need double tap to wake, seriously. Greetings! :3

I hit the Feedback app and +1 vote for every comment that mentions this.

Hahaha double tap to wake works like a charm in my phone. Posted from WC for W10 running on my 930.

The duplicate apps bug doesn't really affect me functionality wise but oh boy does it annoy me, hehe.

I created a temp fix for that, just download a new app, go to the download and updates page in the store, when app starts to download hit pause all > then hit resume all. All duplicate and pending apps will be removed.

Yup. I have been doing that (precisely after I read one of your comments mentioning it).

Ah ok, it works best if there's an update for any app, sometimes the last app returns pending and an app update with doing the temp fix gets rid of that permanently, until u download a new app again. Im avoiding the store unless its about doing updates :D

Did the trick, though I didn't d'load a new app, just checked for updates, paused all the latest updates coming in, then resumed, & then the Surface app finally cleared!

Hello. I got this 'duplicated app listed' bug in the last build on my L830.... I 'solved' this clicking several times in the pause/resume button (for download/update the apps) on the Store, until all apps 'frozen' in the list gone. (If the button is grayed for you, you can download a random app in the Store, just to free the button again ... and keep clicking the pause/resume button, until all the apps (duplicated or not) get away from the list. That problem happened to me after a soft reset, when the phone was restoring all apps back, I lost internet for couple of hours.

I hope they fixed a bug which prevents me from getting any notifications from the messaging app....

I have that problem on PC... =\

Was about to jump back to the Fast Ring... but ... We're investigating issues which cause mobile data to stop working but show as connected.

I get this one, but it's no big deal. If on wifi and data stops transferring, I turn wifi off and back on again, and data transfer resumes.

What? I may not understand what you're saying, but data is the alternative to WiFi, not something works alongside it? Data only works (on other builds as data seems to be a problem with this build) when you aren't connected to WiFi so you still have internet when out and about. (sorry if I'm just misunderstanding what you're saying but had to query it ;) ) +640 on Windows10Mobile

It is a weird issue but yeah, sometimes I think it's just the way the OS handles connectivity...it's supposed to be cool and not do it that way, but that's what bugs about it =p

I have ATT lumia 950 and was experiencing this issue. I was able to fix it by changes the internet apn. APN = phone and then leave every other field blank and click save

What I did was forget the WiFi network before I restarted to install updates. My data is going strong

This bug isn't a big deal, it only happens sometimes. Toggling airplane mode on and off fixes it for me.

actually it IS a HUGE ISSUE, specially with a two sim phone, it blocks data, freezes the phone, you cant turn the wifi on, you cant use whatsapp.. believe me, its a big deal

I have lumia 640 Xl dual sim and my phone freez every time when i try

...To open the cellurar data...

I had this same issue on my 640xl. Annoyed me in the last two builds so I went back to retail version..

How do u go back Posted from windows central for windows 10 mobile

Used WDRT to go back to 8.1 then updated to 10

I have ATT lumia 950 and was experiencing this issue. I was able to fix it by changes the internet apn. APN = phone and then leave every other field blank and click save

It even causes the battery to drain faster which is terribly terrible Posted from windows central for windows 10 mobile

Exactly same issue I have complained about which is keeping me from downloading this build since its not fixed yet Posted from windows central for windows 10 mobile

It's definitely an annoyance, but not a huge issue for me since ionly takes a couple seconds to fix. If it's causing your phone to freeze, well that's another matter.

You can easily get it working again by calling your mobile provider or go to their website. I've done it a few times already. (T-Mobile)

That's a bug that's been happening on my phones since 10166.

I think I'll just wait for next build because i NEED cell data.

Some of these issues are pretty big deal breakers for me like Tweetium and mobile data. Get this simple stuff fixed ASAP MS and release a good build to the slow ring!!!

Anyone know if the sync with MS Band working again?

Yes, it was working last build

That has worked last 2 builds

which version was it that had it broken? can't recall again. been using 10586.218 without issue.

The current and previous 2 builds broke it when they updated the bluetooth stack for Redstone. 10586.xxx work just fine.

How about bluetooth and cars, last build for me it wasnt reading my text at all.

since windows 10 release i cant hear the voice giving me directions on my car... i can hear all my music, but not the directions... weird

Stupid question, is it muted? Mine was when I had no sound. Caught it by accident.

Hasn't worked in 2 builds without a workaround. I'm guessing no since they didn't highlight it as a fix, so we'll be SOL.

Why not just add these changelog posts to the announcement posts?

• Release a new build with new bugs
• Fix the bugs in the next build
• New build got new bugs again
This is what I am seeing now a days

This is pretty much the start of Redstone. Nothing is final right now. Do it is expected.

I am super excited to enjoy the new features. But the bugs are holding me back at .218 :-(

Yeah me too. 14295 drained my battery overnight from 50 to turning off. Since then I am in the production ring.

The battery on my 1520 is temperamental. Sometimes it'll sit for an hr or 2 without losing a single percent of charge. Then, it'll drain so quickly that it drains faster than it can be charged.

Me too bro ;-). From My L830

The battery on L 830 seems to act strange sometimes....!

Then previews are not for you.

Not taking the risk of RS builds yet.....!!

Or perhaps the bugs were there in the last build, but they were just found now. It is expected since it is a work in process. If you do not want to see these bugs, then do not participate in the live builds or at least do not enroll in the fast ring.

Yup, some of these bugs were there last build... It's more corrections than problems now! Improvements are always welcome!

It's a preview Anik. It is, at best, a beta. When adding / fixing things you invariably end up with issues elsewhere. Cause and effect at it's best. Don't forget some of the code used is proprietary, and support isn't always available immediately as in the emoji issue.

Yeah, sometimes the threads between the code will cross and affect things differently in different circumstances, so when you fix one problem, it might do something else to another part of it...the benefit is trying to issue a fix that won't affect other parts negatively but when things need to work together its hard to see all the parts at once to know there's a problem. If it runs through a predetermined test but doesn't know the specific thing to look for...it's all part of the process. =)

I'm loving the wallpaper on the phone in the photo. Daniel, please post a link so i can get it!

He actually posted an article about it a couple of days ago...

And he will "never" get you the wallpaper(as he said) :p

The app he uses is called Studio X or 8 or something similar. There is an article by Daniel Rubino 2 days back.

Wallpaper Studio 10 I believe.

Finaly, they aknowledged mobile data issues! Hoping they'll fix it soon.

Gawd I hope that this fast release cycle is indicative of Microsoft truly committing to mobile. I LOVE the camera on my 950 -it is amazing. But I am now carrying an iPhone 4S just to dig me out of the app hole (and give me a working browser).
Come on MS...make the most of the great OS you so nearly have!

any one yet in L830. From My L830

They need to fix the major probs like huge battery consumption and camera taking a long time to finalising the pics..

Are you using a lumia 520?? My 1520's camera does take any time to finalize sine the build prior to 14295.

My 1520 has on and off days on the RS builds with respect to camera. Sometimes a soft reset fixes it. Other times, multiple soft resets fix it, lol.

Too bad the Store bug didnt get a fix. Really annoying one.

Yeah, that one is pretty annoying. I now have 14 leftover updated/newly installed apps in the update section....

MS should add an option to 'Cancel' or 'Remove' the offending "Pending" apps.

Can anyone tell me if mobile hotspot has been fixed in this build? I really miss it even though I rarely use it, do have an occassion where I need it.

You really miss it even though you rarely use it.........

Since I got my 950XL, I haven't been able to tether hotspot via WiFi nor bluetooth to any non-windows device. Worked on 1320 on w10. Is it now locked or something?

Not that I'm aware... I've tethered 'big' Windows 10 & 8, other W10Ms, android tablets, Symbian and an iPhone to my 950XL via WiFi. I haven't tried it on the last 2 Redstone builds though... I rolled back to TH2 after app launching problems.

Notifications for installed apps. Do 10

Me
too☺ . Is this for real?
L950 on Rs

Great updates, fixed many of my issues. But, I hope they removed the old glance setting. Confusing having two.

SHOULD I UPGRADE MY LUMIA 720 TO W10M INSIDER? IS IT WORTH IT AND ARE BUGS NEGLIGIBLE? PLS HELP.

no don't go for insider, if u r not eligible to windows 10 updates then sign in for release preview i.e the stable build 10586.218, I am using L730 and fast rings were not meant to us, to be frank windows 10 consumes a lot battery, u can get backup not more than 12-16 hrs with moderate use..... so stay either in 8.1 or sign in insider for release preview. - From Windows 10 Nokia Lumia 730

Ok. Thanks for valuable information. People usually say and advertise it good and never show its cons. It was much needed. Cons help decide taking risk for this. Thanks a lot

I can't wait for the next general release. I've been having memory issues with Edge with the latest update. I didn't have that issue before. I still have to try Hey Cortana on this update. It's never worked well on my 950XL.

The mobile data thingy and not being able to use the Internet Hotspot are the only reasons why I haven't updated my phone to Windows 10 yet

Can someone confirm Netflix playback has been fixed with this build? Thanks.

I wish Microsoft would just acknowledge that there is a huge battery drain issue going on.

There isn't... Set Feedbacks & Diagnostics in Settings to Basic.... Battery drain fixed...

It says Windows insider program manages this option. Does that mean I have to opt out of insider first?

I hope that will work, haven't tried it Posted from windows central for windows 10 mobile

"We fixed the issue causing Facebook Messenger and other apps like WeChat, Transfer My Data, and UC Browser from failing to launch from Start or All apps." So how did majors apps being disabled slide past dev? Updating now...

The same way that egregous Windows Hello bug did. Their regression testing just ain't what it used to be.

WeChat was a bummer to me, considering it is my most useful app.

Opera web browser and Simple Calender now working - yay. Good to see such a quick response from MS. Now to see if iris scanner issue is resolved or not.


Yep, iris scanner working normally again too. All good so far.

I ll updated as soon as i see a shazam-soundhound fix for my 950. It is rediculous still to on off the screen in order to catch the song...

Does this fix the livetiles ceasing to function?

I'm eagerly waiting to download

FM Radio has appeared in the list of updates as well, so that's back too I guess. My mistake, it was the 3rd party app, and it's now stuck in the store along with Wallpaper Studio, so not all good, but still a lot bteer than before.

Is cellular data working?
Can open and close cellular and sim?

Anyone know whether the Band 2 pairing issue has been fixed? My B2 has basically been bricked for the last few builds and won't pair at all any more. I've left feedback, but still nothing.

Even though I'm updating now, I'd like this confirmation too!

The answer is nope! Still broken.

Mine was fixed two builds ago, works a treat, well best go check after this update. ** 950xl and loving it !!

How did you get it to work? Did you reset your phone or band? Or unregister and reregister your band or something? Cuz I re-paired it via bluetooth and it still can't find my band after this update

How Odd... only just got notification of this question lol !!! - I reset Phone, I think all the updates I had done on it messed a few things up, a fresh install made the phone run smoother than ever..

Try to change the language to some en which you do not have currently. If that won't did the issue then factory reset the band (with changed language on the phone). I was playing with this language stuff and factory reset of band some time ago and worked. Found this way to did it here on win central. Search forum there might be more info on it. Anyway after that I did not have an issue with pairing on this build out the previous one... Good luck :)

I tried a few EN languages but still did not sync properly in Health app, factory reset my band also did not help. The only one that works for me so far is Chinese, which disables my Cortana.... bummed

You need to hard reset the phone. They messed this one up totally.

Good, the keyboard is fixed with this build. I was about to rollback because it was so annoying not being able to use space or enter.

Speech packs still won't download

I still have the error on speech downloads

Build 10586.218 .. saved pictures and WhatsApp pictures are crashing In Photos Hub (Lumia 640XL) Please Please Fix it

This is what I was waiting for...It was very annoying...I had to use word flow everytime I type something. "We fixed the issue where in some cases, users might get in a state where neither space or enter are working on the keyboard."

issues which cause mobile data to stop working but show as connected, I had this bug with the last preview built, not testing this one...

Same here, since its nit fixed I ain't getting this build either Posted from windows central for windows 10 mobile

Still no FM radio and yes I use it every day. I am on 950XL. Like the store notification when an app has been updated.

How about when an app needs to be updated....a number in the Store tile....

Glad to see they fix app launch and maybe the windows hello problems, I wonder if the band sync problem is finally fixed.... If anyone tried it please kindly report. From Windows Central App for Windows 10

The band sync problem was fixed last release, and maybe the one before that - can't recall but mine is working.... finally. Missed it for about 10 days while waiting on a fix.

How you fixed it? Mine still fails to sync with Health app.... BT icon shows it connected but Health cannot sync with it.

Yeah same, it is still not working after this update. Bluetooth is connected to band but it won't sync in Health app. Tried re-pairing Band via bluetooth still the same. Do I have to reregister the band or something?

It worked in the last update. I just reset band and tried and it worked without a hitch. You should be good to go.

Nokia lumia 730 glance screen not suported please update

Blu Win Jr LTE X130e update?

what about the damn SD Card not being recognized?!

Are you sure there is no some problem with the card itself?

I hit the formus after your post. They didn't help. a Bing search resolved my issue however.

I must say the slickness of this build is hugely better than the last !! ** 950xl and loving it !!

Updated and using LUMIA 640.Update size was around 727MB. No noticeable bugs.Everything Seems to be fast and working fine.well done MS.

But No Fm Radio returned to this build.

Man, bad news... Really hope it came back.

I can recommend you 2 FM Radio applications are available now for new build: 1. Old Radio (easy, simple, but not convinient); 2. FM Tiles (make a Tile for each FM preset frequency).

And Voice Recorder doesn't work for call recording anymore Posted from Windows Central for Windows 10
Using the Alcatel OneTouch Fierce XL for Windows 10 (Redstone)

Store now notifies you of updates and new installs

Should i install it on my 640?

It's your choice. On my L640 it works like a charm.

Do you hang it off your bracelet or around your neck?

Any one out there who can tell if this build fix the camera issue on L535? Got to roll back to 8.1 for this, then update to W10 by Update Advisor.

The Camera on my L535 starts working after this update. I had the problem with Camera app at the previous build (14322). Also, the application "Camera360 Sight" works great at both last builds.

Probably some are annoyed on duplicate apps on the list. Hopefully by the next build this will fix. Right now I found a way to work on it. Its not so quick and easy but it works on me. First, Uninstall the app, leaving the duplicate one. Click the duplicate and it will bring you to the store telling you to install it. After clicking the install, CLOSE the store App. Do it one by one depends how many duplicate apps you have. Its better to keep one app with duplicate. Clicking it will bring you to the store if you want to install or search new app. NEVER open the store app if you want to install new app or search an app, as it will bring back all the duplicate apps.

It is mentioned in the article how to deal with pending items. It's easy and works.

But like what I said, It will go back once you click and open store app again. (unless its already fixed) That's why I keep one duplicate app so that I can get through ti store app without going back the duplicate problem.

Speech pack still not downloading. ;-(

This build (14327) is very good for my Lumia 535. Now I have no problems with 1. Camera 2. Opera browser 3. Maxthon browser 4. UC browser - which was after last fast ring update to 14322. Also, the application for the French radio RFI now works. Regretfully there are not the FM Radio application from the Microsoft.

Man! This is the comment i was expecting for. So now camera works fine on any app? how about language on settings? Any store issues?

How's the cellular data usage with two sms in it Posted from windows central for windows 10 mobile

Exactly on my 535: 1. Camera app works (+ Camera360 Sight) Sight
2. It is possible to install spell-checking to keyboards in another languages (was broken on 14322).
3. Store issues NOT fixed! (duplication of apps, pending)

After hard reset on 14327 camera stop working, Skype Video app no longer appear and cant login to skype on Messages & Skype. Got no Store issues but it's enough to roll back to 8.1 again. RS ads a lot of new things; but, for me, it's better to stick to TH.

Really think this build is better than Production on Lumia 950/XL......

I have lumia 730 .... Speech language download error not fixed. messing app not working with skype... and many more dont install this update if you have lumia 730...

While most of the bugs I experienced with 14322 are better now, I am still having an issue with Glance, that I am wondering if there is some hardware problem. Beginning with 14295, Glance stopped working correctly. It will flash the screen for a moment, then drop to about 5% visible (can only see the screen in a darkened space). Same issue with 14322, then the other issues with 14322 made me drop back to 10586.218, but the Glance issue remained. It seems that no OS updates or drop-backs make any difference, but I don't know what else could affect it. Is there some hardware component that is only used by Glance, as the screen / brightness controls (including auto adjust) and proximity sensor work fine. Is anybody else having problems like this? 950XL NAM Dual-SIM unlocked, FW 01078.00038.16082.36005

I'm having glance screen issues as well. In my case glance screen will not stay enabled. It turns it self off after reboots and other random times.

Me too.... I think there are two glance screen options in the setting causing the conflict.... such as glance screen always on while charging doesn't work... Also glance screen never shows the charging indicator.....

Nice updates. I like Redstone a lot, not going back to Threshold. L640 DS

Nice to see the messenger issue fixed. One thing I noticed was that the OS reported messenger as a beta to me when it announced it was installed. Interesting. Posted via the intertubes

Found the native Flashlight app again on Nokia Lumia 830, in "Quick Actions". Still no FM radio. Overall, this iteration seems a bit more responsive so far. Apps were somewhat slow to load on the last Redstone version.

What about the sms/text not syncing issue after you perform a hard reset.

OMG!!! You can swipe-left delete messages in the messaging app just like in Outlook!!!! Is this new or did I just miss it all this time???

That already existed in the previous build.

That's a lie Posted from windows central for windows 10 mobile

After updating to the previous build my battery is absolutely TERRIBLE on my 1520. I have my phone in airplane mode with only WiFi and location on, and can barely get through half of a day. The phone will just sit there and kill itself (it gets extremely hot in standby too, so it must be doing something...) Hopefully this build fixes that. Anyone else have similar issues?

Been like this since 4 builds back.

The only new modification i can see yet is the notification when an app is updated..... Using a pretty awsome 640XL....

Windows Insider Program available on Update settings

The audio in video recording is back on my 1520 after I updated

THE CAMERA IS STILL BROKEN ON THE 950 WITH THIS BUILD!!!!. Sheesh, Microsoft. Get your flipping act together. When I start the camera it begins constantly autofocus, often making a loud buzzing from the shutter. It does this whether I'm set to autofocus or manual. Piece of junk.

During every update: "WE'RE GETTING THERE...and it will be worth the wait." Methinks Microsoft should stop stating this for awhile. At least until the update is REALLY worth the wait.

Anyone having problems with nPerf after this update? It starts the tests then says I'm not connected to WiFi. I am! Likewise, HP's AiO application shows my printer online...then...offline repeatedly.

Also, I'm not able to make any changes in Privacy & Feedback settings. Both dropdowns are disabled.

Feedback & Diagnostics I meant.

Messaging everywhere takes off the integrated skype? - Lumia 640

Sir i have a major problem with 14322.
When i on mobile data option, on my Microsoft 535, there is no response and mobile is not working until reboot my phone. Is this big fixed in our new build 14327 please reply me

There's a bug on creating PIN settings.

Currently am using a single sim in a dual sim phone because of cellular data freezing issue, haven't seen the benefit of this rtb over production build Posted from windows central for windows 10 mobile

Hopefully they can have an new keynote to introduce phone to people with new features. Also, the sliding from start to app drawer is still having lag

How to fix problem with apps stuck in the Windows store? I can't delete them,open them or do anything...any ideas?

Microsoft have been releasing build on top of build, I never heard of any mobile payment feature for any of those build. I wonder if on their windows 10 anniversary release,would we see a mobile payment feature.

Cortana ....doesn't work for interested news, or searching....

Does battery problem solved

Plzz.. Someone tell me..
We don't have integrated skype in this build???

That's what they said...because the Skype UWP app is coming out.
Also call recording doesn't work. Posted from Windows Central for Windows 10
Using the Alcatel OneTouch Fierce XL for Windows 10 (Redstone)

Voice Recorder is no longer compatible for Call Recording :-( Hopefully the app gets updated to fix it..or the next build has a fox for it. Posted from Windows Central for Windows 10
Using the Alcatel OneTouch Fierce XL for Windows 10 (Redstone)

Hey guys please show me the right path
I'm using nokia Lumia 625 with 512 MB of ram .
Once I have tried to update my phone from 8.1 denim to windows 10 from insider preview but something went wrong and I had pay so much rupees for that to get back to windows 8.1.
What should I do now please somebody tell me what to do!?!

Is there still a screen flicker issue on the 1520?

And missing the FM Radio app is no issue at all.. Forget it...

My lumia 730 on build 10586.204 has a problem...apps like edge and windows central sometimes distorts the pages when scrolling making it impossible to read. I have tried hard resetting it many times and also switching between 8.1 and 10 through recovery tool but i haven't be able to solve the particular problem and the feedbacks dont really help much too
Someone please help...anyone else facing the issue??

My 950 has been downloading all night. Still at 0%. Anyone find a way to resolve? Phone is charged 100% and charging, WiFi is on, apps all access the internet, but still, no downloading the update.

nothing new looking in it.

Speech for caller id available but how it works

WeChat not working this build

Download not at all starting in WiFi..any suggestions plz help me guys..

The Actions bug not fixed. I have only one there and no ability to add more, just toggles them off if I select 2.

My data connection works great after. You have to delete the WiFi network before installing updates

Audio routing is acting up now, where when the phone is away from my face it does not activate speaker payback

How is this build goin in lumia 532??

"We fixed the issue causing Facebook Messenger and other apps like WeChat, Transfer My Data, and UC Browser from failing to launch from Start or All apps." Hey MS developers, WeChat is still not working on 640XL, failing to launch hasn't been fixed :(

Really think it's better than production build on Lumia 950/XL now???

No. It's better than 14322 but stay with production

Gadgets is absolutely worthless. You have to add each app you want to work with Bluetooth headset, then reboot. Groove on screen controls ate completely hosed when a Bluetooth headset is used.

What about those people who try to install the Windows Mobile 10 upgrade on their Lumia 640 XL phone, and, after downloading the upgrade and preparing the installation, the phone cannot open and install it (error 80070570) ? Does Mother Microsoft have a solution for these customers? This isn't a simple bug!!!! Is there an answer?

I just updated my Lumia 640 xl dual lte this morning (Build 14328). Most of my apps remain "pending". I cannot open almost all of my apps--I cannot even text or make call. I can only navigate the "Setting" tile. What should I do? Can anybody help me?

I updated my Lumia 640 xl dual lte (Build 14328). Most of my apps remain "pending". Almost all apps cannot run. I cannot even text or make a call. The "Setting" tile is the only tile that responds. What should I do? Can anybody help me?

950 XL sometimes hit unresponsive when receicing notification from sms or email. I have to soft reset to work. it seem to happen everyday when device go to standby. After upgrading to buyild 14328 but it still happen. I try reset with fresh but it still happen.
Windows Central Newsletter
Get the best of Windows Central in in your inbox, every day!
Thank you for signing up to Windows Central. You will receive a verification email shortly.
There was a problem. Please refresh the page and try again.