Hills of Glory 3D arrives on Windows Phone 8; new Babel Rising 3D soon to follow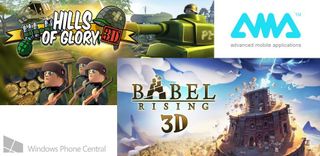 We're nearly done with our Casual Connect gaming coverage. At the San Francisco-based gaming industry event, I interviewed a number of Windows Phone and Windows 8 developers. One of the largest of those developers is Advanced Mobile Applications (AMA). Founded in 2004 and based in London, AMA is a sister company to Ubisoft, who publishes some of their games.
During the event, AMA's VP of Sales Jean-François Denis took the time to show us several of AMA's Windows Phone 8 and Windows 8 titles. Today we look at two of those: the recently-released Hills of Glory 3D (also available for Windows 8) and the upcoming Babel Rising 3D. Yep, a new Windows Phone 8 version of Babel Rising 3D is coming. Learn more and see both games in action after the break!
Hills of Glory 3D
Please note that the version shown in our video is an older build and that the final game runs at a smoother frame rate. It's also perfectly smooth on Windows 8, depending on your hardware and display settings.
Hills of Glory 3D takes place in a cartoony World War II setting. Players must defend a bunker from an invading army using eight different weapons. You can tap to fire guns, swipe to drop fire from a helicopter, press and hold to drop a circular artillery blast, and more. The more powerful guns take time to recharge, but they make it easy to kill multiple enemies at once and get combos.
During battle, downed invaders will drop crates. Shoot them to receive their contents. You'll find health, coins, instant ammo refills, and even collectibles. Get enough collectibles to unlock new upgrades in the shop. Each time you play you'll earn coins for that shot; you can also buy more coins or a coin doubler via In-App Purchase (IAP).
In my brief time with Hills of Glory 3D, it seems like a good, engaging alternate to traditional tower defense games. No sitting and watching the fight here! It includes 21 highly replayable missions and an endless mode to keep war-loving players busy.
The game is already available on both Windows Phone 8 and Windows 8:
Hills of Glory 3D – Windows Phone 8 – 99 MB – Free – Store Link
Hills of Glory 3D (Free) – Windows 8 and RT – 105 MB – Free – Store Link

(opens in new tab)

Hills of Glory 3D (Paid) – Windows 8 and RT – 105 MB – $3.99 – Store Link

(opens in new tab)
Babel Rising 3D
iOS screens
The original Xbox Windows Phone 7 release of Babel Rising 3D is not exactly a beloved game. A poor port, the campaign actually becomes impossible to complete at a certain point. It's also incompatible with Windows Phone 8.
Well, the good news is that Advanced Mobile Applications and Ubisoft are set to release a Windows Phone 8-specific version of Babel Rising 3D in the near future. The previous version was handled by a different studio and got rushed to release. This new version comes directly from AMA and will match the iOS game in quality and features.
For those who haven't played it: Babel Rising allows players to play as a vengeful god. Your worshippers have decided to build a tower to the heavens – a tower of Babel, if you will – and it's your job to smite them into ashes and not allow them to use birth control no matter how much it makes sense to do so. You'll smack them down using a variety of destructive powers including lightning, floods, earthquakes, and even meteor showers.
Now, the bad news: the new Babel Rising 3D won't be Xbox-enabled! Many developers we spoke with at Casual Connect didn't see the benefit of the laborious Xbox certification process, something they are unaccustomed to on iOS and Android. But at least Windows Phone 8 will now have a chance to play Babel Rising, even without Achievements.
Babel Rising 3D will be free-to-play when it launches on Windows Phone 8 and Windows 8 later this year. We'll have more to share from Advanced Mobile Applications soon!
Windows Central Newsletter
Get the best of Windows Central in in your inbox, every day!
Paul Acevedo is the Games Editor at Windows Central. A lifelong gamer, he has written about videogames for over 15 years and reviewed over 350 games for our site. Follow him on Twitter @PaulRAcevedo. Don't hate. Appreciate!
I'm glad they aren't Xbox enabled. Now we could get updates alot quicker and often. Microsoft needs to do something about the WP8 Xbox Live Certification. It's dreadful, slow, and leaves most games in limbo. (I'm talking about updates as well)

"I'm glad they aren't Xbox enabled" <----- HERETIC!!!!! (The statement by itself is offensive to me lol )
I won't play or purchase this game because it's not Xbox LIVE certified.
However I do understand exactly what you're saying. Xbox LIVE on Windows Phone has left a lot to be desired. It needs a lot of improvement, but I refuse to abandon it and write it off. As long as the developers keep voicing their opinions to Microsoft about the horrors of the process, we can only hope that it improves.
I think the worst possible route is to avoid it altogether. I believe this leaves Microsoft assuming "Developers and users don't even care about Xbox LIVE, let's skip it since we made it available and no one used it".
Thats my $0.02


Very well said and i too hope for an improvement to the xbl certification system. There has been talks(whispers) that MS is looking to revamp the system to have parity or even better the 2wk turnaround process employed by ios.

Good post man, we need to push Xbox for WP by addressing well known problems. Over and over...to be honest: If I want to play high quality non Xbox games I don't start with WP.

Unlike the near universal Game Center in iOS, Microsoft seems to consider Xbox Live functionality some kind of exclusive feature. This means we'll never see it adopted by anyone but big name publishers.

Wait, Microsoft doesn't make Live a requirement for online games like they do on the Xbox consoles?

An article! Its been over 24 hours, thought you lovely folk died! Hahah

Same here. Kept on refreshing think their was a problem with my network.

Haha Sunday is the day of rest!

Haha yup, I'm always checking and actively on WPCentral so its like, awesome its the weekend! But my tech world will come to a stand still :( hahah. Especially im waiting for the L920 release of GdR2 on Rogers so sucks 10x more than normal :P

WPC staff should not be allowed weekends.. I need my reviews and announcements of things that aren't launched here in Australia yet or won't work on non-GDR2 devices (still waiting for unbranded OTA)

Thank god thr is an article fr today .

I refreshed 100 times today, the guys here Daniel and the other dudes need to work harder on Sunday, I have nothing to do on my hand and I expect more news and entertainment, thanks. :P

Hahaha the issue here is that most companies pretty much come to a stand still on weekends, usually work only gets done Monday to Friday, 9-5 for the most part. And when this is the case, Daniel and the rest don't have much to report on! Props to the WPCentral team for reporting and reviewing on their weekends to keep us techies satisfied! Keep up the great work!

Hills of glory is fun. I've been playing it for a couple of days.

Yeah because of the article drought, I thought it was my coverage problem!

So sick of free to play cash grabs. What happened to charging reasonable price for a full game

Let me say: Hills Of Glory has Brazilian Portuguese support but isn't available in here. :'(

Yes.
http://www.imgfans.com.br/i777/devamps/Prints/wp_ss_20130818_0001-Hills_of_gloryrlm.jpg

You want to make up for STEALING our money with the first Babel, give us the second for free. You sold me a game broke at one level, making the rest unusable and never attempted to fix it. Even if this game is great, why would I support someone that stole from me?

Isn't it mentioned Babel will be free when it launches on wp8? Did you ask Microsoft for a refund? I agree the devs should have pulled the game and refunded the money

Free to play...and with this companies track record, it will cost you $5 to access the main menu....

Lol, I played for five minutes and got solicited twice, even before I got through the tutorial, totally agree

Curse 1gb of ram requirements!

It'll most likely be updated to 512 ram in the future.

I doubt they will, and if they do it will probably have much lower quality graphics... I've been playing with my Lumia 925 (1 GB RAM) and at least twice the game closed because of lack of RAM...

lol, those WP8 memory requirements always make me wonder how the same game in better quality would run perfectly on a measly specced device like the iPhone 4 or even the lower specced iPod touch 3g. Seems like some party is doing it wrong...

Im not very Christian but I always thought Babel could have been a funnier game. I pray this version will make me feel all power full and kick ass :)

Please, do explain what "very Christian" means.

Just can't wait for Babel Rising 3D :) I hope it will support 512 MB RAM devices unlike the Hills of Glory

I have now switched to Outlook.com instead of the usual Google.. It better not let me down, I've gone all in!

Congrats! I like outlook, slowly switching all contacts using Gmail over. They can invade someone else's privacy to make money.

Ok, and that goes with this story how. P.S. I'm happy for you!

It doesn't.. I just don't really have much to say about this article lol

Although this game doesn't work on 512 devices,which is a shame

Nice and quick review! Grab hills of glory since its free! But I have played it on android and it is very fun.

I'm a little disappointed at the casual connect gaming news, not much news coming out of there. Was sort of hoping to hear some breaking news about games in the making or something. Not to exciting at all, sorry

Are you serious? Tons of games are being brought over, Paul had been talking about it last two weeks.

Yeah, I seen the articles and games over the past few weeks but I guess there just not my cup of tee. Was hoping for some earth shattering news or something, I don't know. Maybe I'm hard to please

Thanks for pointing that out. :)

Any time Paul, I recognize your efforts and hard work. :)

I do wish Hills of Glory 3D was Xbox Live enabled. Not that I'm an achievement hunter, but it gives me more incentive to try everything in the game. More like getting achievements are challenging to me.

Support my suggestion people if you agree with me!!!
We need more WP8 game titles to be Xbox enabled!http://windowsphone.uservoice.com/forums/101801-feature-suggestions/suggestions/4163745-windows-phone-xbox-live-more-something-like-gamece

hills of glory xD
bro hasnt put the phone down yet xD

What's the point if there is no achievements

To play and have fun, presumably. :P

BLASPHEMY! And I'm half serious. The game at a MINIMUM needs to be fun, but that is bare bones. There is so much less enjoyment if I cannot visually see things I have achieved (achievements) or be challenged by the games creators to accomplish all difficult objectives (all achievements). Xbox LIVE has set the standard for this. For maximum enjoyment, we deserve this. "to play and have fun" Absurd I tell you! (also only half serious)

Someone answer me this, is this game like Pathway to Glory?

Maybe it's just me, but 90% of my purchased apps are Xbox enabled. Do developers realize I'm more apt to buy an Xbox enabled game? Granted, Microsoft needs to work on the whole developer experience.

I love how we never get XBL games anymore...

I don't agree that there isn't incentive to deal with Xbox LIVE certification. I will PLAY games that aren't Xbox ones, but I won't buy them. I just see the addition of Achievements (and LIVE-based multiplayer, in some cases) as the icing on the cake that makes a game worth paying for. Over on Android, I never once paid for an app or game. Switching to Windows Phone, I find payment requires something MORE than that Android experience. I'll never do the in-app purchases that mobile games try to push. However, if they made these Xbox-enabled, I would pay money for them (if the games are good). That's the incentive of Xbox certification--it would be a feature that would lead to more recognition and actual purchases from some of us.

WWII helicopters went chuppa chuppa chuppa...

WWII helicopters were not used in combat, let alone strafing runs.

Go Microsoft! Go Xbox! Loving Chaos Rings though had to clean virtually my entire 820 in order to be able to install it, even via side loading. It requires much more than the stated 2gb, but enough whining, that's not my scene!
I like the curated nature of Xbox titles, the integration with one's profile. To each its own, some like it more "freedom" I tend to look at those titles as ethereal and bit of anarchic. I also don't buy almost any game if it's not Xbox enabled, but that's me.

can anyboy tell me how to close/exit the App.

Meh, Babel Rising wasn't even enjoyable when it was released for iOS in June 2012. Same lameness as the original that was released in 2009 but in 3D. Yawn.

I am not able to install this game, error showing, "storage is full", but have 750mb free,and able to install other app above 100mb. I have Lumia 820

Might give Hills of Glory 3D a try, and glad to see it's on multiple screens. Passing on Babel Rising on the premise. I'm not all that relgious, but I find it needlessly offensive.
Windows Central Newsletter
Thank you for signing up to Windows Central. You will receive a verification email shortly.
There was a problem. Please refresh the page and try again.