It seems silly that we're almost in 2020 and it's more of a struggle to connect multiple devices to your computer now than it has been in years. Everything needs to be plugged in and your computer probably doesn't have enough ports to handle it all. You don't have to replace your peripherals with new gadgets that can connect wirelessly.
Instead, invest $6 into this Hootoo 4-Port USB Hub and do more with the space you already have. It typically costs around $10, but applying coupon code SSMADXXH during checkout will drop your total to $5.99 at Amazon. That's on par for the best deal we've seen for this hub. It hasn't gone on sale very often since it was first released, either. You can use Amazon Prime or spend at least $25 to avoid shipping fees.
Do More!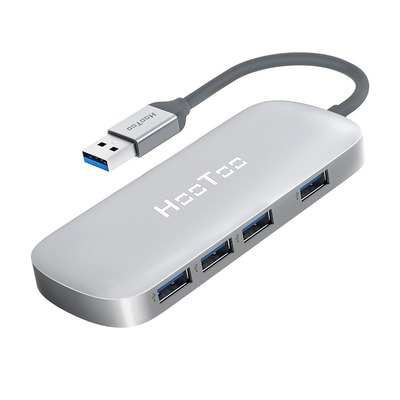 Hootoo Ultra Slim 4-Port USB Data Hub
Turn one USB-A port into four with this sleek and inexpensive hub. It's ready out of the box and features positive reviews as well as the lowest price we've seen yet. Use the coupon code to save.
$5.99 $9.99 $4 off
This slim USB hub turns a single USB-A port into four of them. It supports data transfers, too, with speeds up to 5Gbps. That's fast enough to transfer an HD movie in just a few seconds. The solid aluminum alloy housing helps dissipate heat, which is a nice bonus since adapters like these have a reputation for heating up quickly and cooling down slowly. It has a slim and lightweight footprint, so it won't take up too much room on your desk either. There aren't a ton of reviews for the product yet, but overall they're positive so far, giving the hub 4.6 out of 5 stars on average.
A hub like this provides spaces for your phone charger, Bluetooth mouse receivers, flash drives, and much more. It's important to note that it connects via USB-A, though, so some laptops aren't going to be compatible with it. If you're stuck with just a couple of USB-C ports, consider this USB-C hub instead. It's on sale for $28 for a limited time.
We may earn a commission for purchases using our links. Learn more.