Hori Pad Pro review: An Elite-style controller for Xbox One and PC at a low price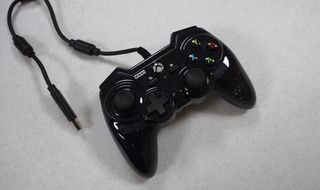 The Elite Wireless Controller is the cream of the crop of Xbox One controllers, but it also costs a pretty penny. The Hori Pro Pad offers some of the same features for under fifty bucks. But will it meet the needs of hardcore Xbox and PC gamers?
Design
The Hori Pad Pro features the same basic shape as previous Hori controllers, the regular Hori Pad for Xbox One, and the Hori Xbox 360 Gem Pad (opens in new tab). Concave areas near the top and bottom of the controller resemble the shape of a PlayStation DualShock controller, although the Hori shares the same basic width as a Microsoft Xbox One controller.
Besides its pronounced concave shape, the top of the controller where the bumper buttons are housed juts out at hard angles. The angular bumpers have no downside from a gameplay standpoint, but they contrast with an otherwise smooth design.
The front of the controller features a dark translucent shell that allows for partial visibility of the white circuit board beneath it. The grips on this side have a distinctive "gemmed" pattern of tessellated triangles. The top of the controller is glossy black plastic (a fingerprint magnet) and the back consists of solid matte black plastic. I wish the back had been translucent too, as I always enjoy getting a peek at a controller's innards.
The Xbox Home/Guide button on the front of the controller doesn't light up. Instead, a white LED just below that and between the View/Back and Menu/Start buttons indicates that the controller is on.
The Hori Pro Pad is a wired controller with a breakaway cable. Like other third party controllers, it can't be used wirelessly. It does include a standard 3.5mm headset jack at the bottom of the controller. But (as with all third party controllers) there is no data port, so you can't use the Chatpad accessory with this controller.
Performance
Hori controllers always feature excellent D-Pads, and this one is no different. The Hori Pad Pro includes a traditional Nintendo-style D-Pad that feels great and excels at 2D games, fighting games, and menu selection. The official Xbox Controller and Elite Controller's D-Pads are no slouches, but it's always nice when affordable options like the Hori Pad Pro get these things right, too.
The analog sticks on the Hori Pad Pro have slightly wider and thicker tops than those of a Microsoft controller. They feel slightly looser than official sticks too, but not so much that they lose precision or performance. Hori sticks used to be way too loose, so I'm glad these are up to snuff.
The Hori Pad Pro's weak points are its analog triggers. They are stiff and don't have much travel. That makes them difficult to partially depress with any degree of accuracy, negating the benefit of analog design. Partially depressing the triggers is not important in most games, but racing games and some first-person shooters do take advantage of the analog nature of the triggers.
Programmable buttons
The main selling point of the Hori Pad Pro is that it offers four programmable buttons on the back side of the controller. The Hori Pad Pro only costs about $50, a whole $100 less than an Elite Controller. For fifty bucks, Hori's offering gets you a wired pad with extra buttons that could potentially improve your gaming performance.
The programmable buttons on the rear are labeled FR1, FR2, FL1, and FL2. An 'Assign' button allows users to program any desired button to these extra buttons. If you want to be able to jump, reload, or switch buttons without removing your thumb from the right analog stick, that could be very handy.
My initial concern with the programmable buttons was their horizontal positioning. Both the Elite Controller and the PowerA Fusion Pro Controller utilize vertical positioned for their rear buttons, which seems more natural. But distinguishing between the two buttons on either side isn't that tough, because your middle finger can feel the shapes of both buttons beneath it. The buttons are nice and long, too, so you'll be able to hit them regardless of how high or low your fingers rest on the controller.
Overall Impression
The Hori Pad Pro is a fine controller for the price. You get a fantastic D-Pad, a unique look, and four rear buttons for a fraction of the price of an Elite Controller. I wish the analog triggers weren't so stiff and short, but they're still fine for the vast majority of games.
You can use the Hori Pad Pro with both Xbox One and PC, with Windows 10 detecting it by default. With the low price and features on offer, this one is a great buy for anybody who needs a wired pad for console and PC or wants a few extra features at an affordable price. 2D gaming fans will especially want to give Hori's controller a shot.
See on Amazon (opens in new tab)
Paul Acevedo is the Games Editor at Windows Central. A lifelong gamer, he has written about videogames for over 15 years and reviewed over 350 games for our site. Follow him on Twitter @PaulRAcevedo. Don't hate. Appreciate!
Matte-Gloss paint would be better looking. Anyways , will buy this one.

Nice review. I like Hori buttons so this one will be added to my wish list

This fingerprint magnet isn't badly designed. I'd have to hold it to know for sure as the best looking controller doesn't mean much if it's not fun to use.

Damn nice, was looking for a new controller to buy.

Why don't these 3rd party companies just make their controllers wireless with a USB adapter if Microsoft won't let them use the Xbox wireless protocol?

Because it would bring the price up to that of an official controller, and people will generally buy official if the price is similar.

Looks good, kinda like a Ps controller. Would give this a try on my pc.

Pitty the triggeres aren't that great but it's nice to see programmable buttons on a cheap 3rd party controller.

Those awful dome-like stick tops are a dealbreaker for me. Even on my PS4 controllers I've replaced them with xbox stick toppers, the dome is very tiring and results in near-constant thumb repositioning to achieve a good grip.
Windows Central Newsletter
Thank you for signing up to Windows Central. You will receive a verification email shortly.
There was a problem. Please refresh the page and try again.