How to find the best monitor for your PC
Buying a new monitor doesn't need to be a challenge. Here's what you need to know.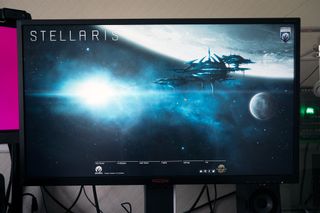 (Image credit: Rich Edmonds / Windows Central)
PC monitor technology (and display tech in general) is advancing at some speed, and already it can prove to be confusing for consumers to decide which monitor they need to purchase. Not only does one need to consider screen size, but also synchronization technology and port availability, just to name a few things.
Luckily, if you're having some issues, it's not difficult when you break everything down.
Display size
Monitors come in a number of sizes. This measurement essentially represents how large the display is (excluding the outer shell) by measuring the length of the screen diagonally. Depending on just how much space you have available to work with, generally, it's better to go larger with increased resolutions, should your budget be able to cover the costs.
Ideally, 23-inch monitors make for excellent desk displays that support both work and play, or for hooking arms and mounts, while something higher than 30 inches is good for media consumption and for when you sit further away from the screen itself.
To curve or not to curve
There is a fair amount of hype surrounding curved displays, much like there was with 3D, but curved monitors can actually prove useful. Screens that are 30 inches or larger can take advantage of a curved surface to wrap around your face and allow for more to be seen without turning your head.
Curved monitors are usually wide panels with a 21:9 ratio. This provides more space for productivity but can cause issues with media consumption that isn't optimized for the screen resolution. They also work wonders for gaming, with many claiming enhanced immersion (we've experienced this also). Others aren't so impressed. It's worth checking one out in person at your local store before parting with cash.
Going curved won't revolutionize PC gaming or general use, but it's an upgrade worth paying for if you can afford it and are interested in unique designs.
Monitor specs
A monitor listing will have a number of specifications listed. The more important ones you should worry about are the resolution, refresh rate, screen type, and response times. Firstly, the resolution is a measurement of how many pixels are lined up in a row. So 1920 x 1080 is essentially 1,920 pixels by 1,080 pixels. Monitors support up to a certain maximum resolution due to how many pixels are available for the OS to work with. Most screens support one of the following:
1920 x 1080 - FHD (Full HD) / 1080p.
2560 x 1440 - QHD/WQHD (Quad HD) / 1440p.
3840 x 2160 - UHD (Ultra HD) / 4K 2160p.
7680 x 4320 - FUHD (Full Ultra HD) / 8K 4320p.
Purchasing a monitor that supports up to 8K would allow you to run a PC in various configurations, including 1080p, 1440p, and 4K (or even 720p if you really wanted). The more money you spend, the higher resolution will usually be on the table, which in turns allows you to do and see more on the screen. Also, it's worth keeping an eye out for ultra-wide monitors, which are screens that make use of a ratio of 21:9 instead of the more common 16:9. These are preferred by professionals and creatives.
The refresh rate of a monitor is the measurement as to how quickly the display is refreshing content. 60Hz is the minimum for monitors and newer models have hit 144Hz and beyond. Ideally, you'll want to go with a higher refresh rate to take advantage of available processing power. If you happen to have a GTX 1070 or above, a high refresh rate display will make a world of difference. The response time is semi-related to the refresh rate and dictates how fast the LCD monitor can go from white to black, to white again. The lower the better.
Sync'd gaming
AMD FreeSync and NVIDIA G-Sync are two different technologies that achieve essentially the same result. A display with either will be able to hook up to an AMD (or NVIDIA) GPU and synchronize the monitor with the graphics card to unlock reduced input lag and stutter-free operation. Instead of the FPS jumping around and appearing to stutter, synchronized displays allow for a smooth viewing experience.
You'll need to take into account your current and future GPU to determine which you need. G-Sync displays are for NVIDIA cards, while FreeSync monitors work well with AMD cards. Every monitor can work with any GPU, but in order to fully take advantage of these features, you'll need to match the GPU to the sync tech. While vendors do not need to absorb extra cost implementing FreeSync, they do with G-Sync which is why such displays are found to be a little more expensive than their FreeSync counterparts.
Connect all the ports
A monitor can have a single port for hooking up a PC or device. A monitor could also have more than five for good measure. Like other factors, the price of the monitor generally depicts what kind of a port array will be available. DisplayPort, DVI, VGA, and HDMI can each be present on the rear of monitors with both DisplayPort and HDMI usually found across the board.
Budget
The price of monitors increases as values are added to resolution, number of ports and features, as well as the screen size. If you're on a tight budget, you'll have to decide what's most important (a 23-inch 1440p display, for example) and take the cheapest one you can find. But because you may spend less on a screen, it doesn't automatically result in a poor performer. There are some awesome monitors are lower pricing.
If you're after a display that has NVIDIA G-Sync support, DisplayPort and HDMI ports, as well as a resolution of 4K, you're going to need to part with some serious cash. This is what usually determines the type of monitor you'll purchase.
The next step
Get the Windows Central Newsletter
All the latest news, reviews, and guides for Windows and Xbox diehards.
Rich Edmonds was formerly a Senior Editor of PC hardware at Windows Central, covering everything related to PC components and NAS. He's been involved in technology for more than a decade and knows a thing or two about the magic inside a PC chassis. You can follow him on Twitter at @RichEdmonds.