How to change the accent color only in the taskbar on Windows 10
If you only want to change the accent color in the taskbar, you can edit the Registry to prevent the Start menu and Action Center from changing color in the process.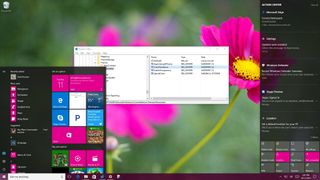 Windows 10 includes a lot of personalization options to change the appearance of the operating system to make the experience more personal. However, there some customization options that are designed to change a group of elements on Windows 10, when you're probably only interested in customizing one.
For example, if you want to pick an accent color for the taskbar, you only get one option to show accent color on the Start menu, taskbar, and action center. Unfortunately, the Settings app doesn't offer separate options to change color individually. However, if you know your way around the Registry, you can change the taskbar color to anything you want, while preventing the Start menu and action center from changing color in the process.
In this Windows 10 guide, we'll guide you through the steps to modify the Registry to change color only on the taskbar on Windows 10.
How to change taskbar color, while keeping Start and Action Center dark
Important: This is a friendly reminder to let you know that editing the registry is risky, and it can cause irreversible damage to your installation if you don't do it correctly. It's recommended to make a full backup of your computer before proceeding.
Open Settings.
Click on Personalization.
Click on Colors.
Pick an accent color, which will be the color you want to use in the taskbar.
Turn on the Show color on Start, taskbar, and action center toggle switch.
Use the Windows key + R keyboard shortcut to open the Run command.
Type regedit and click OK to open the Registry.
Browse the following key:HKEY_CURRENT_USER\SOFTWARE\Microsoft\Windows\CurrentVersion\Themes\Personalize
On the right side, double-click the ColorPrevalence key and check the value to 2.
Click OK to complete the task.
Once you close the Registry, you can now open Start menu or Action Center, and you'll notice that they are retaining its dark color.
The only caveat you have to keep in mind is that the Start menu and Action Center will keep their dark color as long as you don't turn off the "Show color on Start, taskbar, and action center" toggle switch. Once you do that, it will reset the ColorPrevalence to its default value, and you'll have to go through the steps again. However, changing the accent color won't reset the Registry key.
More Windows 10 resources
For more help articles, coverage, and answers on Windows 10, you can visit the following resources:
Windows 10 help, tips, and tricks
Mauro Huculak is technical writer for WindowsCentral.com. His primary focus is to write comprehensive how-tos to help users get the most out of Windows 10 and its many related technologies. He has an IT background with professional certifications from Microsoft, Cisco, and CompTIA, and he's a recognized member of the Microsoft MVP community.
This is not a "personalization tip", it's a hack, mind you.

It's not often I see Daniel Rubino speechless. ;)

Now we can change only the taskbar just like in Windows 7!

Hack or not it still personalizes. Thanks Mauro!

There should be a separate section for all this "How to" articles, so that one can find all the tricks at a single place.

Like a separate help and how to section located at a convenient link like www.windowscentral.com/windows-10-help? That'll never work.

There should be a 'Starred article' button for pick these useful marked articles any time.

at least get an option to favourite articles within the Windows 10 app.

Yeah..sort of like that..Or you can have a Windows 10 Help on top of the page, where one can go and search all the How to articles.

I don't know what I did wrong to get negative vote in all my comments..

Well Tushar, Daniel tied to explain to you with sarchasm and passive-aggresiveness. I'll try to repeat it in a plain way (I'm considering a language barrier, too): there already is a section which collects all the how-tos. You can locate it in the top menu, under "Windows 10": it will open another menu - a sub-menu - with "Help and how to" as first option.

I didn't know this. I guess I never spent enough time browsing through the site. Thanks for the help.

LOL, Daniel. Thanks for everything you guys do. And everything you guys put up with in the comments every day. Maybe you guys should add a configuration option in the app that reads something like "I'm a genius and I know everything, so don't show any how-to articles to me ever again". And maybe another option to "make the top categories SUPER big and clear"

Man it's warm......thats a burn

In fairness Dan, I don't see the option on the app (which I prefer to use). So unless I'm missing something (and it's very possible I am), there isn't a way to do it in app.

I would just like to get a place for all the Windows 10 registry hacks for PC and Mobile

Didn't work immediately.
But OK once I signed out and back in again.
Thanks.

I know I'm getting old but I cannot clearly tell the difference. The opening screenshot seems the same as the last screenshot and the two in between have white backgrounds which makes no sense. I'm sorry it doesn't clearly show a difference to my eyes. I guess it's meant to show that the taskbar is a different color than the Start Menu and Action Center, but poorly done and should not pick colors so close together (dark purple and black I think you used)

The top and bottom images are the same. What would normally happen if you select the option is the background color of the start menu and action center would also take that color, but in both screenshots, they remain black.

The images are just examples, you can choose any color that makes more sense for you. You can even choose to not show transparency on the taskbar to get a more prominent color. Thanks,

very good!!I like this happens!
Windows Central Newsletter
Thank you for signing up to Windows Central. You will receive a verification email shortly.
There was a problem. Please refresh the page and try again.