How to open third party note-taking apps with Windows 10's 'Note' button
It's possible to modify Windows 10's Action Center Note button to open other apps. In this guide, we show you how.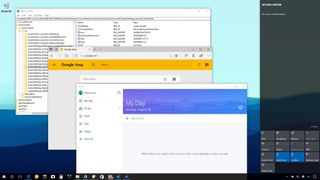 On Windows 10, Action Center includes Quick actions, a collection of buttons for rapid access to common settings and features. One of these buttons is "Note," which opens the mobile version of OneNote to quickly start taking notes.
The only caveat is that you're stuck with the most limited version of OneNote, because Windows 10 doesn't offer an option to change its action to open the desktop version of OneNote 2016, or any other note-taking app. However, it's possible to edit a Registry string to customize the Note button to open virtually any note-taking app you want, including OneNote 2016, OneNote on the web, Google Keep, Microsoft To-Do, and Wunderlist.
In this Windows 10 guide, we'll walk you through the steps to customize the Note button in Action Center to open another note-taking application.
How to change Note's action on Windows 10
Warning: This is a friendly reminder that editing the registry is risky, and it can cause irreversible damage to your installation if you don't do it correctly. We recommend making a full backup of your PC before proceeding.
If you want to change the default action of the Note button in Action Center, use these steps:
Use the Windows key + R keyboard shortcut to open the Run command.
Type regedit, and click OK to open the Registry.
Browse the following path:HKEY_LOCAL_MACHINE\SOFTWARE\Microsoft\Windows\CurrentVersion\ActionCenter\Quick Actions\All\SystemSettings_Launcher_QuickNote

Quick tip: Starting with the Windows 10 Creators Update, you can now copy and paste the path in the new Registry's address bar to quickly jump to the key destination.

On the right side, double-click the Uri string.
Make sure to note the original value (onenote-cmd://quicknote?onOpen=typing) in case you want to roll back the settings.
Enter the Uri for the application or service you want. (My notes are usually to-do tasks, so for the purpose of this guide I'll change the action button to open the Microsoft To-Do app by entering the ms-todo: value.)
Click OK.
Restart your computer.
Once you've completed the steps, in Action Center (Windows key + A), you can now click the Quick action Note button, and it'll open the Microsoft To-Do app.
At any time, you can revert the changes using the same instructions, but on step No. 6, make sure to change the Uri string to its original value.
Selecting the default Note's action
It's also possible to open another app or service, but you need to know the exact Uri or URL.
Here are some examples of other applications and web services you can use with the Note button.
Google Keep
If you're already using Google Keep on your Android phone or tablet, you can change Note to open Keep in the web browser using the URL https://keep.google.com on step No. 6.
SimpleNote
On SimpleNote, like with Google Keep, you can just enter this URL https://app.simplenote.com on step No. 6 to open your notes in the web browser.
OneNote desktop
If you want to use the Note button to open the desktop version of OneNote, right-click the section you want, and click Copy Link to Section.
Then open Notepad, paste the link, copy the second line that starts with onenote:, and paste it in step No. 6. If you only use onenote:, clicking the Note button will simply open OneNote normally.
If you paste the full length of the link on step No. 6, it'll open the section of the notebook using your web browser.
Wunderlist
If you're an avid Wunderlist user, on step No. 6 you can simply type wunderlist: in the Uri field to open Wunderlist when clicking the Note button.
You can also configure the Quick action to open Wunderlist on the web. You just sign-in to Wunderlist, navigate to the list you want, select, right-click and copy the link. Then you paste the full URL in the Uri field on step No. 6.
More Windows 10 resources
For more helpful articles, coverage, and answers to common questions about Windows 10, visit the following resources:
Windows 10 help, tips, and tricks
Mauro Huculak is technical writer for WindowsCentral.com. His primary focus is to write comprehensive how-tos to help users get the most out of Windows 10 and its many related technologies. He has an IT background with professional certifications from Microsoft, Cisco, and CompTIA, and he's a recognized member of the Microsoft MVP community.
What if I want it to open Notepad?

If you get a Surface you could assign any three apps to open, three ways, to the top button on the Surface Pen. Click & Hold, double click, or single click.. Kinda off subject, but that sounds like something you would like..

I just have a regular desktop. Even so, if I wanted to open Notepad, what should I write? "C:/Windows/system32/Notepad.exe" doesn't seem to work, nor does "notepad:" :(

You could register your own URI application handler. And then tell that to launch notepad. And then change the URI string above to your new custom handler. Here's a link to the documentation for registering a URI handler: https://msdn.microsoft.com/en-us/library/aa767914%28v=vs.85%29.aspx?f=25...

It would be interesting to when you tap the note button it would create a notification like the ones you get when you receive a message, you write you're note and click send, and it will automatically save it on quick notes, easier, quicker and simpler 😁

If you like a different note app that much, why not just pin it to the task bar? Incidentally 'Note' is not one of the buttons on my Quick Action set, and it isn't turned off either. Doesn't actully make sense to me as most (all) the rest of the buttons are settings, not app launchers. I notice your build doesn't have the Ink Workspace icon. That's where I would go to start a note, OneNote, Sticky Note, etc.

YES! Finally. I always hated how they keep promoting that limited version of OneNote. When it comes to the rest of the Office they're porting Win32 to the store, so why not OneNote? Build that one into Windows!

Technically, OneNote 2016 is the limited version of OneNote considering more features are making their way to the UWP app now

"More features" are making their way into Mail app as well, that doesn't make it better than Outlook 2016. Not by a longshot. Office apps get updated once every few years, they do not get updated every few weeks.

Several comments reference the 'limited' version of OneNote, i.e. the store/UWP version. If you haven't checked in a while you might want to take a look. It is moving forward to feature parity rapidly. I'd even venture it has some the 2016 OneNote doesn't have (portable pen sets?). If there are things that you have to have, that aren't supported in the store app, send in feedback. That's how it gets prioritized. There is one OneNote team and guess which they are focusing on. They don't have the resources to do both, and the future is...you guessed it...UWP.

UWP Version doesn't even support local notes. It's OneDrive or nothing. That's a HUGE drawback. UWP OneNote also has no Outlook integration.
One has to simply compare the ribbon sizes of both apps and it's clear which one's superior.
Windows Central Newsletter
Thank you for signing up to Windows Central. You will receive a verification email shortly.
There was a problem. Please refresh the page and try again.