How to connect a Surface Book to an external display
Want to bypass the Surface Book's touch-screen display for something bigger? Here's how!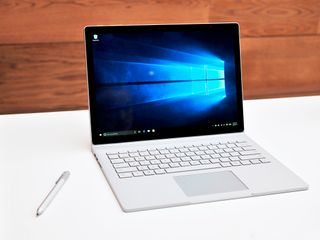 Update 2 February 2017: We've refreshed this list to ensure you're still getting the best possible means of connecting a Surface Book to an external display.
The Microsoft Surface Book (opens in new tab) has a gorgeous, detachable touchscreen, which makes it an amazing portable laptop or tablet, depending on your needs. However, if you want to get some serious work done or are planning on logging some serious screen hours, it can be really handy to attach a second display to your Surface Book so you can mirror your small screen on something bigger or enjoy an extended viewing area with a second screen.
The exact method of connection depends on a few factors: what kind of screen you're plugging into, whether you need audio and video or just video, the available inputs on your display, etc. However, the general steps are pretty much the same.
See at Microsoft Store (opens in new tab)
How to connect a Surface Book to an external display
Locate the Mini DisplayPort on the righthand side of your Surface Book (it's tiny. Much smaller than a USB port).
Plug in an AV cable with a Mini DisplayPort end into your Surface Book (more on cable options below).
Plug the other end into your external display.
What cables/adapters do I need to use an external display with my Surface Book?
Pretty much every combination of cable or adapter can be purchased that will allow you to connect your Surface Book to the display of your choice. There are two ways to go: buy a specialized adapter, or buy a specialized cable.
Adapters
Adapters are a really good idea since you can use existing cables you might already have in your house. Also, some adapters will perform inversion/conversion functions to process the signal that goes through them, so if you're connecting your Surface Book to a second display, you won't experience any lag if you're working between two screens.
Microsoft Surface dock
Microsoft's Surface dock (opens in new tab) is an ideal option for those who want to create a stationary work station or entertainment center. Although it can be carried around in your laptop bag, its 2.6 pounds makes it less desirable for travel than other more mobile adapters.
This dock isn't bulky for no reason — featuring 4 USB 3.0 ports, an Ethernet port, an audio output port, and 2 mini-DVI ports, you'll find all the connections you need to get the most out of your Surface Book. Its weight also keeps the dock from sliding around when you have multiple connected cables.
To connect the dock to your Surface Book, simply attach the magnetic Surface Connect cable. Your Surface Book and any devices connected to the dock will charge as you work or play. You'll see less cables on your desktop and will worry less about chargers when you're on the go.
See at Microsoft Store (opens in new tab)
Mini DisplayPort to HDMI
This is the perfect adapter if you already own an HDMI cable (you probably use them to plug your TV into a set top box or video game console) and want to plug your Surface Book into a TV or a display monitor with an HDMI input.
Microsoft manufactures its own Mini DisplayPort to HDMI adapter (opens in new tab) if you want to stick with the brand that matches your computer. This adapter will send both audio and video from your computer to a device connected with an HDMI cable.
See at Microsoft Store (opens in new tab)
Mini DisplayPort to DVI
If you need to connect to an older generation monitor, or maybe a projector, you may find out these devices don't have an HDMI port. They will, however, likely have a DVI or VGA port. By purchasing a DVI adapter (opens in new tab), you can connect your Surface Book to any device with a DVI input and enjoy full 1080p video. The DVI adapter will not carry audio, but you can purchase an inexpensive
See at Amazon (opens in new tab)
Mini DisplayPort to VGA
A VGA adapter for your Surface Book (opens in new tab) will allow you to connect to any device that uses those old, familiar, blue-tipped VGA cables. You'll find these on computer monitors and some video projectors. VGA inputs and outputs do not process audio, just video, but you can purchase an inexpensive
See at Amazon (opens in new tab)
Mini DisplayPort to multi-adapter
If you're buying an adapter anyway, why not cover all your bases in one? There are a few multi-adapter options out there which can take your Mini DisplayPort signal and convert it for output through HDMI, DVI, or VGA cables. Generally, multi-adapter solutions are not as highly reviewed as dedicated adapter options. WEme manufacturers an adapter with HDMI, DVI, VGA and 3.5mm audio outputs; however, it does not ship with instructions or additional cables, so you this option is only recommended if you are already have several kinds of audio cables and are familiar with how to use them. People who have purchased this one have had mostly positive experiences, but there is a vocal minority who ultimately returned the product because it wouldn't work for their display needs.
See at Amazon (opens in new tab)
Cables
If you want to make a direct connection from your Mini DisplayPort to whatever device you are connecting to, then choosing a cable over an adapter is the way to go. It's a great idea to keep a modern HDMI/Mini-DisplayPort cable as well as an older DVI/Mini-DisplayPort cable in your laptop bag for just-in-case situations if you ever do work presentations or might want to connect with a friend's TV or computer monitor when visiting their home.
Mini DisplayPort to HDMI Cable
If you want a simple plug-and-play option (opens in new tab), Cable Matters can help you get up and running with their Mini DisplayPort to HDMI cable. This is a great solution to send audio and video from your Microsoft Surface Book to any display with an HDMI input. This cable will cleanly send HD video to a display source and is available in various lengths depending on what you need.
See at Amazon (opens in new tab)
Mini DisplayPort to DisplayPort
A standard-size DisplayPort is becoming common on external displays; if you happen to have a display with a DisplayPort (opens in new tab), this is the cable for you. It is available in plenty of lengths to best suit your need, and it is also available in white and black. This cable will handle all your audio and up to 4K video without a problem.
See at Amazon (opens in new tab)
Mini DisplayPort to DVI
The same company as noted above for their HDMI and DisplayPort cable also makes an excellent DVI cable (opens in new tab). Cable Matters gives you a simple solution to transmit video between your Microsoft Surface Book and an older-generation DVI monitor or projector. Like your DVI adapter option mentioned earlier, you can purchase an inexpensive
See at Amazon (opens in new tab)
Mini DisplayPort to VGA
It's not recommended to use a Mini-DisplayPort to VGA cable. Your Mini-DisplayPort has a very powerful video signal, and a VGA cable has a very weak video signal. Therefore it's recommended to use a VGA adapter (like the one in the above section) instead of relying on a cable.
Scratching the surface
There are a lot of ways you can connect your Microsoft Surface Book to various type of displays. It's unlikely you would need to have all of these cables and all of these adapters to get through your daily life. You likely have a good idea of how you're going to be using your Surface Book and what kind of display you will want to connect it to, so choosing one of the above adapter options will help you enjoy your Microsoft Surface Book with a multi-display view.
Windows Central Newsletter
Get the best of Windows Central in in your inbox, every day!
I have just got the MDP to multi for mine, a handy adapter for keeping in my away bag ** 950xl and loving it !!

Big one they missed = MiniDP to DisplayPort Posted via Universal Windows App on W10

I can't recall 100%, but isn't the Surface Dock limited to 30hz @ 4k?
No way I could use 4k unless its at 60hz, it just looks too jaggy when moving windows.

the only trouble i have had is getting it to work on MAC monitors anyone have advice for that?

Assuming you mean a mac in the last 5 years or so they run on thunderbolt not displayport which is the same connector. The surface book and pro 4 don't expose thunderbolt so as far as I know it can't be done.

You should be able to plug into the DVI monitors with no problem. Havent tried a thunderbolt display. Even the 2.5k monitors will work with the active minidisplayport to dual link dvi adapter (currently using the apple adapter for my HP LP3065 display running at 2.5k)

I have lots of issues with surface book surface dock and 2x samsung display port screens. They are listed on compatability but I can only ever get one to work at a time. Very annoying. Any ideas anyone?

Try lowering the refresh rate on one of the monitors.

Are you up to date on all of your drivers? Microsoft rolled out a ton of Surface Book and Surface Pro 4 display driver updates and Surface Dock driver updates a few weeks ago that was meant to fix all of these issues. Luckily, I haven't had any issues with my touch-screen monitor connected to my SP4 via the Surface Dock, and I must say, the Surface Dock is amazing. It's pricey, yes, but it's incredibly convenient and efficient: just one line from the Dock into the Surface (that simultaneoulsy charges it), making it incredibly easily to disconnect the Surface and go. I don't think I could ever go back.

I dealt with the same issue, 1 monitor plugged into the dock and the other monitor plugged into the surface was my only option for dual external monitors. After the driver update a couple weeks back both monitors can now be connected through the dock without issues.

My display works when my display and Surface Book are connected to the dock but I have to power cycle my monitor every time I wake up the Surface Book to get it to recognize and activate the display. Really annoying!

I had the same problem up until a couple of weeks ago with the massive driver refresh. Make sure your windows updates are done.

I just spent hours with Microsoft tech about this. The Surface docks do NOT support DP++ (Passive Display Adapters) which Microsoft excslusively sells and was a really, really stupid idea on their part. Search for ACTIVE Display Adapters. Had to do my own research to find Surface docks don't support DP++.

To say I've had a terrible experience with external monitors on my SurfaceBook would be an understatement. Screen resolution issues, blue screens, black screens, reboots, etc.. I've had them all on a very consistent basis. As a web developer, my secondary monitor is almost a must have and I've been very disappointed in the performance of my $3000 SurfaceBook in this regard. Posted from Windows Central for Windows 10

The best way would be using a displaylink touchscreen monitor. You plug it via usb and you get a touch enabled 2nd screen without any further configuration.

I have a Dell touchscreen monitor connected to my SP4 via Surface Dock that also uses the USB and mini-display port. It's fantastic. I love having touch capabilities on the large monitor. But, it seems like touchscreen monitors (outside of tablets, laptops, and all-in-one devices, that is) aren't catching on, which worries me because I want to continue being able to buy them in the future.

Does anyone know if you detach the screen while connected to an external display will it still work. Im a teacher and would walk around the classroom with the screen for inking...

No that will not work. Get a surface pro 4 because it's lighter to carry around like that and use a Wireless Display Adapter

Actually the Surface Book clipboard is (slightly) lighter than a Surface Pro 4 without the keyboard cover even though it is larger, because it has less battery. And you could use that with a Miracast display receiver as well. Have to say in my experience Miracast is a bit of a battery drainer though. But if you kept docking it or connecting a power cable to top it up when you stopped walking around, it might last long enough.

Use the Microsoft wireless display adapter and it will work no problem.

How many monitors I can attach to the Surface Book? I know I can attach just two monitors to the my Surface Pro 3.

Up next...Hack: how to turn on your surfacebook (Hint - press the power button!) Can these articles get anymore basic? Anybody needing to know something as basic as plugging a cable into a port, when they are spending almost $3k on the surfacebook I would hope they know what they are doing.

FYI: Drew forgot to mention about active and passive HDMI adaptors. I don't want to get too technical, but if you want to connect to a 4K monitor/TV, you need an active HDMI adaptor. Passive cable/adaptor cannot output 4K.

Great article, very helpful, thanks

There are many ways to scratch a surface

Can you guys do a story on the Microsoft Wireless Display Adapters. I have a couple at my office and they are really notorious for being undependable. I know they just had a firmware update in January, but there's not much about what they were working on.

Its me or Windows Central App is getting slow to open and update news? Need an update or something.
Windows Central Newsletter
Thank you for signing up to Windows Central. You will receive a verification email shortly.
There was a problem. Please refresh the page and try again.