How to create and use a password reset disk in Windows 10
By Luke Filipowicz last updated
How do I make a password reset disk on Windows 10?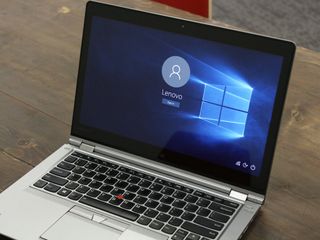 Forgetting a password can be one of the more frustrating things to deal with, and if you're unlucky enough to have forgotten the password to your Windows 10 PC account, you may be cursing to the heavens, so to speak. The good news is you can avoid this by creating a password reset disk.
Important note: A password reset disk only works with a Local account on your PC, not a Microsoft account. The steps for recovering a Microsoft account password are different.
What is a password reset disk?
A password reset disk is a file you create on a USB drive or an SD card that when plugged into your Windows PC will allow you to reset your password right on the lock screen.
The best part about the password reset disk is that you only have to create it once, and it will work forever, no matter how many times you have to use it.
How to create a password reset disk on Windows 10
Plug your USB drive or insert your **SD card* into your PC.
Press Windows key + S on your keyboard to bring up the search bar.
Type in User accounts.
Click on User accounts.
Click on Create a password reset disk.
Click on Next
Click on the dropdown menu.
Click on the device you want the password reset disk to be created on.
Type your local account password. This is your current password to log into your account on your PC.
Click Next
Click Next once the progress bar reaches 100%.
Click Finish.
Don't lose this USB drive or SD card, because anyone who has it can get into your account easily. Put it in a safe place, maybe thing about labeling it, and remember where you stashed it!
How to use a password reset disk on Windows 10
So, you've forgotten your password, and the password hint you provided yourself with isn't working. Fear not, my friend, your password reset disk will save the day!
Before you start, make sure you have your SD card or USB drive inserted into your PC.
Click Reset password.
Click Next.
Click on the dropdown menu.
Click on the device your password reset disk is located on.
Click Next.
Type in a new password.
Type in the new password again.
Type in a password hint.
Click Finish.
The password to your account has now been reset! You can log into your account with the new password you just created.
Was this helpful?
Did you need to know anything else about password reset disks? Or, do you know any important information we missed? Sound off in the comments below!
After creating new password we have to make password recovery disk again ???

It's best to tape the disk in to the computer so it does not get lost.

What if the thieves gets your laptop? LOL

I don't get its use if I use a Microsoft Account and the computer is connected. I can go in the MSA from the web (another PC / Mobile of course), ask for reset the password, likely I'll receive code confirmations on my mobile or alternative email, reset, bam! The PC, untouched, gets the new, fresh password from the MS server. Done.

I guess you didn't read the article. This is for local user account only not your Microsoft account.


Nobody reads anymore. I guess they think they are experts... Posted via the Windows Central App for Android

If you forgot Windows password, you can download a software and create a Windows password reset bootable CD/DVD or USB flash drive to reset your lost or forgotten Windows password, I have created a bootable CD with the tool iSeePassword Windows Password Recovery PRo and reset my administrator password successfully. Source: http://www.iseepassword.com/how-to-reset-windows-7-password.html

I want to know which is the software they are using to make this type of magnifying glass-focused screenshots.

Suddenly, my Windows 10 laptop will not accept my pin number. I do not have an option on my screen to press to reset my pin, therefore I cannot follow these instructions. All I have under the space to enter my pin is a button marked Sign-in options. When I press that, I have a switch to toggle between Pin and Password. In the lower corner, I have buttons to connect to the internet, set ease of access or shut down.

it asks for "password" I use a PIN. Does this process still work?

It also appears that no one is answering the questions...

I've forgot the local account password. i login daily through PIN. Now, I want to change the local account password. How can i reset the password?

I've forgot the local account password. i login daily through PIN. Now, I want to change the local account password. How can i reset the password?
Windows Central Newsletter
Get the best of Windows Central in in your inbox, every day!
Thank you for signing up to Windows Central. You will receive a verification email shortly.
There was a problem. Please refresh the page and try again.