How to create desktop shortcuts to specific settings in Windows 10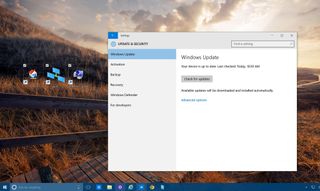 Microsoft is packing many new features into Windows 10, and it's bringing back a familiar user interface that moves away from being a touch-first operating system to something that adapts to different screens. This means that on a desktop computer, Windows 10 will work great with keyboard and mouse. On a tablet you'll get an operating system that it's optimized for touch.
Other changes are happening to how users will configure settings in Windows 10. Microsoft is slowly, but surely, moving away from the Control Panel in favor of the new Settings app that brings a more unified and consistent place to configure classic and advanced settings. Also, because Windows 10 is designed with a single core across devices, the Settings app will work identically on phones, tablets, laptops, and desktops.
Now, what you probably did not know is that each setting page in the new Settings app has a unique link called "URI" (short for uniform resource identifier). Microsoft gives each page a unique value, or command, which anyone can use in the Run command or even inside of the Command Prompt to access to a specific page of settings.
While you can pin settings to the Start menu, you cannot have direct access to specific settings from the desktop. But, knowing the URI for each page of Settings, you can easily create shortcuts on the desktop to access your favorite settings.
Below you'll find a list compiled by WinAero with most of the Settings' URIs:
Battery Saver: ms-settings:batterysaver
Battery Saver: ms-settings:batterysaver-settings
Battery Saver Settings: ms-settings:batterysaver-usagedetails
Bluetooth: ms-settings:bluetooth
Data Usage: ms-settings:datausage
Date and Time: ms-settings:dateandtime
Closed Captioning: ms-settings:easeofaccess-closedcaptioning
High Contrast: ms-settings:easeofaccess-highcontrast
Magnifier: ms-settings:easeofaccess-magnifier
Narrator: ms-settings:easeofaccess-narrator
Keyboard: ms-settings:easeofaccess-keyboard
Mouse: ms-settings:easeofaccess-mouse
Other options (Ease of Access): ms-settings:easeofaccess-otheroptions
Lockscreen: ms-settings:lockscreen
Offline maps: ms-settings:maps
Airplane mode :ms-settings:network-airplanemode
Proxy: ms-settings:network-proxy
VPN: ms-settings:network-vpn
Notifications & actions: ms-settings:notifications
Account info: ms-settings:privacy-accountinfo
Calendar: ms-settings:privacy-calendar
Contacts: ms-settings:privacy-contacts
Other Devices: ms-settings:privacy-customdevices
Feedback: ms-settings:privacy-feedback
Location: ms-settings:privacy-location
Messaging: ms-settings:privacy-messaging
Motion : ms-settings:privacy-motion
Radios: ms-settings:privacy-radios
Speech, inking, & typing: ms-settings:privacy-speechtyping
Camera: ms-settings:privacy-webcam
Region & language: ms-settings:regionlanguage
Speech: ms-settings:speech
Windows Update: ms-settings:windowsupdate
Work access: ms-settings:workplace
Connected devices: ms-settings:connecteddevices
For developers: ms-settings:developers
Display: ms-settings:display
Mouse & touchpad: ms-settings:mousetouchpad
Cellular: ms-settings:network-cellular
Dial-up: ms-settings:network-dialup
DirectAccess: ms-settings:network-directaccess
Ethernet: ms-settings:network-ethernet
Mobile hotspot: ms-settings:network-mobilehotspot
Wi-Fi: ms-settings:network-wifi
Manage Wi-Fi Settings: ms-settings:network-wifisettings
Optional features: ms-settings:optionalfeatures
Family & other users: ms-settings:otherusers
Personalization: ms-settings:personalization
Backgrounds: ms-settings:personalization-background
Colors: ms-settings:personalization-colors
Start: ms-settings:personalization-start
Power & Sleep: ms-settings:powersleep
Proximity: ms-settings:proximity
Display: ms-settings:screenrotation
Sign-in options: ms-settings:signinoptions
Storage Sense: ms-settings:storagesense
Themes: ms-settings:themes
Typing: ms-settings:typing
Tablet move: ms-settings://tabletmode/
Privacy: ms-settings:privacy
Microphone: ms-settings:privacy-microphone
Follow the steps below to create desktop shortcuts to specific setting page in Windows 10
1- Choose what settings you want to access and copy one of the settings paths. For example, "ms-settings:colors" to access the Colors settings in Personalization
2- Right-click on an empty space on the desktop, select New, and click on Shortcut
3- Paste the URI for page with settings you like quick access to and click Next
4- Choose a name for the shortcut, in this case, "Colors", and click Finish
Now double-click the shortcut and the Settings should open to the page you have specified. You can also right-click the shortcut and access the properties to change the icon to something that identifies the settings you want to access, or to assign a keyboard shortcut to access your favorite settings even faster.
Quick Tip: On recent builds, Microsoft has removed the pin icon from Settings apps. However, users can continue to pin their favorite settings to Start, by right-clicking the title of a specific page of Settings, and click "Pin to Start".
And there you have it. Now you can access a specific page of settings right from the desktop.
Which settings page would you create a shortcut for? Tell us in the comments below.
Mauro Huculak is technical writer for WindowsCentral.com. His primary focus is to write comprehensive how-tos to help users get the most out of Windows 10 and its many related technologies. He has an IT background with professional certifications from Microsoft, Cisco, and CompTIA, and he's a recognized member of the Microsoft MVP community.
Nice article Mauro! Bookmarked for later.

I see Windows is still using Windows XP-era icons in desktop mode. Are there plans to finally update those relics? For all the improvements coming with Windows 10 it irks me that Microsoft still hasn't replaced all that outdated clunkiness. It annoys me when I'm on my Surface and can't get some desktop slider to respond to my touch. I can understand the need to preserve the traditional desktop, but I'd like to see better integration. As much as I like Windows 8, at times it feels like a third party touch UI slapped a on top Windows 7. But at the very least, I wish they'd update all the visual assets so that I'm not still discovering icons and interfaces that were created 15 years ago.

My bet is that they don't simply change all the icons because of familiarity. Most of the old icons are on things that most regular users don't ever see, and those who do don't do it very often. Things like Computer Managment should seldom be used by most users. However, i'd like to see these things with new icons too

Are you reffering to the icons listed within shell32.dll? Those are there, and are being left mostly-untouched, for compatability reasons. This IS NOT going away, but should prettymuch never be seen by the user on a modern system. All the newer icons are located in imageres.dll. Those are the icons you'll actually see while using Windows, unless running a legacy application.

I found some of these on Windows 10 Mobile too, particularly Outlook and Calendar.

You have just saved my life :/ Had a hard time getting into settings, hope this solves it :)

"This means that on a desktop computer, Windows 10 will work great with keyboard and mouse. " So, just like Windows 8.

"on a tablet you'll get an operating system that is optimized for touch" - They must be talking about Windows 8 here, I heard a rumor it was coming to Windows 10 also but yet to see it in any of the builds.

Hopefully, they will make it a bit more user friendly to make these shortcuts in future builds. There should be a pin icon next to the individual setting for this (or right click -> pin to start/desktop/taskbar) rather than having the user look up the location and enter it manually.

Why not pin the setting to start then drag and drop the pinned tile to desktop. I didn't try it yet..

The right-click to pin is bad for discoverability. I'm really hating windows 10 aesthetically and UI-wise for the most part.

Thanks - created Windows Update shortcut no bother. Have you got the address to make a shortcut for "Create a restore point"? This is an extremely important step when installing new apps. Best wishes wemdav
Windows Central Newsletter
Thank you for signing up to Windows Central. You will receive a verification email shortly.
There was a problem. Please refresh the page and try again.