How to create a Windows 10 installer USB drive from a Mac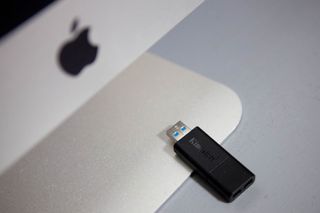 We previously showed you how to create a Windows 10 USB installation media when performing a clean install of Windows 10, but there might be an instance where the only machine you have available is a Mac. We'll show you to create a bootable USB flash drive with the Windows 10 installer from a Mac. It's easier than you think, thanks to the built-in Boot Camp Assistant from Apple.
Download Windows 10 Disc Image
First, you need to download the Windows 10 ISO file. Go to the download page and select the proper edition of Windows 10 in the dropdown menu. If you don't know what K, KN, or Single Language edition stands for, just select Windows 10 in the list.
Download Windows 10 ISO (opens in new tab)
Create USB installer with Boot Camp Assistant
After downloading the ISO file, you'll need to use Boot Camp Assistant to move it to a bootable USB drive.
Insert a USB flash drive to your Mac. Make sure it's at least 8GB, which is usually marked on the USB stick. You can also check by right-clicking the USB drive on your desktop and clicking Get Info. Check if the number next to Capacity is at least 8GB. All the files in the drive will be deleted, so make sure there are no important documents inside.
Open Boot Camp Assistant. The easiest way to launch it is through Spotlight Search, which you can bring up by pressing Command and Spacebar. Press Enter to launch the app.
Check the box for "Create a Windows 7 or later version install disk" and deselect "Install Windows 7 or later version."
Click Continue to proceed.
Boot Camp Assistant will automatically locate the ISO file from your downloads folder, but make sure it is the right file. Click the "Choose…" button and locate the ISO file. Make sure the destination disk is the USB thumb drive you've inserted.
Click Continue. It can take about 20 minutes to format and set up the USB installer on the Mac.
When Boot Camp Assistant is done, the USB drive will be renamed to WININSTALL. Click Quit to close the app and then Eject the USB drive.
That's it! You now have a bootable USB drive with the Windows 10 installer. You can use it to configure new Windows 10 PCs from scratch. We told you it was easy!
Have you tried creating a Windows 10 installer USB drive from a Mac before? Did you encounter any issues? Let us know your experience in the comments.
Fast USB Storage
(opens in new tab)
SanDisk 32GB Ultra Flair USB 3.0 Flash Drive
Our go-to for USB storage.

This compact USB flash drive provides affordable USB 3.0 storage flexing steady transfer speeds up to 150MB/s. Ideal for portable data storage, including any Windows installation.
Windows Central Newsletter
Get the best of Windows Central in in your inbox, every day!
I have a Windows 7 and 10 virtualbox session setup for just these kinds of issues. not going to let a mac stop me from getting my windows on :)

That's not right. You use the Mac to order a Surface first.

Actually I refuse to ditch my Mac. I've got about £2k worth of licenses of Mac products that I still use. So I'm keeping my Mac. Will still use my PC though mostly.

Why ditch the Mac? It's the only way to keep my Windows machines running :)

Thus should help about 15 people... lol Posted via the Windows Central App for Android

Actually this cannot be done by anyone running El Capitain, the method has been changed to a temporary partition for the drivers etc that is erased on first boot, just to give a heads up. Yosemite or older only.

Better sell it to someone who ignore what is fast and fliudness, and buy a pc.

There's a report above saying it doesn't work, but that's not true. I just installed Windows 10 on my PC (UEFI) using this method. My Macbook Pro has El Capitan (10.11.5), and the bootcamp assistant worked flawlessly. I tried a whole bunch of other methods (manual use of dd, Unetbootin, Etcher, etc), all of which failed. The bootcamp assistant finished burning the image in about twenty minutes (and did some extra things that are probably unnecessary), and when I plugged the flash drive into my PC, it booted straight into Windows Setup.

For me, my bootcamp is still going after 1hour! Should i stop it?

But when you opened boot camp assistant on your capitan mac, after hitting continue what did you see next? I only see the choice to partition THIS mac, not add media to the USB. Any advice? Thank you.

Sounds like your MAC didn't recognize the USB stick.

It no longer works. There are not any checkboxes on the opening page any longer. There is a readme button and a next button. Click next and you are prompted for ISO file an install partition size. There isn't an option to create a Windows installer usb stick.

I just did this from Sierra, and it worked great. Thanks!

I currently have Sierra right now, but when I open the boot camp assistance, I don't get the option to create an install disk, only the option to install it on the mac. Did you have this problem?

I have the exact same. I use macos: 10.12.2. I am trying all my best. This is very fustrating, always spending evenings when trying to make bootable things. Why is that unintuitive. And a lot of people on the internet making tutorials that just don't work... That are the worst.

same here, my mac does not give me the option to make my USB a bootable device. OSX Yosemite 10.10.5 hope someone can help.

Guys in the late 2011 0r 2012 model which are having DVD drive the bootcamp will not have the option to create bootable pendrive of windows. That option is for them only who is having retina display or mac air. if anyhow you are bringing that option also then trust me it will not work. For the installation of windows in these machines like 2011 model late or early or machines having DVD drive, is through DVD drive only. through usb is impossible.

Hi, so I followed your checklist only to be immediately hindered in the proccess. My Boot Camp Assisstant does NOT have a "Create a Windows 7 or later version install disc" option. It has the other two but not that one. I tried taking the usb in and out, restarting the computer, restarting boot camp assisstant, and redownloading the ISO and copying it. PLEASE HELP! Thank you, Henry Locke

I have also encountered this problem... Someone please help!!!

Make sure you go on the desktop and eject the windows10.iso, then it should work.

What do you mean by eject the iso?

What exactly do you mean by eject the iso?

You should see a drive on your desktop of the iso. You have to eject it.. like you would a usb drive. You could do it in finder as well. Look in finder under devices you should see the windows.iso click on the "=>" eject button next to it before using boot camp.

I have the same problem. I guess you would only see it as a drive when you would have opened the .iso right?
Using OSX El Capitan and bootcamp assistant as described, it doesn't give me the option to create an install disk.
Please help


Wow, after 40 minutes of confusion this fixed my problem haha.

Does this still work? The option that you have selected is non-existent in my boot camp assistant.

I hope this helps somebody. Tried several times and would not work. I went to App Store and downloaded Sierra os for free, the install took about 45 minutes. I then went back to Boot Camp Assistant, where the "download windows 7 or later" area changed to "download windows 10 or later" and everything worked perfectly.

So, for those who can't create the USB install disk, here some tip. go to your application>utilities, select the Boot Camp Assistant app, right click > show packages content. Then find the file info.plist and drag and drop to a whatever folder you created before. Open this info.plist file with a plist file editor or xcode, then look for a line saying "USBBootSupportedModels". If it is like PreUSBBootSupportedModels, change the name to USBBootSupportedModels, expand this line and at the item0, edit and write down your MacBook model as a string value. In my case I changed from Macbook7,2 to MacBookPro8,2. Save this file, go back to the contents of the Boot Camp Assistant and drag the newly edited file into. it will ask if you want to replace it, then you answer yes. That's it, now when you open the Bootcamp assistant you can use the option that allows you to create a USB install boot disk. Obs.: if your MacOS complain, you need to disable the CSR before change this. basically, you need to restart your mac in recovery mode, go to menu utilities and open terminal, type crsutil status to check if it is enabled or disabled, then you can use csrutil disable or csrutil enable. Well, disable it, restart your MacOS, do the changes and then don't forget to enable it again.

Thank you very much. I will add, for anyone getting the same issue, that on my late 2009 iMac 21.5in I had to remove the <string>iMac10,1</string> element from under <key>Win7OnlyModels</key> to allow me to write Windows 10 to the USB stick.

Just advice ever. Made me angry I wasted the last 5 hours of my life. I quicker way if you have MacOS and it won't let you change anything, simply copy and then paste the "Boot Camp Assistant.app" to your desktop and alter the info.plist there and launch it.

is there any other ways to download the iso file every time i try to download it i get a error on microsofts website I'm using a macbook air and running mac os x
Windows Central Newsletter
Thank you for signing up to Windows Central. You will receive a verification email shortly.
There was a problem. Please refresh the page and try again.