How to disable Windows Ink Workspace on Windows 10
If Windows Ink Workspace isn't a feature you need, this guide will walk you through the steps to disable the experience on your Windows 10 PC.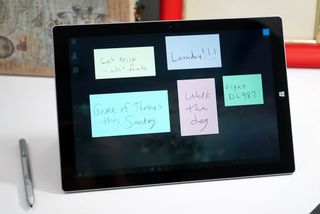 Windows Ink is a new pen experience that Microsoft is introducing with the Windows 10 Anniversary Update. At the core of Windows Ink, there is the same pen support that the operating system has included for years, but there are a number of new improvements.
It all starts with the Windows Ink Workspace that acts as the central hub to access the new Sticky Notes to create notes and reminders using Cortana, and you can also draw on a whiteboard or on a screenshot using Sketchpad or Screen sketch. In addition, Microsoft has promised to keep improving the experience to make it easier for developers to implement Windows Ink support on their apps.
If you own a Surface Book, Surface Pro 4, or similar device that includes support for an active pen, the Windows Ink experience will be enabled by default. However, as with any feature, the new improvements may not be for everyone, and this Windows 10 guide, we'll walk you through the steps to disable Windows Ink Workspace completely from your device.
How to disable Windows Ink Workspace using Group Policy
There are multiple ways to disable Windows Ink Workspace, but the quickest way to completely turn off the experience is by using the Local Group Policy Editor -- that's of course if you're using Windows 10 Pro, Enterprise, or Education.
Use the Windows key + R keyboard shortcut to open the Run command.
Type gpedit.msc and click OK.
Select Computer Configuration.
Expand the following path: Administrative Templates\Windows Components\Windows Ink Workspace.Note: It's worth pointing out that if you see two "Windows Ink Workspace" entries, you must choose to configure the second one. Otherwise, the instructions will not work.
On the right side, double-click the Allow Windows Ink Workspace setting.
Check the Enabled option.
Under Options, select Disabled from the drop-down menu.
Click Apply.
Click OK.
Restart your computer to see the new changes.
Once you restart your device, the Windows Ink Workspace icon will no longer be available in the taskbar. And you'll notice that the "Show Windows Ink Workspace button" option on the taskbar context menu will become unavailable.
To revert the changes follow the steps mentioned above, but this time on step 8 select the Not Configured option instead.
How to disable Windows Ink Workspace using the registry
The Local Group Policy Editor is not a feature available on Windows 10 Home, but you can achieve the same results using the registry (if you're up to the challenge).
Important: Before you make any changes to the registry, make sure to understand that these changes may cause irreversible damage to your installation if they're not done properly. It's recommended that you do a full backup of your computer before proceeding. You've been warned!
Use the Windows key + R keyboard shortcut to open the Run command.
Type regedit, and click OK to open the Windows registry.
Browse the following path:HKEY_LOCAL_MACHINE\SOFTWARE\Policies\Microsoft\WindowsInkWorkspace
If you don't see the WindowsInkWorkspace key (folder), then do the following:

Right-click the Microsoft key, select New, and click Key.
Name the new key WindowsInkWorkspace.
Click OK.
Right-click on the right side, select New, and click DWORD (32-bit) Value.
Name the key AllowWindowsInkWorkspace.
Click OK.
Double-click the key and make sure its value is set to 0, which means disabled.
Restart your computer to apply the changes.
Once you restart your device, identically as the process done with the Local Group Policy Editor, the Windows Ink Workspace icon will no longer be available in the taskbar. And you'll notice that the "Show Windows Ink Workspace button" option on the taskbar context menu will become unavailable.
To enable Windows Ink Workspace again, simply follow the steps mentioned above and on step 9 make sure to change the value from 0 to 1, and restart your computer.
Wrapping things up
It's important to note that after you've disabled Windows Ink Workspace, you won't be able to launch Sketchpad or Screen sketch, but you'll still be able to use Sticky Notes, as it's a regular Windows Store app.
In addition, disabling the experience doesn't remove the Pen & Windows Ink settings page from the Settings app. If you had the pen shortcuts configured to open Windows Ink Workspace, the pen button functions will fall back to open the OneNote app for all the options.
Do you use Windows Ink Workspace on the regular basis? Would you consider disabling the feature? Tell us in the comments below.
More Windows 10 resources
For more help articles, coverage, and answers on Windows 10, you can visit the following resources:
Windows 10 help, tips, and tricks
Windows Central Newsletter
Get the best of Windows Central in in your inbox, every day!
Mauro Huculak is technical writer for WindowsCentral.com. His primary focus is to write comprehensive how-tos to help users get the most out of Windows 10 and its many related technologies. He has an IT background with professional certifications from Microsoft, Cisco, and CompTIA, and he's a recognized member of the Microsoft MVP community.
I wish Sticky Notes worked correctly. They don't close when you close the Workspace. You have to right click-close on the task bar. Other than that, I Love the Workspaces!

Yeah, I don't get that at all. Like, I know programming and debugging is hard, but how do you release an application that doesn't close properly? This seems to affect everyone I know who has used Sticky Notes in Ink, yet somehow no one at Microsoft noticed the "the giant X in the right corner that always closes an app doesn't close this app" bug? Bizarre.

While I have little use for it on my PC (which doesn't have a pen), it's there if I do need it so won't disable it, the Sketchpad works perfectly well with a mouse

Sticky Notes should have onenote intagration. New sticky notes should act as OneNote's QuickNote, it is counterproductive to put my sticky notes on a separeted place from all my notes on OneNote.

Yep, import to a sticky notes tab and you can then access them from all versions of onenote.

And move/sort them after the fact. I think this is a great idea!

Think they need to show inking even if users don't have a pen device. Users can use their finger maybe

Why does the Cortana / Sticky Note integration not work? Would this be another feature only enabled in the US? Also, agree that this would be fab to integrate with OneNote.

Cortana integration doesn't work for me either. I agree, they should have just enhanced OneNote. There's feedback somewhere you can vote on. Ink Workspace is silly and I disabled it almost immediately on my Surface Book. You can just disable it from the taskbar/settings; no need for group policy or registry...

Do the sticky notes sync between devices?

Yes, but for some reason when my Stream 7 tries to sync, it just crashes. I haven't used it since the app updated yesterday though. Hope the update helps that.

Never mind, after the app update the app now launches correctly, but does not sync from my Book.

Well, to be honest, I've been disabling all "new" features of W10 AU. So the update was nothing but a waste of time and space. Thanks Microsoft! The only thing I will wait for is the release of more tools for handling .Net Core on Linux to migrate to that OS. I will be happy to have a way faster and not resource hungry OS.

Pretty sure there's just a setting to turn it off, set your pens single click to something other work space and you should never see it

If you want to turn off this service you likely would alos like to turn of stylus related features. One extra tip I can give is to go to services>Touch keyboard and handwriting panel service and turn this service off.

Will the non-beta Facebook overwrite the Facebook Beta when I download it?

I just recently started drawing and purchased a Wacom Intuos drawing tablet that worked beautifully... Untill I unplugged it the first time and plugged it back in. After this Windows Ink kicked in and started causing all sorts of problems... First it was the hold to right-click thing (seriously, who wants that?) that I had to disable, before I realized every since it started, my pen sort of stuttered whenever I clicked. It was no longer a smooth motion but if I clicked and held down, for a second it would freeze and come back. This is a nightmare when trying to change minute things with a pen... Thanks for the Guide, just about to restart my PC to finalize it.
Windows Central Newsletter
Thank you for signing up to Windows Central. You will receive a verification email shortly.
There was a problem. Please refresh the page and try again.