How to get the Windows 10 October 2018 Update final release before anyone else
You can upgrade to the final version of Windows 10 October 2018 Update before it's officially released, and in this guide, we show you how to do it.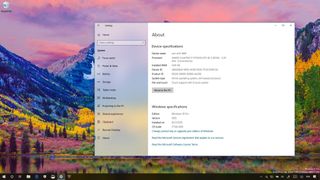 The October 2018 Update (version 1809) for Windows 10 is expected to release during the first or second week of October, but if you can't wait, it's possible to upgrade to the final version early using the Windows Insider Program.
The program allows you to install previews of Windows 10 from one of the three available rings (Fast, Slow, and Release Preview), offering different levels of readiness to test upcoming features and provide feedback to make Windows 10 better.
Updates in the Fast and Slow rings release pretty frequently as soon as new features and improvements are ready for testing, but they usually include bugs and features not always worked as they're intended.
The Release Preview, on the other hand, is a ring meant to test fixes, drivers, and apps. However, new versions of Windows 10 have to pass through every ring in the program, and as soon as the October 2018 Update is complete, it'll be available in this ring too. Typically, this happens a few days before the feature update becomes available to everyone.
In this Windows 10 guide, we'll walk you through the steps to download the final version of the October 2018 Update before its official release date.
How to download the October 2018 Update using the Windows Insider Program
Although you're still getting an update labeled as "pre-release," once the version 1809 is available in the Release Preview ring, it's the final code without any last minute cumulative updates, which the company may need to release to address any particular issue.
Warning: This is a friendly reminder that modifying your installation may can cause irreversible damage to your current setup. It's recommended to make a full backup of your PC before proceeding in case you need to rollback.
Open Settings.
Click on Update & Security.
Click on Windows Insider Program.
Click the Get started button.
Click the Link an account option.
Select your Microsoft account from the list, or use a different account.
Click the Continue button.
On the "What kind of content would you like to receive?" page, use the drop-down menu, and select the Just fixes, apps, and drivers, which is the "Release Preview" option.
Click the Confirm button.
Click the Confirm button one more time to agree to the terms.
Click the Restart button.
Once you've completed the steps, as soon as the Windows 10 version 1809 is finalized, and it becomes available in the Release Preview channel, your device will get it automatically.
You can also force the feature update going to Settings > Update & Security > Windows Update, and clicking the Check for Updates button.
Opting out of the Windows Insider Program
After installing the new version, you can continue in the channel, or you can opt-out to stop getting future beta releases of updates without having to reinstall Windows 10.
To opt-out of the Windows Insider Program keeping the final version of Windows 10 installed on your device, use these steps:
Open Settings.
Click on Update & Security.
Click on Windows Insider Program.
Click the Stop Insider Preview builds button.
Check the Keep giving me builds until the next Windows release option.Or select the Stop build completely option. The available option will depend upon the time and build you're using.
Click the Confirm button.
Click the Restart now button.
Once you've completed the steps, your device will be removed from the Windows Insider Program, and you can continue using the version while still getting maintenance updates when it's officially released.
Wrapping things up
If you're already a tester with a device enrolled in the Fast or Slow ring, you don't need to switch rings. When the Windows 10 October 2018 Update becomes available in the Release Preview, the code is the same as in the latest preview build available in the other rings.
However, at this time, it'd be a good idea to use the instructions above to remove the device from the program to stay in the stable release.
While we're outlining the steps to get early access to the October 2018 Update, it's always recommended to sit tight and wait until the update becomes available to everyone, and it downloads automatically on your device using Windows Update.
Usually, the reason is that in the early days, feature updates for Windows 10 aren't fully compatible with every hardware configuration, and there's a chance that you may run into problems.
Are you making the jump to Windows 10 version 1809 before or after it becomes available? Tell us in the comments.
More Windows 10 resources
For more helpful articles, coverage, and answers to common questions about Windows 10, visit the following resources:
Windows 10 help, tips, and tricks
Windows Central Newsletter
Get the best of Windows Central in in your inbox, every day!
Mauro Huculak is technical writer for WindowsCentral.com. His primary focus is to write comprehensive how-tos to help users get the most out of Windows 10 and its many related technologies. He has an IT background with professional certifications from Microsoft, Cisco, and CompTIA, and he's a recognized member of the Microsoft MVP community.
Hell no, we already run a beta version of Windows 10 all the time, getting a version that have not been released would just cause more flipping hassle, also you need a MS account.

Well, you also need an Apple and Google account to test their services, why would an MS account be weird 🙂

I think you are confusing a couple of things here. Google is a company that supplies services, so unless you use those services you do not need a google account. Android is the Os that google produces and yes you do need an account if you access the store anyway. My brother have had an Android phone for years and have never signed up for a Google account. But then he only uses it mainly for calls and text. but that is a different thing anyway, that is a phone, not a computer.
As for Apple, again on the Iphone it is not so bad, but again I do not think a account is needed on their Macs, sadly Apple tends to push Apple ID a lot more than MS does, but even so it is possible to use a MAc without one, but Apple does make it a pain sometimes.
i just hope Ms don't follow them. they backed down on windows 8 when they tried to make an Ms account compulsory on it at first.

Its basically the same. You can use windows without an account. But you'll need it in case you want to use Microsoft services (store, onedrive, mail).

Well you can use the store without an account most of the time, but for some reason Ms seems to wants people to have a MS account to install themes on windows 10. I have no idea why. also need an MS account to buy anything from the store, not that I would.
Onedrive i do not use and have no need for, I tend to stay away from cloud storage, I use dropbox for a couple of documents and that is it.
The rest of the services I do not need, mail I have an email account that I pay for. I used to have a hotmail account years ago, I doubt it exist now, even if i could remember the password. I know MS would love us all to have an MS account, you can tell when installing Windows, still not as bad as Apple, yet.

all of these are Microsoft services.

You seem confused. The final build is finished. The build you get by doing this is that build you'll get when Microsoft officially releases it

I'm on Release preview so I might get the new build in a few days

As soon as they release it to slow ring (and fast which is closed to new users) every insider will yes..

I've done this ever since Fall Creators Update. Just enroll to download the RTM release (or expected RTM, in this case), install it, then unenroll from Windows Insiders on the system. Works like a charm.

So? A Microsoft account is no different and takes literally 1 minute to sign up for lol. You're being a bit paranoid bud. The win 10 bets have all been very stable and this October release.isnt a beta it's just starting that insiders will get it first if they sign up.

I don't want one, don't need one, why would I want my computer synchronising everything to MS servers? All Windows 10 is beta, insiders are more Alpha and we are still testers even when the product is launched,windows 10 will never be complete.

Thats your opinion ! April update has been the smoothest deployment of a feature update yet ..There have been no hiccups

Ad47uk Your points are very misguided.
Insiders do go along during development But once it's actually completed and released to the public it's no longer beta. There are several advantages to having a Microsoft account
especially if you use more than one service Or have more than one windows device. Lastly Microsoft has always said since Windows 10 released that it would continue to be updated and improved overtime.

We've been getting these unexpectedly at my work. Crashed one laptop already. Going into Settings > Windows update and there is no "Windows Insider Program" to select and opt out of. Seems this version has broken some things. Also, as a business, we never opted into this. Multiple computers have been on version 1809 for a few weeks already. What a headache.

Sounds like an IT **** up to me and rather than enrol one machine to test it they enrolled everyone.

Watch some review videos 😉
cloud clipboard
your phone
snip and sketch
dark theme file explorer
better search/ expand search box
storage sense with OneDrive clean up
and more.🧐

And 0% improve in tablet mode. Still total anti-touch friendly

Is it too much to ask to put a disclaimer at the top for privacy-conscious people that doing what this idiot suggests will automatically change the diagnostic data sent to Microsoft to "Full", which literally means sending "...info about the websites you browse, and how you use apps and features, device usage...". What a joke. How will Windows 10 - which is already a privacy nightmare - become better by Microsoft knowing what sites I visit is beyond my comprehension. so please do us all a favour and include a disclaimer so other people don't have to revert back mid-way. Thank you.

Troneas Your statement is absurd
you can update and then drop out of the insider program. Also Of course it goes to full your part of the insider program
Microsoft needs this information to get an idea of problems.
is the site working correctly, is the web site broken..
Does it randomly reload. Also the browser information is tide to Microsoft Edge /not selling the information. lastly you have control over everything in Windows 10 privacy settings.

I am going to buy a used Computer and use it in the Windows insider program.
I used to use one of my Main PC's to be in the Windows insider program but
have decided to be in the Program in a Safer Way. If a Person does the way
the article does that will work. I have done It that way and things worked alright
but most People will be more patient & Let Microsoft do it for them

I want this beautiful wallpaper. Please anyone .

The real question is: how do I postpone this update for some 2-3 years? The last 1803 already screwed my 15 computers, so I really can't wait for yet another guinea-pig experiment.

You can defer a feature update for upto 1 year .. Go to advanced options in update & security > scroll down > There is an option labelled " A feature update can be deferred for upto.. > scroll down in the box to end ..select 365 days

Is definitely not for everyone. User have to understand what there getting in to before Join. Especially during early development cycles.

There were last minute problems With 1803
that are not present in 1809, like 1709,1703 before it.
If you have a pro addition You can defer updates for a year.

Still 0% improve in tablet mode.. :D And MS wonders why people rather buy iPads.. Surface are the best tablets in the world, but with crap OS (total Anti-touch friendly). For Example, Windows 8.1 was great tablet OS
Windows Central Newsletter
Thank you for signing up to Windows Central. You will receive a verification email shortly.
There was a problem. Please refresh the page and try again.