How to make your jailbroken iPhone feel more like a Windows phone
While jailbreaking iPhones may not be for everyone, it is a good way to customize your iOS device.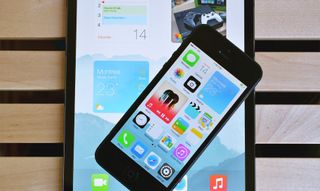 If you're a recent Windows 10 Mobile convert who switched to iOS, you may not be entirely happy with the UI, and you might want to change it. As iOS is not as open as Android, doing so requires "jailbreaking," which is a way of hacking the device to access features you normally wouldn't be able to. If you don't know how to jailbreak or don't know what it is, odds are you shouldn't do it. You've been warned.
1. iOS Blocks
iOS Blocks, also known as Curago, is a jailbreak tweak based on the iOS Blocks concept by the designer Jay Machalani. The tweak has had its down times, where development was halted, however, Andy Wiik, an active developer behind many popular Cydia tweaks, resumed the development and is slowly polishing the project to deliver stability and a great user experience.
The tweak essentially adds Live Tile-like blocks that are resized app icons. The concept is similar to what Windows offers with Live Tiles. However, iOS Blocks are also interactive and can show more content by having multiple pages on them. The concept is also similar to Android widgets, in which interaction meets information at a glance, according to the designer.
Curago works with all iOS versions from iOS 7 to 10, but it is still in beta and has many bugs which need to be fixed. The issues can be reported via GitHub, and the tweak, which is currently free, can be installed using Cydia by adding Wiik's private repo at repo.ioscreatix.com.
2. Redstone
Redstone is, unfortunately, an abandoned tweak which is no longer updated. However, it's the closest thing you can get to a Windows phone on a jailbroken iPhone. The tweak aims to replicate the Live Tiles and the Start screen from Windows 10 Mobile, and it was named by the codename of the Anniversary Update for Windows 10, "Redstone."
The tweak is in a working state if you're running iOS 9, but other iOS versions are incompatible. The developer, Festival, doesn't seem to be interested in developing it any further, which probably means we will never see Redstone updated for iOS 10. Bummer.
The tweak is free and can easily be downloaded from Festival's private repository by adding festival.ml/repo/ to Cydia and searching for "Redstone Snapshot."
3. Eclipse
Eclipse is a very old tweak, which is still updated. The latest version, Eclipse 4, supports iOS 10, and older versions are compatible with older iOS versions. The tweak by Guillermo Moran, a developer behind many useful utilities like MobileTerminal, aims to bring a dark theme for all of iOS, including stock apps, as well as third-party apps such as Twitter or Youtube. There is no way to ensure full compatibility with every app, but there are per-app specific settings that you can configure to suit your own needs or disable specific apps if they misbehave.
Windows phone users seem to favor the dark theme over the light one in Windows 10 Mobile, and because iOS doesn't feature a dark one natively, Eclipse comes to the rescue for Windows 10 Mobile converts. The tweak is paid, but it's pretty inexpensive at only $0.99. It can be found on the default BigBoss repository.
4. Activator
iOS is a restrictive system by default. However, there are multiple tweaks that can help you open up these limitations. If you're a former Windows phone user, you might benefit from tweaks like Activator that let you replace Apple's default apps such as Siri and use Microsoft's Cortana.
Start by downloading Activator from Cydia, which is available for virtually any jailbreakable iOS version out there and can be found on the default BigBoss repository. The tweak, made by Ryan Petrich, a famous developer and iOS hacker, has existed for years and has become a standard among jailbreakers and is one of the first tweaks you should install after jailbreaking. The app allows you to remap or create new actions, like holding down the home button or swiping twice on the status bar, then assign them to do different things or launch apps.
To use Activator to replace Sir, start by going into Settings > Siri then disable Siri by flipping the toggle on the top. After that, scroll down to the bottom of your settings app and go to Activator > Anywhere > Home Button > Short Hold and set it to "Do nothing." That will prevent Voice Control from showing up instead of Siri. Then go back, select "Long hold," and scroll down until you see Cortana, which you need to install from the App Store (opens in new tab) beforehand. After holding the home button for a short while, Cortana should show up instead of Siri. If you want to, you could also go into Cortana's settings and enable "Voice Shortcut Mode" which will trigger voice recognition as soon as the app is launched.
5. MailClientDefault10
MailClientDefault10 is exactly what it sounds like. The tweak, developed by HiDan, is a tool which lets you open up Apple's "walled garden" and choose your own default mail client. The tweak is compatible with iOS 9 and 10 and is very straightforward, with no unnecessary option to configure other than selecting your desired mail client.
As Microsoft offers an iOS version of Outlook, you could go and download it from the App Store (opens in new tab), then, on top of that, install this tweak to redirect every "mailto:" link to your desired mail client. The tweak is free and can be found in the default repository, BigBoss.
Conclusion
For you tech-savvy readers out there with iPhones, jailbreaking may be the best way to make your iOS device reassemble Windows, to a degree. If you're not jailbroken, downloading Microsoft apps onto your phone should be sufficient. However, you'll definitely miss some features and things from Windows 10 Mobile. And jailbreaking can help restore some of them.
Related Stories
Dennis Bednarz is a former writer for Windows Central and the guy behind ModMy. He has been a recognised member of the Microsoft community for years and owns everything from Lumia phones to Surface PCs. He occasionally likes to rant about Windows Phone and drink tea. You can go ahead and follow him on Twitter at @DennisBednarz
jailbraking is illegal which means you will lose warranty

Well I have a few friends who jailbreak every single iPhone and they never lost their warranty - they put the phone to original state before visiting the store... :-)

FOR ALL the super IQ high skilled random comment heroes https://discussions.apple.com/thread/4845034?tstart=0 Jailbreaking will void any warranty, forfeit any right to support, and could end up bricking your phone. Its not illegal as I stated but you will lose support and warranty. On the other side.. UNLOCKING is illegal

Pretty sure that you're illegal.

Unlocking isn't illegal either and most carriers will do that for you themselves for a small fee.

They are supposed to for nothing under normal circumstances, which generaly included your owning your device. Often though, unlocking doesn't gain you as much as you think. With two competting standards in the US, GSM and CDMA, an Unlocked AT&T or T-Mobile device is unlikly to be usable with Sprint or Verizon and vice versa. The frequency bands owned and used by the various carriers also cause issues in coverage, data speeds, and other functionality. Special functions like T-Mobile Voice calling are specific to T-Mobile commissioned phones, so you won't get T-Mobile WiFi voice with a T-Mo SIM in an unlocked AT&T phone. There are most certainly multi-network phones, even some that are initially bought from a carrier, but getting a phone unlocked isn't a guarantee it is now completely compatible with any other carrier. Buy a phone from the carrier you plan to use, or buy a phone that is unlocked in the first place. In the latter situation, make sure the device is also compatible with the network(s) with which you plan to use it, voice and data.

It's not 'illegal'; you don't get fined, or face prison time, or even get reprimanded. It just voids your device warranty, and you can't have it serviced by Apple, if you need it to be.

Nope, not illegal You'll lose access to banking apps and Apple Pay etc for security reasons but that's about it. Your warranty is also fine as long as you remove the jailbreak before sending in for repair etc

If, and only if, the device is still usable enough to get it back to original state after it needs repairs.

BTW, banking apps are a lousy thing to lose. But WP users should feel right at home with that :)

yeah really....at this point if the iphone just made calls and sent text messages, WP users would feel right at home. I however, want all my banking app features available to me. One of the main reasons I switched...because my banks app on windows phone was crap!

oooooo truth downvotes again! LOVE THEM!

Wear them like a badge of honor. I love it. As you said, the more downvotes you get, there more truth you have spoken on this site.

Are you getting paid for this? :)
Sorry, of course it was a theoretical question.

Rhetorical, I think you meant.

Jailbreaking is not illegal and you do not lose your warranty

Pappale, you're just an annoying piece of pessimism and negativity. So am I. Let's change that and become more positive together!

Jailbreaking is most certainly not illegal. See page 33 of the Library of Congress's exemption paper if you want proof. As for voiding the warrantee, it's a grey area. If they catch you jailbroken then it could happen. But I've been jailbreaking for almost 8 years and I've taken almost everyone of my iPhone in for repairs or service at one point. No problems, just restore before you go in (which is standard practice, as per Apples pre-genius appointment instructions). Anyway, I hope you or someone else learns something and stops to think before spreading misinformation, thanks.

This is dumb... Nothing replaces a WP
....
iPhone are boring, and Android is ugly...

...and Windows 10 Mobile is an un-uniformed, glitch, lag-filled mess.

Not the very latest release update.... Man the only thing we're missing (that's significant) is apps.. 10M is fine now... But, I know something better is coming, so I'm fine for now
......
Not getting a boring iPhone, or ugly Android phone, unless I have to... But, I'll probably have to. Lol

It use to be apps was the problem. But with Windows 10 Mobile it's missing uniformity, smoothness, and stability.

Then you haven't used the latest... But, I agree. It's no WP8.1

I was using the latest, and it still sucked.

Ok. I agree... It's not as good as WP8.1... But, it's way better than when it came out.. That's a fact. That's all I'm saying... It's highly usable now.. To he honest, it should've at least debut at the point where it is now.. If that were the case, it would be a lot better now... But, we all know MS pulled resources... Probably only two employees on the Windows team working on it during lunch.. 😂😂😂

I'll agree to that. Like start 50 out of 50 in a race and finishing 49th. :)

I wouldn't say Android is as ugly since it has a variety of alterations of a IOS theme available, and you can dress it the way you like. As such, it is just as boring as IOS.

No matter how I've seen people customize Android it still looks cheese 🧀.... I will agree. WP8.1 is probably the best looking OS.

I agree that WP OS is the best of the three, but I do like the looks and start, screen options that you can get with W10. That said, I still use the 1520 on 8.1 as my main driver mainly because of the FB integration. But after the last W10 update, and if FB restores the integration, I'd put all my phones onto W10.

So, the Redstone tweak is no longer supported. Sounds a lot like the support that MS is currently showing towards Redstone mobile itself.

Lmao. You got to it before i could.

If you buy an iphone, enjoy the experience on the platform. When/ if windows mobile resurrects and you get that tingly feeling, come back home. Forget all these jailbreaking ish

Yes. But that dark theme is a much needed fix to the iOS as I can't withstand the all white backgrounds in all apps everywhere!! My god so much white! And that's one of the reasons keeping me stuck to W10M. Oh and Android has this annoyance as well.

The white is such a battery drain too...

That's not true anymore. That was only for older display tech.

Actually... White is a drain on oled displays... Iphone doesn't have an oled-display.

This was a big issue for me, not having dark theme. However, after switching to Android there are dark themes for a variety of apps. I use Textra for SMS and Bluemail as an email client, both with great dark themes. For calendar I use Digical+ again with a great dark theme and can be configured to look exactly like the week view in the W10M Outlook app. Even the WC app on Android has a nice dark theme.

Meanwhile, our phones are good out of the box. :)

So are iPhones and Androids, for those people that are comfortable with them. The only reason this is needed is the people here don't want an Android or iPhone, and want to change them into something they are not and never will be. Much like women look at what they can change their boyfriends into, rather than just accepting them ;) Those other OSs are as usable out of the box as WP is. Owners of all three are going to configure things the way they like them, start screens, settings, and load apps. No-one here would use any of them out-of-the-box, though there are a lot of normal folks out there that do just that.

In, before all the complaining about articles like this, and why should they switch. Try to understand: if a general consumer is going to be in the market for a new smartphone, and they go to a wireless carrier store or go to 'Big Box Store Plus', you won't find any Windows phones available. Zero. It's looking at the current state of the market, at reality, and trying to give people options. Very few are going to scour eBay looking for deals on second hand Windows phones. That said, know what you're getting into if you jailbreak your iPhone: if you need repair or support service at the Apple Store Genius Bar, and they see the iPhone has been jailbroken, they refuse repair service, and you take full responsibility for your device.

And let me add that if you go into your local Microsoft Store you won't find any Windows phones available either. However, you will find iPhones and Samsung Galaxys; at least that was the case at my local Microsoft Store.

Never seen iPhones there. That's sad.