How to manage tabs on Microsoft Edge on the Windows 10 Creators Update
Microsoft Edge has new tools to preview and set aside tabs to remove the clutter and stay organized on the web, and in this guide, we'll show you how to use them.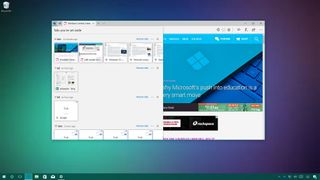 On the Creators Update, Windows 10 ships a faster, safer, and vastly improved version of Microsoft Edge. While you won't be seeing major changes in the look and feel, the browser includes several improvements. You'll find faster page load, quicker checkout process buying goods online, as well as the ability to read e-books you get from the Store, support for 3D on the web, and a lot more.
Among all the new improvements, perhaps one of the best new addition to Microsoft Edge are the new tools to manage tabs, which help you stay organized and reduce clutter when working with multiple web pages.
In this Windows 10 guide, we'll walk you through the steps to preview all your active tabs, set tabs aside for later viewing, and how to use the new experience to share tabs with other people.
How to use new tab preview on Microsoft Edge
Starting with the Anniversary Update, Microsoft Edge introduced the ability to hover over a tab to preview a website without needing to leave the current page. On the Creators Update, Microsoft is now improving this feature by allowing you to preview all tabs at once.
On Microsoft Edge, you'll now notice a Show tab previews button next to the "New tabs" button, which once you click it unveils a thumbnail preview for each tab in a scrollable row.
If you have a lot of open tabs, you can click the buttons on the side to navigate your tabs, or you can even click and drag to change their order.
How to set a tab aside on Microsoft Edge
On the Creators Update, Edge introduces the ability to set aside groups of tabs for later viewing.
If you're, for example, researching a paper, or planning a trip, you probably have open a number of related web pages, and if you need to jump to another task, you can now quickly save your tabs to start with a clean slate without losing your work.
Setting tabs aside
You can quickly save your tabs by clicking the new Set these tabs aside button that appears on the top-left corner of the browser.
Restoring tabs
When you need to continue working with a group of web pages, click the Tabs you've set aside button on the far top-left corner of the browser.
In the flyout, you'll find all your tabs neatly organized in groups. You can click a thumbnail to restore web pages individually, or you can click the Restore tabs link on the top-right to reopen a group of tabs.
Quick Tip: Tabs you restore will open next to the tabs already open on the browser. It's a good idea to close all the current web pages, before restoring a group of tabs.
Tabs you've set aside will remain, even after closing the browser, until you restore or delete them. However, tabs you set aside won't sync across devices using your Microsoft account.
Removing tabs
In order to remove tabs, inside "Tabs you've set aside," you can click the "X" button on the top-right corner to delete a group. Or you can hover over individual tabs and click the "X" button.
Adding tabs to favorites
If you visit a group of sites regularly, it's also possible to adds tabs you set aside to your favorites. Just click the Tabs you've set aside button on the far top-left corner of the browser, click the More (three-dotted) button on the right of the group of tabs, and click the Add tabs to favorites option.
Sharing tabs
While you can quickly share a web link with other people using the share button located in the address bar, you can also share tabs you set aside using the new Share experience on Windows 10.
If you're want to share links you set aside with other people via email or using another service, click the Tabs you've set aside button on the far top-left corner, click the More button on the right, and then select the Share tabs option.
Select the application you want to use and complete the additional steps to share the tabs.
More Windows 10 resources
For more help articles, coverage, and answers to common questions about Windows 10, visit the following resources:
Windows 10 help, tips, and tricks
Mauro Huculak is technical writer for WindowsCentral.com. His primary focus is to write comprehensive how-tos to help users get the most out of Windows 10 and its many related technologies. He has an IT background with professional certifications from Microsoft, Cisco, and CompTIA, and he's a recognized member of the Microsoft MVP community.
Setting tabs aside is SO useful

It would be much more useful if you could put individual tab aside.

Can you tear it off into a seperate window then set it aside as an individual tab?

You can, but I'd prefer not having to jump through hoops.

I guess I don't have a million websites open at one time. Two, maybe three at the most.

Just played with it a bit. It is very useful to open up each group in a new window also. This keeps each group as a group when multitasking numerous tasks. Edit: Just tried Night Light also. That is fantastic for someone who's eyes dislike white screens. Great improvements!

This is a very nice feature. Still make use of the tab groups in firefox, with third party addon.

Edge is getting better and better. Should have release like this.
The only problem I have with edge is auto play. Especially annoying on YouTube.

On the PC it has, on mobile it hasn't.

Yeah, edge is **** on Mobile. No Flash, no favourites bar, no tree-view favourites... Quite lame in phone mode and even worse when docked.

The creators update removed the syncing feature for favorites on domain joined machines. Edge seems to no longer be for business/enterprise in general but more or a limited niche enterprise browser. Like many other companies, we are being forced to standardize on another browser like chrome, which is actually pretty good as I discovered after a few days of use. It syncs everything!

They should have never abandoned .url files for stupid .html-based favourites. Favourite management was so easy with IE.

Here is the link to favorite syncing on the feedback hub, https://aka.ms/ck1drs this was around 32 upvotes earlier this week and now at 211 as people start to realize they removed a working and used feature.

Edge is one of my favorite browsers or next to Chrome. But unfortunately some sites are not supporting it like FB. Last time, when I logged in to Facebook, got warning to change browser. So had to install Mozilla on my pc.

I go to FB on Edge all the time. Seems to work fine.

While there are definitely sites that do not support Edge, Facebook absolutey supports it.

At this point I cant blame any site for not supporting edge. After installing chrome for the first time earlier this week (as I was a dedicated IE/Edge user), its super fast and syncs favorites and more for enterprise power users....Just remember to disable all that privacy stuff google collects from using chrome.

Shame since the creators update its a pile of junk and crashes on start-up... Usually takes at least 3 attempts to get it running... Same with mail/calendar... Worst update that Microsoft have ever released...

The set aside feature is frustratingly buggy. I set aside several tabs of Windows central articles and a few other websites, the half-assed feature only keeps 1 tab of each domain, making me completely lose track of where I was before. Better off turning that **** off and using just the reopen previous tabs setting...

Pretty cool! Similar to the OneTab extension I use everyday in Chrome. If it had those saves syncronized across devices using MS account would be a major win!

Synchronized Favorites and Reading List across devices is more than enough for me.

Hey Mauro, as per Jez, any tabs that you've entered information into won't save the info if you set it aside. Just a warning, might want to update the article. Also, it would be really cool if MS added tab sync'ing across to other devices.
Windows Central Newsletter
Thank you for signing up to Windows Central. You will receive a verification email shortly.
There was a problem. Please refresh the page and try again.