How to manage Windows 10 devices from your Microsoft account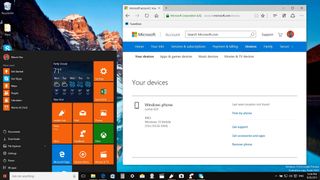 Windows 10 isn't just an operating system that works locally in your computer. It's also an operating system that works in combination with Microsoft online services such as with Bing and OneDrive. Furthermore, in Windows 8, the software giant introduced the Microsoft account, leaving the old time local account as a secondary option.
A Microsoft account is a fairly new account type designed to allow users to connect across devices with a single username and password. When you sign in with a Microsoft account, all of your settings, passwords, people, documents, photos and videos, and music will roam with you everywhere to any device connected to a Microsoft service.
We are no longer tied to a single device. We have multiple hardware, and every time we connect new devices with our Microsoft account, they get registered into our account. While it's great to know that we can view how many devices we are using with our Microsoft account, it's important to keep the lists under control for various reasons:
If you have a Windows Phone connected to your Microsoft account, and you sell it, the other person won't be able to setup the Find my phone feature until you remove the device from your account.
In Windows 10, Microsoft is reducing the number of devices you can install an app or game you have purchased to only ten devices.
On every new install of a Windows 10 device, you have been prompted to enable sync, which creates a backup of all your settings for each computer, phone, or tablet. This "backup" also gets stored in the cloud. If you ever reinstall Windows 10, you will be asked if you want to restore the settings from a previous install. After a while, these device backups will keep piling up, using valuable OneDrive space.
In this Windows 10 guide, we're going through the steps to keep the list of devices under control.
Removing devices you no longer use
If you used to own a Windows Phone, Surface Pro 3, or any other computer, you could remove these devices by going to "Your devices" in your Microsoft account online (opens in new tab). Simply click the Remove link, check the box confirming the device you're removing, and click Remove.
Tip: If you're removing your old phone, you may also want to check your devices doesn't have Reset Protection enable. Check out our previous how-to learn more.
Avoid reaching the ten devices app and game install limit
Windows 10 limits the install of an app or a game to 10 devices. To avoid reaching the limit, you can remove devices you no longer use. Simply go to Apps & games devices (opens in new tab), and carefully remove the devices you want by clicking the Remove link, then check the box to confirm the device you're removing, and click Remove.
Note: It's worth pointing out that you can do the same for Music, Movies & TV devices.
Deleting old device backups from OneDrive
If you want to free up some of the storage space in OneDrive, keep your device backups organized, or you no longer have one of your devices, you can go to OneDrive > Device backups, and remove old backups by clicking the Delete button.
There you have it. These tips you see today will help you to keep your Windows 10 devices under control and keep enjoying apps and games.
Additional Resources
Do you need to more Windows 10 help? Use these resources.
Windows 10 help, tips, and tricks
Mauro Huculak is technical writer for WindowsCentral.com. His primary focus is to write comprehensive how-tos to help users get the most out of Windows 10 and its many related technologies. He has an IT background with professional certifications from Microsoft, Cisco, and CompTIA, and he's a recognized member of the Microsoft MVP community.
Now what about if you get a replacement device, I just a replacement 640XL from AT&T. They told me to pop in my old sim and I'm good to go. Should I remove the old phone?

Saw and removed my Lumia 635 phone which was running 8.1.

Yeah but your Windows 8.1 devices dont show up here.
Another over sight.

I believe you are wrong since I do see my Windows 8.1 device on my account (together with my Windows 10 laptop).

It is, especially considering that Windows 10 keeps adding phantom "PC" devices to my account until I can no longer install apps on my registered goddamn surface pro 3. Really getting sick of these bullshit glitches. On top of that, I realized yesterday that outlook.com has arbitrarily deleted dozens of old messages from my e-receipts folder.

I did like 10 clean Windows installs on my HP pc since the beginning of year. Everytime it registered device on OneDrive as a new one and offered me bunch of backups. Same goes for phone after doing a hard reset. It's a nice feature but a bit confusing.

I had a very frustrating experience with phone backups, the Start Screen didn't come with the backup due to out of the box version, and after the update, when I reseted it to retrieve the backup correctly, it was already overwriten, in matter of minutes all was lost. there should be a better way to manage the backups then simply deleting and wishing for the best.


Use the same computer name

Lol I have like 5 360s that i registered in the past few years

Do not forget Reset Protection, that some 8.1 Devices on Update 2 have access to. a "how to sell your lumia" article yesterday didn't mention it either... if you do not disable it and sell your phone, the other person is dead in the water without your ms account..

That has been added to the yesterday's article. Also according to Microsoft documentation, resetting your phone turns off reset protection. Thanks,

Um so resetting your phone turns off device reset protection. Really??? That doesn't makes much sense.

That was me , I commented on that article it had nothing about what is now in this article, I'm glad to see they took my information and created a great guide. I spent over 3 days on the phone with tech support a engineers from both Microsoft and Verizon to finally get my phone straighten out.

I don't care for him . I just want new wp10 build. And this time one that works properly. Stable, no battery drain and other silly stuff. Give as already good damn build that works, Microsoft.

If you really want a stable build ..just wait for the official W10M launch build!!

If you want the most stable build stop insider builds, because this is for testing and may not work...you should in all honesty and wisdom wait for the official general release to the public. This is not for the impatient...and as much as I know that I still get a bit chaotic when some things don't right, but only as it applies to sensitive areas like music on the road =p

Essentially what you want is the finished product.... Honestly, people like you should not sign up for beta software. You have no interest in testing or improving it; you just, for no readily apparent reason, feel entitled to getting release software before anyone else. That's not how betas work... That's not how any of this works....

I have a PC showing 3 times and I cant remove it and a Surface PRO 2 times. One with SERIAL another without

An MS tech support told me that the same device will become registered multiple times if you download apps from different IP addresses. I told him that was dumb; he agreed.

Seriously?! That is the dumbest thing I have ever heard. I download apps sometimes at home, others at school, others at a friend's house, etc. There are zero good reasons those should all be counted as different devices. Read the device ID or Windows Key, Microsoft! DUH!

I have one interesting question, which is somewhat closer to topic, but it may look like off topic hence sorry in advance. I have Lumia 1020 running Windows 10 Mobile preview latest build, it always tries to update Nokia here/transit/etc apps and fails ultimately. The reason they are not (supported) in the store any more, but how do you guys uninstall or get rid of them? It does not have "uninstall" option or does not stop updating every time does "check for update".

That desktop background looks nice. Where do you have it from?

Nice article, I'll find it useful, thanks M.

Excellent how-to guide! Keep up the good work!

I tried to remove old phone devices from my Father's account on his W10 PC a few weeks ago and it was very glitchy. Got rid of two old phones but two more wouldn't delete no matter how many attempts. No error messages or anything, the devices were just still there.

Nice! Also, how is your Lumia 620 doing with Windows 10 Mobile on it?

But will this remove a device from showing up in My PC as well? Laptop shows an old icon for an older WP7 device 24/7. Once I plug in my L1520 the "Windows Phone" remains and the additional Lumia 1520 icon appears. Can't find a way to remove the old one. Doesn't even show under device manager.

Easy enough to remove my old Lumia 635.

Very Great Article
I was wondering about all that backup stuff
Thank You

I believe you're only able to remove 1 device like every 30-days and it's best to do it from a pc.

"If you have a Windows Phone connected to your Microsoft account, and you sell it, the other person won't be able to setup the Find my phone feature until you remove the device from your account." I don't think that's the case. I was able to reset my friend's phone and connect my account to it. Find my phone was working fine. Don't think he ever removes the phone from the site.

Yeah, but how can I fix this problem? Now I have 20 "PC" on my account, and Windows 10 keeps asking me to verify my account on OS start. http://answers.microsoft.com/en-us/windows/forum/windows_10-security/win... http://answers.microsoft.com/pl-pl/windows/forum/windows_10-security/wer... http://answers.microsoft.com/en-us/windows/forum/windows_10-security/win...

Can Someone please help me ? I'm having a problem on my Windows 10 PC and Mobile. The Outlook Mail app does not sync properly. I do not get new notifications from it anymore. First I used to receive the notifications properly but from the past month I haven't been receiving any notifications in the action center. I have to open the Mail app in order to see new mails loading in the inbox. Please help me solve this problem. Thanks in Advance!!!!!!!

The article is helpful but not quite complete.
You also need to remove Films and Video and that cannot be done after you have removed the rest and reset the phone. Probably the same for music, I know! ​My advice would be to simply log into your Microsoft account and then work through the list deleting the phone from each area before you reset the phone.
Start here https://account.microsoft.com/devices and then work your way down the drop down list.
​Then go to OneDrive using www.outlook.com or whatever MSFT account name you prefer (i.e. live.com) and delete the backup.
Windows Central Newsletter
Thank you for signing up to Windows Central. You will receive a verification email shortly.
There was a problem. Please refresh the page and try again.