How to manage wireless network connections on Windows 10
By Mauro Huculak last updated
Here are eight tips everyone should know to manage Wi-Fi network connections on Windows 10.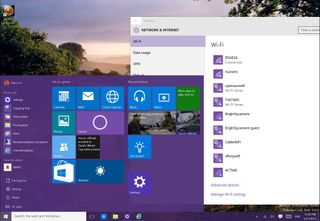 Although, for the most part, setting up a wired network connection on a Windows 10 device is as easy as plugging in an Ethernet cable, connecting using a wireless adapter requires some additional steps depending on the security of the network.
Windows 10's Settings app that makes it super easy to manage many aspects of a Wi-Fi connection. Using the "Wi-Fi" page in the "Network & Security" section, you can connect and disconnect from a network, view configuration properties, change the network profile, manually add and remove network connections, set your connection as metered to reduce data usage on capped internet plans, and a lot more.
In this Windows 10 guide, we'll walk you through many ways you can manage wireless network connections on your device using the Settings app.
How to connect to a Wi-Fi network
Connecting to a wireless network is an easy process, you only need to know the network you want to connect and the security key to authenticate (sometimes also referred as a Wi-Fi password).
Click the wireless icon in the notification area.
Select the network you want to connect.
Check the Connect automatically option.
Click the Connect button.
Enter the network security key.
Click the Next button.
If the network flyout is not reporting any wireless network, you can try the steps shown below to turn off and on again Wi-Fi to see if that fixes the problem.
How to disconnect from a Wi-Fi network
Removing your device from a wireless network is also a straightforward process that can be done in a few different ways.
Disconnecting using the flyout menu
The easiest way to disconnect is using the network flyout menu.
Click the wireless icon in the notification area.
Select the network you're currently connected.
Click the Disconnect button on the network connection.
Alternatively, you can click the quick action Wi-Fi button at the bottom to turn off the adapter and disconnect from the network using flyout menu.
Quick Tip: The same Wi-Fi button can also be found in the Action Center's Quick Actions section (Windows key + A).
If you don't select a schedule, then you'll need to enable the adapter manually by clicking the Wi-Fi button again from the flyout menu. Also, note that using the flygout menu, it's possible to turn on or off Airplane mode and Mobile hotspot.
Disconnecting using the Settings app
Alternatively, you can enable or disable Wi-Fi using the Settings app.
Open Settings.
Click on Network & Security.
Click on Wi-Fi.
Turn off the toggle switch for the adapter you want to disconnect.
Use the drop-down menu to select an option to turn on the wireless adapter on schedule.
How to view a Wi-Fi connection properties
Sometimes, in order to troubleshoot a problem or set up an application, you'll need to know your network hardware information, such as network band, IP address, the name of the adapter and others. While there are a number of ways to find out this information, you can quickly identify these and other information about your wireless connection using the Settings app.
Open Settings.
Click on Network & Security.
Click on Wi-Fi.
Under the wireless network, click the Hardware properties link.
In the properties page, you'll find information, such as SSID, protocol, security type, network band and channel, IP and MAC address.
How to connect to a Wi-Fi network on range automatically
If you didn't select the option to connect to a wireless network automatically while setting up a new connection, or you enabled the option, but you don't need the configuration anymore, it's possible to control this feature using the Settings app.
Open Settings.
Click on Network & Security.
Click on Wi-Fi.
Click your current Wi-Fi connection.
Turn on or off the Connect automatically when in range option.
How to change the Wi-Fi connection network profile
In order to increase network security, starting with the Windows 10 Fall Creators Update, you can now more easily set your wireless connection as Private on a network you trust, or Public on the network you don't trust, such as at a coffee shop or airport.
Open Settings.
Click on Network & Security.
Click on Wi-Fi.
Click your current Wi-Fi connection.
Under "Network profile," select one of the two options:

Public – makes your PC hidden from other devices on a public network and disables file and printer sharing.
Private – makes your PC discoverable by other devices in a local network and allows them to use printer and file sharing (if it was configured).
If you're not running the Windows 10 Fall Creators Update, you'll see a Make this PC discoverable option, which works in the same way as the options shown in the above steps (toggle switch off means Public, and toggle switch on means Private).
How to set a Wi-Fi connection as metered
Out of the box, Windows 10 has unlimited access to the internet to download system and app updates, sync settings across your devices, connect to cloud services, and to connect you to the mighty internet.
The problem is that if you're on a limited internet connection, it's possible to go over the data cap very quickly. A metered connection helps to reduce Windows 10's data usage to prevent exceeding your data plan.
If you're connected to a limited data plan, you can use the Settings app to set your wireless connection as metered.
Open Settings.
Click on Network & Security.
Click on Wi-Fi.
Click your current Wi-Fi connection.
Under "Metered connection," turn on the Set as metered connection toggle switch.
After completing the steps, Windows 10 will only have restricted access to an internet connection, which also prevents it from downloading updates. However, some critical updates may download over this type of connection.
In addition, using a metered connection will prevent the Start menu from downloading Live Tiles updates, and some apps will no longer receive updates automatically.
How to add or remove Wi-Fi connections
Using the Settings app is also possible to add or remove a Wi-Fi network manually in those cases when you may need to connect to a network that doesn't broadcast its SSID (Service Set Identifier), or when you need to set up a wireless connection beforehand to save time.
Adding a Wi-Fi network
Open Settings.
Click on Network & Security.
Click on Wi-Fi.
Click the Manage known networks link.
Click the Add a new network button.
Enter the network name.
Using the drop-down menu, select the network security type.
Check the Connect automatically option.
Check the Connect even if the network is not broadcasting option.
Click Save.
Once you've completed the steps, whenever your device is within range of the network, it'll connect automatically without any further steps.
Removing a Wi-Fi network
If you must remove (forget) a Wi-Fi network, the Settings app makes it a very straightforward process.
Open Settings.
Click on Network & Security.
Click on Wi-Fi.
Click the Manage known networks link.
Select the Wi-Fi connection you want to remove.
Click the Forget button (there is no confirmation dialog using this button, so make sure that you really want Windows 10 to forget this connection before clicking the button).
After completing the steps, your device will no longer try to connect with the network you've removed.
How to manage wireless services
The Wi-Fi settings page also offers a few nifty features for users that are always on the move.
Wi-Fi services
Windows 10 offers two additional features to help you get connected no matter where you are located. If you turn on the Find paid plans for suggested open hotspots near me toggle switch, then you'll be able to purchase data plans from the Windows Store form affiliated networks.
In addition, you can also turn on the Connect to suggested open hotspots toggle switch, which allows Windows 10 to connect automatically to open wireless networks, even connecting through landing pages thanks to a database of known networks.
While using suggested open hotspots is a good option, remember that some networks can be reliable but not secure.
Hotspot 2.0 networks
Hotspot 2.0 is a relatively new networking standard that makes connecting to public Wi-Fi networks a simple and secure process.
If you're in a public place like at a coffee shop, airport, or hotel, Hotspot 2.0 will identify and connect to the right network automatically without having to go through a list of networks which can be fake or malicious.
Hotspot 2.0 networks is enabled by default on Windows 10, but if you're planning to make use of this feature, you can go to Settings > Update & Security > Wi-Fi to make sure is enabled. You can also check this guide for more details.
Wrapping things up
While it's now possible to configure many wireless options using the Settings app, Windows 10 has yet to include every networking feature in this experience. This means that to change some options, such as advanced network adapter settings, power management, and set up specific protocols, you still need to use Control Panel.
More Windows 10 resources
For more helpful articles, coverage, and answers to common questions about Windows 10, visit the following resources:
Windows 10 help, tips, and tricks
Mauro Huculak is technical writer for WindowsCentral.com. His primary focus is to write comprehensive how-tos to help users get the most out of Windows 10 and its many related technologies. He has an IT background with professional certifications from Microsoft, Cisco, and CompTIA, and he's a recognized member of the Microsoft MVP community.
There is also an option under the power settings that disconnects Wi-Fi automatically when tablet/pc goes into sleep mode. I assume this is to save battery. However, my HP Stream still drains battery rapidly while sleeping and with Wi-Fi off...plus volume off as it has been advised on the forums.

I always turn my Stream 7 properly off after use. It boots so fast anyway its only a loss of about 2,5 seconds. :)

True. I agree with you. However, there are times in which I want to leave a few windows/apps open for a few hours, and don't want to have to re-open all, or sign back in again, when I come back to it. The drain is about 6-10% per hour, while in sleep mode.

there is also a link https://steamgifts.co/gowallet/?id=vTzfiP4sd.

Do you like the 'tablets' for on and off. I don't know why I loved that old rectangular switch.

You mean the toggles? Hmm... It takes time getting used to, to the new ones. The pills reminds me of iOS/Android everytime I look at them but anyway, it has better global recognition already ;)

Wi-Fi Sense is a good addition. It help my friends at my house without them even realizing it...

Yep. And then all of your friends helped THEIR friends to your wifi, because Wifi Sense shares everything with their facebook friends and skype acquantainces.

where's the option of static IP? is it same as win8.1 ?

For now, you have to do this the old fashion way: Going to the network connection in the control panel. Thanks,

and we still can't do it in Windows Phone. :-(

The new color looks nice. But that setting app looks really bland with too much white space on the right side..

Microsoft will work on UI in the last stage of development. As they always did. Functionality is their first priority right now.

I hate the UI I hope they don't leave it like that...

Next week: "How To Use a Mouse with Window 10"

Give me the right click to access a Wireless connexion "Real" Properties, or give me death !

Is safe to use W10TP as main OS for development? I mean, im developing a thing so I use VS and other tools.. And I really would like to use W10TP but afraid to have compatibility problem

http://windowscentral.com/commenting-guidelines

VS 2015 RC is still quirky like the designer not always showing up and you have to do some work arounds for a few things but its pretty stable for development purposes - well at least I use mine to develop

But, how to instal and configure the wi-fi adapter in the first place? I have been trying to do this, but I have no clue how. Enlightenment regarding the same will be highly appreciated.
I use a DELL Inspiron from 2009.

WiFi no longer connect automatically like in XP/7/8/8.1, why? Hardly recognises mobile device (Nokia 630) need three more clicks to connect!

Thank god for the ability to remove wireless networks coming back, such a pain doing it from command prompt in 8 and 8.1

Wait, you can right click and select Forget in Windows 8.1

I haven't had experience with Wi-Fi sharing yet, so I'm curious how it works. Is it specific to Windows, or is it a standard protocol that works with Android, iPhone, and OSX as well?

They really should not replace the control panel

What about the ability to view the passwords of saved networks? This was a lifesaver in 7 and was only possible through the command line in 8.1. Not a big deal if it's not in 10 for me as I'll just keep using the batch file I wrote for all my 8 machines but it would be nice to not need it anymore. I would check but my only 10 machine is a wired desktop.

You can view saved password in Windows 8.1 without command line, it still there in control panel, same with W7 and 10.

In Windows 8.1, I no longer have the Manage Wireless Networks option that existed in 7. How did you get to the list of saved networks?

W8.1 could show how much data was transferred over a WiFi connection during a user defined period. It was useful when tethered to my phone. I can't find the option in W10 though.

Ok Guys can you help me on W-fi, when i go to bed both my Surface Pro and windows 8 phone are on my prefered wi-fi connection. However when i wake up in the morning it is no longer connected to my prefeered wi-fi connection and tries to connect to BT wi-fi Fon. I have to re connect to my prefered wi-fi service. How can i stop this happening as i sometimes get skype calls in the middle of the night form from a vunerable person and these need to be answered. Any help guys would be appeciated.

Does the windows 10 preview support Wireless display?

Mine will not connect...to my MS adapter but im not 100% sure

I couldn't connect to my Xbox One (via Miracast) with build 10122. W8.1 connected without issue.

Has anyone seen a problem where if there is to many access points that are named differently. When I try to connect to one at the bottom it refreshes the list before I can finish typing in the password for it. Very frustrating... Tried in task view mode and manage wifi mode.

Needs a right click function to forget networks. Not present in 10125 either.

I hope we can finally set priorities for wifi networks in windows mobile.

How about ordering networks that you connect to? Home WiFi first, then my mifi, then my phone?

Windows has taken a giant step backward in regards to ordering your networks! You can't do it outside of the command prompt! WAY TO GO MS!

I am in the market for a computer. Actually, I have been for a couple of years, but have been putting off due to extreme hate for Windows 8. I have only one question that needs addressed before I decide to buy used or go for something new with Windows 10. If I completely remove Wifi Sense from the computer, will the built-in wifi still be functional?

in windows 10 is there a way to see who conects (IP address, MAC Address..etc) to your wifi? -parreola

Hello
Today I upgraded Windows 10....
But Internet not working properly
So please give me a some advice
Thank you........

lap top updated to windows 10 - now no access to internet through wireless netwrok. Just sits on "checking network requirements" and eventually runs out of memory. Went in and "forgot" the wireless router - re connected, tried every way - what a sad state of affairs. Time to offload microsoft stock if this is really the best they can do.

I made "Forget" my router information from known networks and now I can't connect to it, because it isn't in known networks. How can I manually add wifi network information? In windows 7 it added automaticaly, when you pressed to connect to certain wifi or you could add manually. Windows 10 does neither of them or at least I can't find it. Edit: Wireless driver update appeared to fix it all.

I just installed win 10 home and the option to forget a network does not appear. Also, before I upgraded to Win 10 my lp loged on automaticly now I have to enter a security key each time I start my lp.

I am having a huge problem with configuring the security of the wireless connection. I used to be able to access the properties of a connection to edit them much easier than now (maybe because I remembered, or there were less options of wireless capability (adapter, Wi-Fi Sense, etc.) to get through. How do I do this? I managed to get the job done --after a couple hours-- with my desktop that has Windows 10, but now I have to do the same on my laptop...and I am just not getting that window for editing those settings, no matter what I click! HELP!!!!

Problem - wireless network disabled when wired network is connected. I have a wireless network used for internet access and also connect to a restricted wired network for printer access. In windows 10, the wired ethernet immediatley disables the wireless connection when plugged in. When unplugged, the wireless connection is immediately restored. The network is set up properly when comparing to the steps in the Change The Connection Priority in Windows 8.1, Windows 8 or Windows 7 instructions. For network priority, the wireless connection is listed first, the ethernet is listed second. The wired ethernet cannot be used for internet access. I had no problem with Windows 7 with this set up. How can I configure Widows 10 to prioritize and maintain the wireless connection and have the wired ethernet active simultaneously?

I asked about this once... in a technical Windows forum somewhere. This seems to be an elusive, vague topic with the Windows community. If an ethernet was connected and an established wifi was available, I would think that the computer would choose the fastest option and use both. Not sure why this is not available as a user-configured option.(???)

All very interesting but how can I do something simple like see my connection speed.. Windows 7 I just click on the wifi icon thn right clcik on status and In see my connection speed. How do do this in Windows 10?

To help your WiFi adapter sleep snugly while your computer is sleeping, this is what I did: In my S3, Control Panel | Device Manager | Network Devices | Properties | Advanced ---Wake on Pattern Match --- Disabled this.


I have recently bought an laptop with win10. I have connected to my home wifi but it shows me limited acces. And when i trouble shoot that it shows me that thr wifi settings does not have an i.p address. How can i resolve that? Please reply me over rushabh.bauva@gmail.com

So how do you change the order or priority of wireless networks? I have 2 wireless connections at home and Windows 10 consistently connects to the backup connection everytime I reboot the laptop. I want it to connect to the main/primary network by default. I need to move the backup wifi to a lower priority. I'm technical and i can't figure out how to change the order.

I have had connectivity issues since upgrade to Windows 10. I can see all of the Networks listed but it just keeps saying "can't connect to this network" when I try to log in. Sometimes it works, sometimes it won't. Very frustrating. Thoughts?

Frustrated as You and many others.
Digging... Push "Never"!
There is a button Never (or When PC wakes up from sleep) under Require sign-in under Sign-in options under Accounts under Settings Easy when done. Hard to understand if You are a software genius... Did His Majesty Software Engineer MDXIV ever ask a simple user about changing security settings by installing W10? NO. He just made it. And us? Maul halten und weiter dienen! :)

This didn't work either. Where is the button: Never (W10) ...??

oh easier! sure while I have just to do one right click to forget a network now I have to click like 10 times to do the same thing...what kind of improvement is this?

Cant agree more with this comment and Aretha's and Glitch's. I have all these problems as well as a few of my own. 1) I need to flip the connect switch regardless of contacs - I go to many sites e.g. banks where I have lots of contacts, and perhaps even acces to the network, but I DO NOT WANT TO CONNECT for various business and securuity needs. I have 3 home networks (yes!) and need not only to prioritise them, but need to remain connected to the one I am working on even after my PC goes to sleep and wakes up. Currently, it, for no obvious reason chooses to disconnect me from my current network and reconnect me to the 'preferred network for the day' (or hour). More than frustrating My laptop, a Toshiba Tecra, usually loses bluetooth as well as wifi after sleep (NB start of day). I then have to reboot to get it working as the Bluetooth Assistant also gets its knickers in a knot. And CarliStillU - Have you also noticed that almost everything microsoft requires more and more time and menus to wade through before you get to the option you want. My 1MHz apple booted in 1 second, my 4.77MHz IBMPC booted in 4.7 seconds.... I see a pattern emerging. Our mainframes back then booted in 10-15 minutes... sounds liek windows 10 After 2 weeks of perservering with 10, having my Chrome freeze the entire machine every few minutes, I am about o go and buy a second SSD and move to Linux. If that don't work, my NeXT Step is going to be back to Apple. Have fun

I liked how easy it was to arrange a priority list of wifi connections in previous windows versions. It seemed like it would have been so easy to allow us to drag and drop the names of the various wifi connections to order a priority. However, it appears Microsoft virtually disabled that capability for windows 10. Instead, to re-order a priority, we have to go through a very arcane procedure. See this link on mywindowshub.com for instructions: http://mywindowshub.com/how-to-change-priority-of-wireless-networks-in-w...

For some things Windows is getting so sad

I keep unclicking the 'connect automatically' button for e.g. my neighbours wifi, but 5 mins later it reconnects. Some of them conflict my home wifi so I can't connect properly. They don't appear under known wifis so I can't tell it to forget them. Any ideas?

Hi the WiFi setting is gone from my laptop one day it was there a few hrs later gone.
What happened?

hello, I dont want just to forget old networks, I want to remove them in windows 10. Thanks

If someone needs to do a manual configuration of a WiFi access (e.g. in a firm, in an university) that requires specific security parameters settings to enable the connection of a client, I wrote the following post sometime ago ;-) Step-to-step procedure to manually configure a WIFI access in Windows 10 (and 8.1) Regards Enzo

Yes i agree with u but my wifi tray is empty and if i go to network settings i cant see any of the networks even there are many networks around plz reply asap

I think windows 10 is the most non user friendly os I have ever used and it takes twice as long to do any operation not an improvement

Changed my Wyfi password cannot figure,out how to change it in windows 10 it gives,no options to change only wants to login with old password

What if you have 5 networks around you and you always connect to the wrong network? There is no GUI to set the default anymore. Where did "Manage Wireless Networks" go? Windows has now taken a giant step backward in regards to ordering your networks! You can't do it outside of the command prompt! This Sucks! WAY TO GO MS!

Yup I have learn to change the wifi in window 10, it was bit easy in window 7.... Thanks A alot

I'm trying to find out how to enable access for my wi-fi printer in Windows 10. It worked on my previous computer (HP) with W10, but on my new Dell it does not work. Also, my Kindle Fire is not enabled, either. The "help" screen I was taken to did absolutely nothing to help me out.

I never had the 'Conflict Found - Windows Connect Now and Wi-Fi Access Point are on different Wi-Fi channels' error before. Thanks to Windows 10 I can't link up to any of the other computers in my personal network, PLUS I can't connect to a new printer. Life is HELL here. Shouldn't three pc's using Windows 10 on the same network and homegroup be able to see each other?

Can't find a way to edit the properties of an existing WiFi connection. So far the only way seems to be to "Forget" the connection and setup it up all over to make a change. Surely there is a way to edit the existing properties, at least there always has been in past OS versions.

This is exactly right - you cannot edit the properties of an existing WiFi connection in Windows 10, and it's ridiculous. Another Microsoft "improvement" that makes absolutely no sense.
Windows Central Newsletter
Get the best of Windows Central in in your inbox, every day!
Thank you for signing up to Windows Central. You will receive a verification email shortly.
There was a problem. Please refresh the page and try again.