How to migrate from your old Windows Phone to your new Lumia 950 or Lumia 950 XL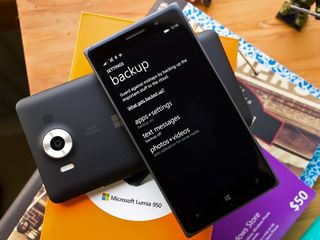 One of the few downsides of getting a new Windows Phone is having to migrate all the apps, games and settings of your old phone to your new. Many will be picking up the new Lumia 950 or Lumia 950 XL and the process has gotten a lot easier than it used to be.
The process is no longer as cumbersome as it used to be with everything having to be manually reinstalled and set-up. With the Windows Phone Back-up feature, you can create a backup file for all your games, apps, email accounts, settings and text messages that can easily be restored or migrated to your new Windows Phone.
The steps are straightforward.
From your old Windows Phone (in my case the Lumia 830), go to your settings and scroll down to the Update+Backup section of the settings.
Here is where you can choose what gets backed up. So you have the most recent file available, go ahead and tap the Apps+Settings and Text Messages to back them up.
Images have the option of being backed up to your OneDrive and accessible from your new Windows Phone. Personally, I store my images on my microSD Card and simply move my card from Phone to Phone.
Once you've created a recent backup file for your Apps+Settings and/or Text Messages, go ahead and start the initial set-up for your new Windows Phone. At some point, you will be asked if you would like to restore a previous Windows Phone backup file. All that is needed is to pick your file, tap okay and sit back and relax.
The restoration will adjust your new Windows Phone settings to match your old Windows Phone as best as possible. Just keep in mind that some of the settings on your old phone may not transfer over to your Windows 10 phone. The same is possible with your old apps and games.
The reinstallation will take a little time, but it is a lot easier than finding the app in the Windows Phone Store and manually re-install things one app at a time.
Additional Reading
Support and help forums
Want to chat about the Lumia 950 and Lumia 950 XL? Jump into our forums and ask others what they think or get help and advice on your new phone!
Windows Central Newsletter
Get the best of Windows Central in in your inbox, every day!
George is the Reviews Editor at Windows Central, concentrating on Windows 10 PC and Mobile apps. He's been a supporter of the platform since the days of Windows CE and uses his current Windows 10 Mobile phone daily to keep up with life and enjoy a game during down time.
Thanks!
Will the 950's be able to read a WP8.1 backup?

Nope. I don't guess so. Because it's not Lumia 950. If you talking about which is working with win8.1 look carefully please.

Now I read your comment again I was saw it like "is 950 will be able to back win8.1" I am studying and tired. Sorry.

my 1520 stays right where it is :)

During the Technical Previews, I frequently used backups that I made during 8.1. So yes, it'll work.

Sure but its the question of does it translate properly. I've moved from an dvp to a ativ s to a l929 & back to ativ s & I found some system apps didn't work properly or it was sluggish so since ive not really had a use for backups aside from favorites/contacts(ms should've enabled read/write access to sim for this)/Calendar/txt theres not much else for me to go thru the entire restore

@FarStrider2001, although nice but the sim uses a flat file database. Meaning a contact with several numbers will have several entries. Plus a sim can only hold a limited number of contacts.

Yes.
Actually I backed up my 830 running the W10 TP the night before just before getting the 950, but the only back up it show during initial installation was a backup from April 2015! So I just did a fresh install. Probably for the best anyway because I've had zero issues with my phone. Now I'm transferring 115 GB of music a d pics from my old SD card to a new 200 GB card, we'll see how smooth that goes.

do the owned apps that were uninstalled carry over in the backup process?

They don't download automatically, but you still have the license to use them in the case of a paid app.

You don't need to reset your older phone.

Did you mean to reply to me?

Only if it hasn't synced it in a while

Do You know if authenticator keys are part of the backup?

They aren't. Make sure you have the Secret Key for each 2FA configuration in the app before resetting

Or you could use the camera to scan the auto generated QR code to pair. Much easier.

I upgraded from Windows 8.1 to a 950 and all apps, text messages and settings carried over. Even uninstalled apps were available. Extremely easy!

Hi! Did you get all your WhatsApp texts just the way they were on 8.1, on your 950? :)

To achieve this, you have to connect you old phone to your PC. Open Whatsapp on the phone and create a backup. Now search for the backup in the Whatsapp folder on your phone and copy it to your PC. Install Whatsapp on your new phone, but don't start it yet. Put the backup of your old phone in the respective folder on your new phone. Once you start WhatsApp, it'll ask you, whether you want to restore the backup.

What about the phones without memory cards like 925/930?

Does this really work? I've tried it and it didn't for me. How is the backup supposed to look like on the PC? What file type is it? I have a Lumia 1020 btw. So I dont have a memory card.

I tried this before, but not sure if it work with everyone. First, before you set backup on settings, go to WhatsApp, settings, and then backup your message first. After WhatsApp message backup is completed, you can backup your phone on settings. On your new phone, select backup, and wait for WhatsApp downloaded. Open it, finish all the details, it should show "restore the backup?" page

Did this last night/this morning with my 640. Smooth indeed. Except for the now routine "account settings out of sync" Outlook issue. Why cant they get that figured out?

I have found more often than not it is due to the date and time being wrong.

Yep. Use auto set time vs manually set.

Nope. My time has always been, and always will be set to auto.

I experienced the same issue constantly, which is why I chose to start my 950 XL fresh, no backup.

I did a fresh install too, and I think it's one of the reason my system runs so smooth.

I get that in Windows 10 on my Surface constantly, it's really annoying.

Important note though, you will lose the preinstalled apps on the 950(XL) such as the Lumia's Offers app. What I did instead, was skip the backup restore, and used the Transfer My Data app (also preinstalled) to pair the phone via Bluetooth to my old 1020. Using this method, I was able to transfer text messages.. Contacts is an option too but not necessary if you use a Microsoft account. Photos I manually copied using a computer. Then it was just a matter of downloading the apps but you just go Store > History and you'll see a list of all the apps you've ever downloaded..simply pick what you want, doesn't take too long..

Thanks for this! I also have a 1020 and prefer not to use "the cloud." By the way, are you happy using the 950's camera over that of the 1020?

Thanks, I wouldn't have thought that! Though now that I think about it, you could probably skip the restoration, do your thing with Lumia Offers, do hard reset and then restore previous backup?

I didn't lose the Lumia Offers app when I used my backup for my 950 XL

Yeah, apps like that are not lost.

I'm going to rest my 950 and a fresh install. My backup was from an M8 using 10. The 950 seems fine, but I want to see if there is a difference.

One would not lose the offers app actually. It will not remain on the start screen as the restore of the backup over writes the start screen lay out. Find it in the app list, where it still is.

That is a great app for transferring contacts messages and other things from different phones. Even the old Symbian phones are easily supported. Hell I couldn't find an app this good and for same purpose as this in Google play store when I had to transfer contacts and messages from old Nokia to a Samsung android. At that time I could have thrown the Samsung on the wall if that was mine.... :p

Thanks for the suggestion. My backup is not working since last year. I've to use ur method

Delete all your old backup files, then backup again for a proper backup

thanks george, well timed article for some of us :)

And if you're coming from a 1520, use your existing nano-SIM. I didn't realize they were the same size and lost my LTE support when I got the new SIM for my 950XL. Some users have had luck with contacting advanced support staff at AT&T to re-provision the phone properly and get it back.

I chose to do a clean install coming from a 1520 running W10. It's really easy to just go to the store look in "My Library" and choose the apps I want to install. It is a nice way to get rid of the apps I don't use any more ;)

Sadly, with 1500+ apps and 1000+ games,in my library the store usually crashes when going there or taking ~20 minutes to load apps or games library. Haven't been able to use it in the last few W10M builds thou.

The Windows Phone 8.1 equivalent of "My Library" has never worked for me. It always crashes when I try to go there.

I've had similar issues on my 1520, but on the 950XL it was smoother and faster... Just an FYI

I didn't restore my backup when I transferred. All my photos were already on onedrive, and the settings sync automatically, so I just manually reinstalled the apps I wanted. I did it that way to make it as clean as a process as possible.

Has anyone else lost their visual voice mail?

@AntnyGoomba I had to enter my visual voicemail password and hen it came back. But I didn't have any voicemails saved/pending... if that's what you were referring to...

It hasn't even asked me for my password. Glad to know it's working though, I'll just give AT&T a call

Anyone know if the personal ringtone get ported over? From 8.1 to 10?

How to migrate from old lumia to old lumia 950)))

950 looks stunning in the pic!

Why can't we just backup the whole phone like ios dose ? Microsoft and Google still didn't figure this out . The most important thing is the apps data Posted via the Windows Central App for Android

Yeah, and backing up app/game data is up to the developer, and only apps I have that use it are apps like twitter and other ONLINE only apps/games which already stores everything on their own servers, so kinda useless atm.

It would be nice if the sync client on desktop allowed offline back up for the whole phone and use it transfer select data. Another thing I miss from my blackberry days, beyond the notification led and the physical keys not much else. BB apps were sometimes two to three times what they were in other stores.

I agree. I hate having to rely on the internet for something so basic. "BB apps were sometimes two to three times what they were in other stores". Do you mean that in terms of quality? And what type of apps are we talking about?

My 1020 had a defective camera sensor. All medium to low light photos would have a blue band of colour spanning the image width....so better for now lol. It's a million times faster at opening and taking a photo. Literally instantaneous even when taking JPG (16mb) + DNG photos

I thought Microsoft advertised the camera as "true widescreen". Does it still go down to 16 MP when taking 16:9 photos?

XL arrived, had to bring unopened package on weekly trek from Tacoma area to West Seattle. Realized too that 640 temp phone (1520 broke) sim was micro not Nano. Hustled to ATT with 18 minutes to spare begging for a nano sim. No prob says they as long as they can get a gander at a toy they have only heard about. They had 950s personally so not much different except speed and dual sim. At any rate they took the micro sim from my 640 brought out an edge cutter and in one simple snip changed my micro to Nano. Then just slipped it in sim 1 et voilà! The rest of the transfer I did was all using OneDrive and the MSFT store. Simple and fast. Beautiful screen, not uncomfortably large like the 1520, fast as he'll, but... Back cover isn't snug and clicks a little when pushed. Mozo red leather cover under Christmas tree will solve that issue. I can't get the glance screen to respond to a double tap, only using a power button push will open.

How's Windows Hello workimg out for you? And is Windows 10 fast and fluent? Excited to get my Lumia 950 with free Nokia mini speaker and wireless charger when it comes out on December 1st! I'm also getting a Mozo case. I'm getting the cognac flip cover

There you have it. I am on a carrier that doesn't support any Windows Phone. When I moved, it was from a full-size Sim, to a Micro for my 920, to a Nano for my 930. I sliced the same card 2 times. Because it is only 3G and the network doesn't support regular 4G, I don't get the speeds, but there has never been an issue moving from one size to the next...Just sweating blood when that final snip was made. Interesting to hear the carrier didn't bother with giving you a new Nano, but rather took the cheap and seemingly dangerous way around.

Hey what about restoring WhatsApp on phones without memory card (925)?

@r2SN I lost all my WhatsApp data despite doing a full backup and restore. I did have my groups and contacts, but the group conversation was empty and saved pictures weren't copied. So I'll be manually copying my saved pictures over...

Just wish there was a way to permanently remove uninstalled and unwanted apps - or is there and I've missed it?

From your history? No, the history is simply a log of apps you installed.

Too bad I get an error when trying to backup my 920.

Right there with you on the 920 error, it refuses to complete without issue even when backups were deleted.

Funny thing I've decided to buy a Lumia 830 after trying out the 950. Just saw the phone being used is a Lumia 830. :)

And I have to be rooted to do anything close to this (which I am, and I do). But seriously what is Google thinking. This is much easier than any kind of cloud individual app backup thing that Android is now doing. IPhone and Windows phone have it. How can Android not. Posted via the Windows Central App for Android

I'm starting fresh. I always do that. I prefer to manually install all the apps that I want

George, do you backup photos manually? If not, aren't you afraid you're gonna lose all your photos if your SD card dies or you lose your phone?

I would prefer if it was like ios where you could select exactly what apps to back up. I certainly wouldn't need everything backed up. I haven't tried the apps and settings options yet because it includes passwords. I'd prefer an option that didn't include passwords. Alot of games don't give details of how your game progress is backed up. I still have pastry paradise on my phone despite there being no new levels in months and have no idea how to back up my progress if one day miraculously new levels are added.

If you go to AT&T watch them as they set up your phone. My guy never asked about my Microsoft ID. Just skipped over it. (He knew I was coming from a 1520.) So I had to reset my already working phone when I got home to restore my backup.

Will it automatically update my apps from 8.1 to 10 if available?

Yes app equivalents are found. Interesting note is that pinned web pages/links don't work and need to be redone using edge...

first I have to purchase the damn phone and its sold out literally every time I check. Went to the store to buy it and the guy says "you have to preorder it" WHAT DO YOU MEAN, YOU'RE A STORE. SELL IT TO ME.

Anyone have luck with their Favorites porting over?

Tip: If your backups aren't recent and/or aren't working when forcing a backup of your old phone, then delete the old backup and backup again from your old phone. I had to do this with my 920 and then restored to my 950. Using backup and restore saves so much time vs installing apps fresh, doing settings again, and rebuilding your start menu!

So I'm now confused... will restoring a backup on a new phone remove any pre-installed apps / offer apps / carrier settings etc?

Doing a restore does NOT remove apps, it only adds them. Every time I do a restore, I have to remove the apps I don't want

Ton of apps and games?? :))) Now this is a good one. Who said everyone with an older Lumia will buy a 950?? and not switch to another platform which is the best thing he/she could do.

Don't assume switching platform is the best thing for everybody. I'm developing for Windows and am not profit driven with my apps, and I prefer the workflow of Windows, and also like the lack of hassle that would otherwise be involved in getting the Windows workflow were I to get an iPhone or Android. Apps are also not the be all and end all for me. So for me, the 950 IS the best option.

The phone itself is ok, despite the simple design and the poor 3D performance as shown by many benchmarks. But the OS...is far from a stable one. I would say the worst designed OS ever. No precise UI template, hamburger menus mixed with the stadard 3 dot menu, People now is using the soooo wrong Circle design instead of squares as it should be: the entire start screen is square concept, why would some drunk man from MS decide to use circles instead for the People tile and app..I do not know. Again, the phone is fine,nice, but the OS makes it less desirable. And the price is too high. In Europe is over 600 EUR off contract which is not ok, at that price you can get something else with a better OS and ecosystem.

Still savegames and such wont carry over when saved on phone. Cloud saves only backup

Just got my 950XL. And ended up throwing away the Nokia Qi desktop (DT-901)charger and both Nokia Qi car kits (CR-200 and CR-201). Which genius at Microsoft decided it would be a great idea to put the antenna way up so that is no longer detected by the wireless chargers?

Any options for Windows Phone 7 (yes, really)? I have a WP8 device but it's only my muck-around phone... I still use my HD7 as my primary phone. The 950/950XL mark the FIRST time in the history of Windows Phone that I can actually buy a flagship (non-phablet) WITH microSD. The only reason I haven't bothered to buy a device until now... well, not "now" but "when the 950 is actually released in Australia"

Apps will always be linked to my account right? As in: if I get my Lumia 950 and choose not to restore a WP8.1 backup from my Lumia 930 the store will always display what apps I had installed previously and not on this phone, right? I heard that some people were experiencing hot running Lumia 950's and it was all solved after doing a clean install rather than a restore from the backup

what I want to know is if you're transferring from a L920 to a new phone with an sd card will what's installed on the L920 be auto-transferred to new phone that uses micro sd card knowing the L920 has everything installed internally as it doesn't use sd cards. will the process know what to install on phone's own storage and what to put on sd card?

Heh guys need some help here please. Trying to transfer stuff from the 920 to the 950XL mainly text messages and Whatsapp backup but can't seem to get it right. When backing up the 920 it always gets to around 98% and then says there was a problem backing up try again. Whatsapp backup is upto date but I don't know how to access the file to save it from the old device. I connected the 920 to the PC via cable but can't seem to get to any backups or anthing from there. Any help or suggestions greatly appreciated

For the first question:
If you migrate from a L920 to a L950 it will assume you want everything on the L950 itself as well. Then you can start configuring where you want to store stuff. For the second question: I think all backups are done online. For Whatsapp only the group chats will return on the new device. At least: I haven't been able to restore my individual conversations with people. The backup of the phone itself goes to OneDrive, so no need to connect it to the PC

Thanks for reply problem is I can't seem to save anything to the one drive on the 920 the app won't even open and when I do a backup it says error after 98% so I get stuck there. Problem with whatsapp is I didn't orignally delete it off the old phone and then installed in on the new phone so it took it as a fresh install with no history. I have managed to get it working on the old phone and all the history is there if I could just work out how to save the backup to my PC or something and then could transfer it to the new phone when installing whatsapp again. Any suggestions
Windows Central Newsletter
Thank you for signing up to Windows Central. You will receive a verification email shortly.
There was a problem. Please refresh the page and try again.