What Surface Book storage size should you get: 128GB vs. 256GB vs. 512GB vs. 1TB?
How much storage do I need in my Surface Book?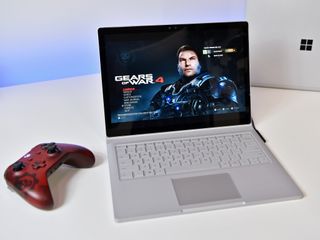 (Image credit: Windows Central)
The internal storage in Microsoft's Surface Book isn't designed to be upgraded after purchase, so choosing the right size when you buy is crucial. Don't do much other than browse the web? Save some money and go with 128GB. Looking at a device for multimedia editing? You'll want plenty of storage for your large files. If you're not quite sure where you stand, here's what to know when choosing storage for your Surface Book.
See at Microsoft Store (opens in new tab)
How much storage do you actually get in a Surface Book?
The set amount of storage in a solid-state drive isn't exactly what you get when you first turn on your Surface Book. Windows 10 and its drivers and apps take up a good chunk of space — a good first step on the way to figuring out how much space you need is to figure out how much space you actually get.
The Surface Book, both regular and Performance Base models, have varying amounts of actual storage based on the configuration.
Swipe to scroll horizontally
| Processor | SSD size | Available storage |
| --- | --- | --- |
| Core i5 | 128GB | 99GB |
| Core i5 | 256GB | 220GB |
| Core i7 | 256GB | 218GB |
| Core i7 | 512GB | 451GB |
| Core i7 | 1TB | ~920GB |
As you can see, a bigger solid-state drive means you'll lose more storage space, but you will still have more actual storage. Base your decision on the available storage, rather than the total storage when making your purchase.
Price in relation to storage space
The next factor you want to look at is how much of a price difference there is between storage sizes.
The standard Surface Book model with an Intel Core i5 processor, 8GB of RAM, and a 128GB solid-state drive costs about $1299. If you double your storage space to 256GB, you're looking at paying $400 more. Want to go for 512GB? You'll pay $700 more than the 128GB option.
If you jump up to a Core i7 processor, you can expect to see a $500 difference between a 512GB solid-state drive and a 1TB solid-state drive in both the regular Surface Book and the Surface Book with Performance Base.
This might seem like quite a price jump when you consider you can pick up a great solid-state drive with 500GB for about $170, but certain limitations — like physical size — raise prices.
How will you use your Surface Book?
How you will use your Surface Book plays a crucial role in how much storage space you need.
Who should get the 128GB option?
Anyone who plans on using their Surface Book for web browsing, video streaming, word processing, and other light computing tasks shouldn't have a problem with a 128GB configuration. Also, if you don't think you'll be very mobile with your device — i.e. you'll be working at a desk most of the time — you can plug in an external drive to store your non-essential files.
See at Microsoft Store (opens in new tab)
Who should get the 256GB and 512GB options?
The majority of people should consider the 256GB and 512GB options; you'll have enough room to hold the majority of photos, videos, and games you often need. Also, consider how long you'll keep your Surface Book in your arsenal. It will remain a great machine for quite some time to come, files add up over time, and you don't want to worry about waning space in its later years.
See at Microsoft Store (opens in new tab)
Who should get the 1TB option?
If you do a lot of multimedia editing or you're a professional who requires top hardware, you'll no doubt want a larger storage option for easy access to your expanding library of large files. For many people, spending upwards of $3300 on the Surface Book with Performance Base with a 1TB solid-state drive is out of the question when there are cheaper ways to expand your storage post-purchase.
See at Microsoft Store (opens in new tab)
How to increase storage space in your Surface Book
Maybe you've already purchased a Surface Book and find you underestimated the space you need, or maybe you'd like to save some money now on a configuration with a smaller solid-state drive. The Surface Book's internal storage isn't designed to be upgraded by the owner (the casing is glued shut and opening it will 100% void your warranty), but that doesn't mean you can't take some alternate routes to expand your available space.
For the stationary user, plugging in an external drive by USB is a good albeit slower option. You'll lose mobility of those files or just have to carry around an extra accessory, but if you're not going anywhere far it hardly matters.
Your Surface Book comes with 5GB of free OneDrive cloud storage, and you can always add more if you need it. You won't have to carry anything around with you, but your files will only be accessible when you have an internet connection. Grab 50GB of storage for about $2 a month, or get 1TB of storage and a subscription to Office 365 for about $7 a month.
Another neat solution — and probably the best solution — is going the microSD route. There are a few microSD adapters you can pick up that sit flush when inserted in the slot and give you decent speeds depending on the card you choose. For more info, check out our handy guide to adding cheap and easy microSD storage.
Right now the biggest SD card you can get is a 256GB SanDisk for around $140 (opens in new tab) — it's not as fast as an internal SSD, but it's far cheaper. The capacity of microSD cards increases with each passing year, so you'll be able to upgrade your Surface Book's storage again in the future with larger cards, or opt for a bigger size when prices come down.
Your Surface Book storage
How much storage space did you go with in your Surface Book? Did you try out the microSD option? Let us know in the comments section!
See at Microsoft Store (opens in new tab)
Senior Editor, Laptop Reviews
Cale Hunt is a Senior Editor at Windows Central. He focuses mainly on laptop reviews, news, and accessory coverage. He's been reviewing laptops and accessories full time since 2016, with hundreds of reviews published for Windows Central. He is an avid PC gamer and multi-platform user, and spends most of his time either tinkering with or writing about tech.
Thanks for this article. Looking for a article like this.

Yes, very nice article. Just wish I know that the average size art program and average size game takes space wise. Very nicely written.

Good article. Personally went 128GB with my Surface Pro because I just can't afford to throw all the extra money at more storage. Haven't run out of space, games and media take up the majority of a hard drive, and I don't play any large games on it and my media is all kept on a 1TB external so I can use it with any PC. Plenty of storage space for casual and tablet style use plus artwork.

I went with a 512 with my SB only because it is what it came with. What I needed was a 256, but the core i7 with 16GB RAM only came with 512 at the time. I have 200GB Micro SD always attached (sideways like yours to keep it from getting caught on something and destroying the slot or SD card). The SD is my preferred data storage (along with One Drive) since I am generally unable to tell the difference between its slow half of a blink of an eye operation and the quarter blink needed by the SSD. And by that you can surmise that I am not a graphics intensive gamer or graphics artist...but a plodding Office and on line surfer. And inveterate note taker.

Base Qi adapter makes it easy... I think I spent about $160 and got that with a 256GB Micro SD. Done and done.

Once they bring back placeholders my 256gb will be fine, but until then I have 95gb of music taking up a fair chunk of my drive, i have had to add a 128gb sd to accomodate.

Good point. Where the heck are our placeholders already?! They went silent on that a while back. I hope it comes in the creators update but they haven't said it was so I doubt it. It was so much better than the new implementation

I assume the increasing difference (as you look at bigger models) between drive size and available space is related to the amount of RAM? For example, more RAM means a bigger page file and hibernation cache. Or there something else eating up progressively more space as you get the bigger models?

Nice article.... I ended up getting the 512GB but not because I needed that much... I actually would have prefer a cheaper 256 option but they tie your hand when selecting ram. I needed 16GB for complex modeling and design tasks, so the 512 SSD was my cheaper choice Either way I'm extremely happy and the bigger SSD is apparently faster than the smaller options.

First let's save enough money to get one then we will think about our storage options 😂

I'm actively shopping now and I feel like the Surface Book's base storage option is a bit like the 16GB base iPhone 6 option. I feel like someone who could survive with just 128GB of storage for the life of their laptop probably shouldn't be buying a Surface Book, they clearly aren't professional/power users and should buy something cheaper. I share my laptop with my fiancee and between the 2 of us we have nearly filled up my current laptop's 500GB drive. Most of that space is used by 2 decent sized iTunes libraries and our sizable OneDrive accounts that are set to sync everything, notably my Office files from work and both our photo librariies and camera rolls. My main worry is that it'll be a hassle to constantly be monitoring my cloud stroage to keep from maxing out the 256GB option. I like to use the Cloud to sync all my content, I'd prefer not to have to default most of my stuff to cloud-only storage. There's no feature in OneDrive that would allow for some form of smart partial sync or auto-cleanup. Unfortunately the 512GB variant is unreasonably expensive. It's the main thing stopping me from buying. I have a feeling I may end up settling for a NAS solution that allows me to offload my iTunes libraries and push all my photos to a premium iCloud-based solution, but that's a lot more maintenance. We'll see.

So to be a true professionals/power users I need midsize iTunes libraries? Here is a hint, if a 500gb drive holds two user iTunes libraries, AND a One Drive folder AND photos plus more ok.Most serious, not even pro photographers far exceed that storage with just photos. Seems trendy these days to think of professionals as only working with audio/visual editing. Guess writers in all fields are just lowly hobbyist. Hey Daniel and the rest of you authors get a real job :)

I really wish they would put the i5/256gb/Nvidia back to $1,500 like it was black Friday week. I might return my spectre x360 back for it if they do before January 15th.

That Samsung microSD is currently selling for $120 via Wikibuy or $116 from an apparently reliable (ie 100% feedback on 600 purchases) dealer on eBay. I'll bet they'll be below $100 in 2017. But personally I'd put up with a 512gb SD. It doesn't stick out that far.

I wish i could afford the 1TB or 512 mb surface book. So expensive.
Windows Central Newsletter
Thank you for signing up to Windows Central. You will receive a verification email shortly.
There was a problem. Please refresh the page and try again.