How to prevent Windows 10 Insider builds from accidentally installing on your PC
When your PC is ready to install a Windows 10 Insider Preview that you don't want, use this trick to cancel the installation.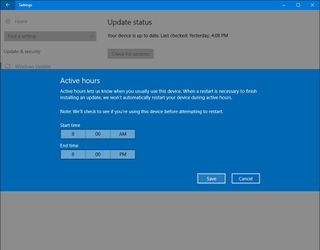 If you've been testing pre-releases of Windows 10, you're probably familiar with the Windows Insider Preview program. The program let you get early access to releases of the operating system to test new features and changes that will be part of a new major update.
The caveat using early versions of Windows 10 are potential bugs and problems running unstable code, as builds available through the Insider program are heavily under development.
Although many times Microsoft releases great Windows 10 previews with a lot of changes and features, other times (usually at the beginning of a new development) builds may include a lot of bugs and things not working correctly, which could make you think twice before installing them.
Of course, you can always change your Windows Insider Preview preferences to stop getting new flights. However, if you forget to change your settings, new versions of Windows 10, regardless of how stable they might be, will download automatically to your PC without an option to cancel the installation.
In this Windows 10 guide, we'll walk you through the steps to cancel an installation of a new Windows 10 Insider preview build after it downloaded to your computer.
How to prevent Insider builds from installing on your Windows 10 PC
If there is a new version of Windows 10 Insider preview available through the Fast ring, which it's known to be significantly buggy, and it's ready to install on your computer, you can use these instructions to stop the installation.
Important: Do not restart your computer while going through this process.
1. Change your Active Hours settings
To prevent the operating system from automatically restarting while you're making these changes, you want to change the Active Hours settings to postpone the restart as much as you can.
Open Settings.
Click on Update & security.
Click on Windows Update.
Click the Change active hours link.
Set the Start time and End time to postpone the restart the maximum period of time (12 hours).
Click Save.
2. Change your Windows Insider Preference
In the following steps, you'll change your Windows Insider Preview settings to opt out of the current branch and stop getting further builds.
Open Settings.
Click on Update & security.
Click on Windows Insider Program.
Lower your ring level to Slow or Release Preview (if available).
Quick Tip: If you change your settings while the build is downloading, it will also stop the download.
3. Remove the installation files from your computer
Although you changed your settings to stop getting new flights, you will notice that Windows Update will still show the preview as an update ready to install during the next restart.
Now what you need to do is to use the Disk Cleanup tool to delete the installation files correctly and quickly remove the update from list on Windows Update.
Use the Windows key + R keyboard shortcut to open the Run command.
Type cleanmgr and click OK to launch the Disk Cleanup tool.
Make sure you're selecting the drive C: and click OK.
Click the Clean up system files button.
Make sure you're selecting the drive C: and click OK.
Select the Temporary Windows installation files option.
Make sure to remove the checkmark for anything you don't want to delete.
Click OK.
Click Delete files.
Once you go through these instructions, wait several minutes, and go back to Windows Update, and you'll notice that as Windows 10 checks for new updates, the installation files for the new build downloaded to your computer will magically disappear from the list.
If there are available new cumulative updates, you can now go ahead and restart your computer to install them.
After preventing a new build from installing to your PC, if you're not planning to test new versions of Windows 10, make sure to unenroll your device from the program.
Did you ever have to install a new Windows 10 Insider Preview just because it automatically downloaded to your PC? Tell us in the comments below.
More Windows 10 resources
For more help articles, coverage, and answers on Windows 10, you can visit the following resources:
Windows 10 help, tips, and tricks
Windows Central Newsletter
Get the best of Windows Central in your inbox, every day!
Mauro Huculak is technical writer for WindowsCentral.com. His primary focus is to write comprehensive how-tos to help users get the most out of Windows 10 and its many related technologies. He has an IT background with professional certifications from Microsoft, Cisco, and CompTIA, and he's a recognized member of the Microsoft MVP community.
The better question would be: How to choose WHEN to download a new build. As much as I love being an insider, it annoys me when it forces me to download a new build every time a new one goes live. Good thing we can now 'pause' receiving updates up to 7days :)

But when it's ready to be installed, you will have only the option to delete downloaded installation files.

I'm using lumia 640XL windows 10. Update 10.0.14393.67 is available for my phone. But whenever I try to update an error pops out"There were some problems installing updates error code 0x80091007. P.S I upgraded to windows 10 using upgrade advisor. I didn't used windows insider. Can you help ?

Try the recovery tool. Make an update first!!

You can set the delay manually since the creators update.

Latest build has screwed start screen up for me. Can't reorganise live tiles in full screen view.

That gets fixed as you switch back and forth (between metro and desktop mode) a couple of times. Once fixed, it stays good.

back and forth from what? Full to windowed?

He said by toggling Tablet Mode on and off several times will set you back to its functioning state... seems odd though :/

Please be aware at this moment you can't enroll

Thanks for this... Helpful indeed

Hy I want to install PC on my Lumia 520

If you mean Win10 mobile on your Lumia 520, that is no longer possible. That branch of Win10 insider is gone, and the new branch won't install. That version that did install wasn't worth installing on a 520. Extreme lag.

Nokia Lumia 520 it's have PC or vlc?

No , no pc ,no vlc for Nokia Lumia 520....

Going back to 8 is the best option considering sorry state of AU.

I'm having OneDrive app getting corrupted after the last builds pre-AU. Is there any way to repair OneDrive app without refreshing/resetting my PC?

How can I get VLC for my Lumia 520

Do you have similar advice for Windows 10 mobile?

Quick tip for Mobile users since I had to do this just last night: I switched to the Fast Ring for a hot second because I wanted he Fast Ring version of some Store apps (Namely Camera), but to my horror it checked for updates and wanted to download the Fast Ring RS2 preview. There wasn't an option to cancel, but I didn't want to download this update. What to do? Set the date/time forward. I did it to 2116, but I'm sure a couple years will still do the trick. Restart your device, it'll automatically check for updates and get an error because the date isn't correct. Follow the steps for completely unenrolling your device from the Windows Insider Program, and it'll automatically restart. Upon restart, change back the date/time and check for updates and you should be all set. Of course, my instructions assume you haven't downloaded the pending update yet, and I'm not sure if you can clear it if it's already downloaded. But worth a shot!

Nice tip! I had a Fast Ring download that apparently started just before I unenrolled in the Insider program. The download was stuck at 99%, but wouldn't clear. Setting the date forward seems to have cleared it.

Doesn't this stop installs until date is caught up. Was used in past to fix install bug.

YesI think you'll have to do a complete reset if you want to update before 2116 after doing that..

Even if a build installs it literally takes 5 minutes to go back to the last build using the GO BACK TO A EARLIER BUILD button under recovery in settings. You have 10 days to do it and I was shocked how fast it is. Make sure you change your insider preference from fast to slow first but or it will just try to install it again as soon as it rolls back.

Quick questions: I used Windows Update Assistant to download and install Windows 10 Anniversary Update. It downloaded a ~3GB file on my harddisk. Can I safely delete the file now once that I am done with the update? And if yes, how should I do it? Will simply deleting the file to recycle bin and then permanently from there enough?

Has it installed yet? U can use "disk clean"

Thanks for replying. Yes, it is installed. Will disk clean remove that 3GB file too?

I'm using lumia 640XL windows 10. Update 10.0.14393.67 is available for my phone. But whenever I try to update an error pops out"There were some problems installing updates error code 0x80091007. P.S I upgraded to windows 10 using upgrade advisor. I didn't used windows insider.

If only I didn't have a missing DLL that prevents me from changing half of my settings... I'm hoping for a fix as I only rebuilt the computer 2 months ago

Brings me back to "do they test before pushing out", seems not. Hopefully not to many are affected.

Well, of COURSE they test before pushing out. I will bet this was an accidental push. I'll bet it was slotted for their internal ring but somehow ended up on the other rings, but before someone realized it they had pushed it out (thinking was now rolling internally).

And how do you do this on Windows 10 Mobile? :)

The first two methods apply to Windows 10 Mobile. Thanks,

change date your date by 7 days / pause update: Windows insider program stop insider preview build

Set the connection as metered. Doesn't that work anymore?