How to quickly determine memory slots available on motherboard on Windows 10
Planning to upgrade your PC's memory, but you don't know if there are any slots available? Here's a quick way to find out on Windows 10, no disassembly required.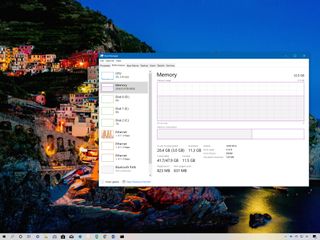 On Windows 10, when your computer starts getting slow due to memory demanding applications (such as Google Chrome, Photoshop, or Premiere Pro), understanding the number of RAM (Random Access Memory) slots available on the motherboard can help to determine whether you can simply add more memory sticks, or if you need to purchase a new memory kit with higher capacity to upgrade your system.
Although you can always open the computer case or check your documentation (or move things into a slick glass-panelled case), you can also confirm the total number of slots supported on your motherboard and how many of them are being used using Task Manager.
In this Windows 10 guide, we'll walk you through the steps to quickly find out if your computer has any available memory slots that you can use to add more RAM to your system.
How to check RAM slots available on Windows 10
To confirm the number of memory slots available on your computer or laptop, use these steps on Windows 10:
Open Start.
Search for Task Manager and click the top result to open the experience.Quick tip: There's not just one way to open Task Manager, you can access the experience in various ways. For example, through the Ctrl + Alt + Del keyboard shortcut, power user menu (Windows key + X keyboard shortcut ), and the Ctrl + Shift + ESC keyboard shortcut.
Click on the Performance tab.
Select the Memory section from the left pane.
See the Slots used section, at the bottom of the page, to confirm the number of slots available on your motherboard.
Once you complete the steps, you'll be able to determine if you can add more memory to your computer, or if you need to replace the memory kit with one with higher capacity per module to increase the available memory.
Mauro recommends all these affordable accessories
Hi, I'm Mauro Huculak, Windows Central's help and how-to guru. I wrote the post you're reading now, and I know the Windows OS inside and out. But I'm also a bit of a hardware geek. These are some of the affordable gadgets on my desk today.
Logitech MX Master Wireless Mouse (opens in new tab) ($72 at Amazon)
I know mice, and this is the one I use every day. The MX Master is a wireless high-precision mouse that's very comfortable to use and has many great features, including the ability to connect with multiple devices, an infinite scroll wheel, back and forward buttons, all of which you can customize.
Ktrio Extended Gaming Mouse Pad (opens in new tab) ($12 at Amazon)
If you spend a lot of time typing, your palms and mouse will leave tracks on your desk. My solution was to start using gaming mouse pads, which are big enough for you to use the keyboard and the mouse comfortably. This is the one I use and recommend.
Supernight LED light strip (opens in new tab) ($20 at Amazon)
You could just use a regular light bulb in your office, but if you want to add some ambient lighting with different colors, an RGB LED strip is the way to go. This one is Mauro-approved.
Windows Central Newsletter
Get the best of Windows Central in in your inbox, every day!
Mauro Huculak is technical writer for WindowsCentral.com. His primary focus is to write comprehensive how-tos to help users get the most out of Windows 10 and its many related technologies. He has an IT background with professional certifications from Microsoft, Cisco, and CompTIA, and he's a recognized member of the Microsoft MVP community.
Cool! Thanks for the tip!

@mauro - The headline on windowscentral.com/blog reads "Don't how many RAM slots are on your PC?"
rather than "Don't know how many RAM slots are on your PC?"

Doesn't work here, om 1903 and Lenovo Yoga 2 Pro.

here is a BATCH file that will give you number of slots, whats in each slot, and the speed of each memory module in each slot: just open a new txt file paste the following text and save it as MEMORY.BAT (be sure to select all files, when saving, so it doesn't save it as memory.bat.txt) (the pause command allows you to see the results before it closes the CMD window): ---------------------------------------------------------------------------------------------------- wmic MEMORYCHIP get BankLabel,DeviceLocator,Capacity,Speed
pause ---------------------------------------------------------------------------------------------------- Example Output (in my computer it shows 4294967296 for Capacity which is 4Gb in each slot): D:\pc fixes>wmic MEMORYCHIP get BankLabel,DeviceLocator,Capacity,Speed BankLabel Capacity DeviceLocator Speed
BANK 0 4294967296 ChannelA-DIMM0 1867
BANK 2 4294967296 ChannelB-DIMM0 1867 D:\pc fixes>pause
Press any key to continue . . .

"Open Start.
Search for Task Manager and click the top result to open the experience." "The Experience"? Task Manager is an experience? What does that even mean? BTW, you can also just right click the task bar and select Task Manager. Why in the world would you search for it? BTW2, this is not 100% reliable. The chipset may indeed support 8 slots, but a cheap MB may only actually have 4 physical slots. So "4 of 8 used" is technically correct but may not reflect reality.
Windows Central Newsletter
Thank you for signing up to Windows Central. You will receive a verification email shortly.
There was a problem. Please refresh the page and try again.