How to reactivate Windows 10 after a hardware change
Here's what you need to do to reactivate Windows 10 after a hardware change.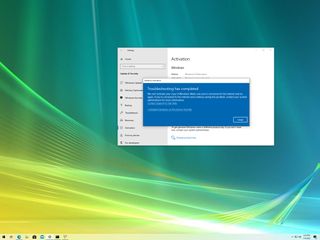 (Image credit: Windows Central)
If you make significant hardware changes to a computer, such as replacing the motherboard, processor, or main storage drive, Windows 10 is likely not going to recognize it as the same device, causing the setup to become deactivated (with error 0xC004F211).
In the past, if the setup lost its activation after upgrading or replacing some of the hardware, you had to contact Microsoft technical support directly to reactivate, which was a solution less than ideal since you needed to go through many steps and not many users knew about the option.
However, since the original release of Windows 10, the activation process has evolved, and now, you can associate the computer's digital license to your Microsoft account and then use the Activation Troubleshooter feature to reactivate after a hardware change or clean installation.
In this Windows 10 guide, we will walk you through the steps to use the "Activation Troubleshooter" feature to reactivate a device after a hardware change.
How to check activation before hardware change on Windows 10
To ensure reactivation happens successfully after a hardware change on Windows 10, use these steps:
Open Settings.
Click on Update & Security.
Click on Activation.
Under the "Windows" section, confirm Activation is set to Windows is activated with a digital license.
Under the "Add a Microsoft account" section, click the Add an account option.Quick note: If the Activation is set to Windows is activated with a digital license linked to your Microsoft account, then the product key is already linked to your Microsoft account. If this is the case, you can skip the steps and continue with the reactivation process below.
Confirm your Microsoft account credentials.
Click the Next button.
Confirm your account password.
Confirm your local account password.
Click the Next button.
Once you complete the steps, you should see the Windows is activated with a digital license linked to your Microsoft account message on the "Activation" settings page. You can now upgrade the device with the new hardware and then use the reactivation instructions below.
How to reactivate license after hardware change on Windows 10
To reactivate Windows 10 after a hardware change, use these steps:
Open Settings.
Click on Update & Security.
Click on Activation.
Under the "Windows" section, click the Troubleshoot option.
Click the I changed hardware on this device recently option.
Confirm your Microsoft account credentials.
Click the Sign-in button.
Select the device to activate with the new hardware.Quick tip: If the computer doesn't appear on the list, click the See other devices linked to your Microsoft account option, and then select the device.
Check the This is the device I'm using right now option.
Click the Activate button.
After you complete the steps, the Windows 10 installation will activate again even after the hardware change, and you can start using the device normally.
In the case that the activation doesn't work, you may need to purchase another product key to reactivate Windows 10. If this is your case, the best option is to obtain a Windows 10 Pro license to access all the features the system has to offer.
The Microsoft Flagship
(opens in new tab)
Microsoft's bread and butter

Windows 10 is still the most dynamic and stable version of the OS. Although Windows 11 is now available, you can still get a Windows 10 license, and then you can upgrade to the newest version for free whenever you are ready.
Other details
In case the computer does not appear in the "Reactivate Windows 10" list, there are a number of things that could be happening. For example, you are probably using the wrong Microsoft account that holds the activation information. However, if you have the correct account, you will need to troubleshoot the problem to find a solution.
Here are some of the possible problems:
Windows 10 was never activated on the computer.
The laptop doesn't have a genuine copy of Windows 10. In this case, you'll need to purchase a genuine copy of Windows 10

(opens in new tab)

to activate the setup.
You installed the incorrect edition that the license activates. For example, you ended installing Windows 10 Pro when the computer was originally running Windows 10 Home.
The computer you're activating doesn't match the device linked to the digital license.
You reached the activation limit. Although Microsoft doesn't specify the number of times you can reactivate, it's possible to reach it.
The computer is managed by your organization, in which case the reactivation feature won't be available. (Contact your system administrator to resolve the problem.)
If, after using the Activation Troubleshooter, you can't activate Windows 10, then the next step is to contact Microsoft customer support (opens in new tab) for assistance.
Since the initial release of Windows 10, Microsoft has been making many improvements, including changes to the activation process. However, there are still scenarios where you may run into activation problems, and this is when the troubleshooter can make things easier to help users upgrade their computer's hardware without hassle.
More Windows resources
For more helpful articles, coverage, and answers to common questions about Windows 10 and Windows 11, visit the following resources:
Windows 11 help, tips, and tricks
Mauro Huculak is technical writer for WindowsCentral.com. His primary focus is to write comprehensive how-tos to help users get the most out of Windows 10 and its many related technologies. He has an IT background with professional certifications from Microsoft, Cisco, and CompTIA, and he's a recognized member of the Microsoft MVP community.
I hope that this mean licenses now won't be lost at all. Previously only KEY changes were available. This mostly would fix the OEM computers that need to be a new windows when changing Drive or Motherboard.

I really like the wallpaper in the first image....link plz!!

Just in time for my new pc build. Only leaving the add and upgrading everything else, so this should come in handy. Much appreciated.

Hard disk change does not require reactivation, installed Win10 on several new SSD as HDD replacement, always activates without intervention. Only mobo or CPU change require reactivation. Do you know what is the number limit for reactivations due to hardware change?

I have win8 key with a max of 5 uses. I've been using more than that and it still works. Posted via the Windows Central App for Android

Maybe that's new. Just after official release last August, I replaced my HDD and I did have activation problems. I had to beg MS to activate it, and they were quite reluctant to do so without me being able to prove I bought the machine (which was self-built, so....). I think they have made the process better since then.

Especially if you use hdclone. Then you really don't have to worry about reactivation

I beg to differ. I lost a Windows 10 Pro license because the SSD failed a week after doing the upgrade and it wouldn't activate any longer. Microsoft support was completely useless and wouldn't reactivate my Windows 10 Pro even after being told it was because of the new SSD. And they also wouldn't accept the key I had which was a Windows 8.0 Pro upgrade key. All they said was you can't active with an Upgrade key. Which if course is complete crap since I used exactly that key a week before to upgrade.

I have switched disks frequently for failure and just for space and always works, never a single problem just for switching or changing a disk... also you could have gone to Win8/7 and do the free upgrade process again, which seems you just didn't want to do it. Many people have had hardware changes like motherboard and then when it gives license problems, they have installed, in another disk, Windows 8-7 and upgraded to 10 and when they switch to the normal disk they alwas use, where windows was failing activating it works again since it re-registers the hardware to that license... so sorry but it sounds like you all are lying, a hdd or sdd causing activation problems? yeah right, sooooooo believable​.

Great write up! And speaking of hardware changes, one time i added new ssd drive and do a clean install of windows 10 using media creation tool. I believe was asked for a key and i use my Windows 8 key. It was automatically activated after installation. Posted via the Windows Central App for Android

I have a legit Win8 license + box. I had it installed on a Macbook, licensed and everything (Win10). The Macbook failed and was replaced yesterday. I installed Win10 on it last night (bootcamp) and I cannot activate it. "No digital entitlement" and it's telling me the license is being used on a different machine. It is not. Tried the telephone activation and it fails. Talked to a person at Microsoft and they were grilling me "DID YOU CLEAN INSTALL??" Um, yeah, I'm not going to install ancient Win8...then they wiggle out of it by saying call back in 2 hrs because their "systems are down." Oh, ok. Guess I won't be able to use the product I leagally purchased because I'm being accused of trying to work around things by clean installing. It's a replacement machine. There isn't anything nefarious going on. If I can't get it to work, I'm out. Will just use OSX from now on. It's always fun getting treated like a criminal when you try to follow the law. Microsoft is begging people to move to Windows 10 and when (I) try to, I'm stonewalled by some license technicality. Sorry guys, my machine failed. No, I'm not going to re-buy your software when I've already done so.

Your MacBook was repaired or replaced?

Your MacBook was repaired or replaced?

Replaced. I'm done with this. Microsoft is acting like I'm a thief. Bye.

If it's replaced as in a new unit you can't just install 10 on that. It has to be on the same pc, per the license agreement, if you read it. So trying to install on another pc is theft. But if you want to be like that, bye!

That's a pretty flawed logic. So, that means every time your PC breaks, on top of paying to repair your PC, you have to give Microsoft 200 or so dollars for a new license? Yeah, I don't think that's even close to fair. Imagine if every time your Xbox broke, you would have to rebuy all those games you spent all that money on, would you be ok with that? I don't know about you, but I would be extremely pissed. I doubt what you're saying is correct though. As I recall, it's one PC per license...not really the "same" PC per se. **** happens, and I'm sure Microsoft knows that.

You just need to install the 8 and then update again as its a new machine. I know, PITA, but seriously takes few hours and youre done.

Cool breeze, I have installed Windows on multiple Macs and it's possible to get your activation back. Install Windows 10 on the new computer using the same key. Windows will show as unactivated for now. Now activate your Windows over phone. I think you need to type "slui 4" in Start to get the prompt. If the automated system fails to activate your Windows (and doesn't give you a verification code), speak with the customer service people and tell them this: You want to deactivate your old computer and activate this one. You wish to TRANSFER the Windows license from the old to the new computer and you no longer have the old one. They'll ask you to confirm if you really want that as that will deactivate your old computer. Tell them so. They'll then give you a verification code to activate the new one. :) Transferring Windows licenses is allowed by the EULA and perfectly legal. The reason Microsoft does this is to avoid a situation where people just buy one key and use it on multiple computers. Product keys become linked to your unique hardware IDs. Because of this, you *don't* have to buy a new key for replacements, just need to transfer it. This new mechanism coming with the anniversary update makes that easier by letting you select which computer to replace (if you signed in with a MSA on that) through the troubleshooter.

Yeah, I went through that process and they did ask a bunch of questions like you said. But they took control of my PC and added a different key through the cmd prompt. I was up and running within 5-10 minutes. You're right, they do make you feel like a criminal, though.

They never made me feel like that, they just ask if it was activated before and gave me a new key

With the latest win 10 from media creation tool you can do a clean install and use you Win 7 or 8 key.

The same thing im doing. No actication, no slui 4, no phone activation. Straight install. Posted via the Windows Central App for Android

You could also install Ubuntu with magnificent software for FREE, and not pay the greedier corporate overlords (e.g. Apple). What does it take for people to take free software seriously...

It's sounds a bit easier, yet still very complex. The most realistic scenario I would like to see in a video demo is how to troubleshoot when changing a new ssd harddrive on an oem device. The limit on how many times you can reactivate is a scary troubleshoot limit that will put many of to try it. Because in reality many things won't go smooth the first time you try this on something new. Not saying I need 10 tries to get the hang of it. The article doesn't state what the reactivation limit is. But if it's limited 3 three times, that's cutting it real close and not workable. How do you get your account on a device when putting in a new ssd and installing windows 10 from a new fresh iso (not a clone copy, but fresh install from a stick or dvd)?

Do not see an option to add an account. Mime says already activated and nothing about a digital license. I guess it only shows up if you're logged into a local account.

Read the article and you will see it says it only shows on unactivated machines

Mine says nothing about a digital license. It just says Windows is activated.

Digital license = free upgrade = message. Retail or OEM license = Windows is activated = no massage Thanks,

I'm on a free upgrade from 8 and I do not have it. This machine has nevernhad an OEM or retail license on it.

Are you sure? Is there any way to verify that the license got linked to Microsoft account before purchasing a new motherboard? Shall I try it on Virtualbox? As long as I do not click "activate", the activation count should not increase, right?

In my experience, I was only able to activate my key on 2 separate PCs. Albeit, one at a time, not running simultaneously. On the third one, I had to call in. And I imagine since they changed my key and I don't know it, I will have to call in again once my new one arrives. So, having it linked to my account is a good thing and also a hella a lot less hassle.

@Mauro Huculak ; You've got the best and most useful articles/guides!! Thank You very much for that!!

Thanks, very good information. Planning on changing a motherboard in the near future and this will be very helpful.

I am glad they are making hardware changes a lot easier...I plan on making changes myself pretty soon. I had been dreading it but now, it seems to be a lot easier to reactivate Windows 10 on an upgraded PC.

There's a limit Windows can be reactivated....what's the limit bro?

One of the main reasons I visit this site is to read what Mauro is up to. Thanks for this installment. I can't say I've ever seen you respond in any of your threads but if you have any ideas how I can get my PC to install the latest version of the TP, that would be great.It won't install 14366. No errors but it only downloads but never installs.


Here are few things you can do. Make sure you're not connected using a metered connection. On Control Panel > All Control Panel Items > Troubleshooting use the "Fix problems with Windows Update" Remember that the roll out is progressive, meaning that no everyone gets new builds at the same time. So, you want to check for updates periodically. Personally, I have one PC that gets new builds immediately, and another that can take days to get the new update. Thanks,

I have the issue resolved Mauro. As it turns out, my computer did not have enough disk space to update with the latest build. The error messages never pointed to disk space. It wasn't until I used Rufus on a thumb drive to install directly when I realized, maybe I don't have enough space. So grabbing my external, I freed up tons of space and then clicked for an update. A few minutes later, I got the indication that I should reboot. Long story shout, I'm up on 14376.
Moral of the story, Microsoft should be forthcoming when there isn't quite the space to install. I know these are test builds but we are close to the anniversary build and it should be in there. Thanks for the assist Mauro.


Oh so appreciated! I'm upgrading my computer soon and this is exactly what I needed to hear

This will help when I change my pc. I have a Windows 10 Pro retail license (upgrade from Windows 7 Ultimate). Posted via the Windows Central App for Android

Hello and thank you for the guide! I have an issue at step 4 with linking my account. I don't actually have that option available to me. Here's what my screen looks like. Is there a way to get your method to work? Thank you for any help you can provide. http://imgur.com/oChZhff

You're not running the Anniversary Update. The article explains everything you need to know in details for your scenario. Thanks,

Thank you for the response. I'm a part of the Insider program, but for some reason I haven't been presented with the update. I'm on the fast band and have been refreshing the update button but still nothing. Any suggetions for that?

Hmmm. Can I reactivate Win10 x86 up to Win10 x64 if I will change hardware?

Absolutely, because you never have to pay to upgrade from x86 to x64. Thanks,

If I do a clean install because of a fully upgraded system, how do I gain access to my digital license to transfer over? Scenario: I purchased a Windows 7 OEM disc. Installed it on current hard drive, motherboard, and cpu. Windows 7 gets updated to Win 8, 8.1, and now 10. I want all new hardware. How do I gain access to a Windows os once the new hardware is installed to even activate/transfer over? The old Win 7 disc? I'll only have the bios available, correct?

Same scenario as me roughly,I didnt upgrade my hard drive-I had done that a while ago,so I used that same drive in my new build,fired it up (with win 10 on),Straight into win 10,no driver issues-at all/no boot up win error messages etc.Very impressive performance and driver detection from win 10,but my system wasnt activated anymore,cue some hours persuading ms to reactivate my legit copy of win 10,such fun.......

Did you buy the same chipset mobo?