How to reclaim space after getting the Windows 10 Fall Creators Update
If you're running low on space after getting the Windows 10 Fall Creators Update, use this guide to delete the previous version to reclaim storage.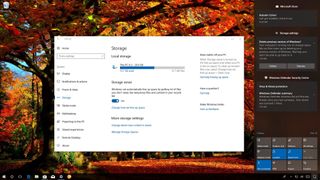 During the installation of the Fall Creators Update, Windows 10 makes a backup of the current setup that can be used to restore the previous configuration in case of problems during and after the upgrade.
The only caveat is that even after the Windows 10 Fall Creators Update was successfully installed, and it's working without a glitch, the copy of the previous version stored in the Windows.old folder is still around on your drive — wasting gigabytes of space that can be used by more important files.
Although this might not be an issue for devices with large hard drives, if you have a laptop or tablet with limited storage, you can reclaim that storage space (and more).
In this Windows 10 guide, we'll walk you through three different ways to delete the previous installation saved on your computer after upgrading to the Fall Creators Update to free up storage space.
How to free up space using Storage sense
The quickest way to free up space on your device after installing the Windows 10 Fall Creators Update is to use the Storage sense option.
Open Settings.
Click on System.
Click on Storage.
Under "Storage sense," click the Change how we free up space link.
Under "Free up space now," check the Delete previous version of Windows option.
Click the Clean now button.
After completing the steps, Windows 10 will delete the backup files from the previous installation, including any other temporary files options you may have checked, such as temporary files from apps, files that have been in the recycle bin for over 30 days, and files that haven't changed in the last month in the Downloads folder.
How to free up space using Temporary files
Alternatively, the Storage page in the Settings app allows you to delete the previous version of Windows using the Temporary files settings.
Open Settings.
Click on System.
Click on Storage.
Under "Local storage," click your device main drive labeled "This PC."
Click on Temporary Files.
Check the Previous version of Windows option.
Click the Remove files button.
Once you've completed the steps, the previous installation files will be deleted from your device, reclaiming several gigabytes to store more important files.
In addition to deleting the previous version backup, you can also choose to remove a number of other junk files to free up space, including temporary files from apps, Downloads folder, and those files in the recycle bin.
How to free up space using Disk Cleanup
In addition to using the Settings app, you can use the Disk Cleanup tool to remove the previous installation backup files.
Open File Explorer.
Click on This PC from the left pane.
Right-click the Local Disk (C:) drive, and select Properties.
Click the Disk Cleanup button.
Click the Clean up system files button.
Check the Previous Windows installation(s) option.
Click OK.
After completing the steps, the Disk Cleanup tool will properly get rid of the Windows.old folder containing the previous installation.
While in Disk Cleanup, it's also a good idea to select other unnecessary files wasting space on your device, such as Windows Defender Antivirus, Windows upgrade log files, Downloaded Program Files, Temporary Internet Files, System created Windows Error Reporting files and others.
Wrapping things up
While there are multiple ways to delete the old Windows 10 installation to free up storage space on your computer, bare in mind that these files are required to rollback in case the new version is not working correctly.
After freeing up disk space using any of these methods the option to go back to an earlier build will no longer be available in the Settings app recovery options. You should only consider getting rid of these files if your device is running low of space and you're not experiencing any issues after installing the Fall Creators Update.
If you delete the previous version, the only way to rollback is to do a clean installation of Windows 10. However, if you don't delete these files manually, the system eventually will delete them automatically after ten days of the upgrade.
More Windows 10 resources
For more helpful articles, coverage, and answers to common questions about Windows 10, visit the following resources:
Windows 10 help, tips, and tricks
Windows Central Newsletter
Get the best of Windows Central in in your inbox, every day!
Mauro Huculak is technical writer for WindowsCentral.com. His primary focus is to write comprehensive how-tos to help users get the most out of Windows 10 and its many related technologies. He has an IT background with professional certifications from Microsoft, Cisco, and CompTIA, and he's a recognized member of the Microsoft MVP community.
All of the Disk cleanup options should be moved to the storage sense settings, maybe in a future build

thanks for the information, I was able to free up a LOT of space on my old poor laptop that was stressed
thanks again john

I absolutely like these features 👍

The ability to roll back to a previous version is a feature. How that feature is accessed (from multiple places) is, at best, a usability bug. The fact that Windows installations become littered with garbage so quickly, much of which these mechanisms also can't clean away properly, is a shameful OS design flaw. The feature is necessary, but everything else would not exist if the OS was properly designed and/or not in a state of transition.

I feel like the option to NOT have the Windows.old folder should be there for those who want it. On a small SSD, it really makes using the Insider Program tough. Keep it hidden from regular people. But if your confident, use it. Out of the many installs I have performed, I've never experienced a need to rollback, so I think the option should be there.

OneDrive Files On-Demand may be worth mentioning too. Once enabled, just right click on any folders you want to have available on-demand, and select "Free Up Space." For someone with a lot of files up in OneDrive, the space savings on that one could be huge. This might even save me money on my next Surface upgrade if I don't need to purchase the top tier just for the additional storage space.

Useful brain nudge. I just installed a 1T harddrive and whilest I'm not really hurting for space at this time it's always good to have those things we sometimes forget about brought to our attention again.
Windows Central Newsletter
Thank you for signing up to Windows Central. You will receive a verification email shortly.
There was a problem. Please refresh the page and try again.