How to recycle your old inkjet and toner cartridges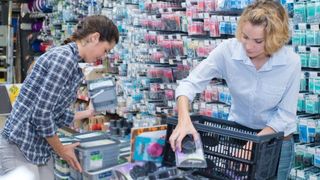 Spent inkjet and toner cartridges tend to pile up fast, especially if you print a lot. You have probably refilled and reused your Inkjet and toner cartridges enough times, and they are due for disposal. It's great that you chose to recycle instead of tossing them into your regular trash. Recycling used cartridges sustains a safe environment by reducing wastes that end up in landfills, and the need for incineration. Besides, you can make an extra buck while at it. Below are some eco-friendly recycling options you can consider.
Genuine ink and toner cartridges
In-store recycling
The most convenient place to recycle is where you buy! A good number of ink and toner cartridge manufacturers have official recycling programs. They have partnerships with major big-box retailers and select local office supply stores. Each of these stores has set up cartridge recycling containers or recycling stations that accept spent ink and toner cartridges.
Depending on the store policy, there could be an incentive for turning in your used cartridges. Next time you head out to grab new cartridges, remember to carry spent ones for recycling. Alternatively, you can ready your spent cartridges for pick up when your local supplier makes new deliveries. Since not all stores accept all types of cartridges, contact the store for more details.
Make use of online recycling programs and facilities
Recycling can be a complicated process, but many ink and toner cartridge manufacturers have simplified the process. As part of their Corporate Social Responsibility, manufacturers have set up online recycling programs. A few clicks on several cartridge manufacturing websites, you will find recycling programs.
These programs include, but are not limited to the HP Partners Program, Epsons Ink Recycling and Canon Cartridge Recycling Program. You can return your spent cartridge to the nearest drop off locations as indicated on their websites. Still, you can request a prepaid return envelope and post the used cartridge. The manufactures bear the cost of transportation.
The other eco-friendly cartridge online recycling program is using Earth911.com. You go to the website, pick the material you wish to recycle, enter your Zip Code, and a list of recycling centers around you will pop up. Pick the most convenient drop off location, and you are good to go. Additionally, you can use the website to dispose of other recyclable items in your home or office safely.
Use designated recycling bins
If you are on energy saving mode, or the forementioned recycling programs don't fit into your busy schedule, make use of recycling bins. Besides regular trash cans, most streets, schools, offices, or even homes have a recycling bin. The bins are positioned next to primary trash bins for convenience. For added visual clarity, the recycling cans come in different colors, and will mostly spot the universal recycling logo or symbol. Depending on the number of recycling bins and recycling rules at home, school, or office, you may be required to separate the recyclable waste. Such that metal, plastic, paper, glass et cetera, go into different bins.
How to recycle and get paid
Select Online and offline stores give incentives for each empty or used cartridges you turn in. Big box retailers like Walmart, Best Buy, Staples, OfficeMax, and Office Depot, have partnered with cartridge manufacturers to collect used cartridges for recycling. Here is a guide on how to make the most.
Contact your nearest bix box retailer or office supply store to find out the used ink and toner cartridge they accept, how often you can recycle, and the incentive for each spent cartridge you turn in.
Register for the store's reward program. To qualify for such incentives from spent cartridges, most stores will require you to be a registered member of their customer reward program. Other stores will need you to spend a certain amount of money at their stores or be a periodic shopper. See where you fit.
Collect the acceptable number of spent ink and toner cartridges and arrange for delivery to the store. Depending on the store's payment policy, you will receive your bucks or in-store credits.
In-store recycling and rewards programs require you to go to the store in person. If that doesn't work for you, you can opt for websites that buy back spent cartridges. Here is how to do it.
Conduct a quick online search of websites that buy back spent cartridges. A website like Dazz Cycle is a good pick.
From the homepage, tap on accepted empty cartridges and values. You will have a drop down menu showing the brand, condition, and quantity of used cartridges they buyback, togethor with the price of each used cartridge.
Confirm whether the site has a drop off location near you. If not, go through the mailing/shipping instructions. You can ask for pre-paid shipping or mailing packaging. Most websites cover transportation cost.
Collect the spent cartridges ready for recycling, package them safely, address, and send.
Once you send your package, payment is made according to the payment policy.
Packaging cartridges for safe shipment
The spent ink and toner cartridges must reach the recipient in good condition. Poorly packaged or damaged cartridges can attract a fee. Below are safe packaging guidelines for spent ink cartridges.
Put back each used cartridges in their original boxes. If you lost the box, secure each cartridge with a bubble bag, a newspaper, or a ziplock bag. This is to avoid spillage or leakage. Snug each wrapped cartridge into a bigger shipping box, without leaving space for the cartridges to bounce back and forth during shipping.
To avoid extra charges, don't exceed the required number of empty cartridges, and the total weight of each shipping box. Double-check the requirements set out by the recycling company.
When shipping ink and toner cartridges in the same mailing box, package the ink cartridges in a separate smaller box. Since toner cartridges are heavier, they should go in first, followed by the smaller ink cartridge box.
Secure the shipping box with tape.
Today, ink and toner cartridge manufacturers have made the recycling process less complicated. The more the demand for ink and toner cartridges, the more recycling becomes essential. Find an option that is convenient for you and make it a routine-Reduce, Reuse, Recycle!
Our top genuine cartridges
HP offers a wide range of ink cartridges. The HP 62 Black & Tri-color ink cartridge is a two-pack ink cartridge; Black and tri-color. It is engineered to create impressive text and image prints.
Genuine ink cartridge
HP 62 Black & Tri-color Ink Cartridges
Quality and consistency

The cartridge comes in black and tri-color. It creates quality and lasting text and image prints, especially when used with compatible HP printer models and the right paper.
The Genuine Brother TN-450 Toner cartridge is a high yield toner. Pairing it with compatible Brother printers, you cannot go wrong.
Genuine toner cartridge
Genuine Brother TN-450 Toner cartridge
A reliable big brother

This is a high yield toner replacement for compatible Brother printers. You get an average of 2,600 worth of printed pages. A reliable brother!
Get the Windows Central Newsletter
All the latest news, reviews, and guides for Windows and Xbox diehards.
is an avid Tech Writer. If she is not reading, she is reviewing or testing new technology. She also probably tweets way too much.