How to send someone directions using Maps on Windows 10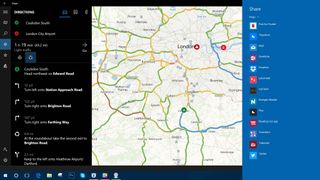 The Maps app on Windows 10 is a pretty handy thing to have around. Long gone are the days where you'd have to crack open a web browser to use a routing service. The Maps app is also great for quickly sending other people directions, to.
And it's really easy to do. Here's a quick beginners guide to show you what you need to know.
1. Open the "Maps" application on your PC or tablet.
2. Click on "Directions in the left hand pane.
3. Do the route planning based on your start and end points first.
4. Once you have your route, beneath the estimated time you'll see the regular Windows 10 share icon (three small circles connected by lines).
5. Click on "Share."
6. The Windows 10 Share pane will open on the right hand side. Choose your desired method, such as email.
This method allows you to use the Mail app, social apps like Twitter or even OneNote to share directions with other people. They'll not need the Maps app to use them as they'll get a full digital printout to read and hopefully navigate from!
For more Windows 10 tips be sure to drop by our dedicated page here
Windows Central Newsletter
Get the best of Windows Central in your inbox, every day!
Managing Editor - Tech, Reviews
Richard Devine is a Managing Editor at Windows Central with over a decade of experience. A former Project Manager and long-term tech addict, he joined Mobile Nations in 2011 and has been found on Android Central and iMore as well as Windows Central. Currently, you'll find him steering the site's coverage of all manner of PC hardware and reviews. Find him on Mastodon at mstdn.social/@richdevine
Should be an easy way to share location in an mms just like you can in Skype or fb messenger.

It is. Click the paper clip in a text/mms message and choose "my location"

Sweet, thanks for the tip.

Can this be done via phone?

There is the option to share in WP 10, but it doesn't appear to work right now. At least on my 635.

Yes you can. Once you map out your directions, click share and you can share it through different apps, also messaging.

I just did and, until SMS becomes available, I think the most likely way I'd want to share would be via email. And I use the desktop Outlook for my email. But that doesn't show up on the sharing pane. Is there a way to get it there?

Doing full map or step-by-step directions just isn't something that's feasible over SMS. At a minimum, it would require MMS. Best to use Skype, email, OneNote, etc. for sharing full mapped with people. When sending to someone's phone, the only thing that is really needed is to share a location, which can be done in text messages now with the paper clip icon. The other person's phone can do the directions when given a location as a destination.

Right, but that's not what this article is addressing.

I wasn't addressing the article directly. I was addressing the commentor who stated they wanted the share feature available for SMS. Go figure.

I would expect to share just a URL.

It shows outlook mail for me, when it works. And when you select that, it asks which account to send it from.

Outlook -- the real program -- or just the store email app that has been rebranded "Outlook" for the sake of confusion?

Gpsgate/wmdc still work? Have been using this to send my se x1a's gps data to connected laptop

WOW! It really is easy to share directions and maps with others. Now I wonder if Navmii also supports this

I'm not on Windows 10, yet. I have a question. The share panel can use Win32 programs? If a share a direction to some people, they will open it on maps app from Windows 10 or web browser?

Win32/x86 programs, to my knowledge, cannot access the universal application sharing API. That is exclusive to Universal/Windows Apps that you download for the Windows Store, amongst many other APIs introduced with Windows 8 and Windows 10.

Thanks, but I think the browser experience is better... We don't have Universal Messenger Apps: Telegram, Facebook Messenger, even Skype MS told us to use the desktop version. The Map app is good and cool, but I can't even generate a url to share :(

When you share the results, it creates a text version of the directions, along with snapshots of the map. In addition, it provides links to both the Windows 10 Map, and the web version of Bing Maps pre-populated with your route and directions -- so all your bases are covered.

As i se, you can only share through apps like Mail, Facebook etc. I cant see option for other programs

Didnt know about the sharing feature, thats pretty new. But, the new Bing maps(beta) in the browser is better than the maps app. And why open another app when the chances are you already have a browser open. If you were talking about google maps, then yes, that was turned into a bug filled pile of crap after the last update, but the new Bing maps is superb.

The app has at least one extra feature which is offline mode. It can download maps so you don't need a connection.

Not everyone keeps their browser open all the time. And for tablets, (not everyone owns a PC), tapping on the Maps tile and pulling up directions is much faster than navigating to Bing Maps in a browser. The experience of the Maps app in Windows 10 is also a better experience on a touch screen device, such as my Laptop. Even if I have my browser open on my laptop, it's easier to hit WinKey+Q, type "maps" and hit enter than it is to go through my long list of favorites in my browser. For people that have 100+ favorites, it's just easier to open the app. Or use "Hey, Cortana! Open Maps."

With the maps app, I usually do a search on my laptop, once I favourite a location, it get sync directly to the phone. It is a very useful feature for me.

Yes Google maps is horrible. Zooming in moves the focus a few thousand kilometers west. And slow as Nandela's W10 Mobile development.

I wish it was a Messenger app or SMS on Windows 10. My friends and I usually use one of those. Then I would actually use the ' share' function.

Coming in the October update, wasn't ready for prime time during the Windows 10 launch. If all goes to plan: It will gives us Continuity-like features, such as using your laptop/tablet to send and receive text messages via your phone.

It know, but Messenger is still not present. It wouldn't be a problem if it were possible to send directly to friends or chat groups with the Facebook app.

You can do that on win10 mobile.

Neat feature! Confirmed working on Windows 10 Mobile build 10512!

I like here maps more than the new app :/

The new app is powered by Here Maps. Go look in the settings ;-)

Oh, I thought "Maps" on Windows 10 is powered by Bing.

Bing maps is also powered by Here. Microsoft doesn't do their own mapping.

The only Cartography they do is for halo;)

Now, if you could actually find anything with the Maps app... Right now, it is a complete and utter disaster. On Google Maps you can search for a place (a school, restaurant, museum - you name it) and it will usually get you right there. On Microsoft Maps - no chance! It is a bad joke. If one thing could drive me from Windows 10 Mobile, it is the lack of a functioning mapping app. Because this is borderline useless without search. Quick example. Navigate to a close-up map of the centre of Copenhagen, Denmark. Now, search for "restaurant". What do you expect? Google Maps shows nearby restaurants on the maps - exactly what I wanted. Microsoft Maps - it takes me a city called "Restaurant" in South Africa!

Oh if I do that and then check for eating places in the neighbourhood of Copenhagen I get a boat load of restaurants listed ... in the upper north of Germany!

Try this. Type in your address in down town Copenhagen, then click the nearby restaurants button. It will show all restaurants near the given address. It was useful for when I was looking for food near my new job.

Lol yo we don't have a city by that name

Nearby restaurants works for me here in India thru Bing maps. But still Bing maps needs to be improved continuously. As everytime there are changes in info of collecting mapping data.

It would be nice to be able to send this to the phone seamlessly

This should definitely be a feature, but unfortunately Microsoft's answer to this is just having your recent searches sync across phone & desktop so you can quickly search for the same place (demoed multiple times at W10 events). That's not the same, you should be able to 'push' directions either way and have the maps app open with directions and voice nav ready to go.

Imagine if we can share a party location with bt (windows phone does have bt support.. Right)

Windows Phone supports bluetooth, I dont know if you can share a location with BT, but you can text it

I just did a test on the WP10 app - you can share with NFC, but not BT.

Best map service ever. I never used Google maps again.

Really for directions and offline stuff I have been using Bing and here for sure. But it needs to improve with small scale info. Like to find a shop in a remote area etc. They have improved Bing maps to a good extent but still needs more improvement. Minor places data is where google maps works great. And to be there Microsoft has to work faster. The deal where they sold their assets to uber might be good from business point of view where mapping can can actually help a consumer. Honestly in India everyone doesn't use google maps or any maps for getting directions. If Microsoft uber deal can change the way maps could come in use then I find the deal great otherwise non beneficial for Microsoft.

No idea if I'll ever really use this, but I think it's awesome and I might just randomly send some directions ot people just for the hell of it lol.

It's useful when you are in one place and you want to invite your friends and you are having hard time explaining how to get there.

My maps are showing the wrong location. I've tried to correct it, but it continues to show the wrong location.

This article gives me an idea.Since microsoft does promote having full input modality support for windows 10 devices, what I would really like to see is the option to draw a route direction in the maps app with the stylus on a surface or windows tablet device. This way I could naturally and quickly draw out new routes that would deviate from the recommended directions provided by the microsft directions algorhythm. I think that would be a very powerful, productive and useful feature, not only for me, but also for so many other people and other businesses. https://windows.uservoice.com/forums/265757-windows-feature-suggestions/suggestions/7076108-update-maps-app-for-windows-10-to-give-you-multipl

Love this feature with Windows Phones! Maps on Windows 10 desktop also synchronizes searches and favorites to your Windows 10 phones as well and make sure before sharing that you have used your default mail app and/or OneNote at least once.
It's funny you show London, because when we were on there vacation our vehicles got separated we just texted the directions which allowed the others to quickly find us.

I have the entire map of California downloaded into my phone, how come it still uses hella data when I use directions for getting around town?

you have to set it to use offline maps only.

I've been asking for skype to shownup in the list of share option forever.when will they listen.

Too bad you can't share a location.

on you phone, select text message, click on paper clip and say share your location. Availble on 8.1 and did not knew that till today. Thanks to kindarvitsend

The new Maps application on Windows 10 is really well done ! It's beautifull ! However, there are 4 functionalities I would like to see in future versions of this app : - Share the location of one point of the map (address + GPS coordinates). - Make the possibility to choose from alternative directions (there is more than one way to go from point A to point B!) - When I choose a direction from point A to point B, give me the possibility to add other points in between (C, D,...) - It's very nice to be able to download the maps of regions/countries for offline travel. But I hope Microsoft will make this easier. For example, give me the option to download all the maps corresponding to the travel between my point A and my destination B. Now, I have to identify which regions I plan to cross during my travel, and then I have to download them one by one.