How to set up Microsoft Teams for personal life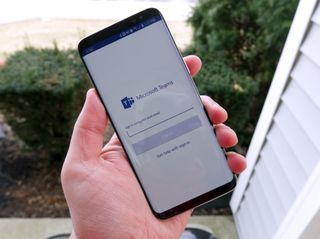 (Image credit: Windows Central)
Microsoft recently started rolling out Teams for personal life in preview. Rather than a separate app, Teams for personal life is what appears when you sign into Teams with your personal Microsoft account on a supported device.
Teams for personal life has a more conversational chat view, a dashboard to easily coordinate information with your friends and family, and a shared calendar to coordinate plans. It works with your own personal OneDrive storage and is designed to be a hub for all of your communication in your personal life. It's in preview now and is only available on iOS and Android.
How to set up Microsoft Teams for personal life
Download Microsoft Teams

(opens in new tab)

or see mobile app links below.
Enter a personal Microsoft account to sign in with. If you've already logged into a Microsoft account on your device, that account may show up automatically.
Enter your password and select sign in.
Perform two-factor authentication if prompted.
Choose the name you'd like to use for Teams.
Select Continue.
You can choose to sync your contacts if you'd like
You're now set up to use the personal version of Microsoft Teams. It has a lot in common with the free and paid version of Teams designed for businesses, but it will take some time to get used to the differences that it does feature. For example, chatting within the personal version acts more like text messaging than the threads you'll see in the other versions of Teams.
Microsoft Teams for personal life is currently free. Microsoft has an FAQ section (opens in new tab) that breaks down Teams for personal life. In response to the question "Do I need a Microsoft 365 subscription to use the new features in Teams?" the page states "At this time, a Microsoft 365 subscription isn't required to use the new features in Teams" (emphasis added). Microsoft's phrasing implies that in the future these features could require a paid subscription. For now, you can enjoy all of its features without needing a paid subscription.
News Writer and apps editor
Sean Endicott brings nearly a decade of experience covering Microsoft and Windows news to Windows Central. He joined our team in 2017 as an app reviewer and now heads up our day-to-day news coverage. If you have a news tip or an app to review, hit him up at sean.endicott@futurenet.com (opens in new tab).
We use Teams for free and it works great, can recommend it.

It's a great app and..... You need to point out an important detail.... Microsoft tells me that Team Personal Life behaves differently depending on if you are using it as part of your work account or a stand alone (never had a Teams Work account) personal account. Namely, with a stand alone personal account, you can not chat and call with regular Skype users. With Teams Work (with a personal life account) you can chat and call regular Skype users. That's a big distinction for people who never used Teams for work. And yes, I understand Teams is enterprise software, really good and popular enterprise software, and that Microsoft is trying to keep their enterprise users in the Microsoft environment at home. That's their priority. I get it. Actually thinks it's a good idea. But for now, unless you can get all your freinds to switch to Teams from regular Skype, which is unlikely, then we we have to wait for the full interoperability of Teams (personal account).

You hit the nail on the head, well kind of in that getting other people to use it may be difficult, no matter how good it is, whatsapp is the one people go to these days and yes I know maybe you can do more with Teams, but the majority of people just want something to message and maybe send the odd photo and i presume Whats apps does that fine, not that I have ever used it. I am using Discord now for video chats, it is flipping great, a bit of a pain to set up, but works really well once it is. I have no reason to use Teams and a lot of people who I chat to have no idea what it is and most people will be the same unless they follow tech sites or use it at work.

I will add that complete interoperability between Teams and Skype will cannibalize Skype. As others have pointed out, the end game for Skype is in question. My guess is one day, in years probably, Microsoft will end Skype in favor of Teams Consumer (Personal Life, or whatever it's called. Skype is a damaged brand and Teams in strong.

I used to use Skype, but under MS the software got worse and so did the quality of the calls, I stopped using it a few weeks back when the last person I used to talk on it decided to try Discord and i have now got over people on Discord. I have said to other people about teams, but no one seems to be interested and also a couple of people I chat to use linux and as far as i know Teams is not on Linux. Skype is a damaged brand, but that is because MS made it so, the thing with skype is that it does a couple of things and it used to it well and all some people want is video or voice calling, maybe send the odd file across.
I don't know what the consumer version of Teams is going to over people that you can not get from other services, like whatsapp and even Facebook Messenger.

WhatsApp is annoying for more productive things (eg hobbyist projects with others) since it cannot run work so well on laptops etc and lacks groups meetings / functions. You have to use WhatsApp/messenger + something like Zoom to replace it, 2 apps instead of just 1. Just having both in Teams is handier and keeps everything together without bloating it.

There is a lot of brand churn going on. TEAMS personal is geared more for specific groups of people who need to 'collaborate', such as a family, a youth sports team, or a scout troop. Consumer Skype still exists for ad-hoc point-to-point or group chats, whether text, voice or video. Sort of different use cases. Skype for Business has all but been deprecated in favor of TEAMS. Problem is Business TEAMS users still need to chat, text, voice, video, with other business users that don't have TEAMS, so Skype interoperability was a highly demanded feature on Business TEAMS.

Finally. We've used teams at work for a while and I love it. One of the biggest loses of the jump from pure Metro WP7 to WP8 were the Hubs in the People app. While it isn't as pretty as the old Metro interface the Teams app definitely recreates the experience with new features.

Sadly it does not work for me, but not for reasons you'd expect. Mid signing in it asked for a telephone number (my MSA account already has 2FA enabled so why), and then complained that my telephone number was already in use... which it probably is as I have many accounts that use it! To cap it off, the Teams feedback tool STILL requires an iOS email native account rather than supporting users who use Microsoft Outlook iOS email app. So while I have 3 AAD accounts in Teams and use those daily, I cannot add my Premium Outlook account to it for personal use...

I'm having the exact same problem and cannot log into Teams on iOS. It's very frustrating.

Realwarder, Please keep us posted on this. This seems quite odd, and uncommon. To be clear, you are opening a Personal Life account 'attached' to your work Teams account (as opposed to setting up a stand-alone, never had a Teams work account, Teams consumer account).

Ridiculous that you can't sign up for friends and family account unless you have a mobile app.
Windows Central Newsletter
Thank you for signing up to Windows Central. You will receive a verification email shortly.
There was a problem. Please refresh the page and try again.