How to set up multiple time zone clocks on Windows 10
Windows 10 lets you view up to three different time zone clocks — here's how to set up and keep track of even more.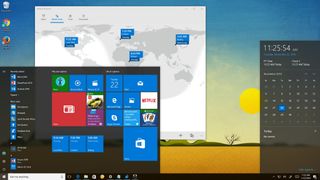 Displaying multiple time zone clocks comes in handy when you're dealing with work, friends, or family across the world. Heck, it can even be useful in figuring out when a live event (like a Microsoft Build keynote) is when it's in a different time zone.
Windows 10 allows you to configure up to three different clocks: the primary clock set to your local time, plus two additional clocks with different time zones. You can view all three by clicking or hovering over the clock in the system tray.
In this Windows 10 guide, we'll show how to set up time zone clocks, and also how you can track even more time zones using the Alarms & Clock app.
How to add multiple time zone clocks to Windows 10
Open Settings.
Click on Time & language.
Click the Add clocks for different time zones link.
In Date & time, under the "Additional Clocks" tab, check Show this Clock to enable Clock 1.
Select the time zone from the drop-down menu.
Type a descriptive name for the clock.
Repeat steps 4, 5, and 6 to enable Clock 2.
Click Apply.
Click OK to complete the task.
After completing the steps, you can hover over or click the clock in the system tray to view the additional clocks.
How to view even more time zone clocks on Windows 10
While Windows 10 offers a quick and straightforward way to view multiple time zones, you're still limited to only three clocks. If you want to keep track of even more time zones, you can easily do this by using the Alarms & Clock apps on Windows 10.
To keep track of more time zones, do the following:
Open the Alarms & Clock app.
Click on World Clock.
On the bottom-right, click the "+" button.
On the top-left, you'll see a search box, type the location you want to see its time, and click the result to added to the map to complete the task.
Perhaps the only caveat is that you need to open the app every time you want to see the clocks, but here is a quick tip to fix that: Right-click the time zone in the map, select Pin to Start, and voilà now you have multiple time zones at your fingertips.
How often do you check different time zone times? Tell us in the comments below.
More Windows 10 resources
For more help articles, coverage, and answers on Windows 10, you can visit the following resources:
Windows 10 help, tips, and tricks
Windows Central Newsletter
Get the best of Windows Central in in your inbox, every day!
Mauro Huculak is technical writer for WindowsCentral.com. His primary focus is to write comprehensive how-tos to help users get the most out of Windows 10 and its many related technologies. He has an IT background with professional certifications from Microsoft, Cisco, and CompTIA, and he's a recognized member of the Microsoft MVP community.
One thing I liked in Windows 7 was that you could put up widgets including the one for multiple clocks for different time zones. They were available on sight.

I already have 3 time zones in the Clock but having them as tiles on the Start Menu is pretty awesome. Saves multiple button hits for people that use keyboard more than mouse. Start+Alt+D key combination brings up the clock but just Start button brings up the Start menu :-) How sweet!

I know some UK employees here who could desperately use this...

It's particularly useful on mobile if you pin 3-4 timezones to the very top of your start screen, as you see that screen so often. I use it whenever I travel across multiple timezones (Like UK to Dubai to Australia) or if when my wife has been away for work so I can easily figure out whether it's a good time to contact her. I unpin them once they are no longer useful but keep them at the top of the start screen when I do, definitely grabs your attention

Does the live tiles for the clocks updates hourly like for every other app? If so then its not that much of worth it.

Great tip! I just tried this out and noticed that my formatting is a little different than the shot that you showed. I would much rather have the primary time at the top and the second and thrid clock side by side below as you show. Any idea how to change my display?

There is a limit to the number of clocks you can add. I have 10 up and can't add any more. The compare feature is great. I have instructors in various locations worldwide and this is great. When opened, you can see their time with the current local time. Using compare, a strip opens up and you can slide to a local time. So if I want to schedule a meetings or event at a particular time JST, I simply slide and I can see which of my instructors could make the meeting in their logged availability. Nice. I have used this as a timer, but not dug into the world clock portion till now. Good tip.

Nice tip with the pin to STart - I had not figured that one out yet :)

i wish they would add the option for an analog clock... i really loved it with earlier windows versions
Windows Central Newsletter
Thank you for signing up to Windows Central. You will receive a verification email shortly.
There was a problem. Please refresh the page and try again.