How to sync your Windows 10 Desktop, Documents, and more to Dropbox
Here are the easy steps to keep your files inside the Windows 10 default folders always backed up on your Dropbox account.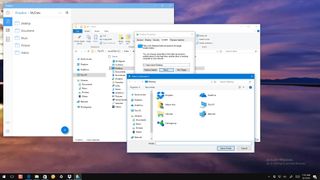 Windows 10 by default always creates a group of default folders (Desktop, Documents, Downloads, Music, Pictures, and Videos) on every new account to help you keep your files neatly organize by category. The only issue is that unless you don't manually make a backup, your files won't be protected, and you can lose them at any time.
However, if you're a Dropbox user and you want to keep saving your files in the same default locations, you can redirect the default folders to your cloud storage account and keep your files constantly backed up and accessible across devices.
In this Windows 10 guide, we'll walk you through the steps to move your default account folders to Dropbox to keep your files protected and always backed up in the cloud.
How to move default users to Dropbox
Open File Explorer.
Navigate the following path:C:\Users\<AccountNane>Quick Tip: You can always use the Windows key + R to open the Run command, type %HOMEPATH%, and click OK to open the current home folder location.
Open the Dropbox folder.
Create a new folder using a descriptive name (e.g., MyData) to group all your account folders.
Inside the newly created folder, create a folder for each location you want to sync to Dropbox. For example, if you're planning to move the Documents folder, then create a new Documents folder inside Dropbox.
Navigate back to your default account folder (where all the default folders are located).
Right-click Documents and select Properties.
Click the Location tab.
Click the Move button.
Browse the Dropbox folder and open the newly created Documents folder.
Click the Select Folder button, and you'll notice that the default location path has now changed.
Click Apply.
You'll be asked to move any file from the old to the new location. Click Yes to continue.
Click OK to complete the task.
The last thing left to do is to repeat the steps to move the remaining folders, including Desktop, Downloads, Pictures, Music, and Videos to the new Dropbox location.
We always tend to download a lot of files from the internet that we use once and then never again. If you don't keep anything interesting in the Downloads folder, you may want to skip moving it to Dropbox, as it'll be a waste of space, and most of the time you can download those files again as needed.
If you change your mind or you'll no longer be using Dropbox, you can use the following steps to revert the changes.
Open Dropbox using File Explorer.
Inside Dropbox, open the folder that has all the folders you want to restore to their old location.
Right-click a folder and select Properties.
Click the Location tab.
Click the Restore Default button.
Click Apply.
You'll be asked to recreate the original folder in the old location. Click Yes to continue.
Click Yes to confirm that you'll be moving the folder and its files from the old to the original location.
Click OK to complete the task.
Repeat the steps for each folder you want to restore its original location.
Wrapping things up
While there are a number of other ways you can use to backup your files, you'll find a few good advantages using Dropbox. You'll be able to keep your files constantly backed up in the cloud automatically, and if you have the same set up on your other devices, files will always be synchronized and organized across those devices. And you'll even be able to access your Desktop files using any web browser through Dropbox.com.
In addition, you'll be eliminating file duplication problems, and apps designed to save files to the default locations will now save directly to Dropbox without additional configuration.
Although anyone with a Dropbox account can do this — even those with a free account — keep in mind that storage can fill up quickly, which means that those with a Dropbox Pro account will get the most benefits. Of course, if you happen to have a Dropbox Business or Enterprise account, you will take advantage of the unlimited storage.
If you don't use Dropbox, remember that you can do the same thing using OneDrive.
More Windows 10 resources
For more help articles, coverage, and answers on Windows 10, you can visit the following resources:
Windows 10 help, tips, and tricks
Get the Windows Central Newsletter
All the latest news, reviews, and guides for Windows and Xbox diehards.
Mauro Huculak is technical writer for WindowsCentral.com. His primary focus is to write comprehensive how-tos to help users get the most out of Windows 10 and its many related technologies. He has an IT background with professional certifications from Microsoft, Cisco, and CompTIA, and he's a recognized member of the Microsoft MVP community.
Super usefull (for me at least). Thank you for posting.

how to leave all your personal information in the hands of reallllly trustworthy people

Why use this or Google drive when you can use OneDrive instead? Unless you need more space...

I very much prefer OneDrive too, but I like that in Windows, you can still get good integration from competing services. That's why Windows > Apple/Google.

I think OneDrive should always be the default choice for Windows 10 users. It's built in, and you can even configure Windows 10 to save documents and pictures (including screen captures) to OneDrive by default, obviating the need to move your local profile folders as described here. I do view this primarily as a way to share files across devices, and less as a backup solution, which should provide versioning. I recommend Windows 10 users enable File History on their systems for improved safety against loss. You can even do this to a network share, or a USB drive connected to you router if you don't have a server or NAS.

File history has a known issue in 10, which did not exist in 8.
If you have a lot of music, it completely stops backing up or it never runs until you remove the music folder.
Other than that, when it works it's great.

How? You don't. You use OneDrive.