How to access your music collection from OneDrive with Groove Music on Windows 10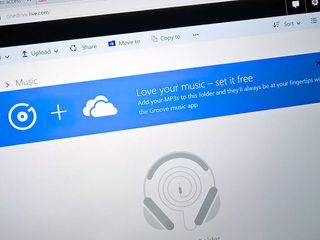 In much the same way you can with some competing music services, Microsoft's Groove will let you play your own music from the cloud. You can add your MP3s to OneDrive and play them on your PC, tablet, phone, and Xbox. It's really simple. Upload your music files to the "Music" folder in OneDrive and that music will magically appear in the Groove Music apps for Windows 10 and Windows 10 Mobile, the Xbox Music app on Windows Phone 8.1, as well as on your Xbox 360 and Xbox One. Watch our how-to video for more details.
Here are the 3 simple steps:
Open your OneDrive Music folder from the web or via the OneDrive folder on your Windows 10 PC.
Upload your favorite MP3s from your hard drive to the OneDrive Music folder.
Open your Groove Music application on your PC, Windows Phone (Xbox Music for Windows Phone 8.1), Xbox, or the web with the same Microsoft Account you used in OneDrive. Your OneDrive music files will now be listed as songs in your collection.
If you are not seeing your files, make sure you have accepted the Xbox Terms of Use (opens in new tab). You can add music files in MP3, M4A (AAC), and WMA formats. You can currently add up to 50,000 songs to your collection.
It's also worth noting that only songs in the Music folder on OneDrive are added to the collection. All music on OneDrive saved in a different folder location will not be added to the Groove Music collection. If you want to remove songs from the collection, take out the files from the Music folder.
For more Windows 10 tips be sure to drop by our dedicated page here
Originally published March 2015, updated August 2015
So will this work if you don't have a pass?

Correct. I don't have a pass, but I'm still able to listen to my personal collection.

Does this cache/download the tracks once you play them or are you effectively streaming music you own already, every single time?

It does not download / cache the played songs automatically, but you can choose to download them anytime (for future offline playing).

From what I've read, it should because it hooks in to your OneDrive account, not their music library.

The "pass" is just to get another 100GB in Onedrive. The streaming feature is for everyone :)

any idea whether we get to keep the 100GB for having XBOX music pass even after our music pass expires?

Probably the same as the rest of OneDrive. Collection goes into read-only mode until you fall below quota. This is one thing Google does better. They don't count your music against your cloud storage quota. However, at the same time MS are giving away gigs for everything. I'm over 200GB total space with plenty of room for my 32k songs.

And then Office 365 gives 1TB of storage, with it being theoretically unlimited. So plenty of storage options, even without a Groove Pass.

Yeah I know i have tripled my storage on OneDrive and I don't pay a cent,so i have 30 GB as opposed to the standard 10

With groove music you can listen for Free, from One Drve.

Pretty much like a streaming services. Except this one is self-provided. Not gonna use it. My data plan is quite limited. :(

You can download with wi-fi, and use it offline.

You can use USB and use it offline lol

Except managing playlists in one place is simpler and can accessed anywhere.

Lets find a CPU and cord to put all your songs on every device... Or you can just upload to onedrive once and use any device without the hassle of doing in manually

Hmm... Maybe you right. I'll give it a chance later on. Copying files to OneDrive itself is not viable by now since I have problems on my wifi plan.

It never actually downloads it for me

T-Mobile unlimited music streaming is certainly great right about now.

T-Mobile is the solution to that.

It's no different from the way Google Play Music works, really.

Have to be online or will it work offline? Better give it a try and go down the tube/metro...

You can download the tracks locally, but I'm not sure there's an automatic option unfortunately.

If there was an automatic option then all of my sync woes would be solved!

Yes...it would be great if you could sync from the OneDrive. Still an issue with editing the metadata though ... Zune did it so well and it is a nightmare on Xbox.

I still use Zune for all my music management. You only have to use XBox Music to purchase.

Thanks guys, useful info. I'll transfer mine this weekend and see how it all works... Or doesn't work... Lol

Hmmm...Now that I think about it, I could probably use Zune Exclusively to manage my music and not have to open up the XBM app at all on the PC, since they say you can play WMA files through OneDrive. It would be hella easier to manage my collection of DRM protected vs MP3. I'll be testing it out mañana as soon as all my music is in the cloud.

That's what I do, I only use XBox music when I want to buy something... Zune still downloads the DRMed .wma files just fine and handles my 10 song credits every month just fine. But because it's still programmed for Microsoft points it can't transact money. You could also purchase through your phone but I'm not convinced that the phone downloads the 320kbps files when you buy them.

I'm gonna take a wild guess that you live/are from California?

What would give you that idea?

I prefered MusicMatch Jukebox until Yahoo! bought it and ruined it.

Hell yes! I still have the old .exe for musicmatch pre-yahoo! I used it because of the tagging and file renaming based on tagging that it could do. Luckily, I got my first Zune right after yahoo ruined it and the rest is history...

Lol. India is left in vain..!!

thats so true.....i am really not sure why we dont have this features in india..

it's only there in the countries that have Groove Music.

Which is like a dozen countries in the whole planet!!! Back to Spotify and web stations for me xD

Need something where we can save playlists, etc.

Works with playlists too.

Partially. Static playlists work fine. Auto playlists are detected and added, but their contents are empty.

I uploaded my music and even the iTunes DRM songs were recognized on my device. Of course, I could just be streaming the Xbox version. Now if Xbox video would do this with iTunes video files I never have a reason to open iTunes again.

I guess you could test this by renaming the file to another song and changing the metadata?

ITunes hasn't DRMed music in years but the videos will be for ages.

Is there anythingI need to do if I already have Music in my OneDrive?

My question too. I had a Music folder already. Must take a look and see what effect that has had.

Yes, you need to MOVE the files from whatever folder they are currently in to the new "Music" folder on OneDrive.

Ok, but I already have a Music folder I created in my OneDrive. Are you saying MS created their Music folder?

Yes, it was created within the last 24-hours, automatically. It sounds like there might be a bug where if the folder already exists in a users account, it didn't get added.... Sounds like a question for Microsoft support. Or you can try maybe renaming it and seeing if the new one appears after logging out / logging in?

AmeriCanuck10 - it sounds like it should work even if you already had a Music folder. So I guess see if Xbox Music app sees your music before doing anything drastic like renaming folders, etc.

I already had a Music folder. When I opened up the Music app, it took a while, but then it created a Music 1 folder in OneDrive. So then I moved all my music to the Music 1 folder, deleted my old Music folder, then renamed Music 1 to Music and it's all good.

If you already had a music folder you are good to go.

I had this folder for a long Time already because there was a link about the music locker that created this folder. Probably forgot all about reading the article and clocking the link, lol

This is actually not true and falsely stated in the article. Groove music can scan any folder to its music library als OneDrive folders. I have two different OneDrive folders connected to Groove Music and neither are named Music and both work flawlessly... Except the initial indexing that took some while (5gb)

I already had a Music folder with some mp3s in OneDrive and upon opening XBOX music they are all available for streaming and download.

I already have synced my music into xbm a year ago, all you needed to do is upload music then point xbm library to the one drive metadata music folder then it would download required files while streaming music.

Does it stream or upload to my phone?

Stream. But you can download it.

It streams, but you can download any song locally at anytime (so you can play that song offline).

is there a way too get tracks from phone to one drive all at once, versus one at a time?

You sellect all your music with a File Manager and past to OneDrive folder (Pocket Explorer can do that).

ok, got pocket explorer, selected all music, next step? thanks

You have to add your OneDrive account to Pocket Explorer. Select all music and past to the Music OneDrive folder.

Why make things more difficult than they are? you can do that more easly through OneDrive app or through Files

Just drag your local music files / folders to the OneDrive "Music" folder...

how do I add one drive to pocket? I do not see that option. Is that in the paid version? there is no paste option in one drive thank you :)

Forget Pocket Explorer. Open OneDrive, tap on the plus sign, tap on "Phone", navigate to the folder where you have the music and check the boxs to the left of the file name, when you have selected all the files that you want tap on "done" button on the appbar. The secon option is to open Files, navigate to your music folder, tap on the "select" button on the appbar (is the second starting from left) check the box to the left of the files name and tap on "share" botton (is the last one) on the appbar, select OneDrive, choose the folder an tap on add button.

Thank You, Will try these steps.

Offilne mode available as well :) This is great!

Why can't you do this in desktop mode? Why do we have to do this online in OneDrive?

You can do this with your OneDrive folder no PC as well. But you have to be online so OneDrive can upload your music of course.

Yeah it works, I did it from OneDrive on my Windows Phone

One question about those 50000 songs: Do they take the standard One Drive storage, or does Microsoft allocate more storage for them when you add them?

I would assume that's the total allowed, but the total that actually fits is dependent on the amount of free storage available in one's account

Trade in some Bing reward points and get 100GB free. I have over 300GB for free from various promotions and Bing rewards.

Oh that's great! I have quite a bit of music but I only take a small amount due to my phones memory limitation. I will have to use this now to get the rest of my music on Xbox music.

Good-bye iTunes.... and don't let the door hit you on the way out.

Is internet connection is required for listing songs ?

Yes but you can download them onto the device for offline listening.

No, once they are in the collection the song can be downloaded in the xbox music app.

This has been a long awaited feature to fill the gaps of missing music in their Xbox music service. Most frustratingly they will have most artists/albums I listen to but for rights reasons are missing specific albums from those artists or a single song here and there. Don't listen to Metallica often but I'll be adding my Tool, Beatles, and Metallica collections to this off the top of my head of major missing artists from this service.

Yeah this is true for outside the US. Some albums aren't available for streaming but are available to buy or only a 3rd party compilation has select songs on xbm

Do the files have to be directly in the music folder or can you have folders of music within the music folder?

You can have folders / sub-folders. For example, artisit folders / albums / songs, etc. Makes it a lot easier to manage it going forward.

Does not seem to be working for me, none of my songs show up in Groove, even tho I can see them in OneDrive. I have this structure "Files\Music\-=[ Varius Artists ]=-\-=[ Trance Mixes (Big) ]=-"

Some things to keep in mind the limit my be 50,000 songs but I have 24,000 or so songs and man is it slow to scroll through, it's a bit better if you view by artist or album but not much. One more fun thing if you had been using XBox music fro a PC your collection was already being synced to the cloud now mine is a huge mess of dupes. I do like this feature but man this is going to take some time to clean up. EDIT I should have kept reading Windows central has an article on how to fix this http://www.windowscentral.com/easily-get-rid-duplicate-tracks-your-xbox-music-library

I'm getting a lot of copies of albums for some reason. Not sure why.

I don't see a music folder on my one drive. Can I just create one named music and will it work ?

I believe so, I had created one called music and put one album in there to test something and that folder works for my collection...

It can't hurt to try it out.

Open Xbox music first, then go back to OneDrive. It was missing for me at first, but after opening xbox music on my phone the folder appeared. Creating the folder manually will probably work as well though. :)

Windows Central writer using a Mac on his vid...

I'm surprised it let you come here? Don't worry, we won't tell.

No no! I mean that Mark Guim, the guy in the video is using a Mac, sry should have been more clear on that

You are aware that people besides PC owners may want to use OneDrive and Xbox Music, correct? Like in some universe, there could be someone with a MacBook who also has an Xbox One. The best way to grow the ecosystem is not to present yourself as an exclusive club for ideological nerds ;)

You're right that we need to grow our ecosystem, but in that case you have to inside the video tutorial point the fact that it can be use across different platform such as IOS or Android and provide a link to a different video showing how it's used in those platform... But many of us are really insulted with this, it's not enough fighting everybody in defense of our platform?....

4 fun, grow up. And no, this is not "our" platform. It is a platform you paid to use. So sensitive.

Jbestman... Metete en lo que no te importa caraculo...

Google-translated that: "Your mother was a Hamster and your Father smelled of Elderberries..." ;-)

Exactly Daniel, we're not Google after all.

We are all aware of it and we can stand it but just think about it... we as Microsoft fans expect to see a freaking Windows device (Not just Surfaces) on nearly all videos, and yes, you can say that it can also work on other browsers or OS's of the competitors but this is not the place to show Macs exactly...

Now if only the Band had a companion xbox music app for play controls (play / pause / skip / shuffle / etc.) we won't need to pull out our phone everytime we want to change the song.... I'm sure it's coming soon and that will be awesome.

All depends on if it was tested for avrcp

Take note that the music folder is named after your region.
I already had a music folder in onedrive. But Microsoft added a new folder named musik. That's the Swedish word for music. As I am Swedish I moved my music files over to this new Swedish music folder and then it started to work for me.
So if you are non-English speaking, look for a music folder in your native language and place the files there.

Excellent, now just add FLAC support! :D

FLAC takes up a lot of space in Onedrive.

I have 10TB (out of unlimited) space available. Not a problem for me!

are you going to play your music in your house using your wifi or when your out somewhere using your phone data because i think Flac will take too much of your data plan if your planning on using your phone to listen to.

I have unlimited data too. well throttled at 10GB / month.

FLAC might be a better experience, but the larger file size doesn't make it viable right now for streaming. I'm sure that will change as data speeds increase.

Also not a problem for me on LTE network! Maybe not viable for all, but flac isn't THAT huge. Streaming YouTube or netflix is more data hungry than any audio streaming

Submit the idea to their UserVoice account. With enough votes they might add support for it.

No need. FLAC support will be in Windows 10. That's already been announced.

FLAC has been announced a while ago. Will be in Win 10.

Doesnt mean it's supported for wp10

Its actually working in w10

Thank you for the info, I look forward to the Win 10 update on my Nokia 640. I want to stream FLAC to my outdoor speakers, over WiFi, from my phone using One Drive. Presently I have to convert them to MP3 before uploading to One Drive to support streaming. Now I can have my music collection mirrored on One Drive an not screw around with alternate formats. A major koodos to the Grove team for supporting FLAC in Win 10! Now get my Zune "Now Playing" backgrounds back!!!

So I have 12GB of music stored on OneDrive. I want to download the music for offline use on my phone, but it needs to be stored on my SD card, otherwise it won't all fit. Anyone know if I can do that? If so, how?

Fastest way would be to just connect your phone with your PC with a cable and transfer the data directly to it. As it has always been if you want to add music files to your phone ;)

That's how I do it, but it would be great if my phone would be automatically synched to my OneDrive folder everytime I download new songs to my PC. Currently I have all of my PC content synched to OneDrive.

I don't believe you can auto-sync the songs to your phone from OneDrive, but you can bulk download them through the OneDrive app. I'm not sure if you can tell it to save to the SD card since I don't have that option.

I think you're right, can't find any options for that. What a shame. :( Would be so cool if I can add stuff on my computer and then it magically gets synched to my phone... Hope this function will be added in the future.

Add the idea to their UserVoice site. It might get added if it receives enough votes.

Go to settings>storage sense. About halfway down the screen it should say. "Change where you store your music, photos, apps, and more." and the first dropdown should be for "store new music, videos, and podcasts on my... change that to 'SD card' and you should be good. I basically have everything but apps being stored on my SD card.

Thanks, apparently I already had chosen that option. The problem turns out to be that the songs won't automatically get downloaded to my phone. It seems that it has to be done manually. Then I might as well just transfer them with a USB cable because that's quicker.

I anticipate the syncing to be there in Win10 if not late WP8.1 this is just preparing and getting all the background stuff in place first. For me, it is nice because I have access to all my music when I'm out of the house, because I don't keep my entire library on my phone at once (its 46 GBs) so if I get a hankering for some old 112 I can pull it down into my library at high quality.

I'm actually using Win10 Technical Preview. I just took the opportunity to submit a suggestion through their feedback app about auto-sync.

Thanks, I had reverted my Surface Pro 2 back to 8.1 because my battery life was shit with the preview, so I don't have the means anymore.

You always gotta have some 112 in your collection! I have their Part III album. I want to get more of their stuff.

It's works FLAWLESSLY. Loving it. Only problem I'm seeing is that it's running into a OneDrive issue of not being able to upload folders. I have all my music very well organized in recursed folders by artist and album. I would love to just be able to drag and drop everything but I just can't. So it's slow going. If anyone has any suggestions for circumventing this, let me know. I started with the things I can't actually stream. Love that I can then redownload them at any time straight to my phone.

Just use file explorer on your Windows PC

I don't understand how that will help. I have windows 7.


Basically since 8.x we've had mtp which is compatible with wmp

Download the OneDrive desktop app and it will put OneDrive into your file explorer and let you associate folders and libraries with OneDrive. I just reorganized my collection into the XBox Music folders and drug them into my OneDrive "Music" folder and it's uploading its ass off. *I said OneDrive far too much in that comment*

You can just paste all music there, if you music has the properly album/artist tag, it will be add correctly/separately on Xbox Music.

This is awesome! Now, about the Xbox Music app...

I haven't used the Xbox Music app since the first week with my 920. Mix Radio just works better for me. It's a shame MS sold it. Xbox Music and Mix Radio should've been merged.

For me it's only showing a partion of my music. 201 in XbM app vs 841 songs on SD... Seems slower i think.

the former name of OneDrive SkyDrive

Yea this is awesome! Was the last glaring omission for Xbox Music when compared to some others. Now its perfect, I can have ALL my music with me whenever and not have to waste space on a drive if I don't want to. The ability to remove duplicates as mentioned in a previous post is also awesome. Uploading now.

I re-organized and started uploading my collection 14 hours ago and I'm still at 67%... It is uploading 46GB of music but still...

Download speeds and Upload speeds are usually very different. My DL speed is like 10Mbps, Upload is a measly 1Mbps. I started uploading 19 GB worth of music last night. I am currently at 41%. So, my guess is, I won't be done 'til tomorrow.

Yep. I am up to 76%.... WEEEEEEEEEE! I will also likely not be done until sometime early tomorrow.

This was slick! Copy into OneDrive/Music on my desktop, play from the phone a couple of mins later! Now I just need a TB of OneDrive space and family sharing of this feature.

Redeem some Bing rewards points for 100GB of free OneDrive storage. It's good for a year.


Maybe this was already answered but does this work on Surface RT XBOX Music App? I was not seeing them last night although I was seeing them on my phone and Xbox One.