How to access your music collection from OneDrive with Groove Music on Windows 10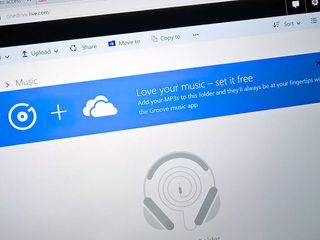 In much the same way you can with some competing music services, Microsoft's Groove will let you play your own music from the cloud. You can add your MP3s to OneDrive and play them on your PC, tablet, phone, and Xbox. It's really simple. Upload your music files to the "Music" folder in OneDrive and that music will magically appear in the Groove Music apps for Windows 10 and Windows 10 Mobile, the Xbox Music app on Windows Phone 8.1, as well as on your Xbox 360 and Xbox One. Watch our how-to video for more details.
Here are the 3 simple steps:
Open your OneDrive Music folder from the web or via the OneDrive folder on your Windows 10 PC.
Upload your favorite MP3s from your hard drive to the OneDrive Music folder.
Open your Groove Music application on your PC, Windows Phone (Xbox Music for Windows Phone 8.1), Xbox, or the web with the same Microsoft Account you used in OneDrive. Your OneDrive music files will now be listed as songs in your collection.
If you are not seeing your files, make sure you have accepted the Xbox Terms of Use. You can add music files in MP3, M4A (AAC), and WMA formats. You can currently add up to 50,000 songs to your collection.
It's also worth noting that only songs in the Music folder on OneDrive are added to the collection. All music on OneDrive saved in a different folder location will not be added to the Groove Music collection. If you want to remove songs from the collection, take out the files from the Music folder.
For more Windows 10 tips be sure to drop by our dedicated page here
Originally published March 2015, updated August 2015
Get the Windows Central Newsletter
All the latest news, reviews, and guides for Windows and Xbox diehards.