How to backup your high resolution AT&T Nokia Lumia 1020 photos and get 50GB of free cloud storage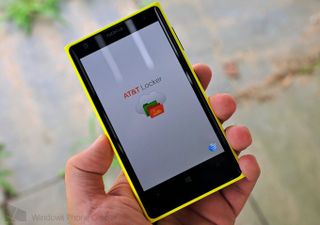 One design choice on the Nokia Lumia 1020 has a small handful of people a little flustered: you cannot share the full-resolution photos on Windows Phone using any of the built in social networks. No email, no NFC, no uploading to SkyDrive, etc. The reason for that is because each 38MP image is between 9 and 15 MB in size and that would chew through bandwidth.
The oversampled 5MP images you can do anything, including all the above and auto-uploads to SkyDrive. Those weigh in at a more reasonable 3MB and are meant for sharing.
But for AT&T users (and only AT&T customers), there is a way to auto-upload your full, high resolution photos to the cloud for backup: AT&T Locker. And if you act fast, you can bump their free 5GB of storage to a whopping 50GB, which is ideal for you future Lumia 1020 owners.
AT&T Locker
AT&T's free cloud solution was released a few weeks ago on Windows Phone. The app is very much like SkyDrive where you can save anything you want to it, including music or documents. If you are not on your phone, you can head to AT&T for more info (opens in new tab) to either create an account or view/manage your files.
On the Lumia 1020, the app comes preinstalled and when you sign up, you get 5GB of free storage. However, as we pointed out a few weeks ago, if you act now you can upgrade that to a massive 50GB, which is kind of awesome.
To do so, follow these steps:
Launch app
Create an account
Scroll to 'More'
Settings
My Plan
Upgrade Plan
You should see the 50GB plan marked as "Limited Time Offer"
Select and done
And that's it. From the app you can choose to have it auto-upload your images over Wi-Fi and Cellular, just Wi-Fi or neither (upload manually), so everyone should be happy.
Why AT&T Locker and the Lumia 1020 go hand in hand
A full, high resolution image uploaded via the Lumia 1020
As we mentioned above, the Lumia 1020 cannot share the massive 38MP images from the device. The only way is to plug the Lumia 1020 into a PC and do the drag and drop routine. To be honest, we're totally fine with that. We shoot full-frame DSLR images for our site and resize them to around 300kb for posting. There's really no reason to send someone a 10MB, 38MP image especially when you have a beautiful, oversampled 5MP (3MB) one to share instead.
But for backing up purposes, we can see where having a wireless solution would be helpful. AT&T Locker does allow backing up of the Lumia 1020's full high resolution images to your account. It works quite well and you can even share that photo with others via email, Twitter, Facebook or MySpace with the app's built in social networks. Once the image is shared, guests can even download the full, high quality photo to their PC.
What a shared image looks like on AT&T Locker
In other words, problem solved:
You get 50GB of free, cloud storage, accessible by your phone or PC
You can auto-upload/backup your photos
It saves your high resolution images, wirelessly
So remember this tutorial when you receive your Nokia Lumia 1020 this Friday. There's no reason to not opt in, especially if you think this will pose a problem for your routine.
Already have an AT&T Windows Phone? Download AT&T Locker now and get setup using our steps above to ensure you receive free 50GB of online storage. Windows Phone 8 only.
Windows Central Newsletter
Get the best of Windows Central in your inbox, every day!
Daniel Rubino is the Editor-in-chief of Windows Central, head reviewer, podcast co-host, and analyst. He has been covering Microsoft since 2007 when this site was called WMExperts (and later Windows Phone Central). His interests include Windows, laptops, next-gen computing, and for some reason, watches. Before all this tech stuff, he worked on a Ph.D. in linguistics, watched people sleep (for medical purposes!), and ran the projectors at movie theaters because it was fun.
Link is broken! (said in a Jar Jar Binks style)

Your welcome for the tip!
(I'm pretty sure I was one of many)

This will probably eat all of the memory space in your new nokia 1025 in about a week's time by filling up your 'Other storage' section.. just like backup to Skydrive does.

Problem solved? World doesn't end with att and us.

(eye roll) This article is written for those on AT&T as clearly illustrated in the title. But thanks for trying to make me sound like a kneejerk isolationist.

You do that all on your own.

When you act like an arse, to other arses, it means you can't complain when arses such as myself are arses to you.

In other words, don't talk down to people like that. Whether they deserve it or not.

There are a lot of ignorant comments that Daniel & crew have to deal with. I for one respect the man for reacting as any other frustrated editor would.

Nah. There are far too many ignorant idiots these days.
Pointing this out to them more often is the only way to fight the disease.



Small type-o. "Chew threw bandwidth." Should be "through."

Nice. Worked like a charm on my 920. Free cloud storage of 50gb doesn't hurt even if you already have 25gb of SkyDrive.

Except now you have to trust AT&T with your photos and documents... not just calls and texts.

I'd only half trust them. I still synch with my computer! :)

Or 50 free from skydrive like i do.....

If this is a competition, I better drag out my 148GB of space on SkyDrive. Albeit, not free. But it is nice to have some breathing room for future photos and videos in the cloud.

I have 45gb total for Skydrive. 25gb for original sign-up...I think a few years back. 20gb for Office 365 subscription.1000+ photos and 1000+ documents and I still have 42.6GB left. Now with the 50gb from AT&T I'm feelin' pretty good about storage. I have way too much space on everything though...It's getting to the point where I don't remember where some things are. All told on all devices PC's, Laptops, Tablets, Phones...I have too much space...never going to fill it all up...

I downloaded it on my 920 just to get the 50gb. Even if I never use it, I would rather know its there if I end up needing it. Aka if I can come up with the $700 for the 1020

+1 will get when its down to 400 range

Good call! I just did the same thing as I had my first 920 brick. Reloading everything onto my new one was a pain. Plus I figure I can load from this backup to my 1020 when I get it.

This is exactly what I did.

Trying to log into the app with the same credentials I use to log into my AT&T wireless account... Keep getting the error "Login Failed. Please try again later."

Anyone else having this problem?

It's not the same. Create a new account. I believe it tells you that ;)

Pfft. Reading is for chumps :)

If you log into your wireless acc't with a username (as opposed to wireless #), it's a little confusing that this is what you have to do. Created a new account and up and running with 50 gb. Now all I need is a 1020 to fill it up....

Doesn't at&t give you an email account when you open an online account with that's what I'm using ends with @att.com, I don't remember opening one.

I logged in with the same credentials I use for my wireless account and it worked. (I use email as login, not user name or wireless number).

Getting 1020 in a couple of days but can't sign-up as I have a WP7 device right now. Is there another way to sign up to get around this lil limitation?
Also, if i follow the link provided above and create an account, will i be able to upgrade to 50GB when my 1020 arrives or should I wait til i get it and use the app?

Techiedude

You can try here: http://www.att.com/shop/apps/att-locker.html

that worked. still on 7.8 but logged in via PC and upgraded, too easy. Someday I'll make the jump to 8.0, or 8.1 (:

Thanks Daniel

Thank you for this link! I signed up and got to take advantage of the 50GB free offer. I don't have the Lumia 1020 (yet), but I may put some stuff out there anyway in the interim.

You can upgrade on the web site. Just did so without ever touching an app (900 user).

I don't understand how upload to SkyDrive "chews threw [sic] bandwidth," while upload to AT&T Locker will not. AT&T knows not to count that against my account?

This will definitely nag. Full resolution upload to SkyDrive needs to be an option.


I think this is a carrier solution to a Microsoft problem, yes. I'm not arguing so much against the idea of SkyDrive needing this (it does) but I do think people who want to email (or share) a 15MB are kind of lacking common sense.

Not being able to share by email is pretty weird. Sure, you wouldn't want to do it often, but I can totally understand wanting to show off my 38MP beast of a photo to some friends, especially initially. Deal breaker? No. Odd and annoying? Definitely.

Surely you did not type the first line of your response with a straight face. This is neither a "Microsoft problem" nor a "carrier solution". It is, instead, a blatant capitulation by Microsoft to AT&T in order to allow AT&T to promote their "Locker" product over SkyDrive.
This is entirely unacceptable behavior from both AT&T and Microsoft. And at best, you're being disingenuous in your reporting. At worst, you've assumed the role of AT&T PR flunkie. Congratulations on your demotion.


I personally use Wi-Fi update only on both Cloud Services...there is no reason to eat up my data.


AT&T Locker only uploads on Wi-Fi by default.

full resolution upload to Skydrive IS an option.

This smacks of a PR release disguised as an article.

I don't think full resolution of the massive 1020 files is an option, is it?? The article was very specific to which files it was referring to.

It is an option go into windows phone settings , then applications ,then photos+camera, click on auto upload skydrive. click on best quality(needs wifi).



Tried that and got low resolutions so did it again and got lower resolution. My 920 worked fine. NOw trying to use AT&T Locker and it has uploaded 36 pics it says, I count more, But stops. I have a white Monitor screen with "loading running across the top of the screen but nothing in the screen and nothing being uploaded for a day now. Also stops even that when I leave the phone alone for a while.
Help or where do I go for help!

Just what the world needs another cloud storage provider. Realisticly, this is a Microsoft fail because these high-res images will not be supported by Skydrive and autoloaded on wifi networks. I though the upload to Skydrive was Microsoft's and Nokia's reason for no SD support. No celleuar networks is understanble, but wifi, that is just a big failure.

On my 920 I can have it uplaod the full size pics by selecting original in the settings.

And then he said MySpace, lol are they even still around? I wish Tmobile had a 50GB Storage option, then again I get unlimited internet, so I really just wish Skydrive had free 50GB Storage. ); Good option though if you're buying a 1020!

Once you sign up for the 50GB of storage, is it permanent or is it only free for like a year?

Sweet! No reason not to signup for it then.

I was just wondering this. Thanks.

As long as you keep paying that phone bill! ;)

Just signed up and did a photo test upload and a video test upload. I'm on a hotel wi-fi connection right now that's kind of slow, but both uploaded relatively quickly and video playback through the AT&T app was pretty flawless. Not too shabby.

I have had it since it came out and it is slow and does not work as stated. The uploads hardly work and they are not automatic. I've had it for over 2 weeks and it has only uploaded 21 photos. Seems to only work when I have the app open and even then it doesn't work all the time.

Right on the money, I agree with you %100. I just posted a rant below yours about the incredibly slow upload process.

The locker app seems to be a steaming pile, won't upload automatically and doesn't seem to upload selected pics either. I've had it installed for over a week and it uploaded 11 pics total out of hundreds in my camera roll⤵:(

Same here... About two weeks and its only uploaded a little over a thousand out of 3.5k pics from my old iphone (figured I'd load them all on at&t locker so I can access them easily on my 920)
I will say the Windows Phone 8 version of the app is a lot nicer than the iOS version!

I downloaded it last night on my 920. It constantly logs me out and has only uploaded about 35 pictures. It seems to only upload while the app is open and the screen is on.

No SD support is just dumb and shortsighted, no other way to say it.
And this is just another example of why.
Especially since my (lower priced) 820 has SD support....

Android OS got rid of SD support starting with 4.1. Apple never had it. The world is moving on, that's the reality.

Android didn't get rid of SD support. All that changed was that you can't install apps to SD cards anymore. Apps can still store additional data on the card, and of course you can store music and pictures on it, which I assume is what the OP was concerned about.

The only company hanging on to SD cards is Samsung, everyone else in the industry is moving on. Even Moto's big phones yesterday don't have SD card support. It's becoming the norm, not the exception. The old code for SD card support in Android is still there but it is not being developed anymore by Google, from what I understand.

I think you're exaggerating a bit. Aside from the One, HTC is still making phones with SD slots like the newly released Desire and Butterfly, and even the 8XT. So are LG and Sony. And we know how big Samsung is. That's a pretty huge chunk of Android sales.
I haven't heard anything about Google not developing SD card support anymore, but if you have an article link I'd be interested in reading it. I couldn't find anything with a quick web search.

"The only company hanging on to SD cards is Samsung, everyone else in the industry is moving on. Even Moto's big phones yesterday don't have SD card support. It's becoming the norm, not the exception." Those With SD cards: LG (Some); LG Optimus G Pro, Mid-range Devices
Samsung; King of MicroSD cards
Sony; All of there Xperia's have MicroSD card support
ZTE; there latest flag ship has MicroSD card support
Huawei (Some); Low-end - Mid range devices have it; there news Phablet has it Vs HTC (they never have had them, AFAIK)
LG (some); LG Optimus G, Possible the G2
Motorola
Huawei (Some) there latest flagship does not have it Seems to me, more of the big names make more phones with MicroSD card support than those without on android~

Ok, so the industry has decided that having high capacity, low latency, low cost expandable storage on the device is a bad idea- nothing I can do about that. :-)
So this same industry thinks streaming multiple megabits per second for 1080p screens is both realistic and reliable?
Lastly, if they don't want to provide the expandable part, at least give us the option of high capacity? 32GB on flagship phones doesn't cut it- just read the many threads about storage woes here on this site.
None of this directed at you Daniel, but rather the industry as a whole...

Nope. SD card support is still there. They simply changed how you can use that space.

For example, you can no longer send apps to the SD card (due to "corruption" issues). Google is still supporting the archeteture that allows SD cards to be added to phones.

I agree. I cannot believe they did not add sd support in a phone that has photography as its main focus.

SD support is being phased out in favor of cloud storage. Same way as to why new laptops don't have CD drives anymore. Very few people actually use them, therefore it does not justify the costs.

We're going backwards on storage progress, as far as I'm concerned. The cloud is great, but it's just in time for the major carriers to get rid of unlimited internet and start raping you on data charges. Phone manufacturers should include SD support in response to this as a goodwill gesture toward their customers... But instead they're phasing SD support out? Ridiculous. We get more and more useless features in these friggin devices but when it comes to features that actually make sense they can't seem to deliver.

This is so bogus - no microSD support and using "The Cloud" as an excuse... THEN we are limited and can't have automatic uploads of the full rez files to "The Cloud" because of "bandwith" limitations.... Tell me again how microSD is obsolete?

Completely agree - no microSD support is really, really lame....

This is nice and all, but trying to upload images, and short videos from the phone is extremely slow and my 920 turns into one hot ass rock. Then the battery drains like hell from the heat, even uploading from my desktop is painfully slow. I thought it could be my WiFi, but no way, then possibly thought it could be a problem with Comcast upload speeds, ( I consistently pull 90mbps DOWN and roughly 20mbps UP) but no problem there. Its very frustrating knowing I have 50gb of free cloud storage, but I absolutely do not want to use it because of this problem.

I just uploaded a 12MB photo and it took just under 90 seconds (my upload speeds on Wi-Fi are poor here). Can't say it's slow so far, really.

Wow 50G of new storage...It took me 2 minutes to setup with Att app on 920! Thank you Daniel for the heads up.

The app allows you to log in with your 920? No problems? I'm curious, did you sign-up from the app or from the web site?

I have the 920, and I downloaded the app, logged in through the app and set up the 50 Gb and took all of two minutes to complete. I just used my existing ATT account I had set up when I switched to ATT a year ago. Worked like a charm.

Am I the only one that can't log in with the app on my 920? I re-read the article and it didn't say you couldn't log in with your existing WP8 phone so I'm kind of stumped. I went to the web site and signed up, got the free 50gb of space, but I can't log with the app on my 920.

Thank you for this find !

I'd really like to know what you get when you hit the button that says "Upload Photos and Videos here" and try to choose an OS-recorded Video....

Will I be able to use this on a corporate account if I do not have the account login information? i.e. will it recognize me via my SIM?

If only Flickr would hurry up and up bring their app up to wp8 and provide an auto-upload feature, to give ready access to that free 1TB.

Send @Flickr a tweet and include hashtag #UpdateFlickrForWP. Thanks!

Can you guys see if you can find out why the app won't download for the HTC 8X on At&t? I'm getting the message "This app is not available for your phone." when I use the link in this post and I'm an AT&T user with a WP8 device.

I receive the same message on 8x.

When I downloaded it from the link I saw a Nokia Collection branding on the screen making me believe this is a att/nokia exclusive, sorry guys :/ although I hope I'm wrong...

That would just be the mobile app you can still use Locker and receive the 50gb if you use the desktop website version

This is only for Nokia phones. Sorry. At least you have beats! :)

I thought Lumia 1020 automatically over sample it to 5 mega pixel in real time. With the condense 41 mega pixel should give excellent reproduction. Would be excellent to print poster size of the camera phone. Lumia FTW

"The oversampled 5MP images you can do anything, including all the above" I'm pretty sure you cannot email a 5MP picture with Windows Phone. It compresses even small pictures like that without asking first. Please correct me if I'm wrong! It has been very irritating ever since I switched to Windows Phone.

Correct, it still does do that and makes large photos around 400kb.

The app, HD Photo Viewer, now allows emailing full-res photos (although, only 1 at a time).

Getting an "error has occurred please try again later" when clicking on 50gb and continue....I guess I'll..try again later.

It still upgrades your account even if you get that error. Relaunch the app and check.

Thx! You're right, it's there now.

@Daniel : Do you know if the uploads of these high resolution photos to the ATT locker over cellular connection is counted towards your data allowance?
If so, those like me on the 2GB plan may want to beware :)

By default, it only uploads over Wi-Fi.

I can't imagine why it wouldn't count, sad to say, which is probably why AT&T wants it for the 1020. But yes, it asks you explicitly on first launch and you can even change it later.

Anyone else think it was weird that the user ID had to have a number in it? Not a big deal, just seemed kind of odd and arbitrary.

Yes, it's bizarre. Took me a while to figure out it was asking me to CREATE an "Access ID", rather than asking for an existing one (which I couldn't figure out what they wanted).

So bizzaree... they ask for user name, access ID, and password. But the 1st and 3rd things are things you already have, while the second is one you are creating. Crap interface and coding.

Hope the 50gb is still free next week when I get mine. Unfortunately im on 7.8 and can't sign up.

Sign up directly at the web site. It works fine that way.

Stupidity.

There's no good reason to have disabled the ability to utilize SkyDrive for 38MP/34MP photos. The user should be able to choose to permit this over WiFi and even over cellular.

Now we're forced to use AT&T Locker for this, which won't have any of the familiar and common ways to access like SkyDrive, but will have its owns methods and ways of doing so, possibly with similar support, or possibly offering fewer options... where's desktop syncing, for instance (not saying it isn't there, haven't looked, but that's important to me to have).

Whatever social network features there are in AT&T Locker, it's apparently not working right in the beta. But that's somewhat beside the point -- where's the integration with my Microsoft Account, through Windows Phone? Why do I need to configure these social networks users/passwords again, separately, for AT&T Locker. It's a very poor decision.

It's frustrating that these kinds of decisions get made, likely with little thought about the overall ecosystem architecture. Stupid. Stupid. Stupid.

"There's no good reason to have disabled the ability to utilize SkyDrive for 38MP/34MP photos."

I think you're jumping the gun here and

assuming

they disabled it as opposed to being an infrastructure limitation (much like how DropBox won't allow 300MB+ files via the web to upload). Also, the Box app won't show the files either for uploading. So it's not just SkyDrive. I think it'll be fixed, eventually.

I've heard it's a 'back end' issue that will receive attention and be fixed.

Why are you forced to use this? This is just another app to do so.

Worked perfectly for my Lumia 920. Great find!

Thanks a ton!
Works great so far

Set to Easy upload.....not working, can't make it auto upload.....

Hey guys, I just had an idea for a new feature to be possibly added in future WP updates. Well I was thinking you could have the option to automatically pin newly downloaded apps to the start screen, what do u reckon? When I was thinking about it it seemed like it would be quite a handy lil feature.

Free 50Gb rocks the house!
I gots'ta drow mah' hoes upside to AT&T as some gracious dank ya'.

BTW - XBLA game today ????

Can you guys see if you can find out why the app won't download for the HTC 8X on At&t? I'm getting the message "This app is not available for your phone." when I use the link in this post and I'm an AT&T user with a WP8 device.

So far here what i got
AT&T Locker: 50GB free
Skydrive: 25GB free
Box: 25GB free


Congrats, want to add a little more? Her'es another 20GB free by clicking on my referral link to Copy.com https://copy.com?r=ZxnU9b

Here's what I've got
AT&T locker: 50GB
Box:50GB
Dropbox: 107GB
Sugarsync: 42GB
Skydrive: 27GB
Flickr: 1TB
Windows Home server: 4TB
Crashplan: Unlimited backup 48 months for $3 a month (get it, crashplan.com)
Copy.com: 150GB free (get yours here: https://copy.com?r=ZxnU9b)
I'm overcompensating for something, oh that's right... I have a tiny app collection. ;)

Heads up. the app is bogged down, but skip the app and go to https://locker.att.net/app/#home and setup your account on the web.

Go to settings, then upgrade account, then take the extra 45GB goodness and profit.
Hope this helps someone.

a couple of questions if I might....
1. I can't believe ATT used FLASH instead of HTML 5/CSS3 for the PC client - it breaks with windows 8.1 (preview) but that is a personal issue :)
2. I am upgrading my L920 to L1020 and so tried to create my locker account. it seems that my att user ID that is my mobile number won't work as acccessID. anyone else have that problem?



You have to go to atts website and convert your username to a access id

Here's my idea: if you sign up for AT&T Locker and you buy a 1020, AT&T should give you a deal whereby you're allowed to upload images to the Locker over your data connection and it will not count against your data cap. That would be a great idea and something that might get a lot of people into the habit of using AT&T Locker over other cloud storage solutions.

That is now the second AT&T app I found today which doesn't say anything about Windows Phone availablitliy. When you go on their AT&T Locker web site it offers only iPhone and Android apps as download option, the same with their international calls over wifi app. What the heck is going on at AT&T, its like they want WP to not gain a larger marketshare.

Have they fixed the locker app? Last I looked it had 1 star rating. I had it installed for a week and only a few pics uploaded. Tried multiple reinstalls. When I couldn't figure out my poor battery life, I removed Locker and battery drain gone. Ain't with the 50GB for the headache and uselessness.

Yes, app doesn't work for me either, sucks!!

is there a reason it wont allow me to download this for my htc 8x on att?

I have an AT&T 8X and cannot download as well. I've been asking Windows Phone Support (which is absolutely useless) and the guys here at WPCentral and no one has been able to give me any useful information. Windows Phone support via Twitter said that I should check with AT&T to see if they can tell me why it doesn't work. Even though MS authorized the app to be in their store and says it will work with any WP8 devices.
I've never once received helpful support for any MS product or service via Twitter. It's like they aren't even familiar with their own products.

I actually got really helpful support, twice, from them. In any case this is an AT&T app and service, so you should contact AT&T.

The "not being able to share (full-resolution) photos" is a problem I've experienced on the Lumia 920 (not even at full-resolution), let alone the 1020. At least 50% of my recipients are unable to receive my standard lumia 920 photos (as in not even trying specifically to send full-res photos; just opening camera on default setteings, pointing and shooting and then trying to send).

App is pretty good but the 50 gigs of storage is a no brainer my 920 just got better

I have an unlimited data plan; I do not why I should be restricted to certain actions until I get into a wireless network. I think that Microsoft should let the data management to users.

I tried to backup some videos to AT&T Locker from my computer. Uploads are unbelievably slow and the interface is among the worst I've ever seen for cloud services. Thanks for the tip though. I'll keep the 50GB and hope they improve over time.

AT&T aside, you could always connect your 1020 to your PC, sync your photos and share the full high quality photo on Facebook that way

Thanks for the info. Upgraded to the 50GB will keep it in case I need it. Currently using SkyDrive

Installed the app last sunday, live tiles quit working. Uninstalled, they all started working again. Also, I'm pretty against AT&T charging data for uploading to their own service.

Link still doesn't work and a search of the marketplace yields no results.

Followed the link the site and its not available on the 920. A mention of this in the article would be nice. :-/

Hummm, I have a 920 Nokia and just got 50gb upgrade from 5gb,, try again it will work

I'm retarded. I have a 900. :-/

That's why ( I ) always wear my helmet,,, L0L,,,

Damn it at&t customer but wp7

Awesome! Thanks for the tip. I just signed up via browser and got my 50 GB, so I'll be ready when I pick up a Lumia 1020... :)

Awesome X 2! Y'all are the best. The incredible depth of tips and information is why the WPC app is one I review multiple times daily. Well worth the price of admission. I would pay 10 times the price! Keep it coming.

I got the "not available on your phone" message on the WP Marketplace website also, with a Lumia 920 AT&T here.
I'll try on my phone later when it's done charging. (too lazy to go upstairs and grab it for this)
I signed up for the 50GB on the AT&T website though, so I'm good on that.
Sidenote: does anyone else think the PC/web app/site for AT&T Locker has a header that looks very similar to one of the former WL wave backgrounds?

Andy I just downloaded installed launches signed up and upgraded on my 920 no problemo. Maybe you want to be on LTE so they know you're a customer?

I installed it today fine via Marketplace on my phone. It just didn't want to let me do it through the website.

One of the best articles I've read! Muchas gracias.

I keep hearing that WP8 doesn't allow full resolution uploads but with an app like "Camera Roll Sync" or the ability to change backup settings in the SkyDrive app, aren't you able to upload full resolution photos already? Of course, 50GB is nice from AT&T but I plan on using the 1020 and unlocked.
Camera Roll Sync
Full resolution photo & video backup w/ SkyDrive

If anyones been watching the political stage for the past year, the reason you are not getting high storage, low latency SD card options with these giant cameras is simple. You're being pressed to store the super high rez images on their cloud service. Cloud computing = NSA accessable. You don't think they want access to photos of you and people you associate with that they can losslessly zoom in on in great detail? Of course that's illegal, but they won't have to prove why or how they did it until the trial, and maybe not even then (Patriot Act). You think it's crazy? Look at how many services have moved to cloud computing, and then use your imagination. Is it faster, simpler, lower bandwidth than just storing on your computer? No? What good does it do, then? It's provides storage, but at the cost over time it would be cheaper to just buy yourself another hdd. So then what... ?


Hi Daniel
You wrote "The oversampled 5MP images you can do anything, including all the above and auto-uploads to SkyDrive. Those weigh in at a more reasonable 3MB and are meant for sharing."
When I capture using 5MP mode, I get a 2-3 MB file. But, when I share, by sending an email, only a 650 KB file is sent. So, how do you share the 2-3 MB file?
Perhaps I should be asking this in Nokia's support forum. Thought you might know.
karlo88

can someone tell me how to get the High Res to upload automatically wirelessly or maybe i cant? i ask cause at one point the article says drag and drop only then at the end it says wirelessly, and att locker isnt doing the high res wirelessly for me and i have yet to see a option to turn it on.

This still works! I just enabled this on my Windows Phone! Thank you!

I just installed the AT&T Locker and it only backed up the 5mp photos automatically. Can someone let me know whether this still works as the article described to backup the High Res as well? I have yet to find an option to turn it on as the previous post. Thanks!

Good Evening .... hope you will be fine all of you , can anyone in you would like to share the method from a 2 z , how he take photo with lumia 1020 , than transfer into laptop or computer , how he/she edit the photo and get high resolution image ... i got high resolution photo from my lumia 1020 having size of 28 to 38 MB , but i am not satisfied from its quality result..